Waltzing Round Vienna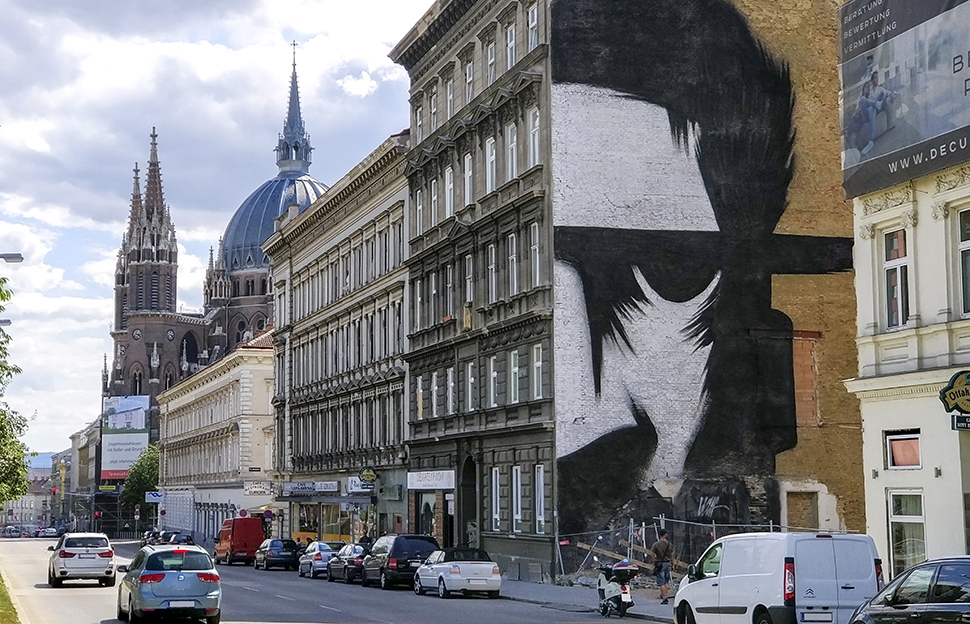 From morning 'til evening, locals and visitors happily wait in line for the chocolate iced, apricot filled torte created in 1832 by 16-year-old apprentice baker Franz Sacher. Mounds of whipped cream accompany each wedge served at sweet shops in Vienna, notably at the venerable Hotel Sacher, where proprietor Anna Sacher used to guard the front steps, puffing on a stogie, flanked by her French bulldogs. When I joined a group from the Fine Arts Museums of San Francisco visiting Vienna, I expected total immersion in chocolate, coffee and strudel (all kinds, and the cheese strudel at Cafe Prückel is downright dulcet). From my base in the Innere Stadt, following the circular path of the Ringstrasse (Ring Road) is an easy carousel around the irresistibly brazen Baroque buildings, as elaborate as the fabled pastries. The city symbol of double-headed eagle flashes in colorful tile atop those towers of St. Stephens, a central place to rendezvous and a great example of Gothic architecture that houses the second largest free-swinging, chimed church bell in Europe. Stop along the way to see the Lipizzaner stallions at the Spanish Riding School who, for over 400 hundred years have been trained in dressage, a method used to strengthen body and mind, kind of like equine gymnasts. The Albertina, which boasts 65,000 drawings and over a million Old Masters prints, is mandatory. It's mind-boggling to imagine that Albrecht Durer painted the scientifically detailed rendering of Young Hare—who himself wears a studied expression—in 1502.
Brigitte Kowanz, courtesy of Galerie Krinzinger
The most magical way to see these gems is by tramping through narrow alleyways hiding medieval tower houses and cloistered courtyards, as well as the Jesuit church and the Jewish quarters. Mind the cobblestones, but do look up to enjoy the 'Pawlatschen' balconies with their glazed wood galleries. If you do get lost wending through the tunnels, keep looking up and stay centered by heading back to those towers of St. Stephens
Another happy queue forms around the Vienna State Opera, which completes (or starts) the circle on Ringstrasse. This is a city of music lovers, so much that the Opera House, partially subsidized by the state, makes a point of welcoming children and commissioning youth operas. Well-priced standing room tickets await those who chat and patiently stand in line for the over 300 performances that are presented every year. Additionally, the non-profit art initiative, Museum in Progress, has transformed the safety curtain of the opera house into a temporary exhibition space. Since 1998, the work of artists such as Tauba Auerbach, Kara Walker and John Baldessari have been shown, attached to the safety curtain by way of magnets and re-shown throughout the season.
Hundertwasserhaus apartment building
The MuseumsQuartier is another spot for a ramble, one composed of majestic 17th- and 18th- century structures right at home with modern buildings, encircled with public courtyards where Vienna and its visitors meet to listen to music, picnic and talk (Sigmund Freud, anyone?) Six passageways celebrate outdoor art from literature to graphic design. Another path behind the MuseumsQuartier near St. Rupert's (purportedly the oldest church in Vienna) leads to the fun and familiar blue and black squares of French artist Invader's Space Invader graphic stairways.
A few more classics should be on your list. Stop by the Leopold where Design buffs will love wandering through the Arts and Crafts displays. Their collection of Egon Schiele is haunting, and Klimt's Life and Death hints at… more Klimt, whose work you can see after strolling through the botanic gardens of the Belvedere complex of buildings. The Kiss shimmers on the wall of the Upper Schloss Belvedere in Byzantine glory. The golden dome of the Secession building, a glowing beacon of the City, houses the Symbolist painter's Beethoven Frieze and is also an emblem of the movement whose motto is inscribed above the entrance: "To every age its art, to every art its freedom."
Jesuit Church, photo by Amanda Riley
Fascinated with international performance and body art, Ursula Krinzinger brought the work of artists like Mike Kelley and Paul McCarthy to her eponymously named gallery, and her Krinzinger Projekte gives residencies to young artists in Croatia, Hungary and Sri Lanka. She also represents Brigitte Kowanz, a transcendent visual linguist, whose neon, glass, mirrors and electric light pieces mesmerize in public installations, as well as in depth-defying pictorial spaces.
The One Minute Figures and Sculptures, Melting Houses, Drinking Sculptures and Fat Cars of Erwin Wurm charm and disarm his fans, with the Austrian artist admitting that he often uses humor, "to get them to move closer, but it's never nice when they look closer." There's no mistaking his wry whimsy, indoors and out.
Mural collaboration between Perkup and Janosch in Braunhirschenpark
For more outside, I looked to Nick Platzer from Inoperable and Vienna Murals' Thomas Grötschnig, who makes it a mission, beyond imperial buildings and formal gardens, to showcase amazing outdoor art. Noting the expansion of local street art, he started Vienna Murals in 2016 to present and document the wall treasures. The most famous examples are probably the murals along the Donaukanal, unfolding like big greeting cards visible on foot and from car windows. Since Europe's second largest river runs through the city, the vista unfolds like a series of colorful pictures. Grötschnig is proud that, "Vienna is number one in Europe in providing legal space. The exposure of the artworks to a vast public is what drives both local and international artists to leave their pieces. The continuous change is what keeps them vivid and interesting. Legal walls build our local communities and make artists come together." The Improper Walls gallery in the 15th district around Reindorfgasse is a good stop too. It's surrounded by small studios and nice restaurants, so you're set for a satisfying afternoon. Along the waterways, Nick Platzer also recommends a day-trip, by boat or car, out to "Mural Harbor" (maybe the best place to see a huge group of murals in one place) where the buildings alongside the water have been painted by artists like Nychos, ROA, 1UP crew, Lush and Stohead. He also talks about his favorite place, the alte Donau. "It's a small lake, and just before I left for Providence, Rhode Island, I bought a small wooden boat that my friends now maintain. It's a great escape, but easily accessible from throughout the city. Each summer, they do a boat light festival. Locals have been coming here for decades, and I have such vivid memories."
Parklet by Frank Maria at Burggasse 98
Back on land, you'll be seeing green. Vienna boasts the number one creation and enjoyment of parklet installation in Europe. These Grätzloasen are free public spaces where visitors and locals, can meet up, have a lunch break, study—or think up something creative to do—often in spots designed or painted by street artists. Half the city is designated as green space! Check out Vienna Murals' 2019 book: Parklets // Street Furniture Vienna. While you're there, listen to FM4, which often airs in English and German. This is a music lovers' fantasyland, from opera to austropop.
Historical home of the Hapsburgs and now a successful socialist system, Vienna embraces old and new. It's Beethoven and Brahms, coffee, choirboys, Christmas markets and public art. It's also beer houses, wine taverns and—yes, the deliciously mandatory Wiener Schnitzel. Prost! —Gwynned Vitello
inoperable.wordpress.com
viennamurals.at
galerie-krinzinger.at/projekte/info
Cover Photo: Mural by GOLIF near Mariahilfer Gürtel