A Conversation with Shepard Fairey on "Power and Equality"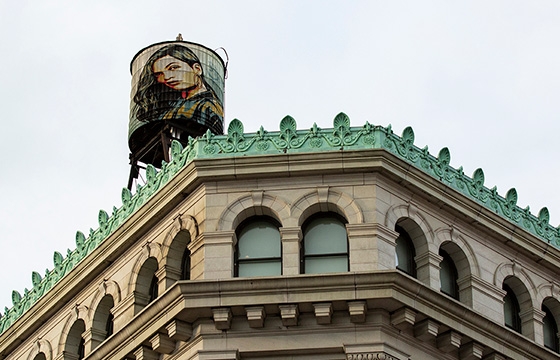 Last week marked the unveiling of Shepard Fairey's latest public work in NYC's Lower East Side, a mural on a rooftop water tower entitled Power & Equality, a portrait of local New York actor and activist Rosario Dawson in a work commissioned by Great Bowery, and located atop the iconic graffiti-garnished Germania Bank Building, where their NYC headquarters is based.
Anyone familiar with NYC street art culture knows the importance of that particular building once inhabited by the likes of Basquiat, Haring and Merisel, and turned into graffiti hall of fame in the recent few decades. Eager to continue its cultural legacy, the agency commissioned the LA-based artist to create a new work to celebrate themes of opportunity, to serve as a beacon of gender equality and female empowerment.
The event included "A Conversation with Shepard Fairey" in dialogue with Paper Magazine founder David Hershkovits, release a limited edition print of the mural which helped raise funds for LES Girls Club and benefit its Alphabet City Art School, and a highly collectible, limited fold-out zine produced by Great Bowery. We got in touch with Shep to ask a couple of questions regarding this standout project.
Sasha Bogojev: Considering its significance in graffiti culture, how did it feel to create work on top of the Germania Bank Building?
Shepard Fairey: That part of downtown New York has always been important to me as a place to put street art. In fact, I had often put work on that very building by climbing into the window sills and using the windows to frame my work, back when they were covered with graffiti and posters. To have artwork on the water tower is a great evolution of my love for the building and the neighborhood.
Did you have any of your works whitewashed on the ground-level facade, and how did it feel when you found out the building was getting cleaned up?
I'm always aware that my work on the street is ephemeral. It may last two weeks or two years; it will disintegrate or be covered. I've learned to enjoy the process and not be too precious. Of course, I'm always sad to see a graffiti landmark cleaned up or become less viable as a canvas, but at least the inhabitants of Great Bowery are facilitators of art in many realms.
When was this project first proposed to you? Did you have any doubts about it?
The project first came up nine months ago, while I was visiting New York, and the only thing that gave me doubts was the challenge of navigating the New York bureaucracy with permits. I understand the need to do things properly for a company like Great Bowery, but there's a reason I have often gone the "it's easier to ask for forgiveness than permission" route.
Can you tell us a bit about how you decided on the image to place up there?
With the water tower being so far off the ground, the imagery needs to be bold. I wanted to have a connection to the neighborhood and my broader philosophies. I illustrated and designed the piece to have a human connection to the Lower East Side with a portrait of Rosario Dawson, supplemented by the bold type which says "power & equality."
The color scheme feels a little bit different than what you're usually working with. What made you decide to make that subtle shift?
I've been using blues in my work along with the normal warm colors because I think they help to make the art inviting and peaceful rather than more aggressive with the warm colors by themselves.
To me, the work feels like a flag atop the ground zero of street art. Did you feel any pressure being the first, as far as I know, to be able to create work there?
Sure, maybe a little pressure. I'm not a resident of the neighborhood, but I think most people, who know my history, understand that, for close to 30 years, I have authentically woven into this area. Plus, Rosario Dawson was born and raised on the Lower East Side and happens to embody principles I think are relevant to the broader world. The concept of gender equality and female empowerment is something that's easy for me to stand behind.
Do you know how was her response to the project?
Rosario seems very pleased the fundraising component for the Lower East Side Girls Club, of which she is a board member. I hope that she likes the portrait, but I suspect that she would rather focus on the social benefit than her own vanity.
How important it is for you to share your passion for social justice on this prominent building, especially in such turbulent times?
There are plenty of powerful people broadcasting loud messages of hate and division, so I think it's more than my right, but rather, my duty to make counterarguments as prominent as possible.
Do you think more influential entities such as Great Bowery should make statements like this one?
Even if it might not please everyone you do business with, I think standing up for what's right is admirable and more people should do it.
Aside from paying tribute to the legacy of the neighborhood and community there, the project has a charitable component. Is this your first time working with LES Girls Club?
Yes, and I'm very happy they are the beneficiaries because I think the programs they're doing positively impact the community and build sub-communities. Their facilities are amazing, and I love the spirit and culture there.
Could you please tell us a bit about the fold-out zine you've put together with Great Bowery?
The zine is a memento of the project, since you can't put the water tower itself in your pocket. It is great to see the images from other artists inspired by the phrase "power & equality."
Spots like this and the Bowery are arguably the ultimate places a street artist could put up work. Do you have any particular locations where you'd love to see your work?
I've been very fortunate to do a few murals along the Bowery, so I don't want to sound greedy, but if anyone has walls they want to offer, I'll take more.