The Parker-Saul Connection: From Texas to Tokyo
Nanzuka Gallery
//
June 01, 2019 - July 06, 2019
This Saturday, our friends from the Nanzuka Gallery in Tokyo will be opening a long-awaited duo show with none other than Peter Saul and Erik Parker, among the most prominent contemporary Pop Art painters of our time. As a continuation of their ongoing master-pupil relationship, this exhibition marks the first joint exhibition for two artists whose relationship goes all the way back to the 1980s, when Parker studied under Saul at the University of Texas in Austin.
Peter Saul, long-recognized as one of the "Fathers of Pop Art," incorporates the cartoon images of Donald Duck and Mickey Mouse in reference to a 1958-issue of MAD magazine was an early inspiration. Often using historical masterpieces, portraits of politicians and art history anecdotes as sample subjects, Saul's distinctive visual language stems from an ironical sense of humor and unabashed love for the grotesque.
For example, he painted his vision of Van Gogh's legendary ear incident, simply titled Van Gogh Cuts Off His Ear, commentary that "I was also very pleased that Van Gogh's ear finally occurred to me as a subject - it's the second most famous thing in art, right after the Mona Lisa, and it still didn't occur to me until almost age 85. If I'm lucky, I can eventually do the subject a couple more times. He's just got to "regrow" in my imagination."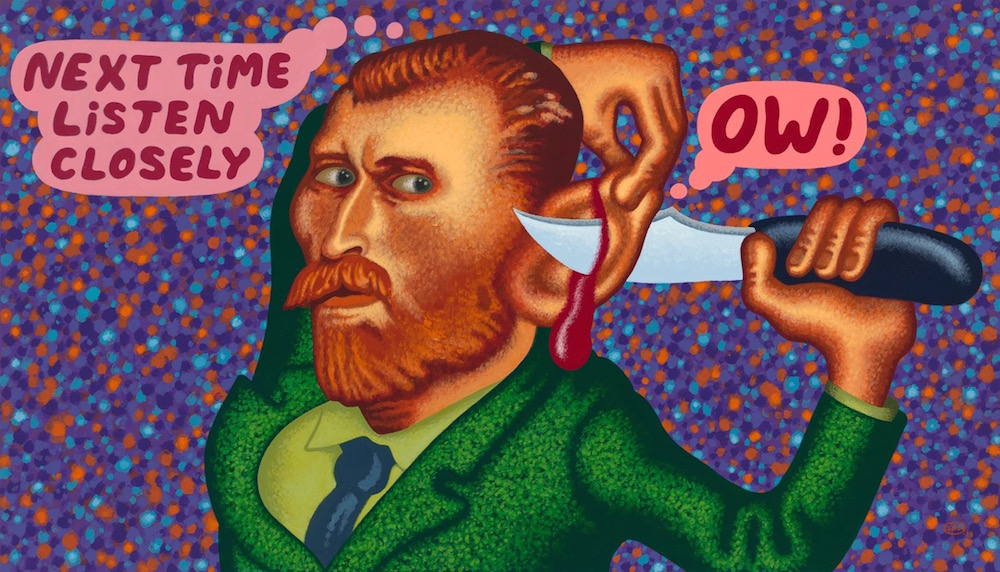 As Saul's student at the University of Texas in Austin, Parker developed a sense for constructing work from a variety of reference sources, twisting the main image into vibrant surreal compositions that mix everything from magazine cutout collages to familiar logos and pop culture elements. Using countless shades of custom-mixed acrylic colors, his paintings explode with arcane references that each cleverly layer and intertwine. While he names underground comics, satirical illustrations, and graffiti culture as primary sources of inspiration, Parker's experiences while studying with Saul are considered the most in his artistic development.
Seeing the duo's work side-by-side is not only a unique opportunity to enjoy their works individually, it's also a chance to discover how they connect and continue to inspire each other. With Saul's subtle, dynamic color palette and Parker's hyper-vivid hues, each body of work vies to equally complement and oppose the other. Both artists work with surreal compositions that regularly construct figurative imagery of unexpected and abstract elements. With Saul's unique ability to create depth and gradients and Parker's graphic depiction of chosen elements, the artists enhance one another, creating an important narrative for art history.––Sasha Bogojev