Heads Up! Father-Son Duo Miles and Matt Ritchie Open an Exhibition @ Recess SF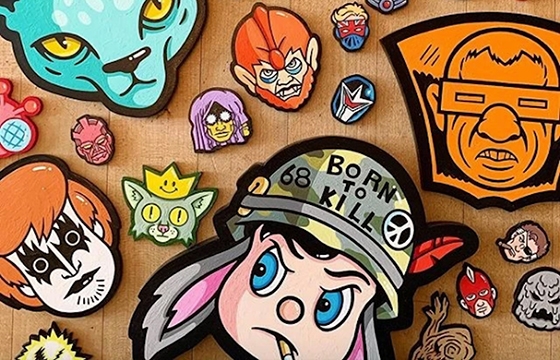 It's Recess time. and they're pleased to present Heads Up!, a joint exhibition by father-son duo Matt Ritchie and Miles Ritchie, featuring a new collection of original work as well as pins, prints, stickers, custom masks, and more!
As father and son, the two share undeniably similar artistic styles and a mutual love for comics, film, TV, music, video games, and everything Pop. In both individual work and collaborative ventures, the duo pays homage to a vast range of pop culture subjects – from the 70s-era Star Wars and Battlestar Galactica of Matt's early years to the Masters of the Universe and Teenage Mutant Ninja Turtles of Miles's childhood, with our modern-day CGI-heavy superhero multiverses and all kinds of fun in between. Though inspired by the same Pop iconography, their joint exhibitions offer perspective from two very different generations: while Matt's practice is steeped in decades of fandom, Miles renders beloved characters with a 21st-century vision
The Ritchies do use wood as a common medium as they distill each of their favorite 2-dimensional icons into crisp and tactile 3-dimensional pieces. Matt typically adds heavy layers of paint to accentuate brightly colored graphics and crossover humor, which creates a stylistic flatness that seems to both acclaim and skewer 2-D inspirations. Miles, however, tends to incorporate natural-exposed wood of the relief form itself – freeing light, shadow, grain, and texture to tell a different story.
As the name suggests, Heads Up! features a collection of wooden heads from Matt and Miles' fandom favorites. In contrast to previous explorations of figurative action, posture, environmental context, interactivity, and object representation, this new collection of full-frontal portraits presents a streamlined overview of the combined Ritchie fandom, confronting viewers head-on.
Opening reception begins at 6 pm, and the first fifty guests receive a special giveaway enamel pin!
Heads Up! opens at San Francisco's Recess on March 7, 2020, with an opening reception from 6 to 9 pm, and is on view through March 28, 2020.