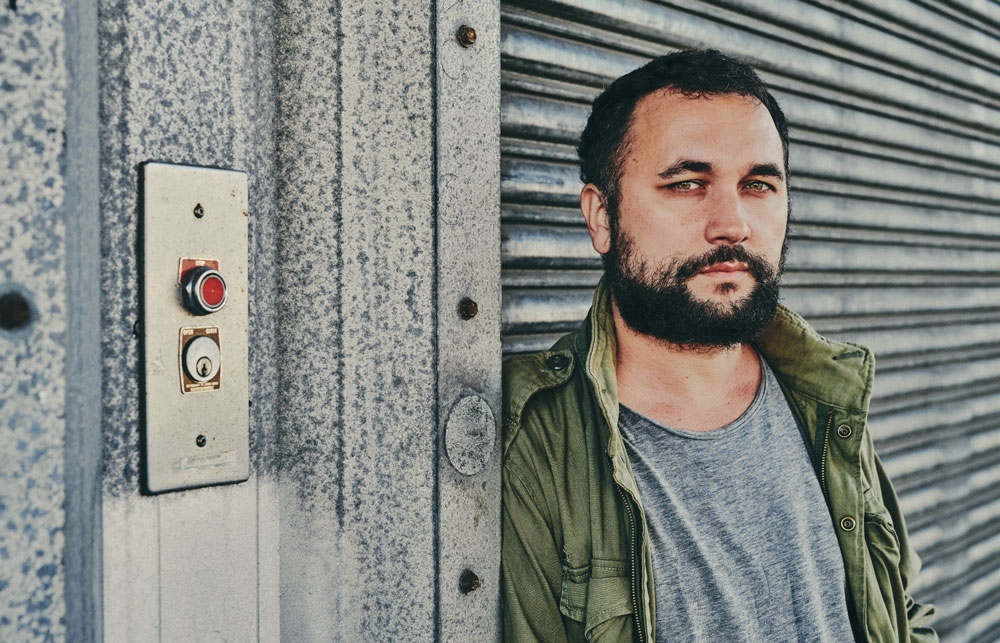 ---
Stipan Tadić
The Night Seer
Interview by Evan Pricco // Portrait by Bryan Derballa
Artists and authors often become embodiments of the cities where they live, or intimately associated with a particular place. They can create an aesthetic of locale which we visualize as a certainty, even if only through their eyes. We absorb their vision and make it our own. For Stipan Tadić, the Croatian painter who came to the United States and began reshaping his work to something vividly authentic to himself, New York City has become his muse and ideal setting. But unlike the classic reasons for loving and projecting the spirit of a community, Tadić eschews nostalgia and preconceived ideas of the city and makes it something simple and personal, more of a story he continues to tell, and in doing so, teaching himself. He is witness to the moment, and through his evening walks and nighthawking, he is indeed finding a voice that channels Edward Hopper and Chris Ware into a unique amalgamation that he finds to be his most honest self.
Evan Pricco: You have been in NYC for four years, really in the heart of so much going on in the world over the course of that time, especially the pandemic. Was it sort of a shock, maybe even panic, being in NYC just at such a volatile time?
Stipan Tadić: No, because I think that New York is always panicking. The biggest panic comes from the people of New York. There's bad weather in New York and the whole world gets the news.
What was your perception of New York prior to going to study at Columbia, and what has it become for you now? What are your impressions of it as an outsider who has now lived there for some years? How do you assess it now?
Well, it's really hard to say because I was never a fan of New York. But I definitely understood that it was some sort of center.
So it wasn't the fantasy city for you?
In fairness, I've never held a fantasy of New York. Maybe when I was a kid, but not now. When I moved, I was 32 years old, so I only knew for sure that it was the center of the art world. Especially for someone like me, coming from Eastern Europe, it's weird even to go to Western Europe! I saw NYC as a necessity to come to a place where you actually see everything at once, very fast. You learn fast and you can progress. That was my idea of New York. I really have little romanticism about it.
It was almost like a function for you as opposed to a dream.
It was an opportunity because I also got a scholarship. I was actually aiming more for Chicago. I think Chicago is more my style. I wanted that more because I know comics that are from Chicago and the scenery and everything. And I thought, well, I'm 32, I'll be 35, 36 when I settle. I thought a smaller city was better but Columbia was the best place that accepted me, so it was almost like a coincidence.
Let's talk about comics because obviously, that's a subject I want to ask about. Specifically, I want to talk about nighttime and the idea that all your work is pretty much at nighttime. I mean, I can't think of any of the works, at least in the more fine art realm, that don't take place at nighttime, dusk, or dawn. What is it that attracts you to that time?
I think I have so many angles on that because, since I was very young, I've always considered myself a night person. I also was thinking that, with my art, I have to find a niche or something, find some limitations, like a starting point that is big enough. Something that's deep and big enough that I can work in it for a while.
I thought the night was good because a lot of culture and a lot of things that I love are about the night and about after dark: drinking, going out, music, and all that stuff. The way I grew up was really about liking the night. I was always very impressed by nightlife and the people, the dark side of people, in some way, their hidden part, which is also this ecstatic part where they show their real faces.
I think it's interesting just to think about, something good to contemplate where you can examine the idea of night. It's almost like you can meditate on it because it's such a big idea, it's such a fantastic spectacle. The sun goes down and your brain changes a little bit, electric lights go on, especially in New York. Then the electricity comes, so it's really interesting how the night is designed. I think it just has so many things contained there.
Also, there's an element of danger and unpredictability about the night.
Yeah, that's interesting. Unpredictability, and there's this famous dialogue between the Apollonian and Dionysian and I think night is just like Dionysian—the human animal comes out or something like that!
I was thinking about Chicago and some of the great Chicago comics, Chris Ware off the top of my head. But New York City has a very strong, literary comic backdrop and you capture that. But I wonder if you're attracted to the night because there was something in comics as a kid that influenced you or made you think about the night in a fresh way?
It's not just comics, it's more movies. It's like Blade Runner, something like that because I think New York is a very '80s city. And when you look at it, there's a very retro kind of look, and night here has an interesting dystopian '80s-meets-neon look. And the music, that's really like night, the music with neon lights has this '80s feel to it too, which I'm really attracted to.
I thought the show at ATM this summer was a great growth point for you where you were doing a couple of different things at once, and they all worked together in a really nice story. There were the beautiful cityspaces but also the very, very graphic comic characters that you were able to apply on those backdrops. It's not really superhero comics we are talking about.
I think I see more Robert Crumb. I came to comics with a college degree already, in love with German Expressionism and stuff like that. And then I saw that in comics there were serious drawings and serious stories. And I actually saw a type of honesty that I never found in fine arts, which, for me, is very pretentious compared to comics. When it came to Crumb, Ware, or Daniel Clowes, I found that I actually got to know these artists when I read and saw their work, far more than when I saw the traditional studio painter. It seems like painters are lying compared to comic book artists, who really put their soul into those books. I was very moved by a lot of comics and saw some really deep and interesting ways to make art.
So you went from art to comics, in a way? What was the first in your timeline, when did that start?
I started merging these things together in 2014, 2015. But I think I was attempting it for a very long time. I didn't want to quit painting, but I did want to just make comics. I think I was struggling for a long time to find my way.
And this is when you were at Columbia or beforehand?
Before. And then, at Columbia, I had people around me giving me a lot of advice. I think I was just dissecting what I actually liked about those comics. When I did comics, I was happy and when I did paintings I was feeling like shit. I was really feeling like shit.
Well, that's simple enough, to just go after the comics and do what you are doing now!
It's simple, yeah. But then I tried to feel good, how can I really enjoy painting? And then that's how I try to put as much of the stuff that I like to do into the painting. That is my method.
And then, New York became an experimental backdrop for everything that you were trying?
Yeah, because it just made sense. I'm in New York. I wanted to actually do stuff about Croatia, but it didn't make sense so I translated what I am interested in and I started dealing more with style. And NYC has a way of communicating that interests me.
Does it communicate in visuals? What I was thinking was that because NYC seems to possess a particular aesthetic and is the center of the world for so many people, your work puts fresh eyes on the city. Like a new perspective on a place we have recognized in so many visuals.
I'm doing this on purpose because of the lack of nostalgia I have. I'm infusing that as a joke in some way because it's ironic; it's like an ironic romanticism of the streets.
You're not nostalgic?
No, I don't have that, it's ironic.


And you consider your paintings to be retro?
Yeah, a little retro, and ironic, playing around with this idea that you always dream of NYC, this place of dreams. And I think every city is stuck in its own dream. It's kind of an irony that you can't escape the dream, so a city keeps a sort of visual identity or subconscious impression forever.
Did you grow up in Zagreb?
I grew up as a Croatian immigrant in Austria and then I moved to Zagreb when I was twelve.
Do you see any Austrian-German qualities in your art?
Yeah, I'm very attracted to German and Austrian art, especially German Expressionism and the Dada-Berlin guys like Otto Dix, Christian Schad, and George Grosz because they were very political. And Croatian social realism is inspired by them, too.
I like the German Expressionists who were deliberately anti-war painters. And their expression comes from a political standpoint which I really feel. And I really liked how the people in communist times took that and tried to do something similar by addressing poor people and daily life.
Have the Balkans Wars appeared in your work at all?
I would not approach it directly because I have to be careful with it… it's still too fresh. I think when someone is in New York from Croatia, I think painting that could be looked at as almost profiting off of those stories. I work with two audiences and I don't want to lose either.
Do you like New York more now that you've portrayed it in the way you do?
I don't know. I think New York is interesting because I can go out anytime, have a walk and come back to the studio with five ideas for paintings. It's really like that. He's an example from the last show. There's this bar, The Magician, and I painted three people in it. I really like picking out these places, which only locals would understand. And I'm also testing myself in spotting those places and seeing what people will say. I have a lot of fun with that. And I also painted Tompkins Square Park, which is really an interesting cultural spot. So, in general, New York, I don't know what to think. I'm really critical of all of it but I like these certain spots. Yeah, I have my certain spots I really like.
Tompkins Square Park is a great example of what you do, a place of political importance in New York City, yet you don't have to say it's a place of political importance on top of the painting. It actually symbolizes what many know as a counterculture spot for many different decades. And the surrounding neighborhood is very important in the way that American politics, leftist politics was shaped. You don't have to spell it out. You do that well, and maybe that is how you approach politics in art.
That's how I started working because architecture and urbanism in New York tell so many stories so I don't have to paint so directly. I can just paint and then people who know, they know, and it's a surface for further discussion. It's not deliberately saying anything but just displaying it and aestheticizing it.
Another example: I was looking at all these Central Park paintings. Everyone knows what it looks like, especially these overhead, landscape paintings, and photos. Painting Central Park is a challenge because there are so many paintings of it and everyone has their own personalized visuals. But I thought if I just paint it in my own way, it's going to be unique. And it's also a challenge because not everyone can do it so that becomes unique. I would never paint a crucifixion but I was always thinking about Christian imagery. I was always thinking about how I would like to find something that has been painted so many, many times and then successfully painted in my own unique way.
So you picked Central Park instead of Christ!
Haha! And the irony is there, just calling your painting Central Park is really funny.
It is. I mean, it's like, "Yeah, this is exactly what it is," which is really hard for people to confront. Would you say your work is funny?
Yeah, I think so. I think I always come from a place of humor. Everything that I start doing is triggered by humor or something that I think is interesting or funny. I think even if I would do something charitable, I would do it from a place of humor. Even if I would do the most heartbreaking things in the world, I think I would approach it with humor because that would be the thing that would get me out of my bed to go even do it, so I need that.
I love humor, I don't know. For me, all my paintings have humor, even in the way I paint. And I think nostalgia is humor. I think the way the trees are painted is humor, the angles are humor, and the little people are humor.
Who do you think is a really misunderstood artist that you really like?
I think there's this guy, Ralph Fasanella. I don't think he's well-known, but I think he's one of the best American artists.
You stumped me! I was thinking of someone who might have had humor in their work that was missed.
Van Gogh. I think he was the best. I think people missed the point with him. He's so, I don't know, you forget how good he is because they blow him up so much because he's actually better on a smaller scale. I don't know who exactly else with the humor thing, but I think there's more humor in art and everything that is created than we think.
Walk me through something. You go out at night, you're out and you're going for inspiration or you're going to go back to the studio with some ideas. Are you taking photos or are you just mentally taking it in?
Yeah, taking photos, and making sketches. I sit on the bench and draw. I go out and take pictures of my friends or sketch them. Sometimes I'm like, "Oh my God, this was the best night, I have to paint it!" Or I have an idea, as in the painting of the projects I did recently, I walk by there every day and I'm like, "This place needed a painting."
In every show you do, it seems like everything has a concept, not just a show for a show's sake. It's a story.
Yeah, but what I discovered recently is that the story doesn't need to be written in advance. I just let the story happen and that's the lesson that I learned from the comics. I don't think the comics people know the ending of their comics, they just start from where they are. They're like, "Oh, I hate art school," haha! And you start from that and then you keep on going.
I pick parts of my life that I find have the most meaning and then I put them together in the show and then the story happens by itself because I think this is important, I think this is funny. So, all these things I react to, and then I see them and then there's a story and the concept in those last shows happened by itself.
Do you think New York will continue to be a backdrop for you for a while? Do you see yourself moving to a place like Chicago and staying in the United States or see yourself moving back to Eastern Europe?
I really like this idea of witnessing. There's no choice. There's New York, there's me, it's empty and what can you do? And I really love working on being in the moment and working on things that are in the moment.
The next show will be at James Fuentes in NYC, and I'm working on ideas and a concept for that. I don't know if I will move, I don't think I will stay forever in New York. I like this idea of portraying cities and I might do that somewhere else again. I think this is interesting because I never took time to develop a concept.
I came to New York and I'm painting New York and it brings me to conversations about New York. It's a very local approach and I'm really happy to discover this way of moving around. So maybe, I don't know, maybe I'll go to another city and do the same, or I don't know. It's hard for me to make plans but this stuff moves me somewhere else, too, in the cities. I don't know. I'm just going painting by painting and I'll see. I don't really know what's next.
@stipan.tadic // Stipan currently has a show at
Galerija Josip Račić in Zagreb.