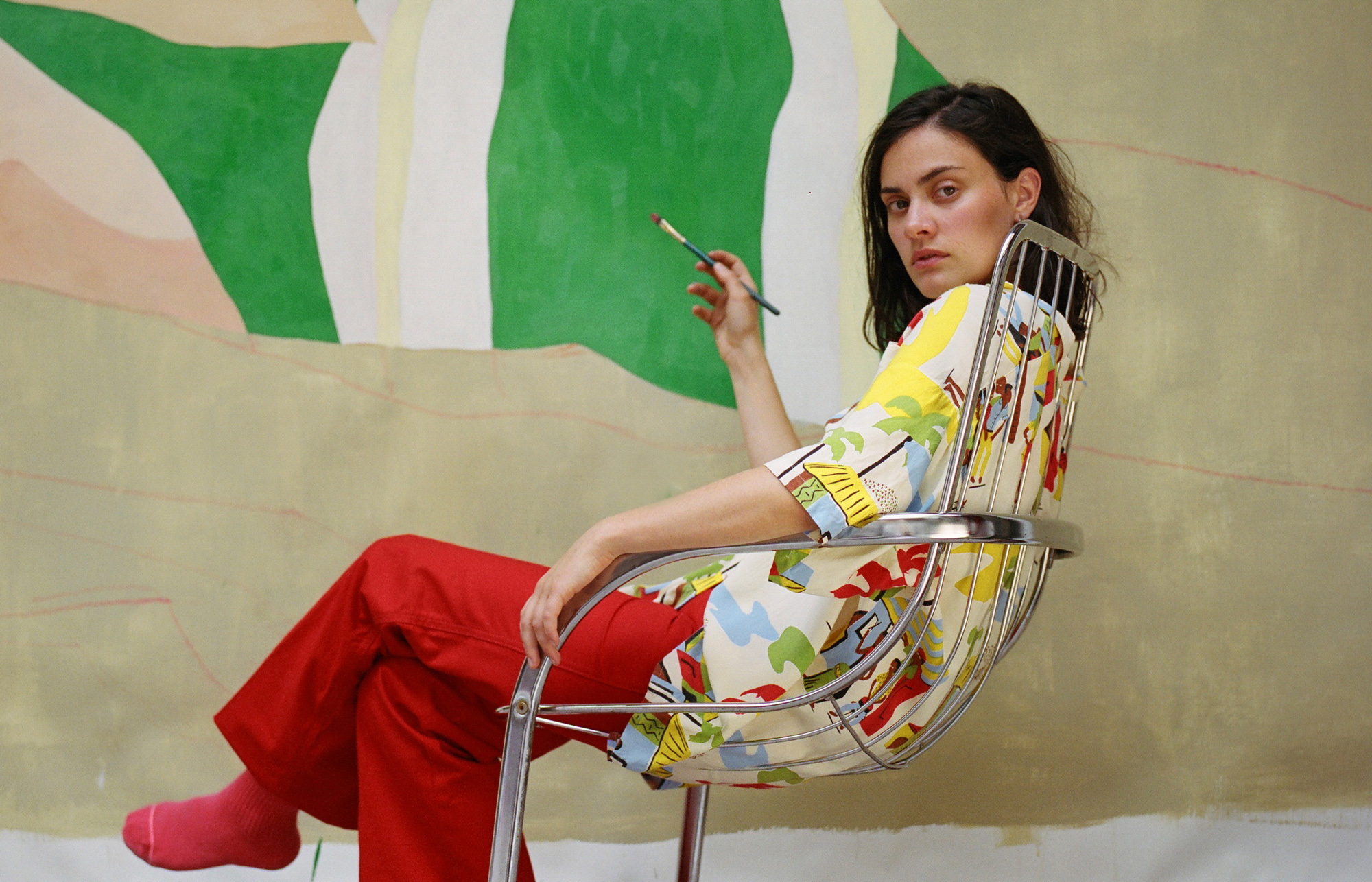 Inès Longevial
Life in the Balance
Interview by Evan Pricco // Portrait by Fiona Torre
While wandering around in your favorite museum, there are many ways a work of art may move you emotionally. Stunning ancient sculptures evoke wonder about how the artist achieved such perfection minus modern tools. Standing in front of an early abstract painting can sometimes channel the historical and revolutionary spirit of an artist choosing to challenge the figurative standards that preceded. But there is always something about portrait painting that captures our attention in special ways: the who, when, where, why, time of day, and conversations that were had during the process, or even the dialogue between artist and subject. Freud, Neel or Hockney, the great portrait painters, create these scenarios for the viewer. An even more striking observation is an artist's choice to do a self-portrait. What were the feelings that day? Why did the artist etch in time their subject, let alone their own self?

In a way, Parisian painter Inès Longevial is a revivalist. She paints portraits of herself, yes, but of her friends and subjects in a way that is both timeless and of-the-moment. Her unique aesthetic channels the studio artist of the the early twentieth century, but also bears a contemporary angle that speaks to daily life in the twenty-first, whether through commercial projects with Nike or Levi's, or subtle clothing details in her fine artwork. After a standout exhibition in late 2017 at HVW8 Gallery in Los Angeles, as she prepared for a solo show in early 2018, we sat down with Inès to discuss her early start in the South of France, her preference for portraits, and the romanticism of Paris.

Evan Pricco: When you wake up in the morning, do you make painting goals for yourself? Are you structured that way?
Inès Longevial: When I wake up in the morning, I don't really know what I'm going to do. I try never to do again what I already did. I gradually find new ways to approach the color, to pose the material and to compose. It's quite complicated, because even as my vision evolves, I still want to be understood in 150 years.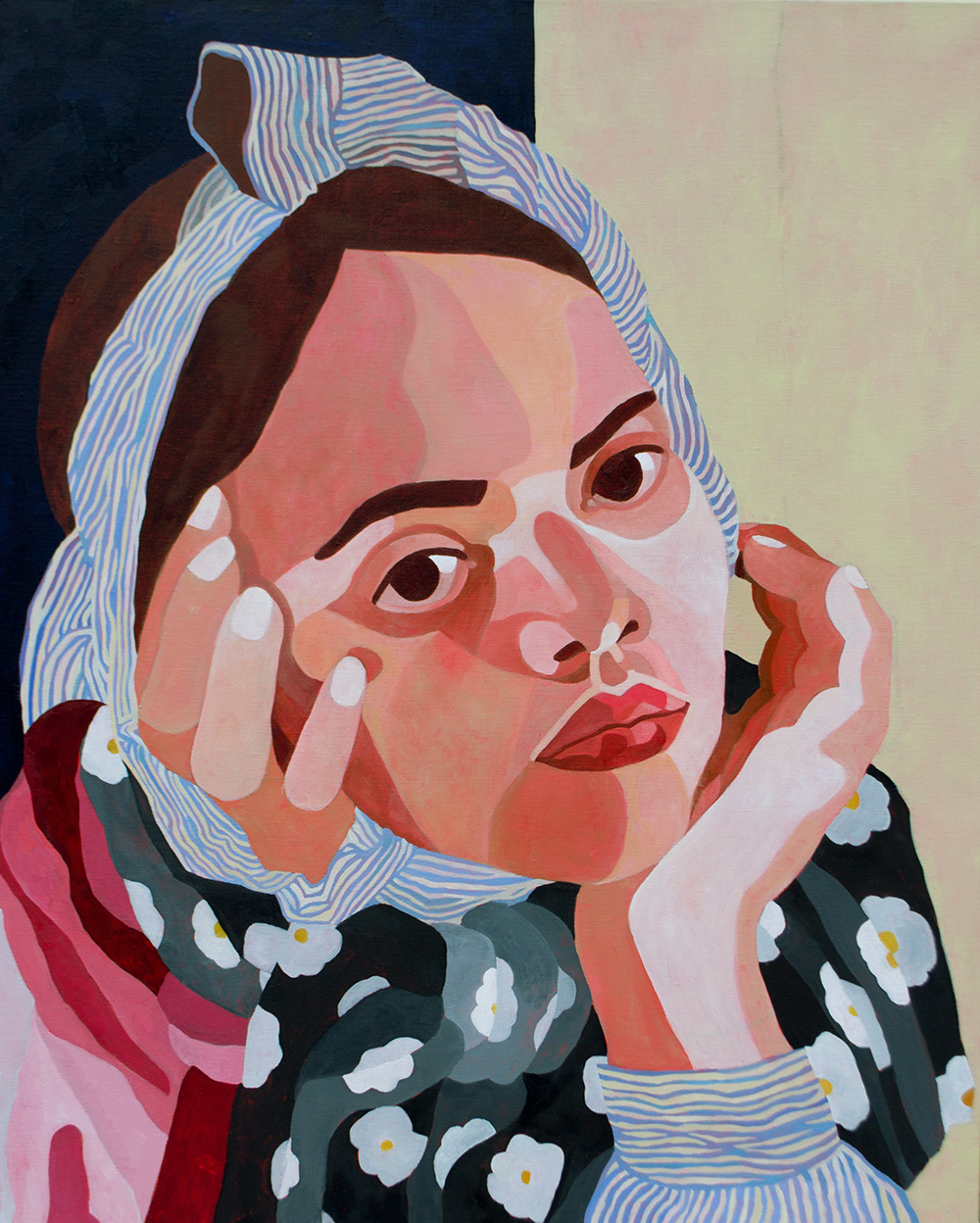 I don't know if it's a weakness for the present, but my biggest question is whether my work will always have an impact.

I've read in past interviews that your preference is to do nothing but paint, but you do have a background in illustration and commercial projects. Even then, are you only thinking about painting?
No doubt!

I know this sounds simple, but tell me what you like about painting.
Without real preparation and under the inspiration of the moment, painting has an instant eloquence, it has as an irreducible force. I like not having to explain my paintings.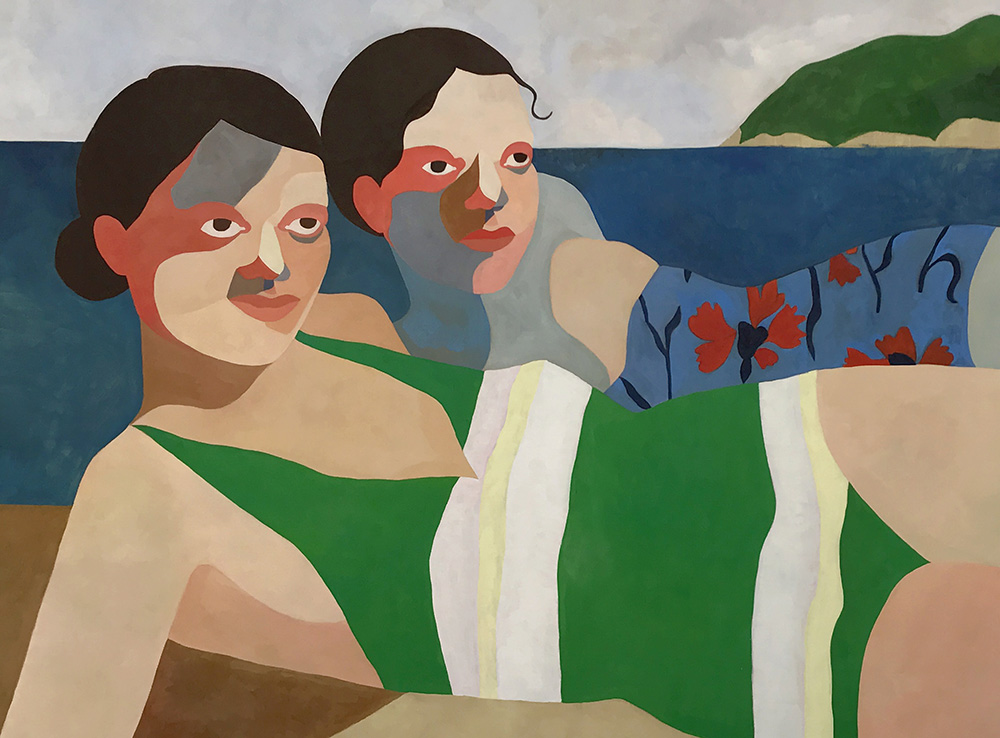 You grew up in the South of France where there is this historic romanticism about painting in that region, or the Spanish countryside, and that seems to hold a strong influence in your work. But you moved to Paris, which also hold its own deep, romantic, artist-as-career history. How much of that storyline resonates with you? Are you conscious of that sort of romantic history?
I don't know if I'm aware of that every day, and I know that this idea is controversial, but I believe that the work of an artist cannot be appreciated without taking into account his or her life.

Was oil paint your favorite from the start?
The first time I started painting, I was seven years old. My mother wasn't there, it was a Saturday afternoon, and I was being supervised by my aunt. For Christmas, I was given some oil paints. After taking out all the tubes and starting to paint, I already had it all over me and put it everywhere. My aunt panicked and made me clean it with turpentine essence. After that, I did ten years of acrylic before returning exclusively to oil.

Were your parents artists?
No, but perhaps they were artistic and creative in their way of living and raising up my brothers, my sister and me.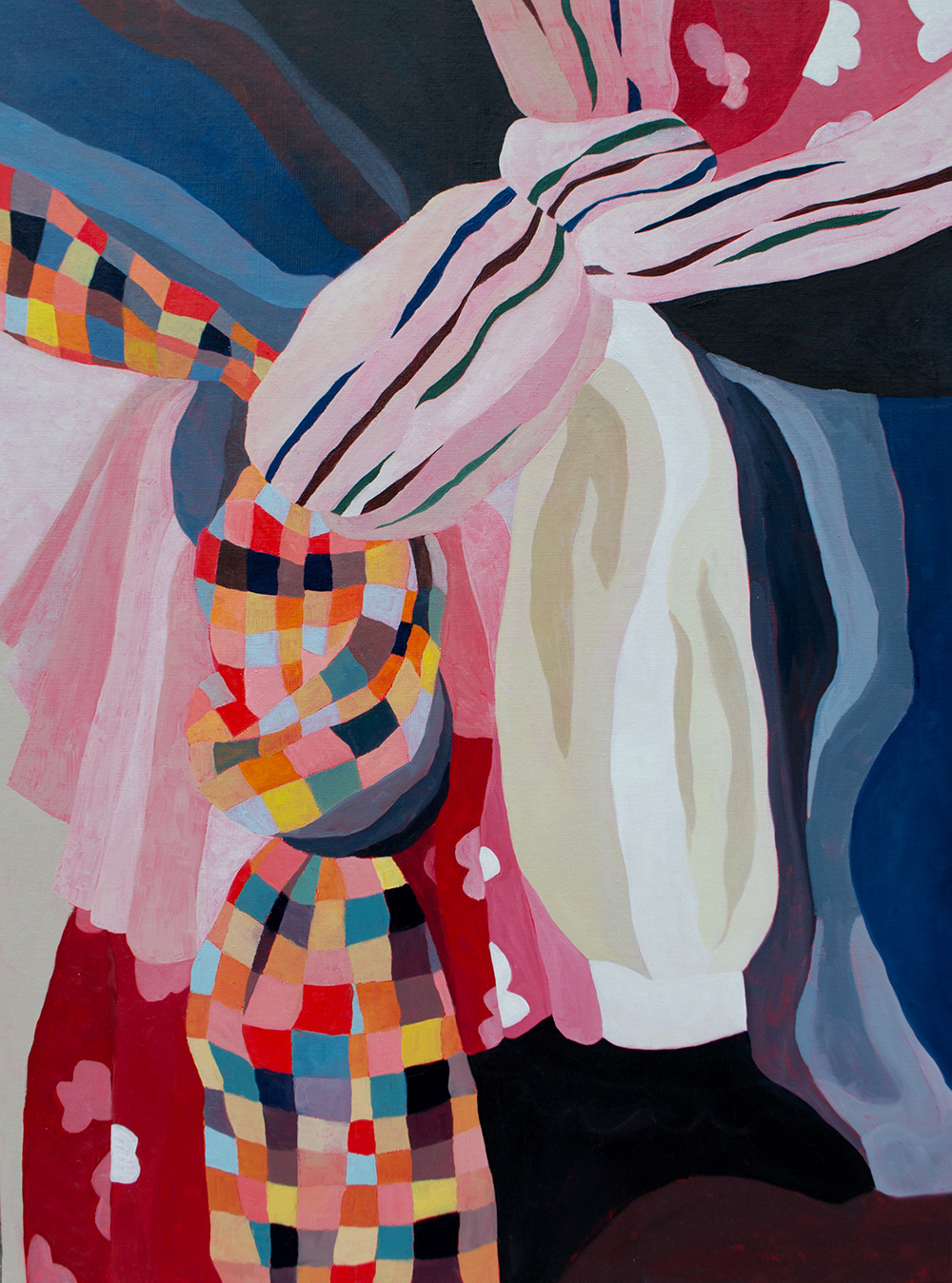 If you can look back to the young Inès, what did your first paintings and drawings look like?
My first painting was a portrait, I think that it was for ease. But today, if I still paint portraits tirelessly, it's because I choose this ease spontaneously, which has to do with the psychological acuity that I want to give to my portraits.

My colleague asked this question of an artist last month, and I really liked it, so I wanted to ask you: who are the people you are painting and what are they most often experiencing?
My paintings are like a personal diary.

So they're self- portraits, in a sense?
For many, they are self-portraits.

Your subjects always have a serious pose, and rather somber expressions on their faces, though there is this calm and sort of quietness to them. I think that has a lot to do with your choice of colors in the faces and skin tones. Are you even aware, when beginning a painting, that there is such a reflective expression? I feel that there is this interesting tone of serenity in a gallery full of your work.
I am not really aware of this aspect and it was never so well-formulated. I am not an especially calm person, so I think the contrast expresses a need for hypnotic serenity. Perhaps my work, like many others, is an effort to make the world look like a stable and ideal form. I am looking for a kind of peaceful joy.

In your mind, what are the elements of a stable and ideal world?
It's impossible to answer that question in a fair way. For me, it's indefinable by words. That's why I paint.
You have a show in Paris opening in March, and I assume that is where all of your energy is going at the moment. What are you working on, and do you give yourself particular guidelines when it comes to a solo exhibition?
It will be my first solo exhibition in France, and I just want to continue working without compromise while staying as sincere as possible. I don't have specifications or rules to follow like a mathematician.

Do you have art heroes? I know you have referenced some of the Masters in the past, Kahlo and Rodin, for example. Are there certain styles or contemporary references that inspire you? Even if it's something like wallpaper designers, I'm curious, because you seem to have your own unique thing going on right now.
I keep quoting him, but Pedro Almodovar inspires me a lot, and has always touched me. His sense of framing and color is both natural and personal! I also saw the ballet, Tree of Codes, which made a mark on me recently.

Light is probably what I notice the most, even if it's pearly, bright, cut... this is probably the starting point for my questions around harmony, balance and proportions.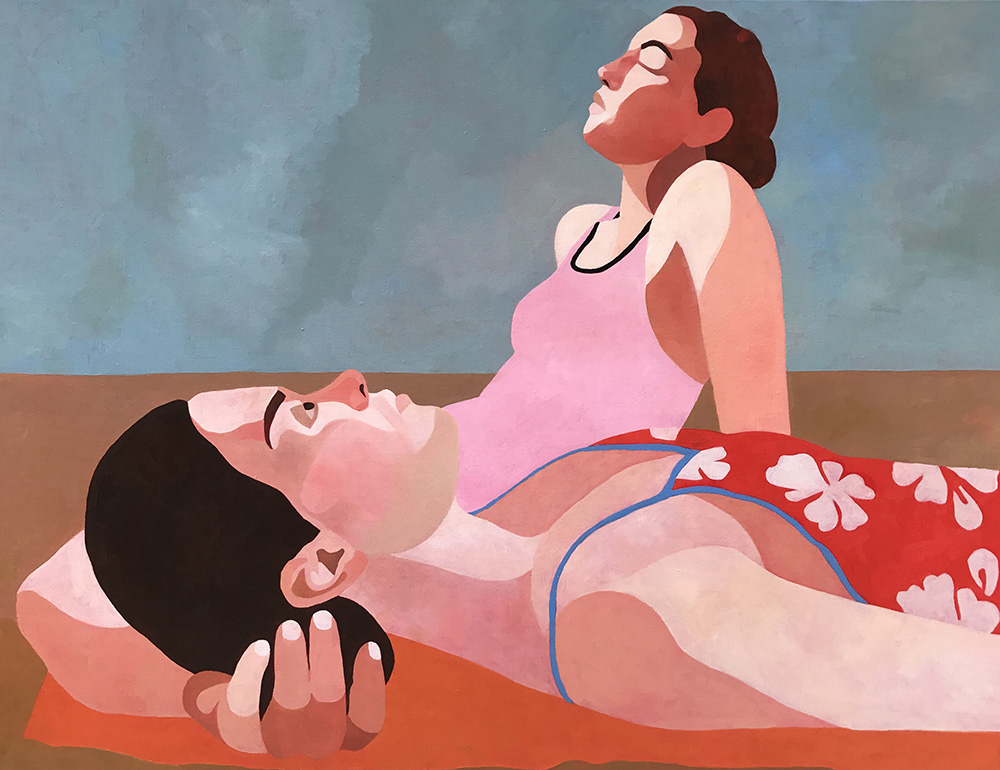 I really wanted to see that ballet, of course because of the Jamie xx soundtrack and Olafur Eliasson visual concept. What can you learn, as a painter, from such moving art like a ballet, or lighting design from someone like Olafur?
It looked like towers of successive magic, but I did not try to analyze or find the tricks. I let myself be amazed. There are, of course, lots of games of symmetry and geometry, as Olafur's main vector is color.

Do you actively seek stunning light, or try to capture specific lighting in your paintings, or do you just appreciate its everyday permutations?
Since I live in Paris, I have noticed how important light was in my life. In Paris, the light is very beautiful, but is almost always the same. I like traveling to find new lights.

What's the last stunning interplay of light that inspired you?
The light of the Basque Country, pearly, perfect for painting.

What time of day is the best time to paint?
The ideal time is at tea time or very early in the morning.

What is your favorite part of the body to paint?
The nose. It's to smell you better.

I was talking with a painter friend from California the other day, and he told me he just can't escape California, like it's always right there in his paintings, something he can't shake, but is proud of. Do you have that same feeling with your paintings? Like they come from a very specific place in the world?
I don't know if my work belongs to a place, certainly a little, since I'm not a nomad. I think that part of Paris and France is in my work, and I don't know if it's good, but there is always a little bit of me in everything and a little bit of everything in me.

In 200 years, when an art historian looks back at your work, you want them to say...
I like this question and I often ask myself secretly without having found the exact answer.

I wish, in hindsight, it is stated that all the work had not yet been made, contrary to this feeling of "the end" (perhaps very European, but very present)—that my personality, my life and my work were undeniably linked, and that the novelty still existed and could have a strong place and an impact, that the questions of pure and hard aesthetics are inexhaustible.

Inès Longevial's new solo show opens at Galerie M in Toulouse, France on March 13, 2018.