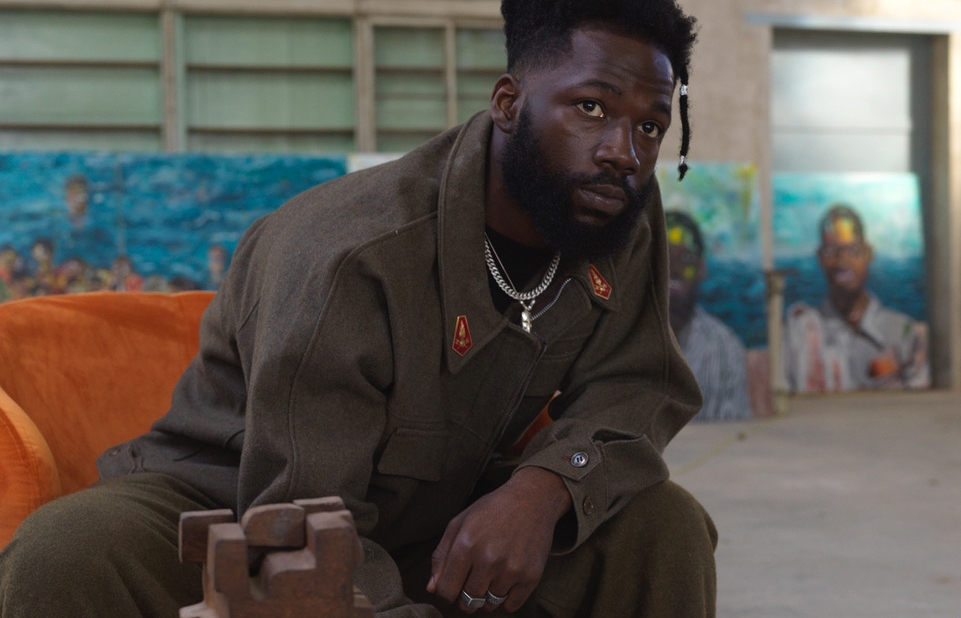 ---
Ludovic Nkoth
A Dear Statement to the Soul
Interview by Charles Moore // Portrait by Foto Gasul
Cameroon-born painter Ludovic Nkoth takes issue with the common public perception of Black artists. Through a critical lens, being Black, in essence, comes to shape creatives' identities, but Nkoth feels a separation is missing, the distinction between being Black and being an artist so paramount to his path. In this way, it makes sense that the New York-based painter considers himself a Black man rather than a Black artist, stating that while his background has undeniably shaped his trajectory, his work speaks for itself.
And it certainly has. After earning a BFA from the University of South Carolina, Nkoth went on to pursue an MFA from Hunter College and has lived in Manhattan ever since, though recent shows have required quite a bit of travel. Nkoth's exhibition Don't Take This Too was on view at the François Ghebaly Gallery in Los Angeles this past winter, featuring striking portraits of Black bodies—some crafted from fantasy, and others from memory—abstracted through his vibrant palette. A descendant of the Bassa and Yambasa tribes in Cameroon, the artist pays homage to his upbringing and life journey as he sheds light on the choice to leave his mother in Africa for his father and the States, a move that shaped his life. There's a sense of ceremonial hope in these layered familial portraits, of passing through time and space. Additionally, the intricately painted masks from his native Cameroon add powerful depth and resonance.
The overwhelming contrasts within Nkoth's work are dramatically apparent in his newer pieces, including the renowned In Search of Reparation (2020). A recent show that opened in March at the Luce Gallery in Italy hones in on the notion of hardship, as a vibrant blue background discloses a series of Black heads barely bobbing in the water, surrounding a lifeboat and nearly pulled under. Referring to these subjects as "fallen angels," the artist positions them as explorations of water's awful power and beauty, though the piece holds even more importance, indicative as it is of his own personal experience, his passport, if you will - a sort of fingerprint, proof that he made it to the other side.
Charles Moore: I understand you like painting to music.
Ludovic Nkoth: Yeah, I love music, and my work ties back into harmony. Remember, back in the days when your favorite album would come with a side A and B? Well, I wanted to relive that experience: I wanted to do a back-to-back solo show, where the second one hasn't been announced yet, but is on its way.
Tell me about the first one.
This first one happened here in New York mid-pandemic. At the same time, I was visiting family in South Carolina and somehow got connected with François Ghebaly. The vibe was just mutual from the start, man. We talked for almost two hours about ideas for shows, and then he invited me to participate in a small project. I took that and ran with it.
Four months later, I got to show him what I was working on for the small show, and he said, "Listen, I like your stuff. I didn't expect the work to be of this quality—the whole team at the gallery is excited. So, how would you like the whole gallery?"
Wow!
You know, I've had good shows and opportunities, but this was my first time having a solo at a gallery. With this much behind them, just showing in the same space as famous artists was amazing. I returned to the studio, and I thought, okay, let's break down everything and start over again. Let's be grand enough for the whole space.
What does this show feature?
With this show, I wanted to express the privilege of having a family and roots. When the pandemic started, the first thing that I did was run back home to my father's house in South Carolina—I knew how lonely New York could be. You know, just being back in that familiar space with loved ones, taking it all in, and just freewheeling, really started bringing things back together, and everything started clicking.
I became more conscious that I have one family in the States with my father and another back in Cameroon with my mother. These two families have never existed in the same space, and that's not even possible because my father and mother lead different lives. But with art, I intentionally wanted to merge their worlds and have these two sides of the family co-exist, embracing me and my roots all at once.
So we divided the show into two rooms. When you first walk into Gallery A, the smaller one at Logan Valley, you're introduced to three key paintings. The first one is of people conscious of one another's presence and bonding together as a family. Over on the window with the blinds, you spot a child peeking through—that's me looking into this space that I was never part of and wishing that maybe one day I'd have a family with an ecosystem this beautiful. And in the same room are some people that helped hold this delicate ecosystem together.
Immediately on the left, we have this orange painting called "A Working Man." It's this worker dressed in some blue Dickie's overalls on the way home from work. As a family, we celebrate this individual who holds us together, the same way the father in my traditional culture is the dominant figure.
And this next piece shows that to have this family intact, different members outside of the household play a role. And also, next to the working man, we have a solo portrait with a yellow background entitled The One That Could. It's a portrait of a strong black girl, because having a daughter was something my mother always longed for since we have all boys in the family. I wanted to capture that fantasy of hers.
Then when you swing around the corner, you are now on the main floor of gallery B. Now, you're introduced to me, my mother, my roots, and everything that has shaped me into the person I am now.
I was just going to ask, what was the name of your tribe?
My father and my mother came from two different tribes. My father's tribe is Bassa and, in my culture, I would usually identify with my father's tribe, so I would be considered Bassa. But I identify with both my father's Bassa and my mother's Yambasa tribe.
As you enter the gallery, you're greeted by these massive panels of masks. The idea was triggered in 2020 during the pandemic, but I was immediately reminded of certain rituals in my tribe which incorporate masks. Initially, I tried to make them on paper, but I soon felt the mask's cultural weight wasn't being represented. So, after some experimentation, I arrived at the wood. I got these single sheets of birch wood sliced in Canada and shipped here. I then fabricated the masks by stacking the sheets in layers, one on top of the other to form a panel two-and-a-half inches thick. The reason I wanted layers is that, for me, layering the wood also represents the layers of our history.
How do these masks relate to your tribal culture?
Cameroon has a little over 240 tribes and dialects whose distinctive features are brought out in their masks. I wanted the wood to represent the lineage of my family and tradition. I tried to add myself to this history because, after some 50 sheets of wood, I would have four more sheets of just paint acting as a continuum of the wood layers. I am inserted when I pick it up from where my ancestors left, but I continue with a different lens.
So, you want to be a part of that tradition, but at the same time break away and be yourself. What else do the masks speak to?
They told me something more profound. When I was in Spain for over two months working on the other solo, we made another wooden mask for demos in Italy. But these masks came out different; instead of being hollow in the back, they were just solid wood. This added something like 200 pounds to each mask panel, so they took on a whole different form.
Just their sheer weight and the fact that it takes more than three people just to move this mask is symbolic. It takes a whole village to raise a child, so I want it to depict how it takes this many people to carry a fraction of our tradition.
In the bigger space, you have the centerpiece and title of the show, Don't Take This Too. This is a self-portrait. Here, we have me clinging on to this white chicken. It originates from the voodoo tradition back home. Of course, voodoo in the West is demonized, but it's just a way for us to revisit our ancestors, the spirit world, and nature. It's a way of life. With this painting, I wanted to regain that sense of pride in who we are and the natural place of our culture's spirit world.
We have this one ritual where a live chicken is sacrificed, and its blood is offered to the spirits. In return, the spirits will bless our daily activities as a farming community. I was trying to say that this restorative chicken is all I have left of my tradition, so please don't take this away, too. Speaking to the outside world, I'm saying that so much has been stripped from my people by the past colonizers: the idea of self, the notion of power, the concept of pride in who we are, the idea of just praising our ancestors and nature. So, I'm saying, "Please don't take that away, too. Because here I am, naked, vulnerable; I'm in this grassy field lying on this cold piece of stone saying, this is all I have left. Don't take this away, too."
That piece is positioned in between portraits of my two mothers, my biological mother Nicole on my left, and my adoptive mother Beauty, on my right. These two women pretty much shaped me; they protected me and nurtured me in my youth—and, in this way, I honor two wonderful women who have been so significant in my life. My family has been so dominated by male figures that I had never appreciated that having an African woman or a mother figure around did way more than being around men. I am continually searching for such relationships.
That's why you see me painting a lot more women as mother figures than before. It's an exploration of new ideas and being fluid as new thoughts come and go.
Tell me about this second show.
The show opened on March 4 at the Luce Gallery in Turin, Italy. The theme of this show feeds a little bit off the first show that depicts my roots.
I've arrived at the point where I know what I want to make, to make a very dear statement to the soul of Africa and Europe. So I had to make sure that these works were created on European soil. I use various soils in my work, and I wanted this soil to be from that continent.
At its core, the Italian show is a documentation of people migrating from the African continent to Europe. I wanted to show the hardship, the struggle. What's interesting about it is that different mediums are used, splashes of watercolor, for example. All these works revolve around water, and through water, I wanted to document the journey that these immigrants take through the Mediterranean and arrive at, for example, Spain, because that's where I was.
While I was in Spain, I started getting weird looks, as if I were one of those immigrants arriving in banana boats. I experienced being in their shoes, too, which was both scary and exciting. I made about fifteen pieces for that show four months ago, and each idea just kept evolving from the other. Have you seen In Search of Reparation?
It's one of my favorite pieces from you.
Thank you so much, because it's one of my favorites, too, and it also came out of the series depicting those migrations. I think the world needs to see it because these are events that are so visible in Europe. Still, Europeans are blinded because they are the reason these immigrants are running from the very continent their European ancestors once colonized. And they wonder why we're flocking to their coastlines, not realizing they were responsible for taking everything!
In Search of Reparation describes immigrants fleeing in an overcrowded boat, many sinking, halfway submerged in the water. After that piece, new paint started appearing where you have these little heads poking out of the water—I call them fallen angels. In The Last Note, those heads start to sink more profoundly in the water, four of them are looking up into the sky as if accepting that this is the last dance. Their heads look up in prayer to the Lord as if to say, "Just take me!"
As I was painting these figures, I kept thinking, "What if these figures, after they die, come back as spirits trying to help the other immigrants get to their destinations? Could that show the way for the next generation?" Like you and me, we're paving the way for whoever comes after us to have a better route.
Absolutely.
But now, what if we just have some of these figures standing up for themselves? What if we portray people who made it? I started painting this vision and posted maybe two of those pieces on Instagram—passengers arriving at the coastline after going through those treacherous waters.
Then, I wondered about documenting these voyagers after their arrival, and started painting them as just single individuals standing in front of this beach wherever they landed, facing the same immigration procedures I did when I arrived in America.
So, yeah, man, this is the next show. I love both shows, but man, the show in Italy broke me. It gave me a run for my money, man. There I was, it was the pandemic, and I was this solitary Black figure roaming the streets for months. I visited different Spanish coastal towns because I wanted to study the water and capture the experience of traveling through it. The Mediterranean is crystal clear, and the yellow and red stones on its bed give their color to the water.
I want to know more about your own experience. You moved to South Carolina when you were 13, right?
Yeah, I was born in Cameroon in 1994 and moved to South Carolina with my father in 2007. I went to a school there and later to the University of South Carolina.
What about your university experience?
I attended the University of South Carolina's sister school, which was closer to home. I was studying graphic design while working in my studio. About a year before I graduated, after switching my major three times trying all these things that were not working out, I switched to education, hoping to teach. At the same time, my studio work was fast developing, so that last year of undergrad, I had a frank talk with my advisor about my future. The upshot is that I was allowed to count my studio work as accumulated credits for transfer to Hunter College in New York. Hunter was impressed with my work and, thankfully, gave me a place. After I graduated, Clemson College offered me a full ride to their master's program, a stipend, free studio, and housing. I am so grateful for all that.
Awesome! So, tell me about your creative process, how you go from blank canvas to finished painting.
A lot of the time, I start from sketchbooks or photographs, old family albums. From there, I begin imagining these shadowy figures whom I've never met before. "What if they were living here with us or in a space where we get to meet each other in person?" How I visualize their personas and create an environment for them appears in the sketchbook.
From the sketchbook, though sometimes without, I figure out a few compositional elements and go straight at the canvas. I toggle in hand all the paint I have in my studio and, after my first layer, there's this assemblage of paint deposits using different fluids and other mixtures. I leave that aside to dry for two days. Whenever I come into the studio, the paint's still all wet and fluid, and it keeps moving throughout this period.
By day three, I don't know what to expect. That's the most exciting part of the process because, when I come back, I have to figure out what's in front of me. It seems like I'm creating a sculpture because I have to hammer out that painting from all the distracting elements. It's just like throwing up a slew of colors on the canvas and textures, and now I have to grab all that and shape it into a world that is meaningful to me. At the back of my mind, I want to revisit these people I met in this photo album and possibly juggle with several elements simultaneously.
Is Lil Wayne still your music of choice in the studio?
Man, just listening to "God's Plan" in the studio last night was amazing. I'm going through his mixtapes, the whole dedication series, and Tha Carter III, which is a classic. I'm huge on mixtapes, and I go into deep catalogs and just listen to his sound. Whenever you listen to his old things—because he was hungry—you can only hear the energy. I'm hungry, too! When I see paint, I want to go for it.
So it's just that simple: good music, good paint. The last time I was in your studio, it looked like you worked on multiple pieces at once. So, how do you balance the diverse images on different canvas?
I treat them a little bit like music, too. I'd be on an idea for a while, and I'll let it breathe. Then I start something else and allow insights from one piece to spark off the other. I'm always generating ideas, which I capture in my notebook. I still have five tabs open in the studio.
I've heard you describe the technique you use as swirling the paint. Is that an accurate portrayal?
I would describe it as musical notes, man. Whenever you're listening to a good song, the notes carry into the next song, you know. Late in 2018, I spent half of that year trying to figure out how to paint black skin. My professor Collin Washington would ask, "What are you trying to show with this skin?" He was pointing out other artists, "Look at this artist. What is he saying this with skin?" He helped me understand that, just with the skin, you could just say so much. For me, I want to show the history of black skin—its inherent beauty.
If you look at the strokes that make up the skin, you have five different shades of brown, and then some blues and some pinks, because black skin has light bouncing off of it all the time. Each stroke I put on the canvas reflects that. So, the next time you see a piece, get a little closer and try to make out how many different colors of, let's say, browns or reds you could see in each stroke of skin.
What haven't we discussed that you'd like me to know about you or your work?
I have one observation to make. When people do a story on a Black artist, they make sure they preface it with, "Black artist is doing blah, blah, blah…" My thing is always," Yes, I'm Black. But being Black doesn't have anything to do with me being an artist. I'm just an artist." You don't read about them saying, "White artist blah, blah, blah..." So don't bunch me into anything. Just give me my respect because people would try to politicize our color and identity. I'm not a Black artist, I'm a Black man, and I am an artist, period.