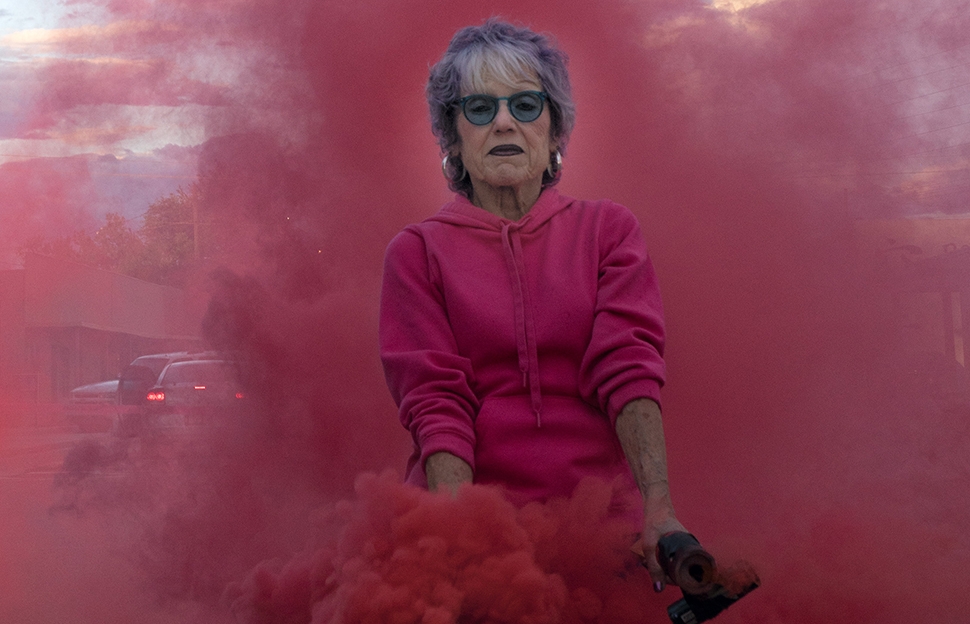 Judy Chicago: A Retrospective
"You Should Never Have to Justify Your Work"
Interview by Gwynned Vitello and Portrait by Donald Woodman
"It is hopeless for the occasional visitor to try to keep up with Chicago. She outgrows his prophecies faster than he can make them." Mark Twain's pronouncement was about the city, but the She to which he referred could well be Judy Chicago, who chose to adopt the moniker of her birthplace. She is best known for inviting women to The Dinner Party, her paean to hope and history that rocked the art world in the '70s, and is still serving it up at the Brooklyn Museum. Still a proverbial mover and shaker, she is the Volcano Goddess, an eternal flame, creating art deep from the womb of the earth. Her smoke and fireworks performances are just one example of her multi-atmospheric, multi-dimensional art. Judy Chicago: A Retrospective opens May 9, 2020, at San Francisco's de Young, where I spoke with Claudia Schmuckli, Curator of Art Programming at the Fine Arts Museums, to get a broader view of the colorful, cat-loving artist.
Gwynned Vitello:
Similar to the Black artists in
Soul of a Nation
, it seems that Judy Chicago was compelled to be proactive in her art, to break away from minimalism.
Claudia Schmuckli: I'd say your assessment is correct. She has always been driven by a deep sense of social justice, and of course, being a woman growing up the time that she did, she personally felt an acute need to redefine the role of women in society. I think it started very much from an understanding of a hierarchical society in which women were secondary citizens and she grew up in a household that was very conscious of that and already engaged in conversations about social justice around these issues. So it's something that she absorbed early on, even as a child, the urgent sense of a need to create more equity among human beings. Personally affected by the power structure of society, it was a natural starting point to think about the role of women.
How and when did she start making art?
She was an avid draftsperson from a very young age, drawing and making things. She never really had a sense of herself in any other way than being an artist. Her parents very much fostered that and provided opportunities for education in Chicago, so the segue to going to art school was very natural for her. She got her degree at
UCLA
, and that's how she ended up in Los Angeles.
Were there many women making art in LA at the time?
Absolutely! She had contemporaries, but she speaks about moving there and going through art school and how she really wasn't aware of who her peers could or should be. Really, the women had been forced to live in a position of isolation that prevented them from seeking each other out within the community. Eventually, she met those trying to make art which led to her pairing up with women like
Miriam Schapiro
, who became involved in the feminist art program they founded, first at
Fresno State
, and later at
CalArts
.
She actually talks about Billy Al as someone she conversed with quite regularly. He was very much part of the boys club, where she fought for recognition, but for some reason, she singles him out as someone whom she informed and influenced her. Rather than having the opportunity to assert herself on her own terms, she was determined to fit in, so it's interesting to look at her early work and note what she did immediately coming out of grad school.
Was that the car-hoods?
Those were one of the first works she made after graduation, and in order to realize them, she enrolled in auto-body school. There she was truly one of the only women among hundreds of men who were paying to take spray painting lessons. She was very interested in developing a technique that fused figure and ground. This carries through her entire body of work to this day, sort of from a formal perspective, and it's a defining aspect of her work.


I read that she feels her best work straddles that line between two and three dimensions.
She wanted to sort of figure out a new way of thinking about the relationship between figure and ground and fusing them, so enrolled in auto-body school partially driven by that idea, and the car-hoods emerged right after. I think they're incredible works of art, especially looking back today and thinking about artists like
Richard Prince
, and taking this emblem of masculinity, this obsession with cars. By isolating this element of the car hood, it became the object of artwork—and the reaction to these was very negative within the circle.
Even among the artists?
Especially the artists! These male artists were really the only artists she was talking to at the time because she was seeking their approval. They dismissed this for the subject matter and for its colors, shapes and forms, which are deeply organic, somewhat sexual. You can already see how she is gravitating to a very biomorphic type of imagery that was what she wanted to express. But it was extremely negatively received by her male peers, so she abandoned this type of subject matter and segued into a more minimalist vocabulary which was the dominant art language of the time.


Ha, that must have been the period of time that inspired her reference to being "fed up pretending I was a man, adopting a male drag."
Exactly! But she never abandoned her ambition to imbue or make artwork that spoke of what she wanted to express about a female sensibility, including female sexuality and desire. So, in many ways, she subverted the minimalist vocabulary for the infusion of color and also in how she treated form. If you look at what is now referred to as her minimalist phase, you will see that she embraces circles and multi-color compositions. In particular, the
Pasadena Lifesavers
were a sort of segue into a type of form that she refers to as her cunt pictures. When I saw her recently in Berlin and asked about being conscious of subverting the minimalist framework, she admitted to being very purposeful about the colors and shapes. But even then she was primarily faced with rejection from the official art world, people like
Walter Hopps
and many critics at the time.
Was this around the time that she sort of reinvented herself and adopted the name Judy Chicago?
She changed her name in 1970, but she already was often referred to as Judy Chicago, so often teased for her strong Chicago accent. But it was "the thing" at a time when people would assume nicknames or a sort of alter-ego, so she was tapping into a practice that was quite common. She did announce it in
Artforum
.
The full-page photo of her in the ring wearing boxing trunks, right?
Exactly, and there were several reasons for her to do that, some of them personal and some of them artistic, and they all blend together in this very demonstrative gesture. She also had lost her husband very early on, and carrying this name (Gerowitz) that wasn't hers, and the person who gave her the name, for a very short time, wasn't there anymore! So she decided to take this opportunity to claim her place in the art world.
She had forged this way by herself, and at this point, had even "lost" her maiden name. I don't remember seeing much about her having a mentor.
A lot of what she writes about in her autobiography goes to this point of how she really felt alone and only later discovered that there were other women artists who were going through the same struggle. One of the reasons she wrote
Through the Flower
was because she decided she needed to have a place where she could address this sense of isolation and anger. All these things were maybe holding her back as an artist. She was trying to work out these issues and
Anais Nin
, with whom she was very close, suggested she write about it. I don't think initially she thought it would get published, but it did, and then writing became a very important part of her artistic life.
Besides the fact that actual script is part of her process, can you talk more about the role of writing in her practice?
She has become a prolific publisher in terms of writing the autobiographies, but also a driving force on the publication of catalogs. Lacking support in the institutional art world, she became a self-generator of her history, vowing early on that she would not allow herself or her work to be forgotten. This came full circle with
The Dinner Party
, which was conceived to combat the erasure of women's roles in history, including art history.
I know how much pride she took in teaching, and if I have the timeline correct, The Dinner Party came about after Fresno State and Cal Arts, right?
She did embark on this afterward because she felt the work she needed to do had to happen outside of the academic context. She had, and has been, thinking about this her whole life. The driving motivation behind The Dinner Party was the resurgence and unveiling of all the varied histories of women in history. This ambition to rewrite women into history and do it in her artwork has been part of her entire life, which is why she's also an avid documenter of her own work.

I'm thinking of how much work was involved in completing this piece.
Her practice is incredibly research-based, which is interesting given that she is an object maker. But all of these objects are informed by years and years of in-depth research. She started out researching history and trying to find the omissions of important female figures written out of official textbooks, and as she was unearthing these figures, she started thinking about the format for these stories in which these women would be represented. What she wanted to do was bring these women to the table! Of course, this started out as a metaphorical saying, but eventually translated into the literal scenario. From the moment she went to autobody school, she'd realized that she was interested in what she called "three-inch subjects" and fringe techniques. If you think about the elements of The Dinner Party, it's ceramics, weaving, forms of craft traditionally cast as feminine that are now reintegrated in the canon of fine art.
The Dinner Party is what she is most associated with, but I'd like to talk more about her other bodies of work which are just as powerful.
My interest with this exhibition is to show people the Judy Chicago people may not be aware of, to the iconoclast she has been her entire life, not just a one-hit-wonder, but an artist of unbelievable discipline, consistency and radicality who has been ahead of her time in her engagement with aesthetic and social issues.


She's addressed gender fluidity, human relationships with animals, the environment, I guess all our connections with living things, with life forces.
I think one thing that carries through her work is an increasingly extensive notion of social justice. At the outset, she focused on women's issues and in the early minimalist work, she talks in veiled and unveiled terms about sexuality and desire. In celebrating the great ladies in The Dinner Party, again her vocabulary is very much grounded in a natural, bodily sort of understanding. Then, noting how such fundamental events such as giving birth were excluded in art history, she segues into making the Birth Project, which is dedicated to childbirth ("If men had babies there would be thousands of images of the crowning!") That too was a huge sort of volunteer effort where she solicited skilled women across the country, homemakers, wives, mothers. It's a large body of work with over 80 pieces. The designs were hers, but she would give them the freedom to insert their own aesthetic sensibility.
Tell me more about the layout of the exhibition.
We're opening in the present, then taking you back in time because, as I said, one impetus of the show is to reveal her timeliness and relevance. That's why I'm starting with her most recent work,
The End: A Meditation on Death and Extinction
, which addresses mortality and environmental devastation and extinction of species, both animals and plants. Given climate change, I can't think of a more timely body of work to open the exhibition. It's a tough series, small but exquisite, with kiln-fired glass pieces. The show goes onto her series on mortality, which is really beautiful meditation on how we deal with death. This leads to the Holocaust, where she speaks extensively about how difficult it was to go down the path of exploring it as a historical event and a personal journey. She had married a fellow Jew and was, for the first time, truly thinking about her Jewish heritage.
I remember being really struck by her assessment of human violence and the Holocaust, that it is, "one long instance of the human propensity for bottomless cruelty."
The way she frames
The Holocaust Project
is truly an investigation of genocide. It did come directly after
PowerPlay
(which follows the
Birth
Project
) so there's really an interesting sort of evolution. It is very much an extension of her thinking about what power is and how it manifests itself. That led her to the Holocaust, like from a more abstract idea to the more concrete use of power. She thinks about the representation of womanhood and femininity and the role of women in society, and obviously, it's integral to thinking about men's roles. She focuses on men struggling with their sort of inner female selves while society asks to perform a certain type of masculinity, to disengage.
And we end up at the beginning, with what she has called feminist minimalism.
The minimal work is really radical because it's object-based feminism; she gravitated to a biomorphic type of imagery that she wanted to express, and you can see the roots in subsequent bodies of work that emerge from her research for one body of work, and then it sort of comes back later on. As I said, she has always been an object maker.
Judy Chicago told art historian
Hans-Ulrich Obrist
, "I'm a very old-fashioned artist. I love objects. Here's the art world moving into bigger studios, making larger work for bigger, mega-rich people. I'm alone in my studio making modest, small work… real art that tells a real story."
Judy Chicago: A Retrospective was supposed to be on vieww at teh de Young Museum from May 9 through September 6, 2020. We will continue to update you on the status of the show.