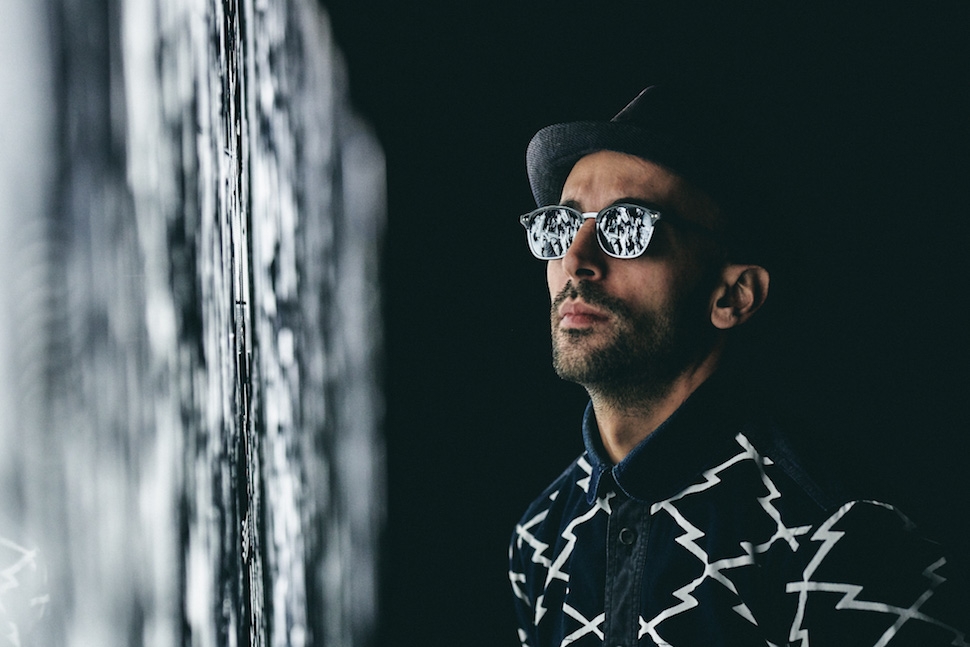 ---
JR
Everyday People
Interview by Evan Pricco and portrait by Bryan Derballa
"Let me make an image that would describe [a feeling] without struggling with the words." Midway through our tour of his massive retrospective,
JR: Chronicles
, at the
Brooklyn Museum
,
JR
quietly voiced what his entire body of work captures. In his heart, he is a photographer, one who has traversed the world creating portraits permeated with feelings that cannot be described in words. They are feelings, and somehow, whether celebrity or random person on the street, the subject of JR's camera sheds inhibitions, prejudices and even social class. They are, and this isn't too far of a poetic reach, they are just themselves.
JR has spent almost two decades working with… people. He explores ways in which the photograph can be used to eliminate hierarchies, challenge our perceptions of space and place, and use the power of community-building to develop a universal language aimed at achieving a better understanding of surrounding points of view. The people we don't speak to, that we have, for political or social reasons, perceived with a skewed and potentially harmful stereotype. From his first works in the neighborhoods in outer Paris, to his recent video murals encompassing entire cities, JR aims to find a real story that can help us better comprehend our world.
Since we last spoke, JR has become an Academy-Award nominated filmmaker, worked with Robert De Niro on a short film, hung out with presidents and built
an
installation
at the
Louvre
(full disclosure, JR even got this writer to wheatpaste with him in Paris for this project). But that ethos never changed: what are our stories and how can we collectively tell them?
Ever charismatic, JR walked me through his exhibition with the energy of someone telling the story of his work for the first time. At only 36, he is a wise sage, but one who never takes his access to both celebrities and our city streets for granted. In many ways, this is our collective history, one that JR treasures and preserves.
Evan Pricco: Let's start with the first iconic image that opens the Brooklyn Museum show, your friend in the suburbs of Paris, holding the video camera like a gun.
JR
: I took that when I was 19, and it came right after I did my first photos with the camera I found in the subway. This is in the projects outside Paris. That's my best friend,
Ladj Ly
, and we started together. I did that photo at 19 years old, and a year later, the riots exploded in front of a pasting of it. The mayor sued me. That image becomes, you know, the background of the loudest riots we had in France since the French Revolution. And, over the years, we stay friends and our careers, in a way, started there. He wanted to be a filmmaker, I wanted to become an artist. At that time, we didn't even know that's what we wanted to become, that's just what we were doing.
This year, he presented his first movie at Cannes,
Les Misérables
, and won the best director award! He's the only movie represented by France at the Oscars this year, too. The movie is a striking point of what's happening in the projects today, and you'll see all my backgrounds in the movie because that's where we shot. That was our playground for all those years.
This was before there was a term "street art," before any of the international movement was labeled. You were doing this work illegally, but it's sort of amazing how all of this comes full circle.
Really weird. But I wanted to start the Brooklyn show with this image because that's how we started and we never knew when that image would make sense. So when we took it, it was already a photo. We were like, "Whoa!" We didn't even know how we did it. Then we pasted it on the wall and this mayor sued us and I was, like, oh, shit, I don't want to pay a fine. I left the country for one year. When I came back, the riots started, and that's really when people noticed the wall from the background.
And that's where I had my first job offer with a press agency that said, "Hey, we'll pay you to photograph your friends burning cars there." I was the only one who was able to enter the neighborhood. No journalists could enter, but the thing is, that's not what I wanted to do, so I refused that job. And that refusal set me up as an artist because I refused a job where I would get paid to do images. I borrowed a camera that had a 28-meter lens and started taking photos of my friends making funny faces. So basically that image had been a decisive moment for what I do today. If I had accepted that press job, I would be a photojournalist, I'd be doing some other stuff. So really, without even knowing it, there was a job for being an artist and I kind of fell into it.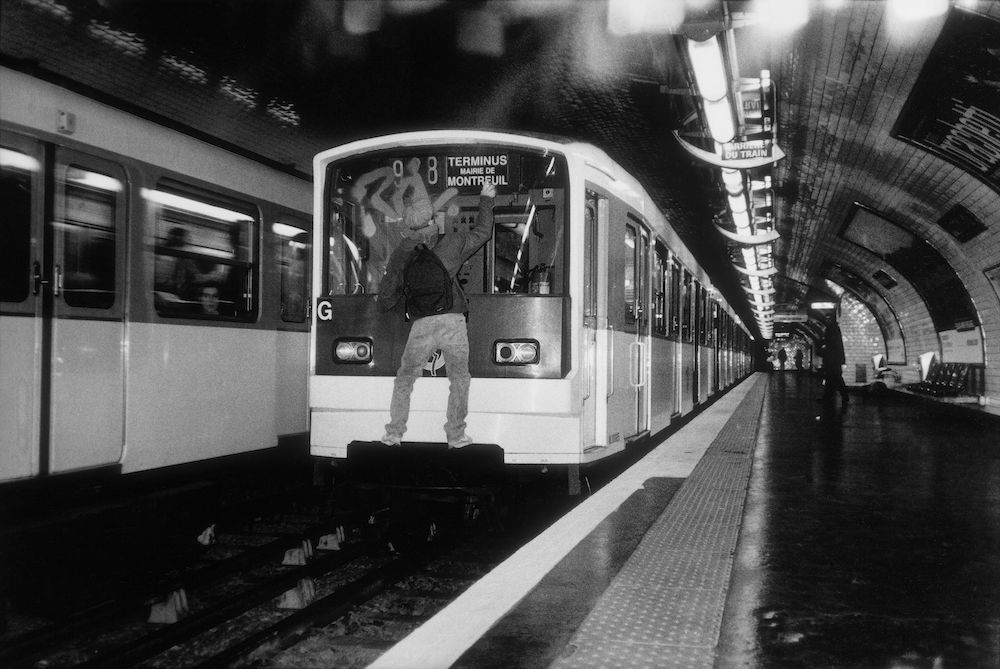 And the best part: you took this photo without any intention of really anything. It's just a great photo.
I was just pasting in our neighborhood, you know? And then my friend was just filming. A couple years ago, I was doing graffiti, and I found the camera in the subway. Some tourists forgot it. No name, nothing. I started using it, and it wasn't a good camera; you can't even change the lens or anything, but you have a strong flash. So I start shooting our journeys on roofs and stuff, all around Paris, in the subways.
I had never seen a museum, never seen a photo gallery. I didn't know about any references. So all of this documentation, and really my art career, doesn't come from a reference. I had no knowledge of that.
It was just you going out with your friends and taking photos.
I wanted to take photos that if I showed them to you, you would understand without me explaining, you'd know what the vibe was. There's people waiting on the track, we're in the terminal, I'm in the middle of the track. I don't need to tell you. That's what I was really trying to transcribe. Each time we were coming from this crazy adventure, it was having to find words to describe it. And I was like, "Oh, let me make an image that would describe it without struggling with the words."
There is a photo I took of a wheatpaste I did, the first sidewalk gallery I had done. And without knowing it, it was right in front of the
Museum of Photography
in Paris.
Twenty years later, you had a show in that same museum.
But at the time, I didn't know that there was even a museum there!
And you had never really taken photos before? This was prior to a world where everyone was taking photos.
No, no, no. There were no cell phones yet. Photography was a rich sport. I was right at the beginning of where digital was just coming, but like, shitty digital. And I found the trick before digital of just... I would go to those one-hour places where I would just do the negatives. Make a CD-rom or like a digital thing of the film. Print it as a photocopy. That photocopy I would photocopy over and over and that was really cheap. And that's why I could just paste it on.
I was documenting everything. I don't even know what I was thinking, why I was documenting all of it. We have a collective called Kourtrajmé, which means "shot-in" in slang, so we've all hung out since we were 18, 19. All part of the same crew. They're making films. I'm making photos. We always support each other still today. And we're still very tight. We were all together this year at Cannes for Ladj, all these guys who now represent culture in France in a separate way, in a separate angle, but yet we all know each other from such a young age.
As soon as I refused the agency offer, that's when I started doing the portraits of my friends. And instead of photographing them like you see in the media, I wanted to do something else. You have to understand this was during the riots, so all over the news you see burning cars, people being freaked out. I went and photographed people that would play on their own caricature of how they were portrayed by the Parisians. And then I would write their name, their age, and their building number on every photo so you could recognize someone, and that you can actually go and knock at their door. Those were my first portraits. The funny faces of people from the projects. And then pasting them in and around Paris. So this time, the idea was to bring something out of the projects and take them inside Paris.
This era would have been the first time in your practice, something you still do today, where you really challenge the notion of noticing "strangers," confronting our perceptions of people we don't know, putting everyday people front and center. Really, it's about reimagining the world around us in a more honest way.
This would have been my first time I thought, "Okay, now I'm going to start a dialogue between the projects and the city, between the division and discourse we have of those kids from the media and what's actually happening."
That really led to
Face 2 Face
, which was the first time I really traveled, when I came to Israel/Palestine, with no knowledge except what I'd heard in the media. This was where we photographed Israelis and Palestinians doing the same job, and pasted them together. The whole project was documented by a filmmaker; a lot of the conversations that were going on between the subjects and passersby, I didn't discover until later on. But it all kind of clarified a complexity, the way people saw themselves, or the way they saw how depictions in the media and government played into their response.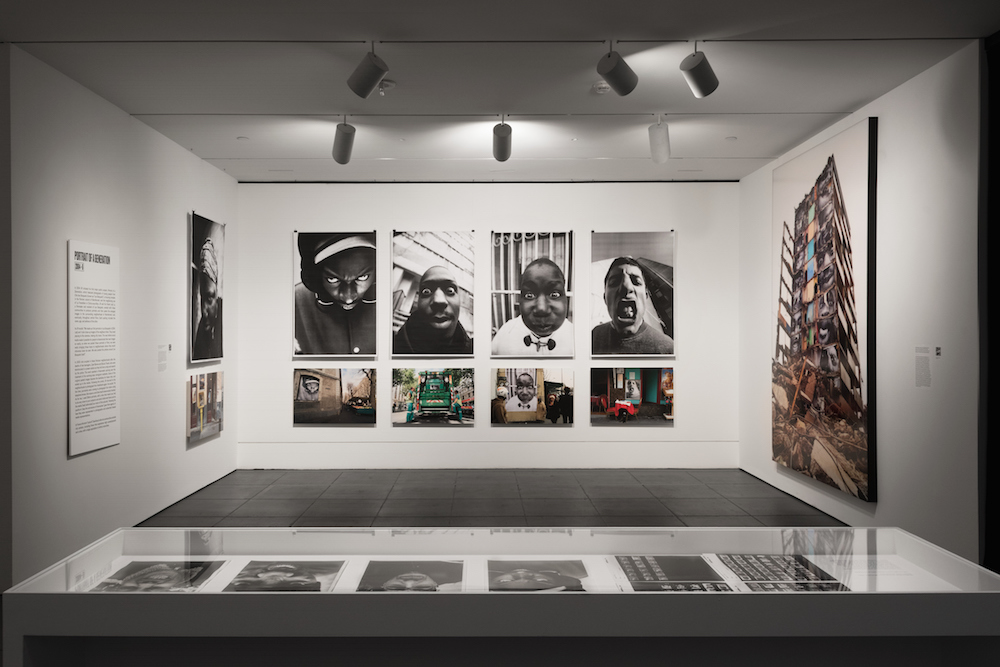 So what did that project teach you? It's interesting that the more you talk about past projects, it all fits perfectly into what you do now. You learned on the fly, but never strayed away from these initial interventions.
In the case of the Israel/Palestine project, it's amazing because people began talking about each other, but they could never meet. And even if I wanted them to meet each other, the person he or she is going to be pasted next to, they can't. Physically, they can't. But we, as foreigners, we can just go have coffee with one and coffee with the other, and you realize the complexity of this.
So these things you learn are more interesting than anything. That's why this show in Brooklyn, as well as my gallery shows, too, are not just about showing the photos that you can find online, but showing the layers of how we were doing this project, as well as the context. So that's the reason why museum shows, for me, have always been about showing layers. Which is much more interesting than… yeah, this photo, you can find it, you don't have to come to the museum to see it, of the pasting on the wall.
But a major part of your practice is about the reaction, the story that comes after.
It's hard to explain when you make work that, in the end, is photographic. People think "Oh, you're a photographer." Which I am not. For me, the photograph is like making glue or printing. It's just part of my process.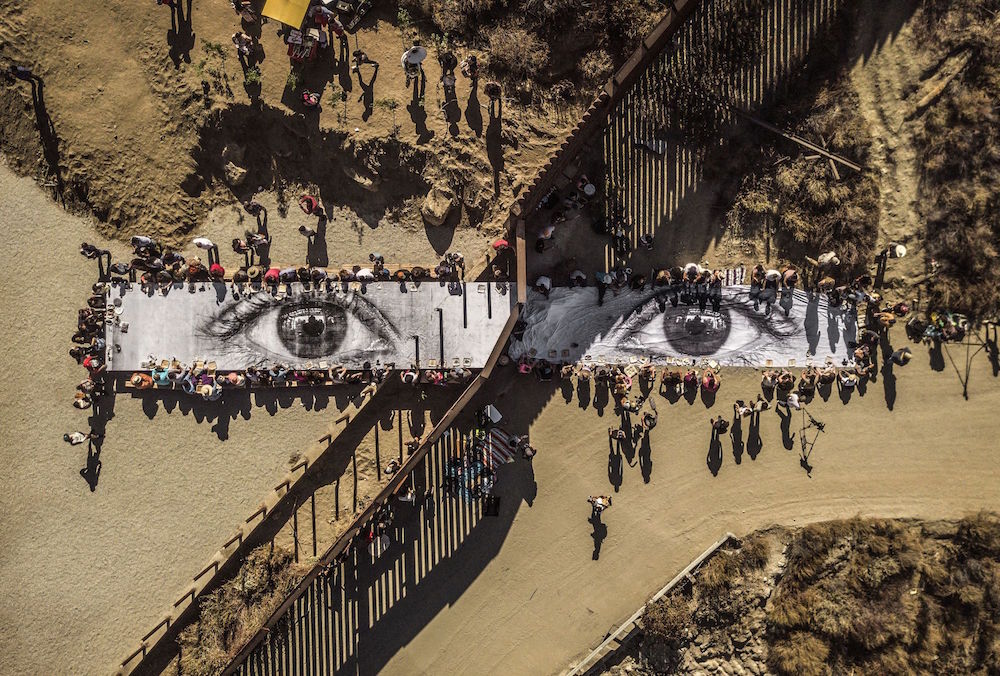 So that story, the conversation that follows, is a major part of your work.
Exactly, like a psychological experiment where the reactions of the people will give you a better understanding of what's going on there from another point of view that you've never heard.
You talk about this crew of friends from when you were a teenager, and it's evident that you have always worked within groups of people. The collective is important.
Yeah, it is. Of course the pressure of the collective was a good influence and energy for all of us. It pushed us to be better.
As you reflect on your projects over the past decades, do you say to yourself, "Wow, I've done a lot," or do you come from the mindset that there still is a lot to do?
It's a weird thing, and kind of a journey. Because, as you can see walking through this show, it's very chronological as to how it happened since thirteen years of age. So it's not like I studied to do this. I'm in that journey now, and one thing led to another. There was no pre-thought. There was no vision. There was no, "This is the way it's going to go." And a lot of this led to the
Inside Out
project where we thought, "Why don't we let the community do it?" How do I really keep the projects going after I leave?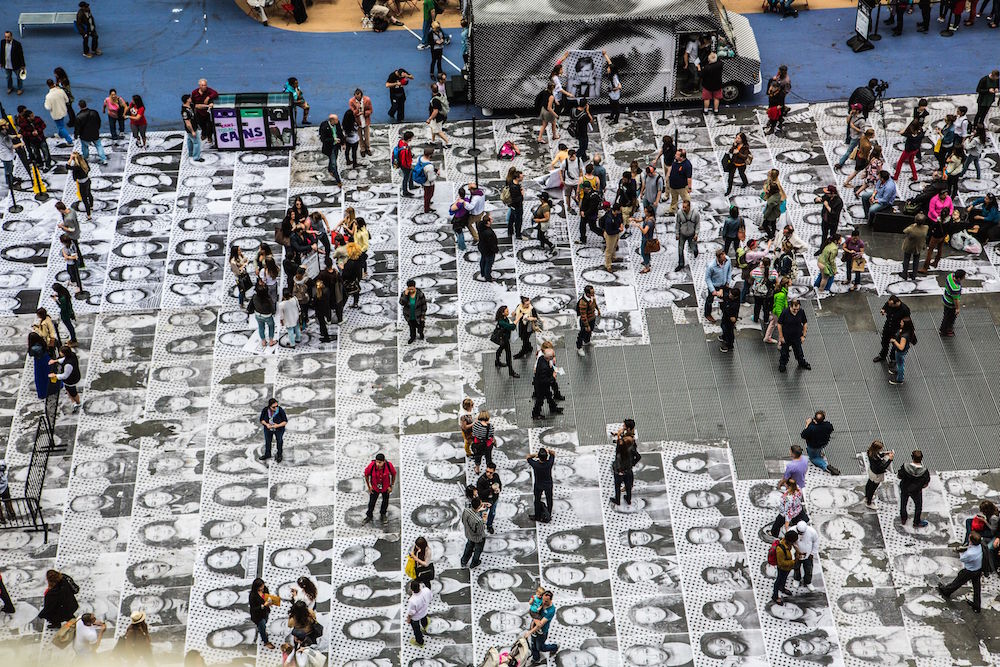 This goes back to what we were saying before, about how a lot of what you do is about afterward, how people continue to participate with the work when you exit.
Exactly. I was curious whether the art was powerful enough that it didn't actually need me. And so that has been proven. Those people have never met me, probably never saw anything of mine. They just probably had someone come and say, "Hey, we can have our portrait online? And then have him print it for free. And we should talk about the dictatorship there. We should talk about our situation and society...."
That's the essence of public art, right? When art goes into public space, people feel empowered.
Involved. Like it's theirs. And the fact that I don't have authorization, I feel like it's almost a small referendum. So that's why I had to explain my work over and over to people because it's not like I go to the mayor, ask for a permit, and then go to the people and say "Hey, move over, move away, I have to do this." It's the exact opposite. So, it actually takes more work.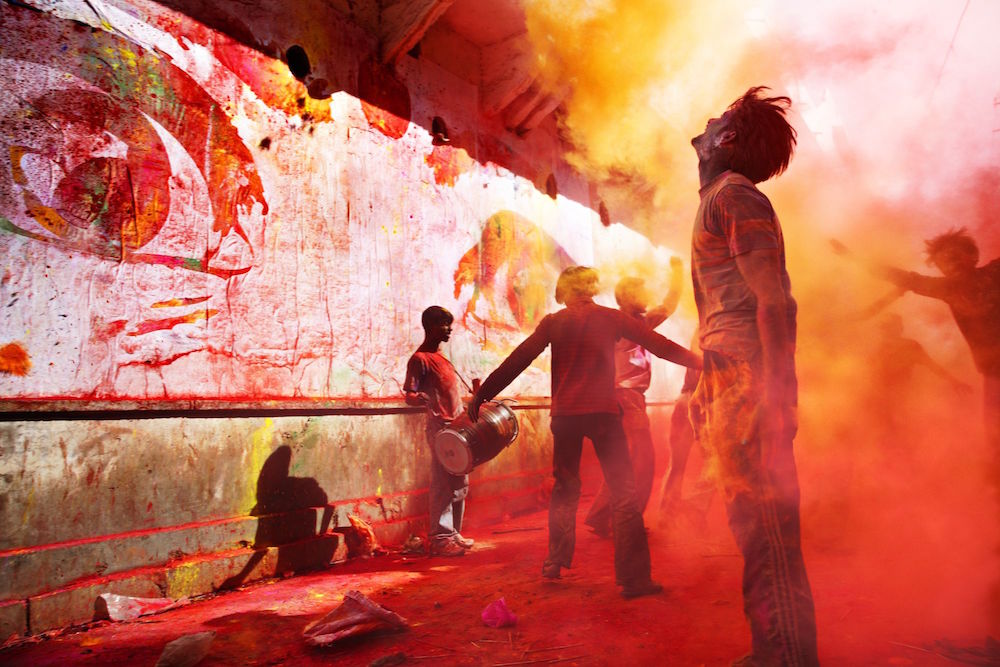 One thing more and more prevalent in your work is that you have brought in celebrities. And yet, it almost goes unsaid, if that makes sense. You don't often put them on some pedestal as if they are better than the subjects you photographed in the favelas or Paris suburbs. You treat everybody on the same playing field. I'm thinking of how you used Robert de Niro in
ELLIS
, which did not tell a story of celebrity, but of immigration.
Because so many people in the United States could relate to Ellis Island and all the photos I had pasted on the walls, I needed that one person who represented them. And it's interesting how, when it was Robert De Niro doing it, no one thought, "Oh, that's the premise. It feels right that it's him. He's shining light on this." But having him in the film played a huge role in giving light to the film so that people would organize screenings all around the world. When we would send them the reel copy, theaters could say, "We're doing a screening of a movie with Robert De Niro." Then people would come to a screening, the movie is only 14 minutes, and we created an environment where, "All right, I guess now that you're all here, we need to talk about migration and who migrated here?" People would then say, "Hey, I'm from Syria," when it was in Italy, or, "I'm from Mexico," when it was screened in the US. Then debate would happen. So that was a big part of it, kind of almost like a little trick.
Do you still just sort of show up somewhere and start a project? Not illegally per se, but a bit like a renegade group of organized people who don't ask permission?
Exactly. We just did it at the border of Mexico. That's how we do most of our projects, except the ones that are here in a museum, or we do a wall in Brooklyn or whatever. But for most of the countries, we go back and people don't know us. Going to Turkey, for example, we didn't know what we were doing. But stories and things happen that are unexpected.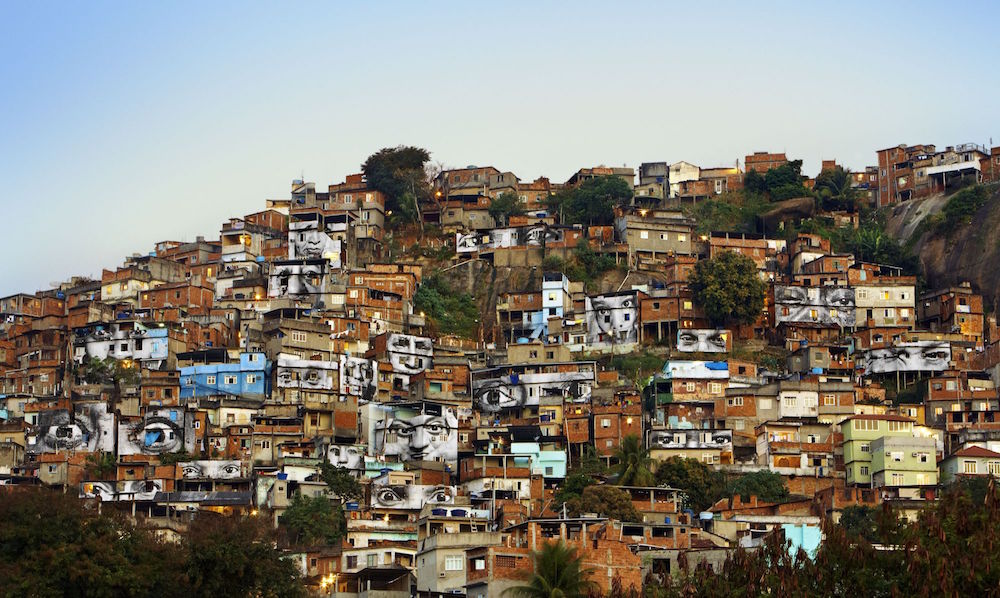 You have done a few of these video murals now, like the one in the entry of
SFMOMA
. You have this massive video mural here as part of the Chronicles show at the Brooklyn Museum, you did
The Gun Chronicles
collaged murals, too. But in a full circle sort of way, you made one of these collaged mural works in Paris, where all of this started.
That one I shot in the Paris projects three years ago, and it represents every single person from that area, including the politicians and city workers. It made me realize the power of the mural as a subject. Fifteen years later, all those guys that you saw in my portraits are there. All the chiefs today. All the guys who made the riots. The brother of one of the two kids who died who started the riots. The mayor who sued me, who's still the mayor today! It represents every single person from the drug dealers to the firemen, to the people who are targeted for terrorism in that one neighborhood.
I asked people, "Hey, you can be represented however you want to be," and they would say, "Hey, I can't be, I'm targeted by the state." They say, "Because I'm Syrian, I'm a terrorist." And I'm like, "Look, this doesn't make you good or bad in a way that I have to select if you should be there. If you want to be in there, you can. Just hide your face. It's not because you're selling drugs. You're part of this community." So everyone had to look at each other and say, "Well, no matter what, we're all living together." So we have to accept that this mirrors our community. But I'm letting you decide how you want to be portrayed.
So, when you did the San Francisco video mural, you were taking famous athletes, politicians, musicians, regular folks, locals, tourists, whomever, and putting them all in one place, same size, and building a mural around their depictions of self. But in this Paris neighborhood, it was more tumultuous. The mayor tried to sue you!
So the mayor was our biggest enemy ever. When I was doing this mural I said, "Why would I choose that this guy could be in it or not if I want to stay open to involving everyone?" So we just asked him. He said yes, and we said okay.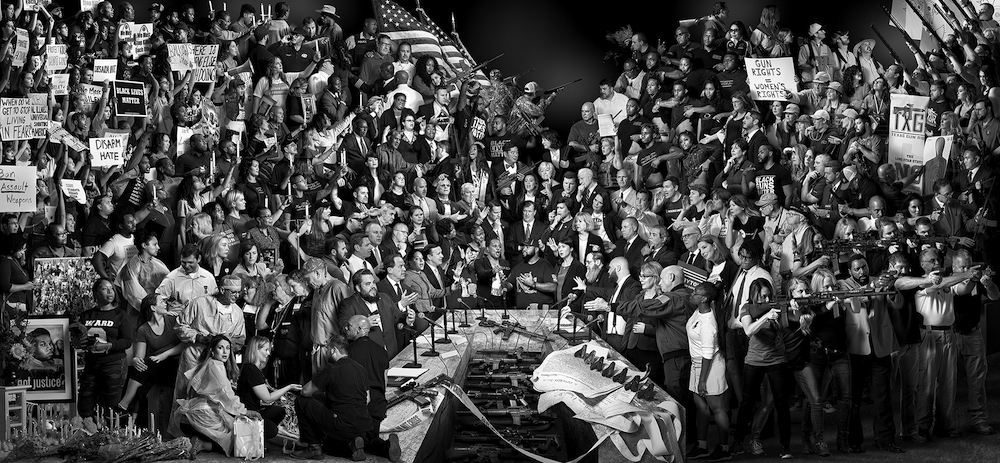 Knowing that he sued you?
Knowing he sued me and we'd be enemies, and you have no idea. Over the years we have done documentaries, films where you see him say, "Well, I sued because they never asked for any permits." We're big enemies for all those years. When he came to be photographed, we said, "This is what's going to happen; everyone can be represented how they want." He brought his sort of political sash and said, "I want to be as the mayor." What we told him was that some people would pose and turn their back on him. He said yes and played the game.
When we finished the whole project, the mural was shown at the
Palais de Tokyo
in Paris. We had an opening, and all the people from the neighborhood were invited. Amazingly, the President of France at the time,
François Hollande
, heard about it and asked to come! He came, but early, like at 3PM. We meet him and he goes, "Oh, my god!" He looked at us, then at the mural, and said, "That's the history of France, you know that?" And we're like, "Yeah, we know." And he started naming off some of the people in the mural. Because all those people were in the media at the time, you have to understand that. This was the epicenter, like it exploded in a way that France has never seen it.
So the president says, "Where are the people?" I'm like, "Well, your security asked that you be here at 3PM, so there is nobody. They all come tonight, at the opening." He says, "Well, no, no, I should be meeting the people. That's very important." And he said, "I'm canceling everything today. I'm staying here until they come." So we stayed the whole afternoon with the president, just chilling. Like sitting in cars, going around the museum. Waiting for the people. The people were all late because the buses were supposed to arrive at six. Of course, everyone is late for any reason. They get there at seven.
When everybody came and saw how big the mural was, everyone wanted to find themselves in it. So they barely saw the President. But he was into it, too. He was asking people where they were, got their stories. So it's interesting that all this, and the dialogue that comes in, again, activated some positive things in the neighborhood.
It's like you made the president the same size as everybody.
If you look at any mural we've done, no one is more in the light than another. They're all under the same light. No one is more in focus than another, and it's not a group photo, it's a group of photos. So that is very important for us, that no one is beneath the others.
Again, this goes back to the Robert de Niro discussion; no one is elevated above anyone else. That's how people feel empowered.
Exactly. And it's a powerful thought. And it's also staying in line for what the work is attempting to do.
I was thinking about this as you were talking, especially with these murals, that it's a lot of face time with people. There are thousands of people in the New York piece, each of whom you personally documented to get their stories. But they are also directing you. They are telling you how they want to be represented. It's a great give and take, and so, that is your whole story, up until now…
Yeah. It is. Each person gets to decide how they want to be represented in my work. It's the hard part, you have to build a puzzle that suits everyone.
JR: Chronicles is on view at the Brooklyn Museum through May 3, 2020.
Portrait by Bryan Derballa