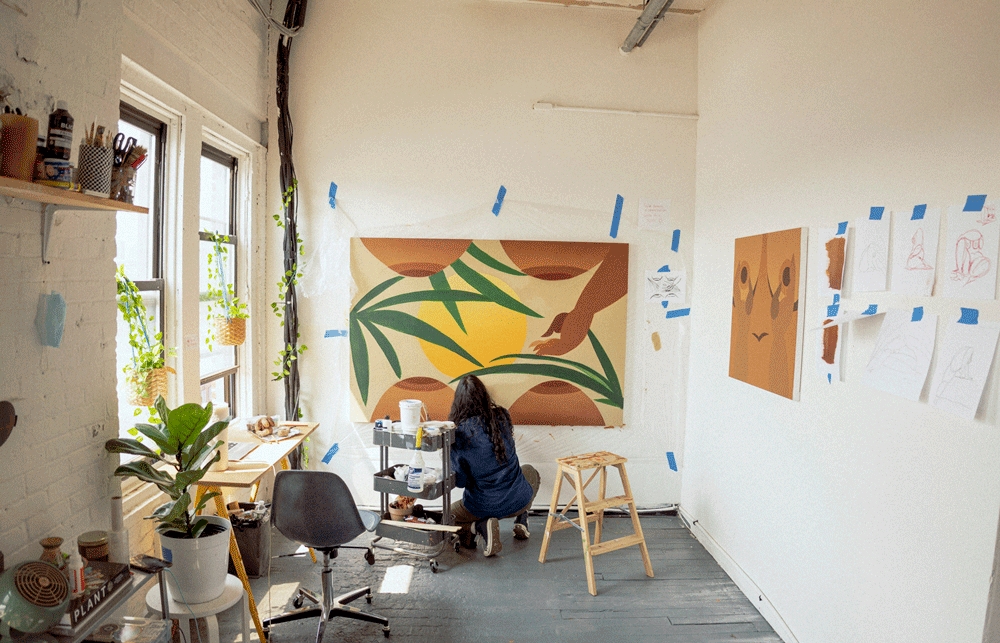 ---
Bianca Nemelc
Soul of the Earth
Interview by Jewels Dodson // Portrait by Austin Willis
Four coconuts bobbing in the glow of a golden round orb, tickled by a frame of large green agave plants. Another look, and in the right top corner a flourish of handwriting reveals a notation that reads, "4 breasts in conversation with the sun." The round mounds perched on the voluptuous female figure come into focus, and they are indeed breasts. She, this ubiquitous female form is composed of soft, clean lines, embossed in rich brown hues, and enveloped in lush tropical colors. This combination of tawny tones, feminine silhouettes, and island landscapes filled with sun, flora, and serenity has become the signature aesthetic for emerging artist Bianca Nemelc, who creates her very own Garden of Eden, where black and brown female bodies are not only celebrated, they are safe.
Jewels Dodson: How did your artistic journey begin?
Bianca Nemelc: I've always been creative and I've always known how to draw. So, drawing, I couldn't even tell you when or how I learned how to draw. That was just something that I've naturally done. I was more a paper and pencil kind of person. I would sketch in my notebook, then put it away, and no one has to see it. My grandmother's brother is an artist in Holland and I've always been around artistic things, but it was never like I didn't take drawing. It was just something that I didn't think anything of, it was just drawing. For a long time, my practice was drawing myself naked. For the majority of my girlhood I was drawing myself naked [motioning to her waist] from here down.
I would look in the mirror. I've always been very connected to my body. I've always been connected to the physical part of myself. It was just something that I took up. I looked in the mirror and drew what I saw. I was never really good at drawing faces. So my face was never the center of what I was drawing. It was always the breast, the body, the curves of the body.
From there, I took it onto canvas. My partner is a painter too, and we've been dating for almost eight years now. When we first started dating, I would help him, so I learned how to mix paints and how to work with paint. I took what I learned and I applied it. My style came from that naivete of not knowing what I'm doing and creating shapes out of what I know things look like with pencil. And my painting practice organically grew into this beautiful passion for a whole other world that I didn't even know I was going to enter. From there, it's been like a learning experience, me just painting and nurturing that aspect of the craft. I didn't go to school for art, that wasn't my trajectory. It's just something that happened. In the last few years, it's picked up and now I've taken it on professionally.
What is your familial background? Tell me about your family.
Around the time I started painting specifically was around the time I was doing some documenting with my grandmother about her family lineage. She's very, very about oral history and storytelling. She did extensive research on things like her family and our family back to like the 1700s. I even have an heirloom! So she's always told stories, but, as an adult, I was like, tell me and I'm going to write them, and we're going to do this little project together.
I was learning a lot about my identity, the places I come from. On my mother's side, Dominican, my father's side Indonesian and Surinamese. My great, great grandmother was an indentured servant in Suriname. She came over from Indonesia, on a boat, unknowingly. It was around the time that slavery was abolished in Suriname, and they were looking for indentured servants. So they went to Indonesia, and India, and a little bit in China, and that's how they got the labor.
So that's how my great-great-grandmother ended up in Suriname. My great-great-grandfather was on a plantation in Suriname, which now is a Dutch colony. So my family goes back and forth between Holland and Suriname. Then I have family who was in the Nazi rebels. There's all this stuff happening, I have Jewish family, Indonesian family, Dutch family, Surinamese family. You know, all these different cultures melding together. Then there's my Dominican side and some Portuguese; there's all this stuff happening.
So when you're being told all these stories, you realize the complexity of identity, really, of what makes me up. The melanin in my skin is so much more complex than what it is you're looking at. And that kind of goes for everybody. It's so complex because I think, especially in this time, there's this black and white looking at things, your identity, where you come from. Your experience here in America is different from a person's experience in another country and all these different things play into identity and who you are.
I think for me, this was a very powerful moment because I needed a way to kind of put that out there, express who I am. What does it mean to live in this body? So, I started painting these figures that are different shades of brown, and they're kind of taking up the whole canvas and you're kind of in their space and they're okay with it. It's also the safe space where they're apart from all of those projections that people put on you. There are assumptions people make, of brown skin or black skin, the sexualization of black and brown bodies of color, female bodies specifically, and living in this world where that doesn't exist. You're just in nature, it's a neutral place where you can relax, you can just exist in your most vulnerable way and be exactly who you are and all those complexities that exist in reality don't really exist in this world because you just are. For me, it's celebratory, celebrating the beauty of brown skin and celebrating the beauty of having a safe space to exist, without any type of the limits or boundaries that you put on yourself or that exist in the regular world.
Tell me about the gaze? The male gaze, the female gaze.
I can't control how viewers are going to look at my work. At the end of the day, I have no control over that. It's looking through my gaze. It's a safe space lens, it's a kind of vulnerable openness. A lot of these poses that I'm doing, I'm looking at myself in the mirror, trying to find inspiration for what these poses are. So, that's me, essentially, that inspiration comes from me being in the mirror with my legs open and there's this vulnerability and kind of protection. I'm looking at myself so there's a lot of love that I'm putting into these figures, you know; and that's the intention. But I totally know that what you have as an intention can be switched into something else when someone sees that from their point of view.
The bodies are black, they are going to get politicized, that's out of your control.
But it also doesn't mean you shouldn't paint it, you know? I think if there's anything that I'm trying to challenge, it's that. Yes, it's a brown body and she's naked and she has her legs open and her breasts are out. Is that all you see? You know, and if that is all you can do is sexualize it, then I think that's a conversation you have to have with yourself internally. Why? Can you look beyond that and see there's this sense of comfort? There's this sense of belonging where she feels okay with doing that. There is nothing to me, sexual, that I'm putting into the paintings. She's not doing anything sexual. She is just lounging. I think that is a conversation viewers need to have with themselves if they're seeing it in another way.
Have you ever overheard viewers discussing your work? What were the responses?
What's interesting in the dialogues I've heard is that a lot of women do see the sexual aspect of the work, but they see it as an empowering thing, they don't see it as an objectification of the body. I like to listen to that, because it helps me figure out whether that is what I'm trying to say. Maybe there are things that I'm trying to say that I don't know that I'm trying to say. I enjoy listening to it too. Sometimes I'll ask my partner, "Hey, what do you think of this? You're a man." And a lot of times, I will say in all honesty, that I battle that within myself, where I'm like, does she look too sexual? But it's like, what's my intention here? Why am I asking that? Am I scared of someone sexualizing her? That's going to happen anyway. Is that something that I need to push back against? Or can she just exist? You know, does she have to stay with her legs closed? I like a lot of the poses that I do, I like the leg-open pose. I like when she's open.
Do you think that openness is more about a spiritual openness, a representation of something more internal?
Yeah, I think there's a connection. I also think, what are you doing when your legs are open? You're creating or you're giving birth, that's a very powerful pose. A lot of times you think of legs open—who taught you to keep your legs closed? Why? Because there's this sexual connotation to it. But there's a whole other aspect besides that part. When your legs are open, you're pushing something out of you. You're open to receive, there's this strength. My legs are open, I'm grounded. There are so many other aspects to being open, and I love that pose because I feel that when I put that on the painting.
Even the colors, a lot of the colors that I use are very connected to nature. I'm looking for colors that exist a lot of the time. Specifically with the ones that you're looking at here [motions to paintings on studio walls], those are inspired by colors of the sky, sunset, those twilight hours, which is something that I've been thinking about a lot recently, because in a lot of my work, the women, since they are existing in an actual environment… I like to pull from that a lot.
Is this world something you've totally imagined? Is it a story in your mind? Have you met the women you are painting?
There is a story. It usually starts with the pose, and I add the rest of the environment. And a lot of times what I'm playing around with is, how does she interact? So there she kind of looks like rocks, she kind of looks like a part of the landscape. Putting the figures together, I want them to feel like they are part of the environment that they're living in. I've been thinking a lot about this quiet time, in day and night, either like the sun is setting or when the sun is coming up, and it's that time when everyone is asleep and it's quiet. What does it feel like to exist in that solitude of that peace? What does it look like in my mind? What does the feeling look like to just lounge in water? You know, there's this horizon and there's a breeze.
Does she ever have a name and does she ever have a face in your mind?
In the beginning I was like, man, she's missing a head. What am I going to do? Then I thought, no, she's existing outside of this canvas, what I am painting is a zoom-in of a part of her. For me, when you don't include the neck up, it gives me the freedom to play around with body language a little more, to try to convey a thing that you would probably convey better with a face. It also gives me the opportunity for her to kind of be anonymous, you know, for her to kind of be everybody and nobody all at once. I like that aspect of her. No name. She is at her most basic level. She is me. When you boil it down, the inspiration is coming from me, butt naked in the mirror. And me applying poses and emotions and feelings, and also injecting, you know, what it feels to be hugged by my mom and what it feels like to be nurtured by my grandpa, like injecting all of those things into it. When she's done on the canvas, she isn't me; she exists in a whole other world. I'm the painter. I'm ok with saying that it comes from my hand, so there are parts of me in her. I've never been self-conscious about painting naked women, or I think for me, the biggest challenge is always overcoming, like my own resistance. Wondering, is someone going to objectify this painting? Or sexualize her in a way that I didn't intend? I've asked people, and they say it does come across that there's this nurturing in the work. And I think that's very important. That's a very important part, that the intention in some way does come across because I don't have control over what anyone else thinks.
Tell me about the body taking up a lot of the canvas, about the body taking up space.
Originally, when someone used to ask me, "What is the point of your work?" I would say, "To take up space," that's it! I wasn't seeing enough of it in paintings, in terms of people that look like me. My work was big from the beginning, my first canvas was like 72 inches high. I was like, okay, she's really here and she's really taking up space. This is exactly what I want for this narrative. I was exploring my identity and all those things that make me happy. It was a way for me to put it out there. Size makes the figure monumental. I feel like there's a realness to it, like size wise, but I also feel like there's this thought about, she's bigger than you, her breasts are bigger than your head. I'm bigger than your head. You have no choice but to look upon the body. And I feel like that also helps you kind of command that respect of the gaze, where you're like, "Oh, she's bigger than me," she's almost intimidating in a way. She's beautiful and there's all these colors. Size helps me convey that nurturing aspect of the work.
Speaking of being monumental, is it true you transitioned to being a full-time artist just this year? What inspired the jump?
Yes! I recently resigned from my job. I wrote my resignation like ten times over the span of a few months, not to actually give it in, but as more of an important exercise for me. I was exercising the confidence that I didn't actually have to do it yet. I am a very pragmatic person. I'm always looking at all the options for any type of decision. That's just who I am. I'm always looking for stability; if anything, that's me. I want the stability. I thought, 2020 is going to shit, I got to do something different. I decided I'm just going to make the jump. I have confidence in myself. I've been working full-time, then going nights to the studio and painting. I've proven myself to myself. You know, for me it was, like, okay, then I have to also, you know, take a jump and take a risk and see what happens. There's so much energy this year, good energy, bad energy, tired ass energy, just like exhaustion. It feels like a now or never kind of year in terms of being the time for change. Now's the time to speak up. Now's the time to do it. Well, now's the time to put your money where your mouth is in all facets of your life. So, for me, it was kind of like, just trust yourself. Just do it.
I got to a place where I really wasn't in love, but what I was doing outside of work… it didn't match up. I started to feel a disconnect that had nothing to do with the job itself. It was just me personally. I had a disconnect with where I was, where I wanted to be, what I love to do. There comes a point when you're doing something that you love, and you're also dedicating 40 hours a week to something that you don't love, and it takes a toll. Fatigue sets in, you're not investing the time into yourself that you are investing into someone else, that isn't something you love. It's not something that you feel is going to help you to become the person you want to be, essentially. At a certain point, you're serving two masters. Your job, you've got to be there 40 hours a week, your attention has to be on that, but in the back of your mind, you're like, oh, that paintings going to be dope. You're tired, you're like, I don't want to get out of work at six in Brooklyn and come to the Bronx to paint. But that's the drive and it's like, you want to prove to yourself that this is it.
Bianca Nemelc's current show, As it Ripens, was on view at the Cheryl Hazan Gallery, this past fall. This interview was originally published in the Winter 2021 Quarterly.