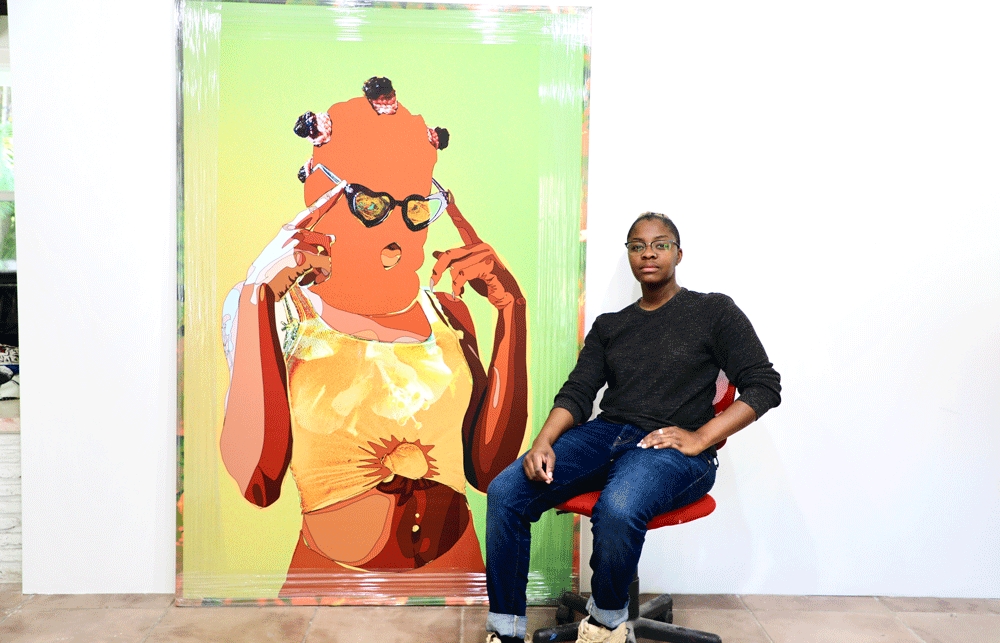 ---
Amani Lewis
More Blessed To Give
Interview by Kristin Farr // Portrait by Alex Nunez
For Amani Lewis, the portraits are much more than a likeness. Mapping inner landscapes of beloved subjects and layering materials that speak to a true human essence, they portray a lived experience and spiritual being, weaving together the personal and ancestral. Amani leverages their work to help friends gain momentum, supporting them through kinship, honoring them in multi-faceted, sparkling light. Explaining the seamless connections between their art and community in Baltimore, the artist explains: "My work exists because these people exist." These portraits are not commodities, but catalysts for change and healing.
Kristin Farr: Art school changes everyone, and your years at MICA seemed pivotal. Now, almost five years later, how do you reflect on that time?
Amani Lewis: Being a student at MICA was pivotal in the sense that It brought me closer to a city I knew not too much about. It taught me how to build relationships with new people, and It helped me understand the importance of having and supporting your community. Although I feel like we created a bubble within the city, it was my first step into taking initiative and doing what I wanted to do in this new community of mine. It also gave me the space to just explore and talk out various ideas or concepts with my peers and work out the issues at hand. It was also a time to build relationships with my forever friends, Murjoni Merriweather and Joanna Nanajian, who are amazing artists themselves, with a focus on identity and culture. I don't really look back at those times, but when I do, it is the engagements that I remember the most, and the foundation of my work, which was created while holding the hands of my peers during a time of hardships, police killings and unrest.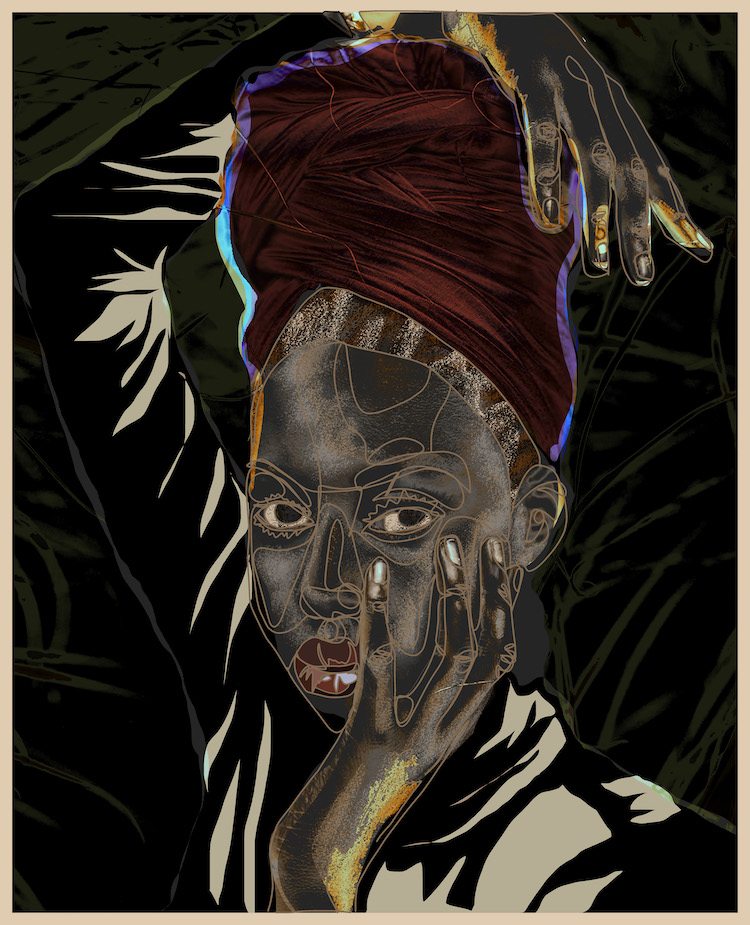 What do you like about using photography as the basis of your portraits?
Something that I've learned by listening and researching artists like Brice Marden and Hank Willis Thomas is that the photograph often does this beautiful thing of capturing an exact moment that cannot be repeated. It holds that moment as an archive and frames that moment with intention. I also started adding a border around my painting because I like the idea of containing the viewer's eyes within the frame so they're not wondering what happens outside of the image, but focus on what happens within.
Tell me about all your different materials.
The portraits I paint have to do with following the lines and characteristics of my subject's body that makes them the person who they are—while also mapping the lineage of that person to the likeness of a topographical map. In my series Negroes in the Trees, I talked about migrations from the traumatic and inhuman treatments that were happening to black people in the south, to places like Baltimore and further north, where they sought refuge. That tracing of their footsteps lies in the blood and the features of all black people today. So it made sense to me to compare migration and lineage to the mapping of natural landscapes, as they are intertwined. My materials consist of tangible and intangible objects like paints and glitter, but also the realities of my subjects and the stories they wish to share.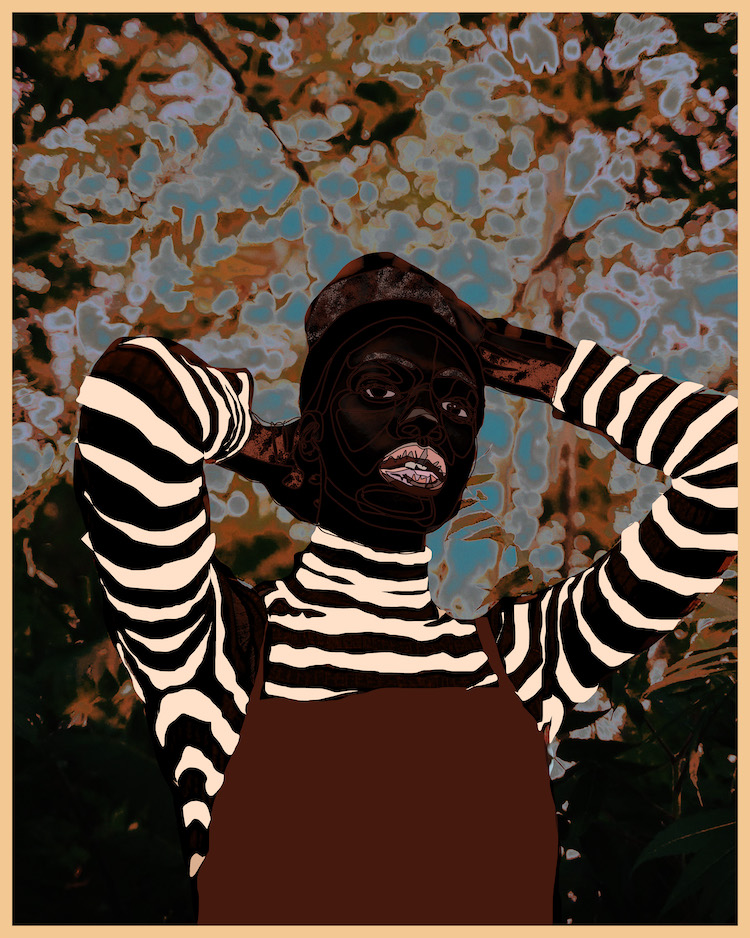 Is there a standard process for laying down each of those many layers?
I start with a reference photo of the subject that I'm going to paint. That photo gets digitally drawn, altered, manipulated and then gets printed on canvas as a digital collage. After that, I add different materials, such as acrylic paints, pastels, and glitter, especially, to build up the image. That's pretty standard for all my pieces. I am now going back to my printmaking techniques to add a screen-printing process that will make the canvases pop even more!
Do different materials have different symbolism?
Not necessarily. The action of painting allows me to symbolize and represent people in my community as vibrant, content in their surroundings and beautiful. All the materials assist to make that happen. They draw the viewer to the piece and create moments of awe where they are able to see the subject through my eyes and how I see them.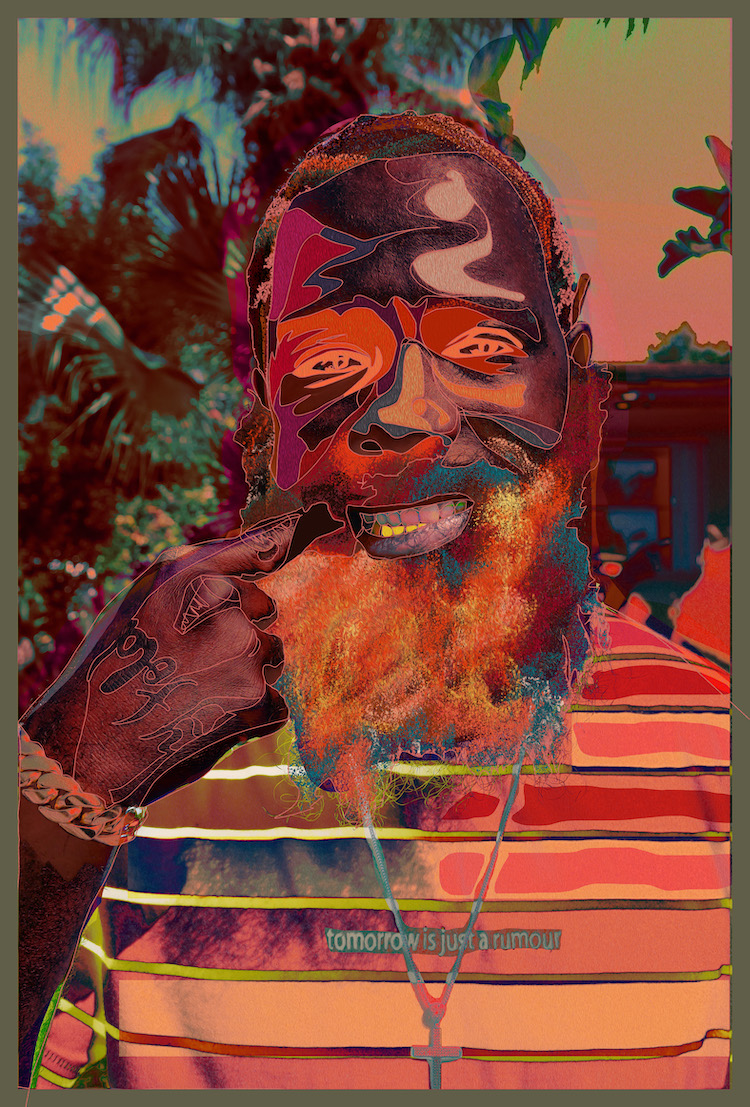 In one of your works, the figure has a textile jacket made and stitched onto the canvas by your friend. Does fashion interest you?
The piece you're talking about is a collaboration between me and Ambrose, an artist from North Carolina who is also my partner. She created the textile jacket, and then it was sewn onto the piece by Baltimore fashion designer Keisha Ransome. The idea came about while working in the studio with Ambrose and watching her create textural collages with fabric. I wanted to have something like that included in this work.
In terms of fashion, my personal style is quite simplistic, but I've always been interested in thermographic cameras. So, most times, my figures will have that thermographic style on their clothes. Besides that, I'm not so much into fashion but more so the process it takes to make the work.
What are the main questions you ask through your work?
When I first started the Negroes in the Trees series, I was challenging the viewer's perspectives by asking questions like, what do you think about when you hear the title, Negroes in the Trees? Where does this derive from? And how can we reimagine these narratives that often overshadow the complex and layered realities of black peoples' lives? In my current body of work, the questions are embedded so that they don't need to be asked.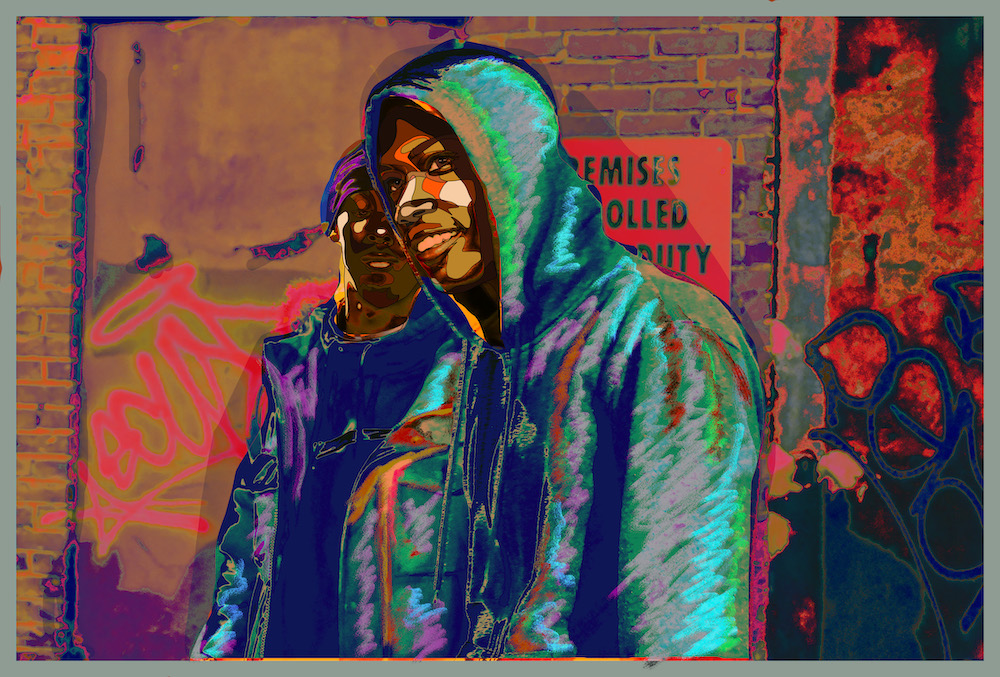 You seem to be navigating an endless stream of stories to elevate. Do you impose pressure on yourself in the process?
Honestly, I feel a lot of pressure by my way of working because I don't have someone to reference or go to for advice. I feel as though I am one of the only artists who is using their work to do more than just challenge, critique or be a gorgeous image. I feel like the groundwork I do in building relationships with folks in my community and how that impacts not only the viewers but the subjects, adds an additional layer to an already very layered work. Actual folks are depending on me and the work to accomplish what I know the work can do: assist folks to reimagine themselves and their lives in a light they have never seen before, to sell and provide financial assistance for whatever it is they may need, to be somewhat of a mentor to the young men and women who are asking questions like, how can I create something that is important to me and have people support it? How can I make an impact, too? How do I get people to understand who I am and what I've been through without pity, and how can the readiness be a catalyst for change in my life? Will you stay around, or are you here for the moment? It can be hard, but I am gaining a family in the process. I have big plans for my future and these people will be active parts in the continuation of our legacy.
Your recent show's title referenced a Bible verse. How did it resonate with you and support the show's intentions?
That verse was Corinthians 12:14. It talks about the body being of many hosts, not one, and this means more to me as a way of working and a lifestyle, not just this exhibition. This scripture is the way I want to move in the world. I think about how every human on this planet needs each other, no matter how independent we perceive ourselves to be, because we live in an ecosystem where we need to support one another. I believe we will all thrive when we lean into that—wanting to collaborate, be vulnerable and allow others to contribute new perspectives or things you may have never thought about. So the solo show was actually a group show of a few artists I love and respect and wanted the public to see.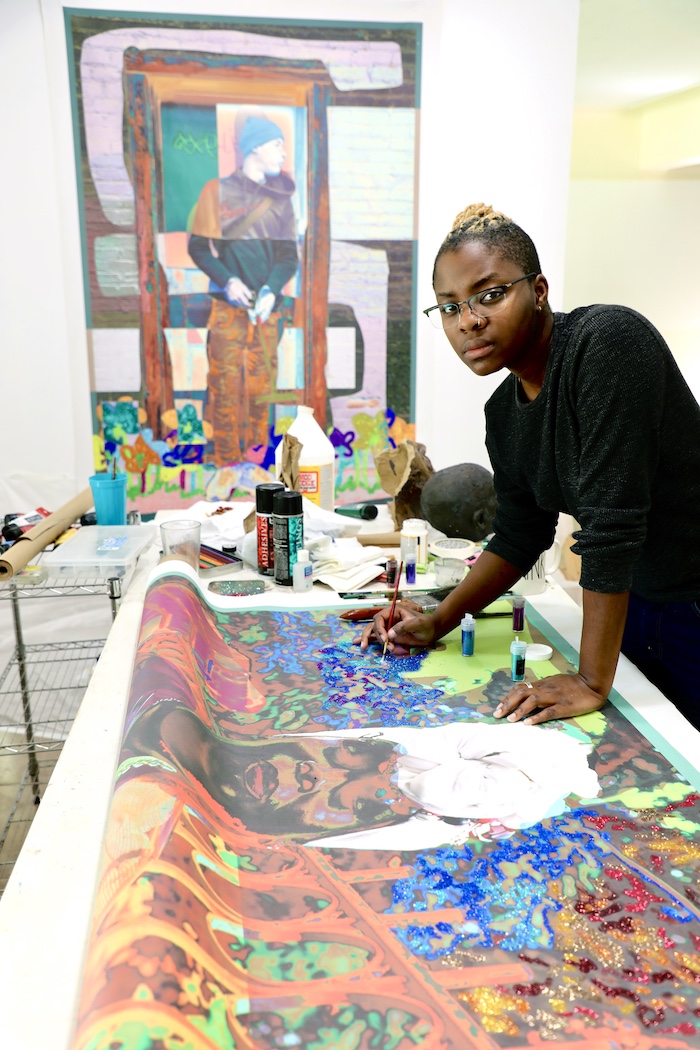 Are there verses that help see you through this time or are making their way into new works?
I grew up Christian and am a very spiritual person, in general, so I carry God and those sermons with me in my heart. They were scriptures that I remember since I was a child, and that I keep revisiting and seeing in my day-to-day. And so, although these are very difficult times, I'm not calling unto God more or less than I was before, because they exist in me.
What's your experience been like in the art world, in terms of talking about spirituality?
There hasn't been anything out of the ordinary. Most of my peers are brothers and sisters in Christ. I believe that God lives in all of us and we allow God to show its face as little or as much as we want to or can in our lives. For me, I know where my talents come from, where the need to work with my community derives. I am an empathetic human who just wants everyone who has been wronged to experience a life, or even a moment, of everything going right—to feel monumental and worthy of every good thing that should happen to them in the process of working together.
Who do you choose to honor in your work?
Sometimes it's my friends and family, but sometimes it's literally random people I've met on the streets and had a conversation with. Sometimes I see certain people whose energies call out to me and I just walk up to them and say hello. The conversation builds and then they begin to tell me things that are affecting them. From there, I tell them about the work I do, and I bring them in as a part of this journey of exploration, reflection, vulnerability, and then excitement once the painting begins.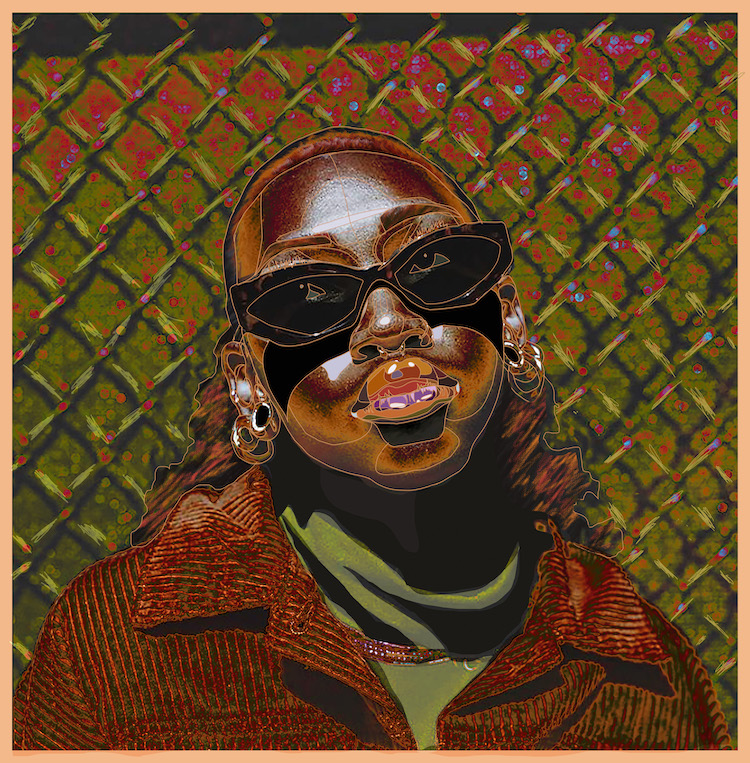 Tell me about your Squeegee Boy series and subjects.
The Squeegee boys are like my little brothers. The first Squeegee boy I ever met was Nate, who came to my window when I had no money, and was so graceful when I told him that. He told me to stay blessed and to continue to think about them, and so I did. I later supported him by sending him some money to his CashApp account, a wire transfer app, and asked him to stay in touch. From there, I got connected to five or six boys altogether, who are some of the best men I have met to this day. They work hard, no matter their circumstances, and keep a smile on their faces to stay up. They deserve the best the world can give them, and I am doing whatever I can to be a support system for them.
What do you want to make that you haven't yet?
A dream that I'm currently manifesting as we speak is to create a large 28 x 8-foot multi-panel painting that features the Squeegee boys as the happiest they've ever been. Like the idea Derrick Adams works with a lot, Radical Black Joy, and that it will be funded by a patron who will support the needs of myself, the subjects and the collaborators. I believe it's so important for those who have acquired wealth off of the labor and resources of Indigenous peoples and lands, from the Americas, to Africa and beyond, to be returning those resources back into the livelihoods and practices of those people. So I hope my patrons rise up and do their part. I am happy to say that I believe I found someone who sees the work and wants to support the dream!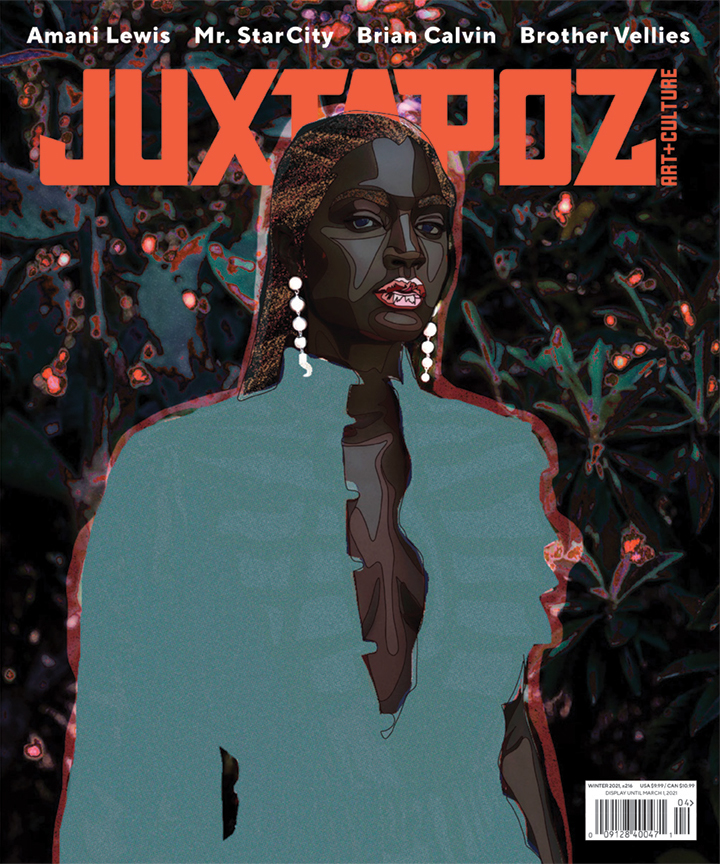 What's coming up in the new year?
Ambrose and I have been talking a lot about new projects and new bodies of work that we want to exhibit, and that includes potential gallery shows with a couple of our artist friends working with the color Black.
What do you love most about Baltimore?
I love my community. I love the rawness, the culture of dancing and speaking, the fearlessness my people have in a city that is seen as one of the worst cities in the States to live in. It is these connotations, and lack of funding and support, that pushes the people to work for themselves in support of their community. I am just blessed to be a part of it.
The Winter 2021 Quarterly is on newsstands and in our web shop now.

Amani Lewis has an exhibition on view in December 2020 with Kravetz Wheby, NYC, with artists Ambrose Murray and Murjoni Merriweather. Murray and Lewis are also included in an upcoming group exhibition at Deitch Projects in LA. In Spring 2021, Lewis will have a solo show, 1 Corinthians 12:14 ROUND 2, curated by Pittsburgh curator and director of Alma Lewis Gallery, Kilolo Luckett