Magazine
Ashley Rose Couture: A Young Designer Takes Flight
May 17, 2016
If the sculptor, photographer and designer Adam Wallacavage got home and noticed some errant feathers floating in space, he might have wondered, "Who's been sitting in my chair?" But he did know who, and his eccentric home was "just right" for Ashley Rose's creations. When an avant-garde, custom-fashioned editorial shoot in LA was abruptly cancelled, Rose grabbed her photographer and "scrambled together a couple of models, loaded into a rental car and hit the road to Philly."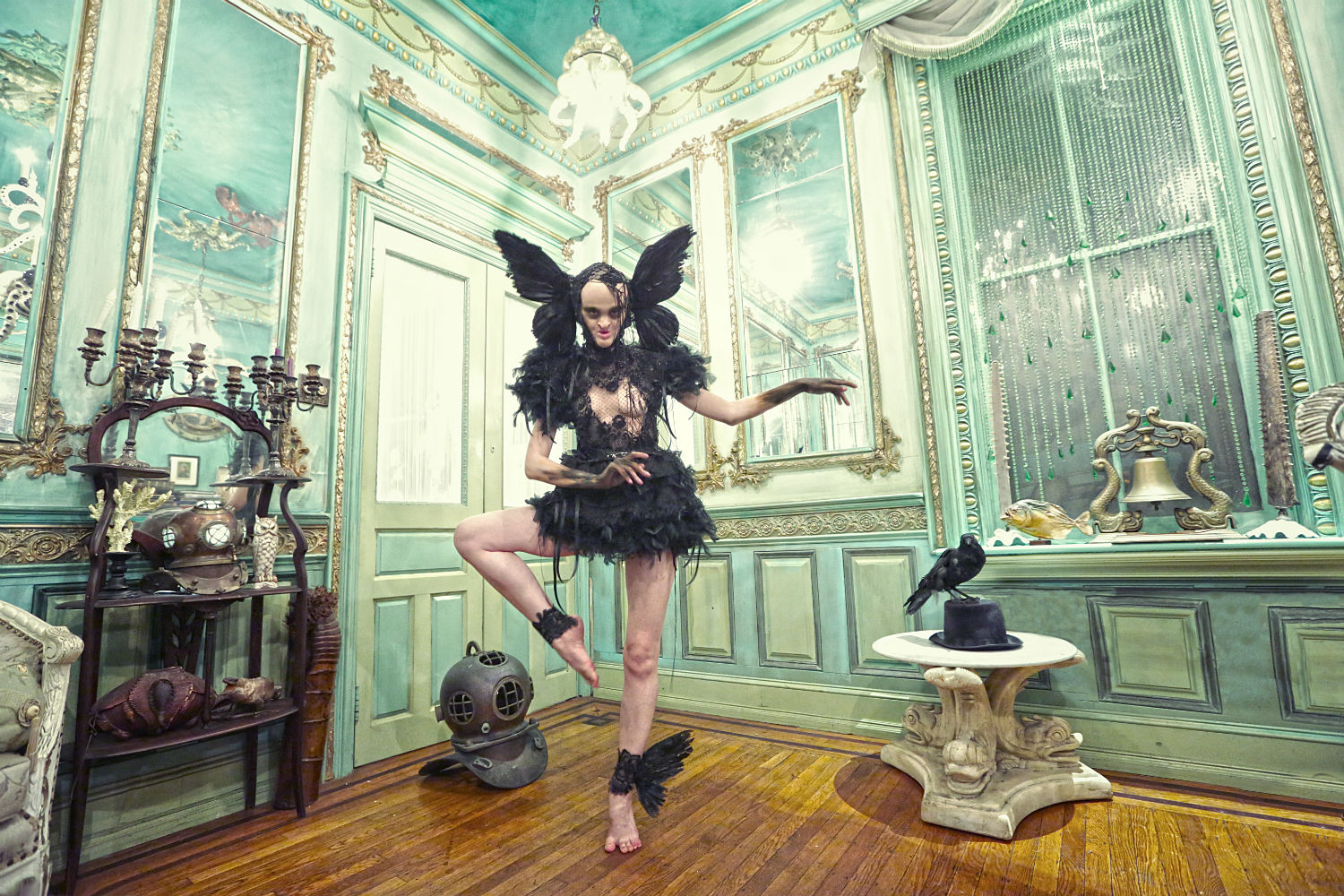 Remembering Wallacavage's place from scouting locations for a Baroness video, Ashley admitted, "I knew of his work for some time, but never knew of the fantasy world also known as his home. Stepping into his house was as if we were stepping into another world," which is exactly where the designer takes you with her head-to-toe confections. A cancelled trip turns into a perfect pairing and a happy ending, with more chapters to come.
Gwynned Vitello: It sure looks like you must have enjoyed reading about magic and mystery. Do books and stories inspire your work?
Ashley Rose: Absolutely. In the upcoming weeks, I will be doing a mini children's couture line inspired by Grimms' Fairy Tales. I am also a huge fan of H.P. Lovecraft and J.R.R. Tolkien. My brothers and I grew up basing everything off Lord of the Rings. Going to the grocery store was a trip to Mordor! I also enjoy books on old architecture. As of late, I have been flipping through pages of books on old ruins and Gothic buildings. I find a lot of inspiration through architecture.
Would you say you're self-taught, and did sewing run in the family?
Luckily, there was a program in my high school that offered fashion design, and I took it, as well as ceramics, until I graduated. Even though I loved both, I chose to continue my education with fashion at Bay State College in Boston. No one in my family sewed at all. I actually just remembered that if someone in my family ripped their pants, we used those awful oval patches we would iron over... even if the colors didn't match. It was very apparent we didn't sew! After college, and through the present day, everything has been trial and error, which keeps it exciting and interesting. I try to learn as much as I can.
Do you have a favorite element of design: fabric, color, or narrative?
Fortunately, I have met a couple of amazing photographers around my area who do a ton of exploring They spend days driving around and searching for locations, whether they are new, old, ugly or beautiful. You name it, and they can make it a dream spot. From there, they get an idea of what they want to shoot and let me decide what to design, based off that location. Working with these two photographers has really pushed me to work outside of my comfort zone. The best part of designing this way is imagining how we can make a story come to life by combining the wardrobe, location, model and photo. It's my favorite way to design.
What is your favorite fabric? Where do you source your textiles and embellishments?
I always find myself lost in the lace section of the fabric store. I love how lace is so feminine that you can do almost anything to it, and it will still have a soft look. I also tend to find myself with lots of black-and-white materials when I'm in the checkout line. This year I told myself I would branch out with color, but as I look around my studio, I still see a lot of black. I have always shopped at a tiny fabric shop in Somerville, Massachusetts, but recently moved a few towns over to Watertown, and have found myself searching for materials online, which isn't as exciting. I also use a lot of natural pieces like moss, bark, ferns and flowers. This results in the best facial reactions on public transportation—me with bags full of bark picked off the ground.
Tell us about your studio and living in Massachusetts.
About seven months ago, I moved into a beautiful Victorian home in Watertown, which is maybe a ten-minute drive into the city. For four years, I had been living in Somerville, which is an amazing little town full of incredible artists, but the landlords wanted to rebuild the house, and the space wasn't big enough anyway. Forced to move, it was the best thing to happen to my boyfriend and me. I love my new home and have a massive room upstairs all to myself that I can trash while working on pieces. My studio walls are filled with antiques that I found while exploring and have kept as mementos and inspiration. My walls are also covered in art made by my friends. Through designing, I've met some of the most incredible artists that I'm honored to call friends.
Do you design the beautiful head coverings worn by your models, and do you style the photo shoots as well?
I do, and over the past year, they have become my new obsession. I love shaping the face with lace and netting. I'm lucky to meet so many models who let me attach antlers, wings, skulls, jawbones, teeth and whatever else I may find to their heads. I feel like it's another piece of the story. I'm now beginning to make arm and leg pieces. It's a whole new world.
Since we agree that fashion is more than a shelter from the cold and wet, what is its role in your personal life?
For me, fashion is a source of stability. I know it sounds cliché, but fashion saved my life. About six years ago, I moved back home and was living on the couch at my parents' house. I was heartbroken and lonely, watching my mother's health fail. I was scraping the bottom of the barrel, trying to pick myself up while everything seemed to be falling apart around me. To keep my brain focused for just a few minutes, I started playing with some fabric on my dress form, and created my first corset dress. I remember posting a picture on Facebook saying, "here's a little thing I made." And I got a lot of positive feedback. So I kept going. I ended up with a mini collection, and eventually entered my first fashion show as an independent designer, and haven't stopped. I moved to Somerville with my boyfriend, who's been my biggest supporter. It's all been trial and error sewing since then, but I'm pretty content with life because of Ashley Rose Couture.
The people I have met through design inspire me to do more, and they're just as weird as I am! What an amazing community, and I've just stuck my toe in. I can't wait for what the future brings.
----
Originally published in the June, 2016 issue of Juxtapoz Magazine, on newsstands worldwide and in our webstore.