Cincinnati: The City in a BLINK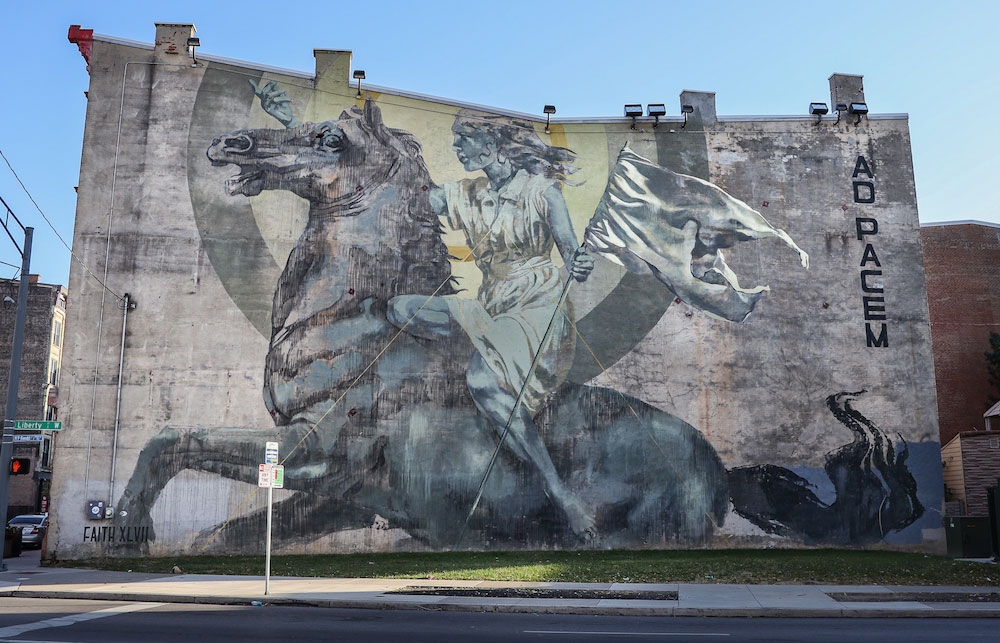 After being a mostly casual observer to a summer of seemingly unending airline nightmares, I admit to feeling a little anxiety about whether a trip to Cincinnati in October had the right amount of potential payoff from a risk-reward perspective. If there's one thing the pandemic taught us, it's that a lot can truly be accomplished without the need to be physically present, but there's little wow factor in viewing a mural festival on Zoom.
BLINK Cincinnati has been on our radar for several years now. Most mural festivals share fairly similar characteristics, but there was something about BLINK that made it really stand out as what the next iteration of these gatherings might look like, so we needed to see it in person. Somehow, despite growing up in neighboring Pennsylvania, I never made it the few hours west to Cincinnati, so I was excited to visit a place in the world that would feel familiar, yet at the same time, completely new.
My favorite activity on these types of trips is to just walk. If it were up to me, walking would be the main objective of every trip or vacation, because in doing so, you're able to slowly take in the sights, sounds, vibes, and sometimes unfortunate smells that accompany a leisurely stroll through an urban grid. It allows you to pick up on little cultural nuances enhanced by an outsider's view of the priorities of a city and its people, so I hit the ground running… er, walking.





The first morning I walked all the way to Kentucky. Yes, you can totally do that by way of the John A. Roebling Suspension Bridge spanning the Ohio River and connecting Cincinnati to Covington, KY. Little known fact, the Roebling Suspension Bridge is said to be the prototype of the iconic Brooklyn Bridge in NYC, designed by John Roebling and then built just shy of thirty years later with a number of twists and turns along the way. I digress.
BLINK spans from the Over The Rhine (OTR) district to the north all the way south through downtown, across the bridge, and into Covington, so there was plenty to see on this side of the river, including an unbelievable FAILE mural that covers two buildings separated by a main street.
Walking back across the bridge into Cincinnati, you can't miss the National Underground Railroad Freedom Center, a museum placed on the very shores that, at one point in our storied history, ensured that making it this far literally meant achieving one's freedom. I was not aware of the museum's presence prior to this trip, but it alone is enough reason to visit. I could have spent an entire day viewing the installations, displays, and interactive exhibits that are second to none.




Unfortunately, a short trip means it mostly feels like a whirlwind, and it was getting close to lunchtime. One place I definitely heard about before going to Cincinnati was Skyline Chili, which residents claim is unmatched. Apparently, millions of people seem to love the place, but its culinary charm escaped me. Choose your own adventure on that one. I can say that now that I've left the city and am safe far, far away. The rest of the afternoon was spent touring murals in progress and checking out the OTR neighborhood, waiting for darkness to set in so I could experience firsthand the projection-mapping aspect of the festival that makes it all so interesting. One of the coolest spots in OTR is a bar located four stories under Vine Street called Ghost Baby. It's a vibe, for sure, and definitely the type of place that will make you forget the sun might be shining when you make your way back up to street level.
The evening was inspiring. There are so many projection-mapping projects happening that it's impossible to absorb it all in just one night. Thankfully, I had another evening ahead, but still couldn't help rushing block to block, neighborhood to neighborhood, to ultimately end up back down on the riverside to check out the 300-piece drone show over the bridge that I've already talked about too much.
The next morning, I found myself at Deeper Roots coffee, located in the Findlay Market area, for the second day in a row, to meet the BLINK organizers for a tour. If you're within a few blocks, it is the hands-down spot for caffeine reuptake. It's obvious the ambitious organizers care deeply about their city and have no plans to slow down in achieving their vision of the city's potential as a major arts hub.
After the tour, a few of us headed to the Cincinnati Art Museum. You may not want to walk quite that distance, but once you get there, it's worth it. The museum is great, and an even better experience followed by a stroll in the beautiful surrounding Eden Park.




For lunch, I found Hathaways, a diner that has endured in the downtown area since the 1950s in the Carew Tower. There's nothing like the oversized portions served up at a diner after you've put in 10,000 steps before lunchtime. An hour later, I went to check out the 21C Hotel just a few blocks away. We're fans of the art museum concept of 21C, and I had previously gone to Louisville to visit the first one they built. It was very impressive, and this one was as well, but be sure to make your way to the second floor. I was about to leave when a guy at the door stopped me, noticing I had been in there only to check out the art. He suggested there was more upstairs, and did he save the day! I would have left underwhelmed but instead found several rooms and hallways full of cool pieces I wouldn't have otherwise seen.
Literally, next door to the 21C is the Contemporary Arts Center, so you really get your bang for your buck on this block. The CAC is five floors of art exploration in a super cool building, so definitely, don't miss it. Also, everything I explored today was free, so even travelers on a budget should include the museums around Cincinnati.
After an afternoon of art-ing, I met up with a friend to catch up over a drink at Rhinegeist Brewery. It's like an adult playground, mixed with fun things for kids as well, making it also family-friendly. To top it off, the rooftop bar with excellent views of the city makes it a gem of a great hangout spot. Later, we wandered back to Findlay Market, which is really kind of in the heart of everything in the OTR neighborhood. Eli's BBQ provided plenty of caloric replenishment. Findlay Market has a great mix of food and shopping options that make it a destination worth your time.
The rest of the evening was spent wandering the streets and really taking in all of the various light installations. Somewhere in the middle, we made a quick pit stop at Mecca. Any place playing skateboarding videos behind the bar is my kind of place, so yes, definitely recommended.


That night, there were so many people out and about that it was somewhat mind-boggling. The number of families with children walking the streets late into the evening with huge smiles and enlivened looks on their faces made it obvious that one way or another, this city is being happily exposed to public art of the highest caliber.
The next day was a short one, but I did some more walking and eventually settled on Nicholson's Pub for a quick lunch before heading to the airport. I don't know exactly what was in that BBQ Bacon Burger I had, but even right now, I'm considering whether it was the best one I've had in my lifetime.
It's funny, but throughout my time there, I kept hearing people saying things like "It's Cincinnati, we're used to being looked over," or "We'll take anything we can get," but the vision for the city and the people behind BLINK are really doing something special. My guess is that such a modest assessment will change a lot over the coming years. —Mike Stalter
Thank you to BLINK for the tour of the city and the organizing of the event

Photography and text by Mike Stalter