Painting
The story behind James Jean's "Bouquet" as seen in "Juxtapoz x Superflat"
November 10, 2016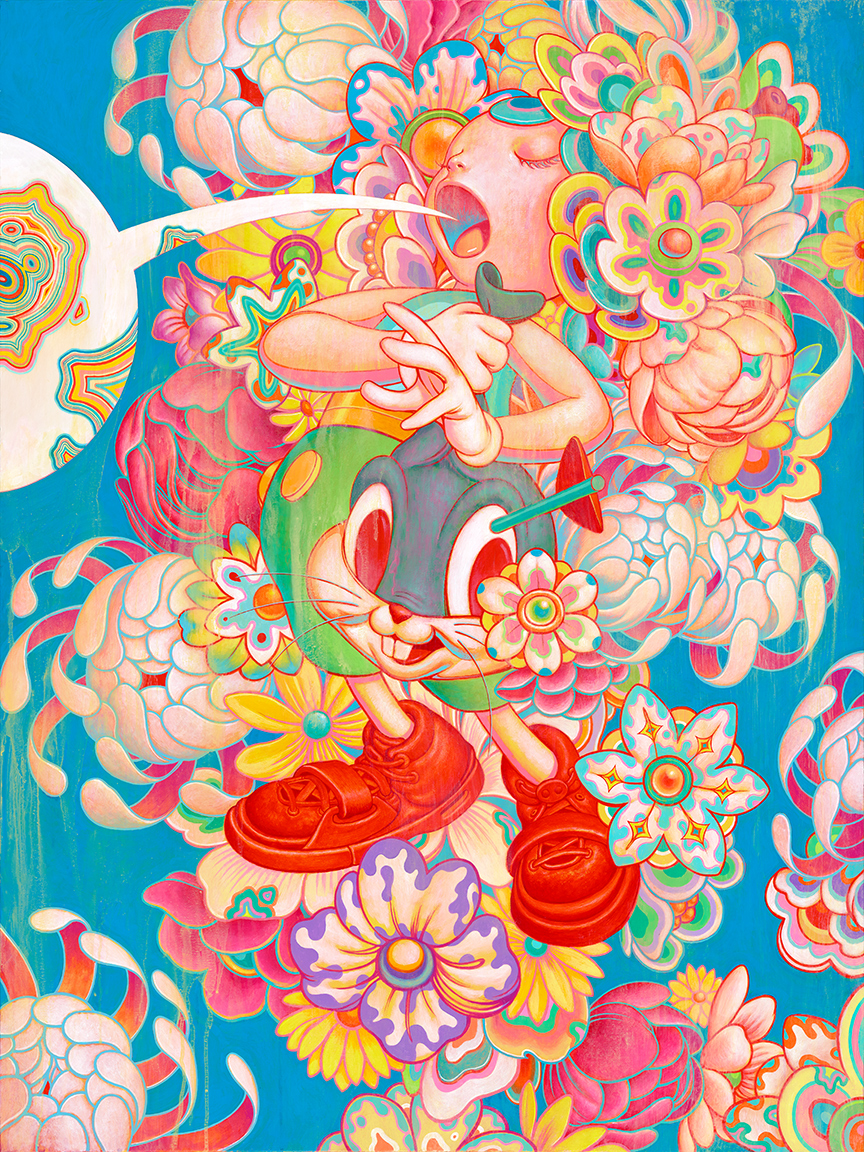 Figaro: "I must force myself to laugh at everything lest I be obliged to weep."
The painting draws inspiration from Elmer Fudd's endless conflict with Bugs Bunny, specifically in the Rabbit of Seville, an operatic, gender-bending battle during which Bugs uses "Figaro Fertilizer" to grow a bouquet of flowers upon Elmer's head.
However, Elmer prevails over Bugs in this instance, and holds up the decapitated head of his prey while singing an aria of glittering agate. There are only three times in the history of Looney Tunes when Elmer prevails over Bugs, one of which occurs during the cartoon, What's Opera, Doc? It is also the only victory in which Fudd expresses remorse for defeating Bugs.
The painting continues an endless recursion by appropriating elements from popular culture: the Rabbit of Seville is a low brow cartoon cribbing from the high brow opera Barber of Seville which was adapted from the play by the same name which itself features many popular stock characters from the tradition of the Commedia dell'arte. When Bugs holds up a mirror to show Elmer his new hairdo after applying the "Figaro Fertilizer", the barbershop setting illustrates this endless recursion as Bug's mirror reflects Elmer's image back upon the mirror hung on the wall, and back again into infinity.
The hero in the painting dons a pair of "Red October" Yeezys designed by Kanye West, a frequent traveler between low brow arenas, high brow arenas, and actual arenas. Just as Kanye equates himself to Jesus (Yeezus) to elevate his personal mythology, the arrangement of figures in the painting alludes to the biblical allegory of Judith with the Head of Holofernes, a subject depicted by various artists throughout history, most significantly by Caravaggio and Klimt.
Like Judith, who seduced and then decapitated the general Holofernes once his guard was down, the act of painting can be simultaneously seductive and repulsive. Jean's body of work frequently explores the tension between those two opposing forces. The Murakami-esque flowers, hallucinatory colors, casual decapitation, and cartoon imagery assault the eyes like an arrow through the eye. The arrow pins down all these layers into a SUPERFLAT image, a conflation of history and various modes of culture. —James Jean

Buy this issue here!