Painting
Still Keeping It Surreal: Back to Baton Rouge for Surreal Salon 9
June 18, 2017
It's become a bit of a staple in the South, one of the great recurring exhibitions and parties that we love to cover every year. the Baton Rouge Gallery hosts the national juried exhibition Surreal Salon, an annual celebration of both pop surrealism and lowbrow, which have both become historically significant art movements throughout the world. Jason Andreasen, Executive Director of Baton Rouge Gallery, has championed the scene for years, successfully bringing outsider art to Louisiana in ways that feel authentic and energetic. Along with the annual Surreal Salon Soiree, art is brought to life, encouraging all attendees to become part of the collective performance. This year, Greg "Craola" Simkins served as the Special Guest Juror, personally selecting each work for inclusion in the exhibition from among the many submissions received. In the end, 58 artists qualified for Surreal Salon 9, with "Best In Show" going to Alison Stinely for her work, Rib Meat. Asked to elaborate on the Salon, Craola and Stinely related the experience of judging and making art for this ode to the weird.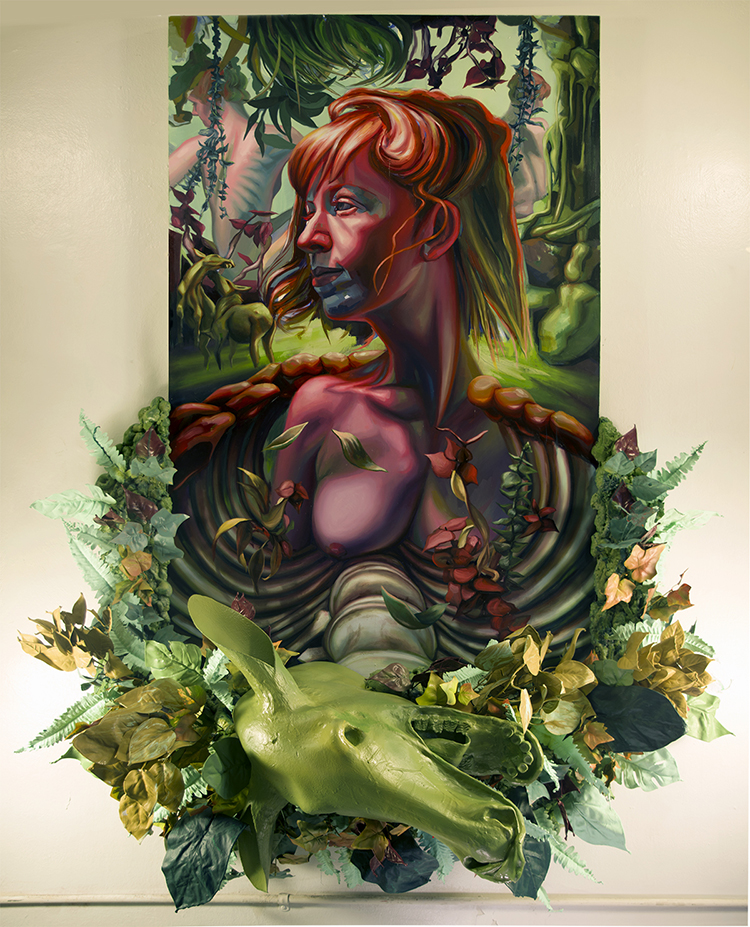 Greg "Craola" Simkins
I recently had the honor of being the guest juror at the Surreal Salon 9 exhibition and soiree at the Baton Rouge Gallery in Louisiana, of all places, which I have been told many times now, is the real LA. I had an idea of what the event was going to be like and was excited to see that it held up its reputation for masked partygoers and creative people everywhere sharing in the festivities. I felt the warmth and friendliness of the crowd and the staff's kindness from the second I walked into the gallery to make my pick of "Best in Show," and up until I said goodbye after our last evening's dinner. Best in Show went to Alison's amazing piece, Rib Meat, which was an epic masterpiece that takes you from a beautifully rendered 2D world into a 3D assemblage framing the piece, which continues the narrative of the work. It was such an eye-catching piece that it was an obvious choice.



Alison Stinely on Rib Meat (above)
My current works investigate personal guiding mythologies introduced to me as a child, myths that grow and warp continuously. Traditional symbolism mixes with private imagery, illustrating my adoption of unreasonable belief systems related to religious orthodoxies, superstition and cultural ideals of femininity. My most recent body of work, Nocturnal Emissions, is loosely based on the myth of Lilith and her quarrels with prehistoric patriarchy. Rib Meat serves as an introduction to Eve, who—according to some religious texts—was Adam's second wife, following Lilith's departure from Eden. Although Eve is said to be one of the first women on Earth, she is portrayed with white skin and red hair; an anomaly akin to that of a blonde haired, blue eyed Jesus. Distortion of anatomical structures and a saccharine palette draw on both historical painting and the kitschy illustrations of children's Bibles and Sunday School storybooks. Painterly qualities, coupled with dramatic sculptural elements, reinforce the intrusive content of the painting. The three-dimensional forms push beyond the rectangle, allowing the painted narrative to spill into the space of the viewer.