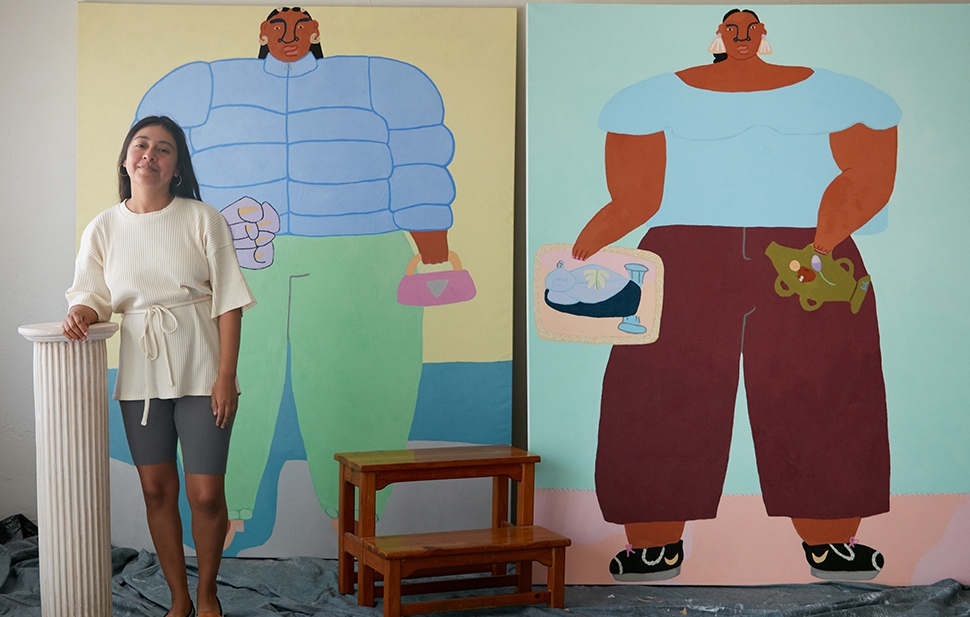 Lilian Martinez
Everyone's BFGF
Interview by Evan Pricco and portrait by Daniel McKee
The first time I saw a work by Lilian Martinez, it was a combination of three of my favorite things: basketball, vintage Nike and Matisse. But these weren't rehashes or even copycat works. The Chicago-born, Los Angeles-based fine artist was creating a fresh perspective on nostalgic memories of the 1990s, expanding the idea that some of the most iconic artworks of our childhood remembrances could be reexamined. In a sense, she conceives ways to take these creative memories and turn them into functional, everyday objects. Aside from her burgeoning fine art career, which includes a solo booth with
OCHI Projects
at this year's
UNTITLED Art Fair
in Miami, Martinez has fashioned her own brand,
BFGF
, which takes her artwork and transfers it to pillows, throws and other usable accessories. Paintings allow her to pursue a contemporary art career, but BFGF is where she can always keep her art attainably close to the heart.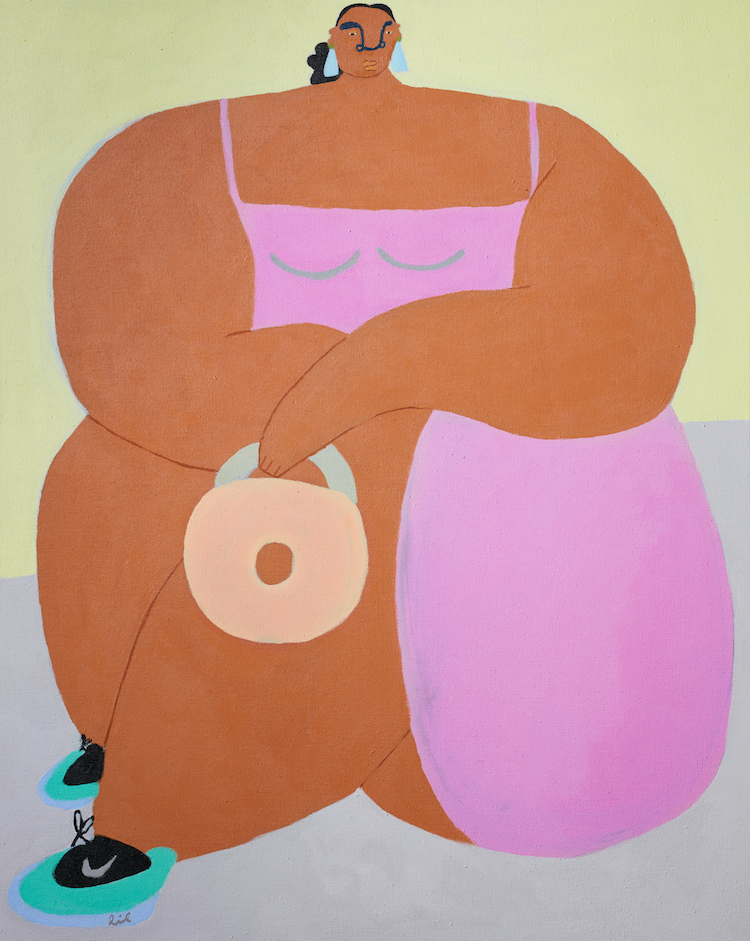 Evan Pricco
:
Was there a brand or identity you used before BFGF, or was BFGF a natural progression from making paintings?
Lilian Martinez:
BFGF is the name of my shop. I started it a while ago and I developed it slowly. A couple of years after I graduated in 2009, I wanted to move away from only working digitally. I studied photography at the
School of the Art Institute of Chicago (SAIC)
. I always felt unfulfilled with photography, but it was the most accessible creative outlet for me at the moment. I wasn't introduced to art growing up, so I always had this perception that artists were ordained with this talent or ability. I didn't really understand the concept of learning to become an artist until I was much older.
Is there a difference between Lilian Martinez and BFGF? I feel like a therapist, but do you separate the two at all?
BFGF is an art brand where I focus on creating accessible and functional art objects. The pieces are not editioned or numbered. I see it as a way to introduce art into everyday life. I consider this an extension of my personal practice. Speaking of therapy, making work is really therapeutic for me.
Did you ever get advice from anyone in the art world, or even the product and design world, about how to balance being a painter and having a brand? Or do you think the lines are so blurred that it's just a cohesive narrative now?
I haven't really. The lines are blurred, but it still seems like slightly new territory. I was at a Bauhaus exhibit recently at the
Getty Center
, and the information presented talked about how artists were interested in bridging the gap between art, craft and architecture. And it made me think that what I am doing isn't so new. The idea isn't new, but the resources to facilitate those ideas are fairly new. I like informed risks and trying to achieve comfort in my work and personal life. That's my advice to myself.
I love that Bauhaus observation. It puts into perspective that, although we are in such a vital moment where art and everyday life is more recognized, it has probably come in waves more than we give it credit. How much time is split between your fine art practice and BFGF?
It depends on whether I am preparing for a show or working on a commission. I limit the amount of time I focus on my shop. I just do the essentials. If I have more time, I enjoy creating new pieces for my shop and shooting images of pieces. I don't set time limits or routines. It's just a constant flow.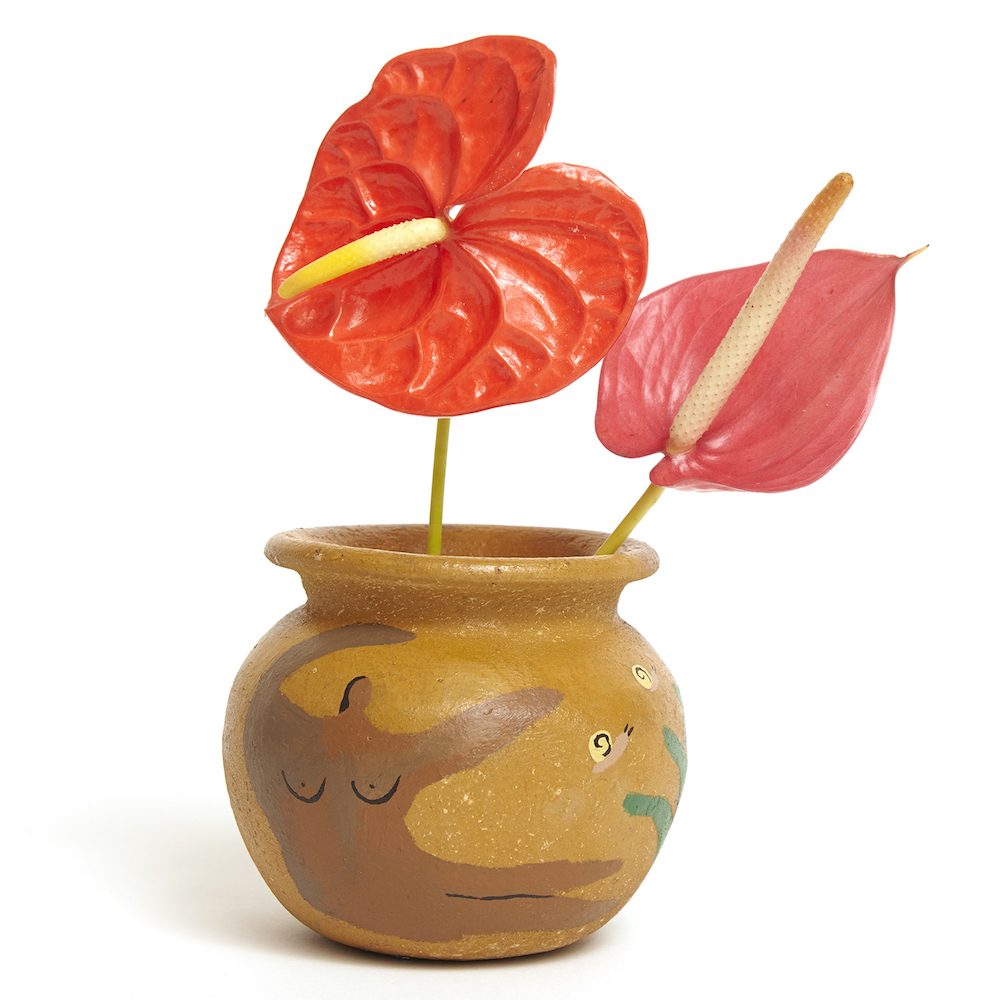 The subject matter you paint and create is not always what we expect to be featured on household objects. Can you talk about taking that space and owning it, and what it means to have these figures on fine, but still utilitarian, art?
When I started drawing, I gravitated towards drawing brown bodies. I was inspired by modern art and sculpture. I was just having a lot of fun. And I felt really fulfilled. As I started trying to figure out why I was making this work, I realized that it was about representation. I wanted to create a beautiful, peaceful setting for the figures that I created to live in, and in turn, make space for myself—a space that I think can be hard to find without privilege. Having it on functional objects, I think, makes it more accessible.
Chicago is a city with storied institutional art centers, public art and museums that rival many major cities. What has always been impressive to me about your work is that I feel like you blend nostalgia with the classics in a way that feels fresh and new, like Matisse and old Nikes on the same canvas. Were you a museum junkie growing up?
I wasn't actually, but I am now. I was shy and confused as a kid. I watched a lot of TV and ate a lot of snacks. I guess those things are still true, but now I have a deep appreciation for art, architecture and design, and I've learned to navigate my confusion. I use a visual language in my work that makes sense to me. I couple visual objects from my past that still feel relevant with things that speak to me currently, like basketball. Growing up in Chicago I have a lot of joyous basketball memories. I'm interested in achieving classlessness, not by blending low brow and high brow, but by trying to work past those classifications. Or at least not prioritize one as less or greater than.
And in that sort of hierarchy of art history, you seem to be erecting an alternate universe, design included. As your career and audience grow as much as they have in recent years, do you see more and more positive shifts in the contemporary art world? Or does it seem more like smoke and mirrors?
I'm a brown woman painting brown bodies, but I'm usually compared to male European artists. I hope that art becomes more and more inclusive and more attainable. Not in a scholarly sense, but in a way that allows people to heal and connect.
It's funny that I mentioned Matisse and fell into that almost lackadaisical approach. But in a way, we get stuck in those conventions of what came before us and what we are told is important. Speaking of Nike, you recently painted a mural on Melrose in LA for them. Did that come naturally because of your nostalgic use of the swoosh in some of your works?
Yes, I think so. They wanted something to celebrate the Women's World Cup. I think the imagery integrated nicely into my body of work. It was really exciting to see the work so big. But I wasn't allowed to use the swoosh, actually, because of advertising restrictions in the area.
Who are some of your favorite contemporary artists, or peers that you really are into these days?
I am really inspired by independent clothing and accessories brands like Baserange, YouSwim, Bodysuit of Barcelona, etc. I'm interested in modest luxury. There are a lot of smaller clothing brands using beautiful fabrics and colors who think about their production footprint. It inspires me to really think about what I buy and to take care of it.
You have a continually growing fine art career. BFGF is always a solid staple, so what do you have coming up?
I just released a series of chairs. I have been wanting to explore furniture design for a while now. I love usable pieces. And I'm preparing to show work at UNTITLED in Miami this winter with the gallery I work within Los Angeles!