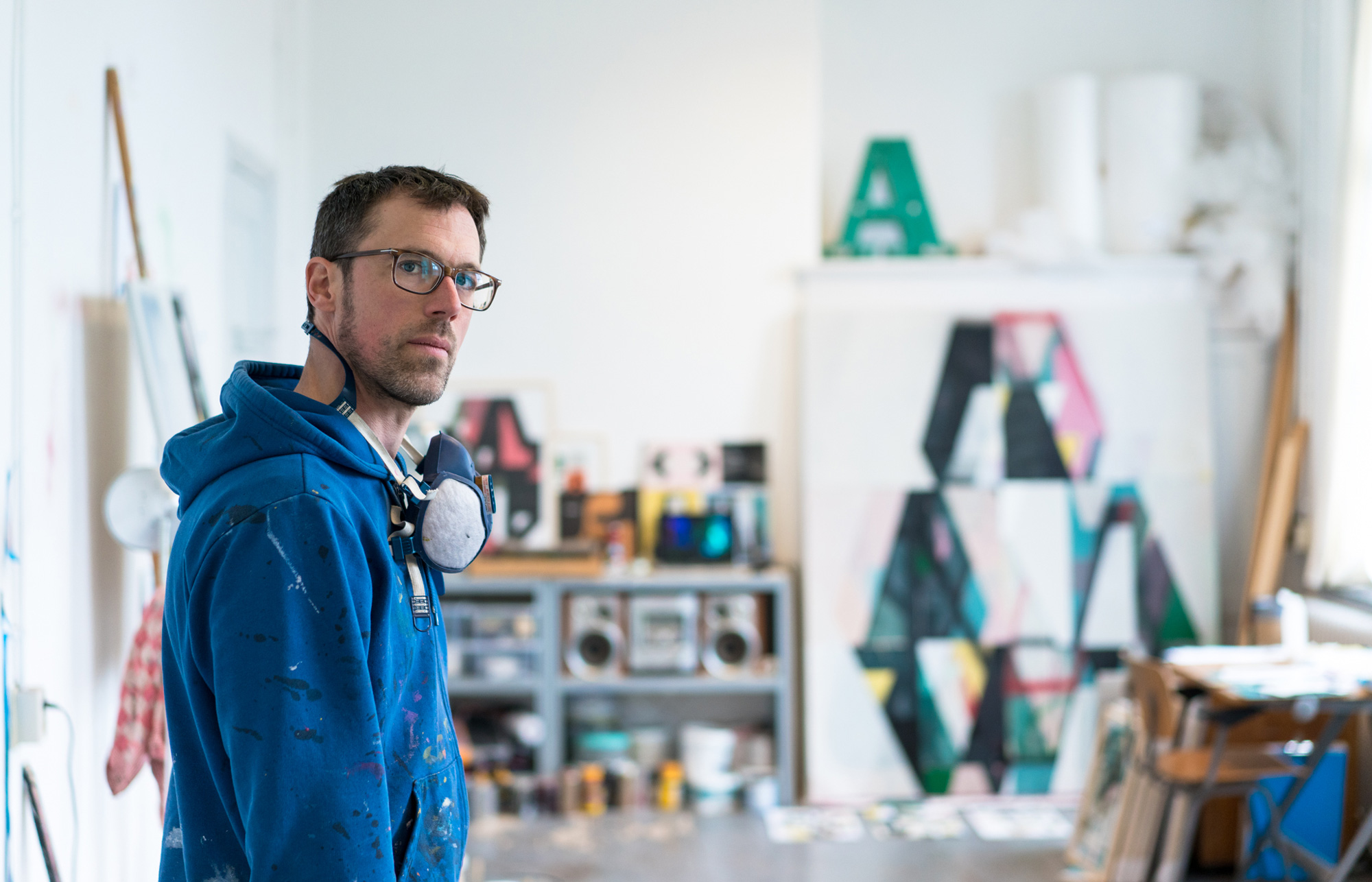 Jeroen Erosie
The Iterative Process
Interview by Evan Pricco // Portrait by Ralph Roese
Is it possible to be both a minimalist and maximalist on the same surface? This is the sense you get when exploring the work of Dutch artist, Jeroen Erosie, who uses a clever mix of space and color to fill every inch of a sketchbook, canvas, and city wall with bright colors and shapes that are aesthetically gorgeous and gorgeously consuming. From illustration to bicycle graffiti, to murals and gallery work, Erosie has an architectural mind that has turned his whole career into what is almost a conceptual art practice. It's abstract but direct. "I guess it means there is no fixed position," Erosie tells me, "There's only curiosity."

Evan Pricco: First thing's first, I loved the new mural you did in Caen, France for the Palma Festival. Coming from the graffiti world, was it weird or even challenging to start doing commissioned murals? Or was it liberating?
Jeroen Erosie: Thank you! Actually, it wasn't weird at all. There are multiple elements from graffiti where the recent murals originated, but there are two ways in which they, at least to me, are still pretty close to doing a piece, tag or throw up like I used to do. First, the fact that most of the work beforehand is done in my sketchbook, with many pages of gradual development, trying things out, finding a certain swing, and discovering while drawing. The symbols I draw still look a bit like graffiti lettering sometimes, but they could be contours, diagrams or architectural elements. They always come very direct, every square is filled with an intuitive drawing, in a chain reaction order, almost like how I would sketch my pieces or do tags in an iterative process. This contrast between the rational grid and the intuitive forms is what intrigues me.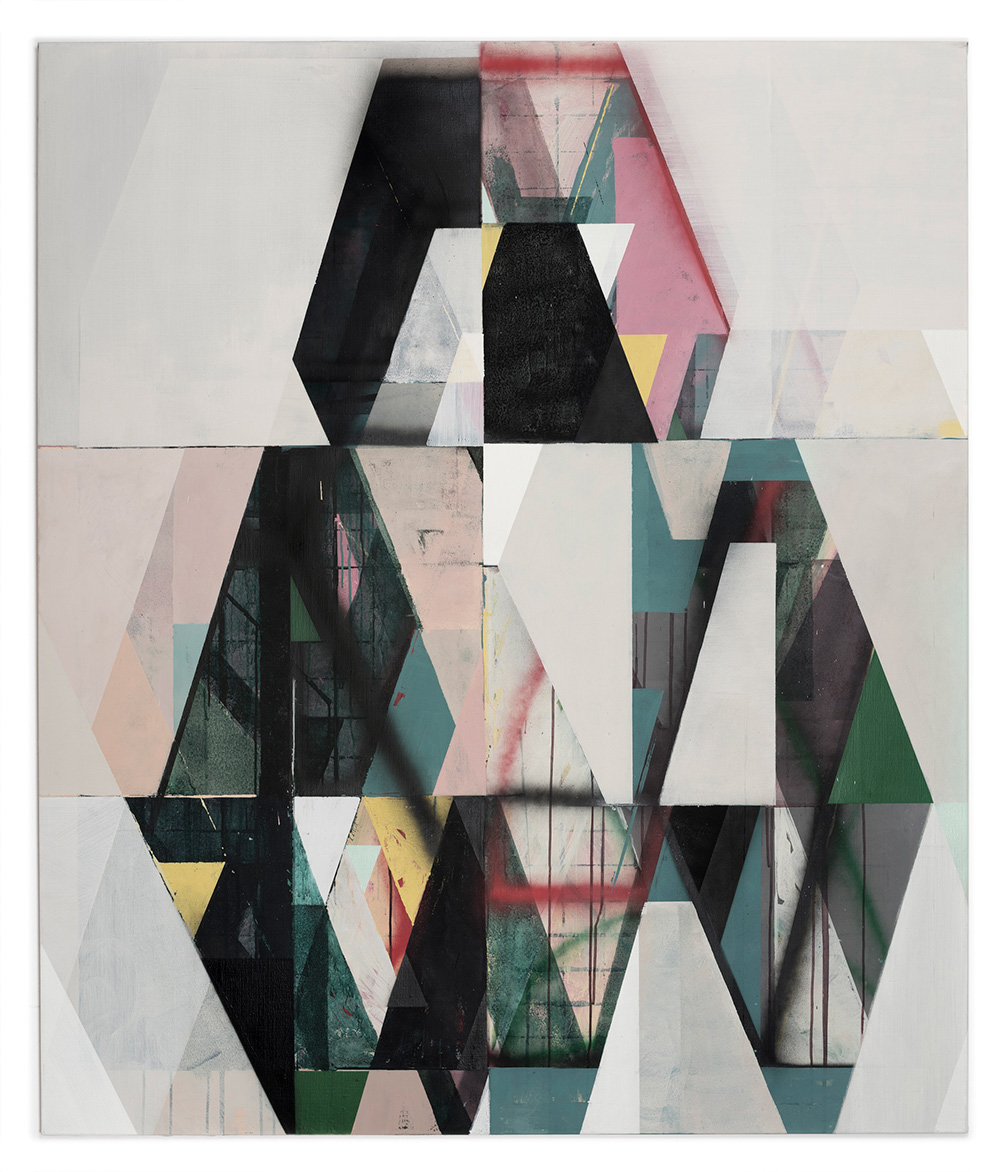 Secondly, I have been searching for some time to find a way of working that enables me to feel the same satisfaction of doing graffiti, but without it actually fitting into what graffiti generally means. I'm looking for that joy of execution, directness, the fast, intuitive result, and the scale, among other things. From these horror vacui walls [Editor's Note: horror vacui literally translates to "fear of the empty"] to my perfect circles or bicycles, there is always that graffiti basis but with a different touch. So it doesn't feel that different, although the result is open to much wider interpretation. In a way, it reflects my attitudes relating to graffiti. Graffiti, to me, has always been a means to develop, to discover… not an end in itself.

It's perfect timing that you just mentioned horror vacui, because I was talking to our founder, Robert Williams, about how his work has this "fear of the empty" quality to it. Have you always been that way?
I guess it always fascinated me to do very detailed, elaborate work as an illustrator. And, again, graffiti can also be seen as a public, spatial horror vacui; the organic visual filling-up of space. The horror vacui themed walls I did were like a combination of these two worlds; using the line of a drawer and the all-out gesture of a graffiti writer. But also they reflected on the general excess in commercial visual language, touching upon the theme of "What is the point?" "What is is the meaning?" It sometimes can be a tricky thing; the more you show, the more it loses meaning or focus. The black-and-white horror vacui walls followed on the "random image generator" walls I did before that. Colorful, layered patterns of generic illustrative themes that were playing with the overall generic styles of triangles and patterns I saw everywhere—that big, fat, worldwide internet influence. I felt I had to push this for some time to get it out of my system, kind of a reactionary approach that gradually led to my more abstract, introvert work later on.
You mentioned the bicycles earlier, which you do in such a way that they are like a version of a graffiti throw-up. But they also showed up in your older illustration and mural work, too. I know when we were planning to do the Juxtapoz show in Berlin, you preferred train travel as opposed to flying as an environmental practice. I assume the bikes function as a statement of life in the Netherlands, but also in regards to how we act as consumers?
There are more bikes than people in the Netherlands, so bike riding is very normal for everybody. In traffic, the cyclist is treated as equal to a car driver. We have ultra smooth and elaborate cycling lanes just for bikes, which is a very healthy and democratic approach. The bicycle project started from riding a bike while going out tagging and then constructing and drawing bikes in general. I've been riding bikes since I was a kid, and that freedom of riding is endless and quite important to me. I felt a strong need to explore this in my art, as well, around 2001. I think it was the beginning of my artistic career because, at the time, I was just doing illustration work and commercial projects. The "bike tags" originated, again, from a need to combine the illustrator and graffiti writer in me; doing a pure line drawing and a pure tag all in one.

I thought of it as a really subtle way of being a political artist. They are not in-your-face, but more of a subconscious message to the viewer. Or maybe you just really like bikes and I'm overthinking it.
The bikes were a reaction to more and more controlled urban planning in the city of Eindhoven. The city council wanted to take away all the bike parking possibilities in the city center that obstructed the flow of shoppers, something I thought was quite annoying. A city center by definition should be the place to visit by bike. I decided to put the bikes back, in a way. It was both a reactionary and a personal project.

I'm amazed to see what global bicycle culture has become in the past 15 years. Every decent city in Europe, for instance, has elaborate city bike projects and bike lanes where there used to be none. Cycling is becoming bigger everywhere, and it should be. There are simply way too many cars in cities everywhere.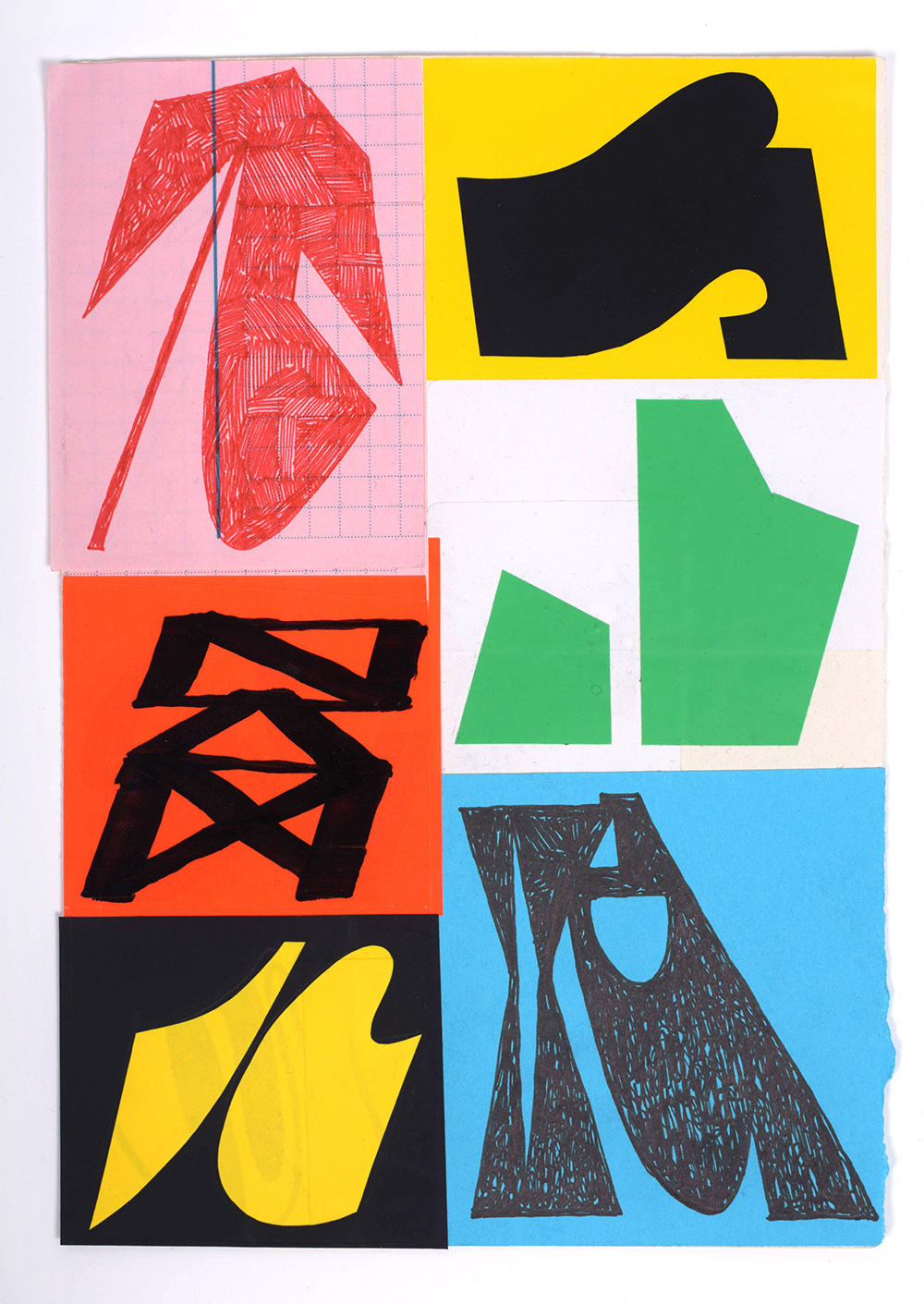 Where did you grow up? This could be a segue into what got you into graffiti.
I grew up in the south of the Netherlands, in Eindhoven. One of the few small cities that, thanks to Phet 15, actually found a way into Henry Chalfant's infamous Spraycan Art book in the 1980s. The city is the fifth largest in the Netherlands, and that small-town mentality probably made it an interesting place in the late 1980s and '90s. Many people teamed up instead of competing with each other; there were many bands, DJs, producers, graffiti writers and artists all influencing and knowing each other, meeting at concerts or the many illegal parties that Eindhoven was known for.

There was already a pretty active graffiti scene in the mid-'80s, something that I noticed as a young kid. The bold shapes, characters and colors were everywhere and I loved it. It wasn't until maybe 1992 or 1993 that I actually started graffiti myself, after the first big wave of writing, and just about in the middle of the more hardcore train and Amsterdam subway bombing. I enjoyed that scene, but wasn't specifically part of. It was such a vibrant time; musically and visually, everything felt like a discovery. Compared to now, it seemed almost like the opposite. There were very limited reference points. Next to having MTV as a big source of information, or the one or two radio shows you had to listen to and tape every week, everything was physical instead of virtual. Going to different cities to see local graffiti in real life and taking pictures, getting your hands on that specific book or magazine (I still have the early Juxtapoz magazines that were only available in one or two shops in the country), finding that one cherished record in a shop, meeting that one person in a hall of fame that you ended up knowing half your life.

The mid-'90s was the time of experimenting, mixing things up: trip-hop, jungle, drum and bass, IDM, house, techno, grunge, gabber… things were just happening. I guess this was reflected in the stuff we were doing: not sticking to one theme but having an open mind in allowing different influences. In Eindhoven, we had a nice mix of people moving around in different scenes back then, mostly graffiti writers with a curious attitude like the people of Betamaxxx, Space3 and SOL crew, amongst others. We had a blast.
What's the culture like in Eindhoven now?
I split my time between Rotterdam and Eindhoven mostly, as well as doing projects abroad. Both cities have a similar past; both cities were bombed severely in WWII, and both cities dealt with the lack of a picturesque city center differently. Eindhoven has become, like many other smaller cities, a more gentrified, controlled place. It has lost a bit of its character, that bottom-up mentality. City marketing by advertising agencies with slogans replaced a true creative heart. I guess times changed. Luckily, it's still a place of great people doing great things, which is the most important city quality anyway.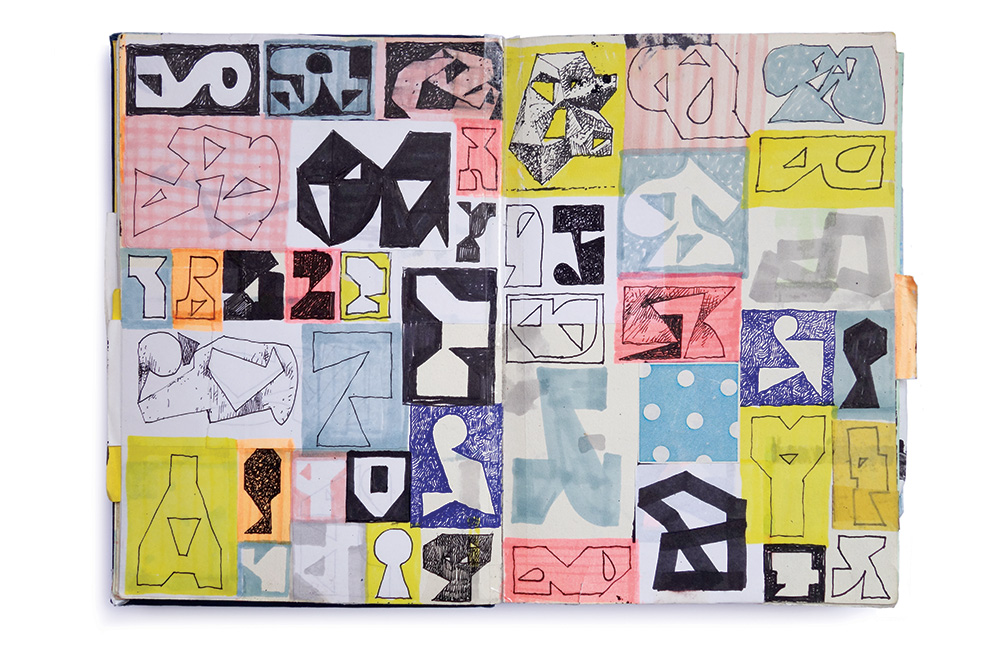 I have been going to more and more street art festivals in recent years, and for you, who has been involved in street culture for longer than the term "street art" has been used, were you surprised when you began to see just how global and popular all this became?
I never expected to ever be doing what I do now when this all started for me in the 1990s. Of course this street art movement is linked to constant development in counterculture; from Provo/Nozem youth culture or the Situationist movement in the 1950s and '60s, to protest punk culture or social struggles that developed into graffiti in the '70s'and '80s, to street art in the '90s and 2000s, or internet culture as we know it today. I guess the impact of the internet shaped street art much more than the actual streets it was happening on. Before the internet, it was still much more of a real life and elusive experience.

That internet impact started for me around 2004 with Fotolog, an early HTML Facebook-type photo-sharing webpage. Suddenly you saw stuff from, let's say Barcelona or São Paulo, on a daily basis. It was all reduced to pictures, not experiences, day in and day out. It offered an amazing insight into so many lives, although you never met these people for real. It was very addictive, though you were only supposed to post one picture a day. It was a completely new way of communication. It made me realize how big the impact of internet would be on our lives, how much it would eventually shape our shared visual consciousness, how quickly it would make the world smaller. Street art seems to have become the love child of graffiti and the internet, a subcultural hyper-reality. Think about how many more people know Banksy's work than actually saw his pieces in real life? The JPEG became the work, not the stencils in the alleys of London.
Personally, I always had a bit of a bittersweet relationship with the term "street art." It seems that since the term exists, it became a reason to make a certain type of work, or to pigeonhole a certain type of work, instead of making personally motivated work and see where it fits afterward—or to just not care about its label at all. The term itself became way more important than what it could stand for. In fact, it could mean anything nowadays. A label will never replace a personal signature or development. To me, that's all that matters.

Simultaneously, apart from the terminology, I see a super powerful global movement, reaching so many people, giving so many people a voice, pushing so many boundaries by so many artists, splintering and redefining genres again and again. I guess every period has a certain momentum that is expressed through a specific type of art, leaving traces of human interaction and personal perception that define that era. The past decades saw a big impact from graffiti, street art, post-graffiti, or whatever the name is. That impact on many levels is the most important, not how it's labeled.

You did illustration as a job, you went to art university, you did graffiti, and all of this set you up to be a unique voice, experimenting with the ways that all different kinds of art can interact. Do you remember when you started finding your voice?
I never really got too comfortable in that sense. I went to the Willem de Kooning art school in Rotterdam in 1995, did an exchange at SVA in New York in 1997, graduated in 1999. At the time, I was already keeping my street-related work separate from art school, allowing me to switch between the different worlds.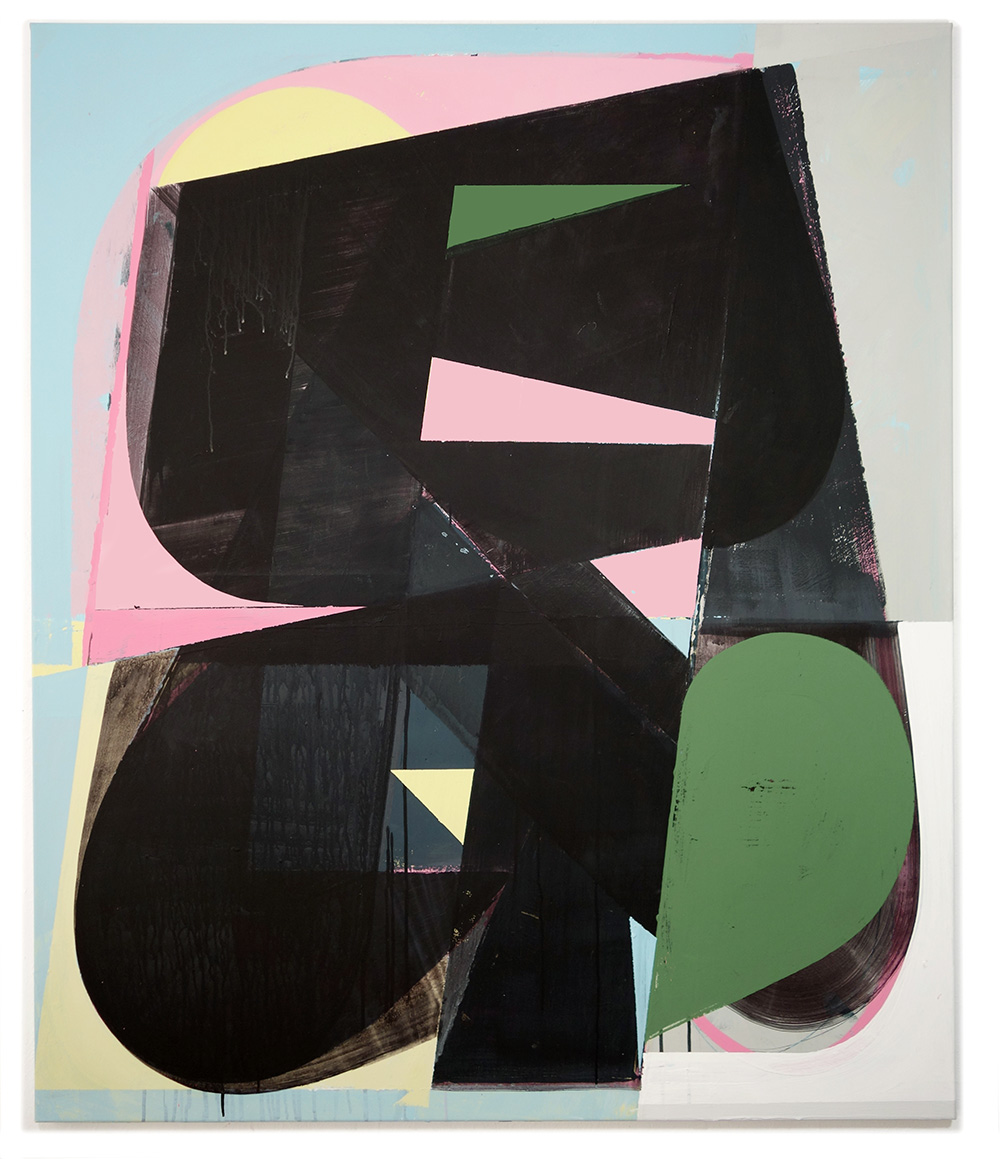 Being a full-time illustrator in the early 2000s didn't completely satisfy me. The things that were happening in the streets of many cities in Europe were much more interesting to me, this logo and symbol-based graffiti that was part graphic design, part illustration, part art and yet none of these things at the same time was what I was attracted to. Stickers, silkscreen posters, riso prints, stencils, rollers, exactly this undefinable genre mix was the power. This started already around 1996, and from around 2004 on, I remember this being called "street art" more and more. It started to appear in commercials, on backpacks, in ads. Around 2002, I was in my transitional phase, going from being an illustrator to a more free visual artist, experimenting with different approaches. In this period, I did many of my bicycle drawings and other transitory illustrative and typographic projects, steadily leading to a more abstract visual language at the end of that decade.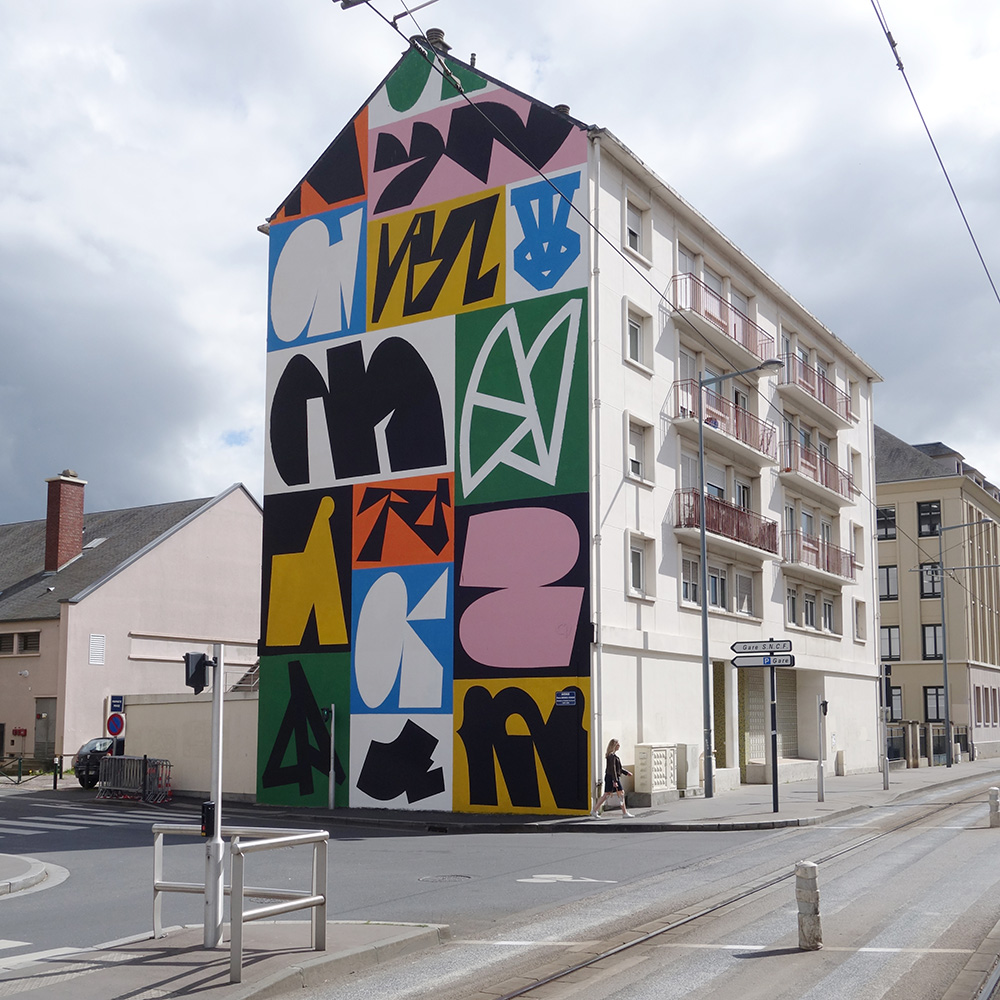 I guess I had several phases in the past 20 years that were more or less definable as a signature style, but I think I was generally too curious to really stick to a specific approach for too long. I felt there were already many people doing this one specific style, especially in the street art context. I am more interested in researching possibilities than a final, definitive outcome. I always thought that sticking to a signature style was something for later, so perhaps that's where I am at now. Who knows?

Jeroen Erosie is part of What In the World: The Juxtapoz Edition at Urban Nation in Berlin, on view through June 2017.

http://www.erosie.net/