Mike Kershnar
Nature's Narrator
Interview by Eben Benson
Mike Kershnar has enjoyed exploring the intersection of skateboarding, visual art, and nature. Following a long line of artists who skate, Mike has added an element of natural beauty to these two vibrant fields, which he has lent to skateboards, ramps, canvases, walls, and any surface that will have him. Given the magazine's genesis in skate-related art, we wanted to ask Mike about his many projects that integrate these passions, including co-founding the Elemental Awareness Program, his curatorship at the Growlery, and the Shutter Speed Art Show at the Harvey Milk Photo Center.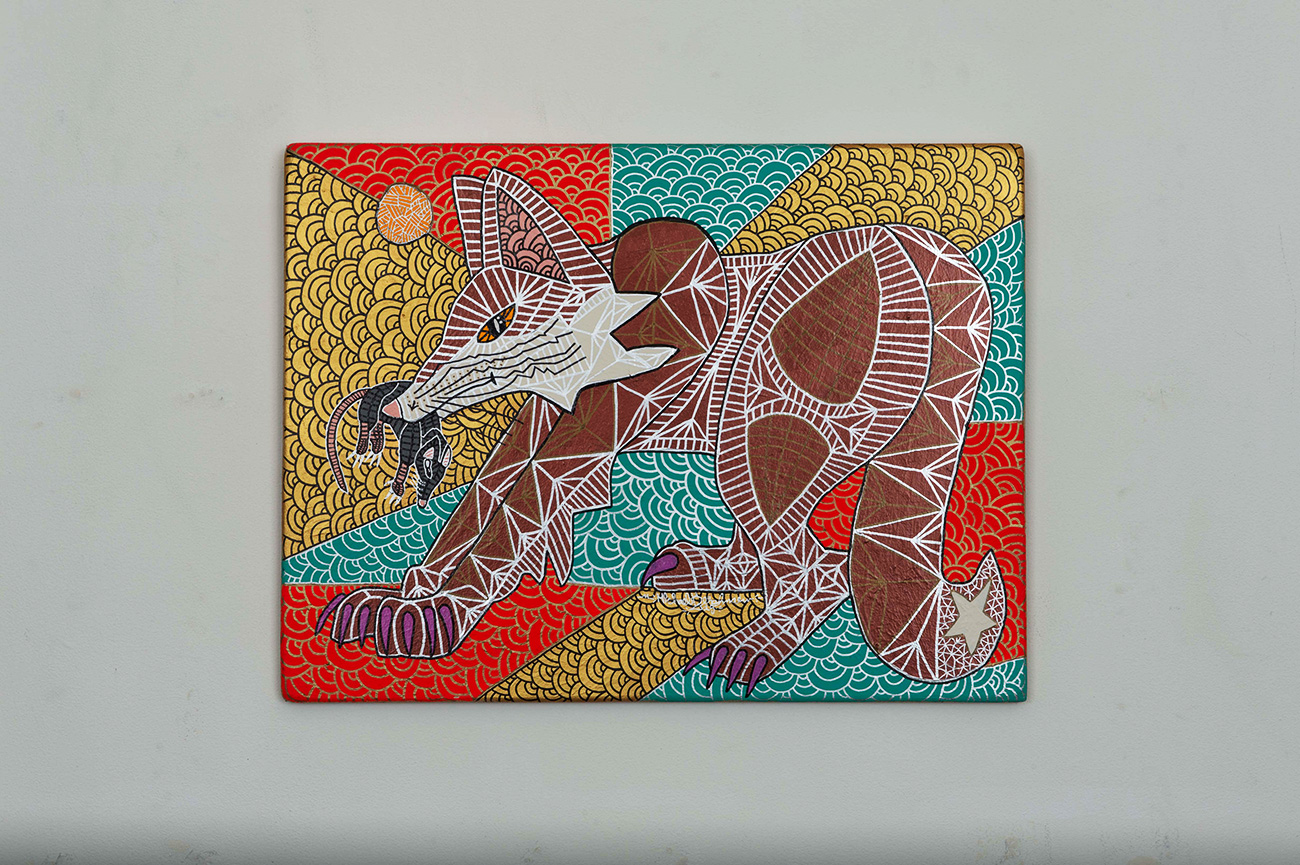 Eben Benson: Where did you grow up, how did you get into art, and has nature always played a big role?
Mike Kershnar: I grew up in Irvine, California, skateboarding in the neighborhoods, schools, and ditches, exploring the orange groves, chaparral, and creeks. It was suburban but proximity to the old Huntington Beach Skatepark allowed me to observe Ed Templeton, Tom Penny, and skateboarding as a generally creative culture. Seeing the griptape of Mark Gonzalez and Sean Sheffey made me feel that paint pens and drawing were as much a part of skate culture as trick selection, music, photography, fashion, and board graphics.

Like many young skater kids, I started drawing lots of images of people skateboarding; dudes going off launch ramps with the word "Radical" behind it, fully '80s style, but I was never quite happy with the results.

I was an animal lover and and can clearly recall feeling humbled, frightened, and mesmerized if I came across a coyote, scorpion, or rattlesnake face-to-face. I liked the results of drawing animals, and the feelings my work gave me. It felt powerful to be able to create the physical forms of the many animals. I felt it contributed awareness to things and places outside of human society.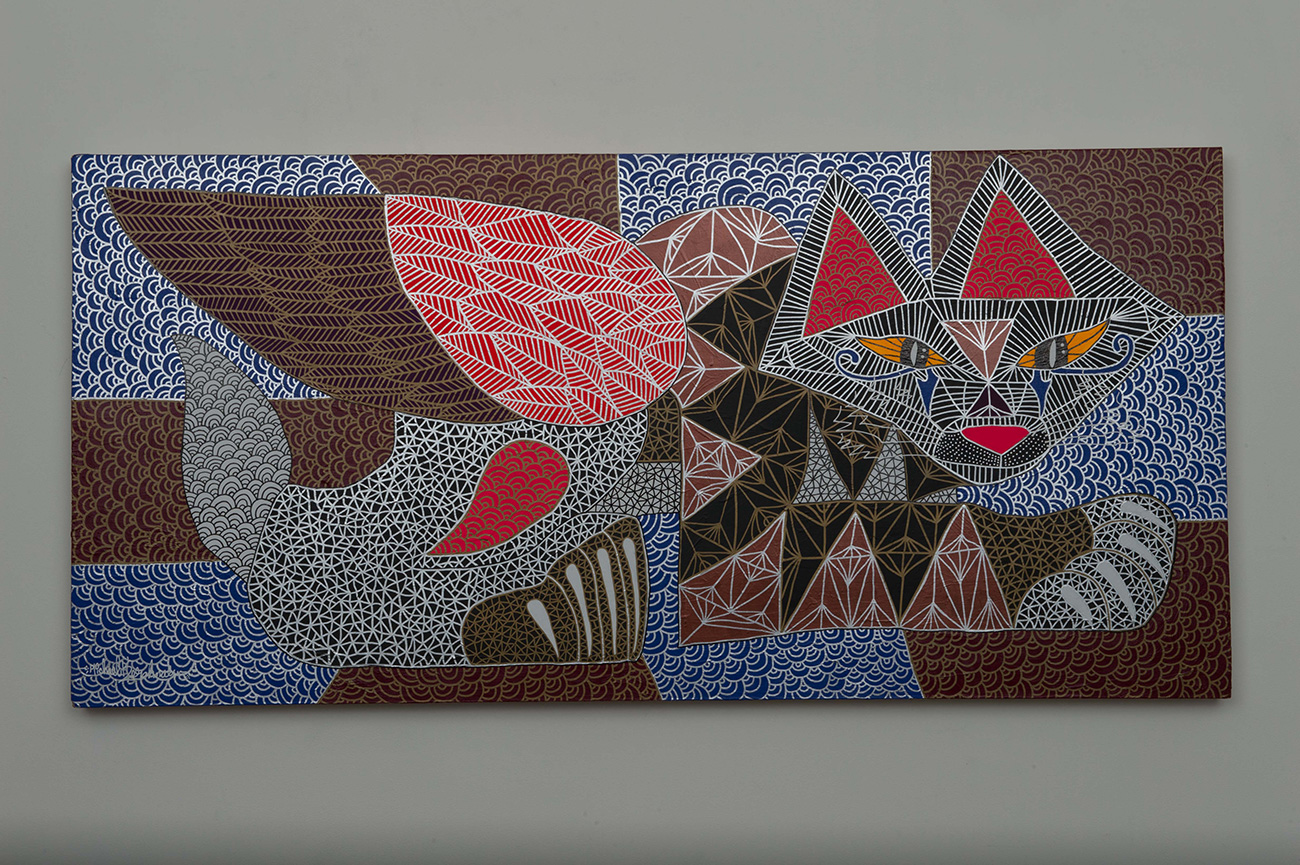 In addition to the skate influences, what kinds of visual art inspired you growing up, and was there any particular aesthetic that drew your attention really early?
As far back as I can remember, I was really into ancient art styles. I particularly loved Egyptian and the Northern Formline styles of the Pacific Northwest. These styles seemed graphic, pared down, elegant, and spiritual, revealing aesthetic truths. Pleasing to the eye, and filled with meaning, with obtainable results.

Describe your process. Where do you draw inspiration from today, and how have you seen your paintings change as you've changed as a person?

I like to try to do at least two hours of art each day, and that can manifest itself in many ways. Sometimes it's head-down, pen-and-ink work in the morning, which is a very focused endeavor for me. Collage is a relaxing exercise in composition. When painting a canvas, I will usually explore feelings through the lens of North American wildlife. For instance, if it's a concern for the future, I may paint a predator feasting upon prey as a reminder to myself that we are equipped with knowledge of survival. Herons remind me of grace in navigating the air and waterways of life. Hummingbirds seem joyful as they simultaneously feed and pollinate. Ornate snakes have their bellies to the earth. Owls act at night and fly silently. I am still very inspired by the daily lives of wild animals and how they look as the artistry of The Creator, and what they can teach us. Though I have a style in which I typically work, with each piece I like to experiment further with new color combinations, dynamic new compositions, and new narratives. Each year, my hope is the paintings become less naive, more refined, and more beautiful.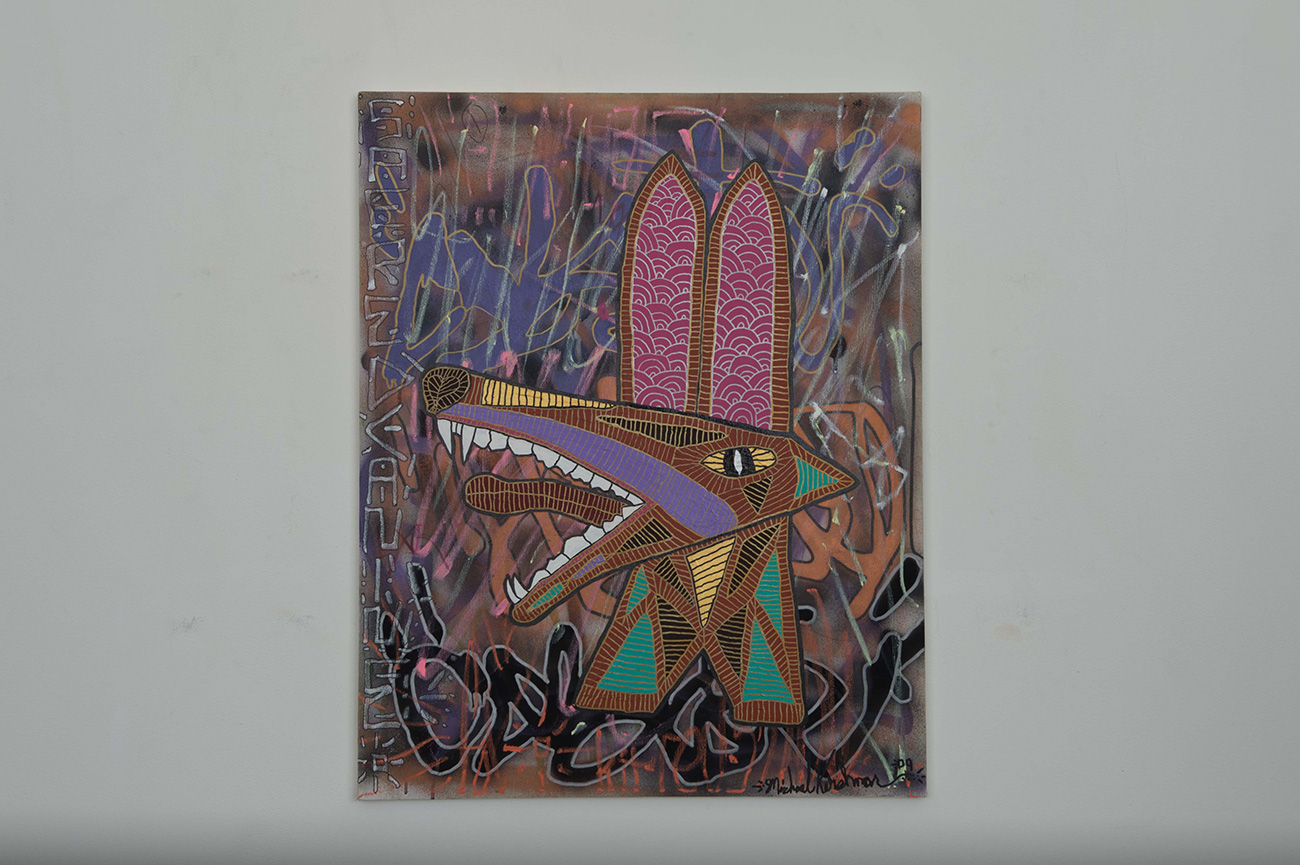 You're as integrated into the skate world as you are into the art world. What's your history with skateboarding and why do you think your work seems to fit so well with the culture?
I have been skateboarding for 30 years now and feel deeply indoctrinated into the history and culture. In the '90s, I worked at Visalia Skate Camp, where Joe Brook, Dan Rogers, and Salman Agah introduced me to many of my favorite teams and heroes. Today, a perfect day for me would consist of skating a DIY spot where I could paint and shoot some film with talented, friendly, consistent skaters. Like many kids, I used to dream of being a professional skateboarder. It seemed like the greatest thing; to travel the world with your friends, all expenses paid and all documented. I feel fortunate to have gotten to go many places in the world as an artist with Elemental Awareness, which is a non-profit organization I co-founded with my best friend Todd Larson. Elemental Awareness seeks to make a positive difference in kids' lives through nature, the arts, and skateboarding.

I think my work fits in well with skateboarding because, in many ways, my aesthetic is a product of it. When creating, I have awareness of the whimsical aloofness of Mark Gonzalez, the wit and technicality of Todd Francis, the psychedelic comic quality of Jim Phillips and VCJ, the compositions of Bryce Kanights' photography, and on and on. I've tried to carve out my own little natural niche in there. I am grateful to Ed Templeton from Toy Machine, Spanky from Baker, and Johnny Schillereff from Element for letting me create decks over the years.

Perhaps the pinnacle moment, thus far, in relation to being integrated in the art and skate worlds, came last year when we were skating a rail in front of The Harvey Milk Photo Center in SF. What could have been a typical hostile encounter of getting kicked out by the staff actually led to a wonderful city-sponsored exhibition called Shutter Speed. The staff actually appreciated the artistry and culture behind what we were doing and rolled out the red carpet. It was an honor and a privilege to curate this show which included so many legends and locals, including The Gonz, Barry and Clare, Jason Jessee, French Fred, Mkue, Mike USA, Supe FMK, GX1000, Max Schaaf, Elissa Steamer, Dave Schubert, and so so many more. It was very inclusive and a real celebration of the intersection of the arts and skateboarding.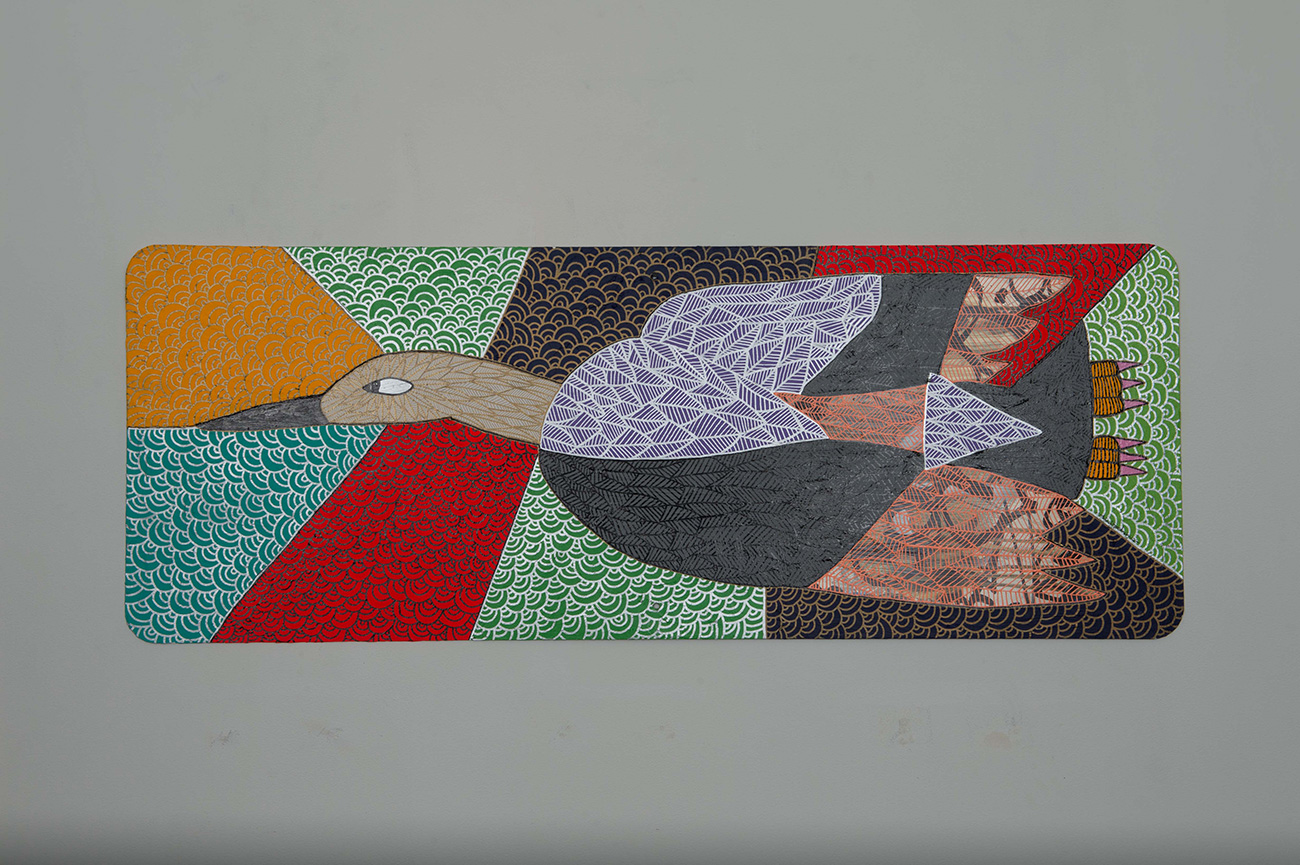 How did you bring that experience into your most recent position as curator at The Growlery, Tell us about your experience going from artist to curator and back again.
I met Jean Chadbourne at Montecito Sequoia, a family camp where I teach art for a couple of weeks each summer. She mentioned she had a property in SF she was planning to turn into an artist residency program. I had experience with Break Art Residency in Paris and The Adhoc Residency in Vienna, and was overjoyed when Jean hired me for a two-year stint to help launch The Growlery as house manager and co-curator. It's been really rewarding to help turn a Victorian home into a proper art space and produce shows for talented people who have shown me love such as Joe Brook, Matthew Bajda, and Piper Lewine. Jean is doing a wonderful thing for San Francisco by opening this venue and giving 100% of all art sales to the artists. It has been joyous to be able to say yes to artists' ideas (though unpleasant to say no). It's great to get to contribute to the art community as a host in such a gorgeous space.

How has the move towards Instagram and the internet helped and hindered you? What do you think is gained and lost in this seismic shift?
Instagram is very useful in that it gives artists access to communicate with people instantly from all over the world, which can be invaluable while traveling. Some challenges for independent artists include whether or not to try to use it as a selling platform for originals and merchandise, and whether or not to post completed works before an exhibition. I enjoy doing @huskyroundup and there is definitely a satisfaction in receiving "likes" from people I admire and respect. It is a surge of endorphins if something gets posted on Thrasher and goes viral like the 35mm fisheye photo I shot of Evan Smith skating the bridge at China Banks. I often muse that I wish I got one dollar per like and could pay the bills off of posting on the "validation station."

As for what is lost, I feel Instagram leans toward cleavage and quantity over realness and quality, and subtle details in art and photography are lost to fit in the small size of the handheld device. Of course IG also makes style-biting easier, and more prevalent than ever. I guess we are all just hoping to post our way into a brighter future.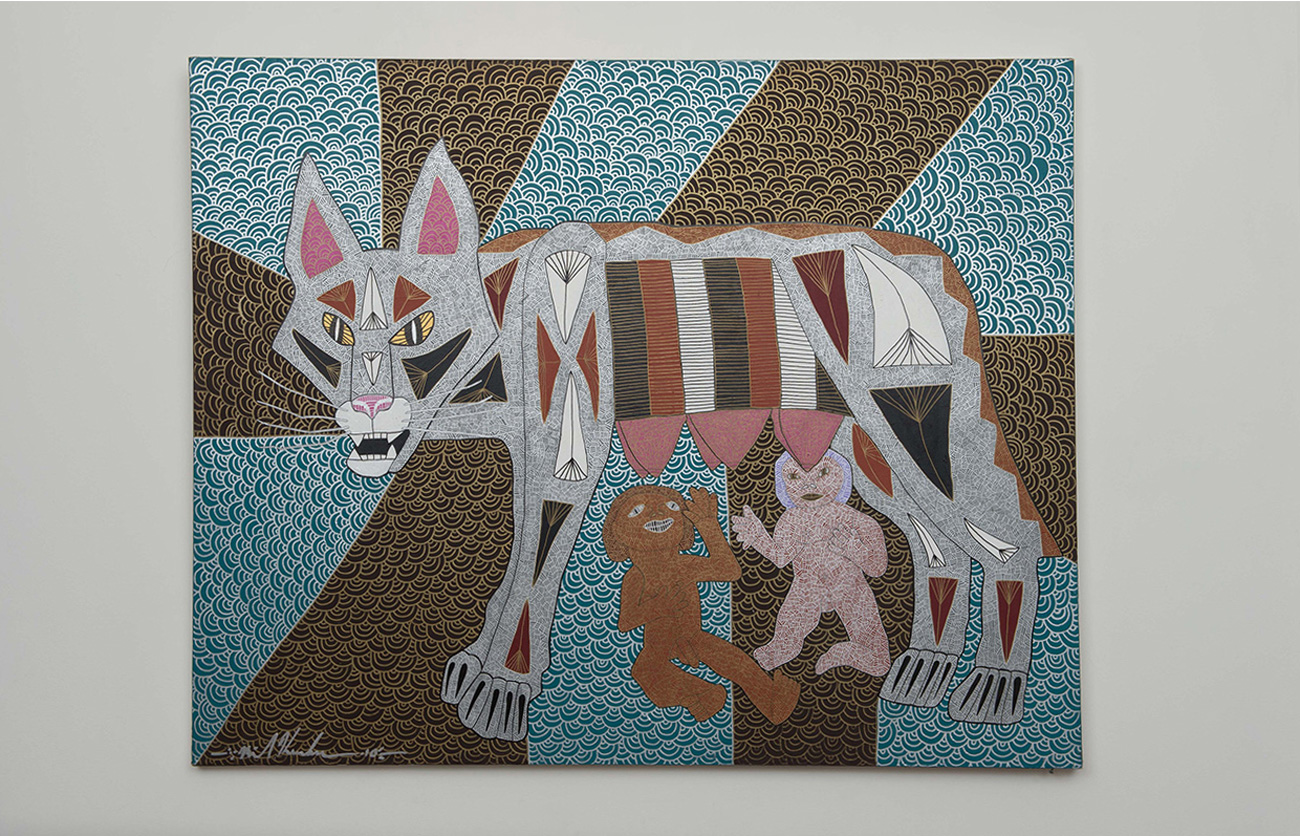 How do you feel like this shift has affected art and skateboarding? What are some things you're excited about in both of those worlds?
A very positive thing about social media is that can give an accessible voice to everyone that is on it. There is definitely more skateboard media than ever being produced and put out for public consumption. In skateboarding, you can see the youth of today drawing inspiration from the entire history of skateboarding, '70s style, '80s remixed trick selection, '90s technicality, and contemporary speed, pop, and ability, create a well versed sophistication highlighting fun, and individualism, as well as demonstrating talent. I am excited to see what the next generation of painters will come up with. We are in this post-modern information age where we have ancient arts, classical painting, illuminated manuscripts, abstract expressionism, pop surrealism, comics, graffiti, and all the great movements of art a click away, where they can be thrown in a blender and mixed and remixed. I am excited to see new visions and versions of visual landscapes, new unique styles exploring universal experiences and what it means to be an artist.

Be sure to check out Mike's farewell show, titled "Some Time in SF," at the Growlery on December 16th, featuring music by Cobra Man, and guest art by Joe Brook, Piper Lewine, and Ryan Garshell