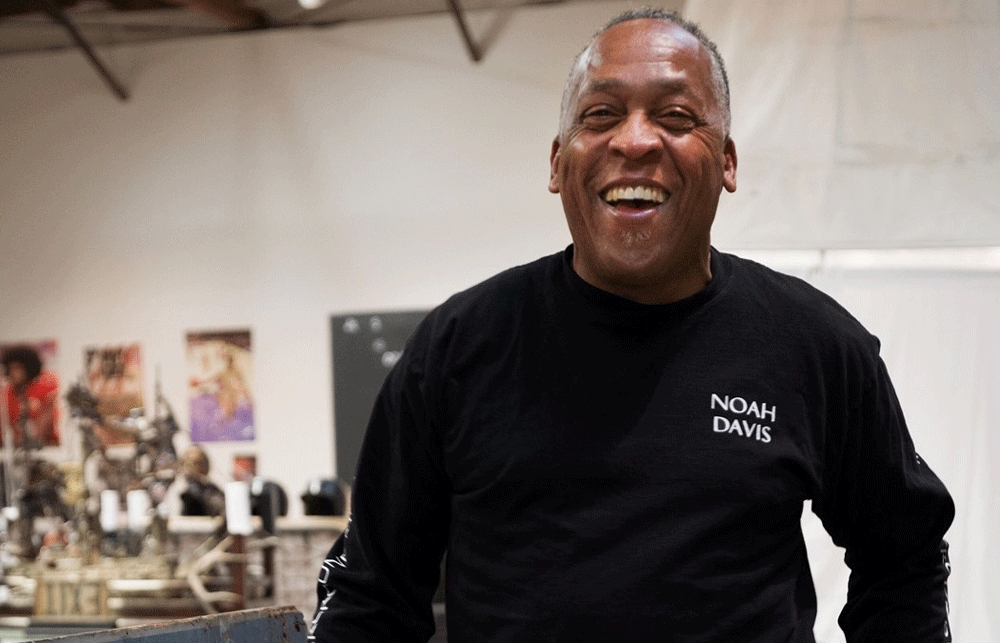 ---
Henry Taylor
The Incredible Henry VIII
Text by Charles Moore // Portrait by Fredrik Nilsen
Los Angeles-based artist
Henry Taylor
compares painting to having a child, elaborating that artists don't decide what to create, but rather, the works themselves demand they be brought to life. Each piece beckons the creator, the subject matter sowing the seeds of fruition—and just like that, the artist applies paint to canvas. It's by way of this eclectic approach that Taylor prepares for his Museum of Contemporary Art retrospective B Side, scheduled for viewing at the renowned
MOCA
from November 6, 2022—April 30, 2023. While the exhibition surveys over thirty years of Taylor's work, the artist reiterates that it has no theme. Taylor doesn't think about things like that. The curators are doing their part, while he, as the artist, is simply in the studio making work every day. This is his main objective: creating, putting paint on canvas, and connecting with his family.
This focus on family infiltrates all aspects of Taylor's life and artistry. Born the youngest of eight in Ventura, California, the artist earned the childhood nickname "Henry VIII." His father, a commercial painter employed by the U.S. government, was listed as a painter on the artist's birth certificate—and so began a family tradition of working with one's hands, of forging a path in the visual arts. Raised in Oxnard, roughly an hour north of Los Angeles, the youngest member of the Taylor family enrolled in art classes under mentor James Jarvaise, the prolific American painter who served as a mentor for Taylor, who finally did commit to painting full-time. Taylor recalls clearly learning about the greats, among them Philip Guston and Richard Diebenkorn, relying on magazines such as Art in America for his early education. Though he knew little about the art scene in the Los Angeles of his youth, Taylor grew up around friends and neighbors involved in ska bands. If you can be in a ska band, you can be an artist, he told himself, and so a career in the arts began to resemble something of a real option. Working with Jarvaise, Taylor realized this was a path he might pursue.
However, the artist's trajectory wasn't a straight line. Taylor initially found work as a psychiatric technician at the Camarillo State Mental Hospital, working there for roughly a decade before retiring in 1997, just two years after earning his BFA from the California Institute of the Arts. Many of his early subjects included patients from his tenure at the hospital, individuals who instilled in him a sense of humanism, a deep empathy for other people that has passionately permeated his work ever since. There were days Taylor would draw people in restraints; on other occasions, he would observe patients moving down the hallway, bodies, and minds whirring. He describes the children in the ward as so resourceful they'd often make toys from eyeglass cases and other found objects, inspiring the painter to think outside the proverbial box himself. Today Taylor's portraits showcase subjects from all walks of life: friends and family, acquaintances and strangers, celebrities and politicians, members of the unhoused population, and individuals from found photographs. Taylor paints obsessively in sensuous, vibrant color, with loose strokes.
Prolific, vast, improvisational—one can't deny that Taylor takes an experimental approach to art-making. Known for his social vision and impact on American culture, the multimedia artist blends painting, installation, and sculpture in his approach. Perhaps most visibly, he disrupts conventional attitudes about portraiture, honing in specifically on subjects that play a role in a larger cultural narrative. He paints subjects with individualistic and social ideals that resonate with the larger community, allowing each piece to flow freely and culminate in a narrative about the person, their history, and society at large. Taylor emphasizes the value of truth-telling, reinforcing that while his portraits are two-dimensional in nature, his subjects are three-dimensional beings and should be treated as such, both visually and in the resulting conversation. His process is one of hunting and gathering—an amalgamation of Taylor's personal experiences and our shared history. Newspaper clippings and photographs decorate the artist's studio, a combination of professionally photographed public figures and his own snapshots of friends, family, and strangers. These images are interspersed with found objects, each item a talisman documenting Taylor's life. Relying on both memory and on these archival materials, Taylor paints quickly and instinctually, capturing his subjects' moods with an agile artistic intensity. He pays homage to artists such as Alice Neel, Jacob Lawrence, and his contemporary Kerry James Marshall.
Undeniably, the multimedia artist's most notable output is his portraiture. No material is off-limits for Taylor, who has covered cigarette packs and cereal boxes, suitcases and crates, furniture, and even empty bottles or detergent and other household goods with paint in his signature style. In many cases, the artist will skew the settings of his works, reconfiguring time and space in such a way that the viewer can't help but do a double-take. This is very much the case in Cicely and Miles Visit the Obamas (2017), a work based on a famous photograph of Cicely Tyson and Miles Davis, captured by Ron Galella in 1968, at the premiere of the film The Heart is a Lonely Hunter (in which Tyson starred). Using this photograph as inspiration, Taylor recreated the scene decades after the fact, placing the couple in front of the White House on a pretend—implied—visit to the Obamas instead of at the premiere. Yet Tyson wears the same coiled earrings as in the original image, the same sleeveless white dress; Davis, for his part, is dressed in the same black suit. As though the couple traveled through time and space, he conveys that no time has passed at all, although the sophistication and sensibility of Galella's photograph are maintained. Taylor admittedly took a few liberties, such as the hue of Davis's silk handkerchief, the opaqueness of his glasses, and Tyson's haircut varying ever so slightly. The artist is entitled to these liberties, of course, for he has created a new world entirely. In real life, Davis never had the opportunity to see Barack and Michelle during that presidency, although Tyson at the age of 92, received the Presidential Medal of Freedom. The circumstantial recreation—the imagined union, and the corresponding juxtaposition—of two iconic Black American couples from different eras is striking and, indeed, monumental.
Tyson and Davis aren't the only subjects of Taylor's who empowered African Americans. The Los Angeles resident has painted figures such as Andrea Motley Crabtree, Eldridge Cleaver, and Huey P. Newton. His subjects are real members of the Black community, symbolic figures representing historical moments or struggles, and people who have made an impact on his own life. Andrea Motley Crabtree, the first (2017) depicts the titular Crabtree, the first woman to pass the military's rigorous deep-sea diving qualification. Based on a 1982 photograph taken at a Panama City, Florida U.S. Navy facility, Crabtree sits in a regal manor as so many countless popes, kings, cardinals and public figures before her have been traditionally documented. Taylor paints the remarkable figure, not unlike El Greco or Velázquez might have, Crabtree, regal in her uniform, a helmet resting comfortably in her lap, gazing mightily into the distance with well-earned power and prestige.
Taylor also tackles more contemporary themes. THE TIMES THAY AINT A CHANGING, FAST ENOUGH! (2017) depicts the fatal police shooting of Philando Castile, who was gunned down while reaching for his driver's license during a Minnesota traffic stop while his girlfriend Diamond Reynolds and her four-year-old daughter were in the car with him. Taylor's painting is appropriately frenetic, just a wash of blue sky spilling into the background, a white cop holding a gun, face masked by the vehicle, a Black man—Castile—resting almost prone inside the car, entangled in his seatbelt, eyes still open (though only one is in view), streams of blood snaking down the front of his white t-shirt. Taylor captures the immediate, horrific aftermath of the incident in a blend of muddled hues and vibrant color, creating an entire world at a standstill. Rife with partial figures, unfinished gestures, and nuance, Taylor's works visually invite the imagination, yet his paintings present a literal, unequivocal message.
Consider the painting i'm yours (2015), a self-portrait that includes a depiction of the artist's two grown kids. The trio is staggered in space, standing in front of a captivating pink background, each individual cropped closely within the square canvas. The artist stands on the far right in the work's foreground—blue, pink, and white smudges of fresh paint on his face, suggesting physical bruising or simply that of life lived—lips pursed as he makes direct eye contact with the viewer. Taylor's two children stare straight ahead as well, each one wearing a gaze as steely and penetrating as their father's. Alert yet weary, they're filled with resolve, determined to confront the societal issues they face in unison. The three subjects are seemingly ready to overcome whatever comes their way, daring the viewer to prove them otherwise.
Meanwhile, in The 4th (2012-2017), Taylor blends two stacked panels into a massive thirteen-foot work. The upper panel showcases a Black woman wearing a white t-shirt and matching baseball cap on Independence Day, holding some sort of chip or snack food in one hand and a barbecue skewer in the other. Her hat casts a shadow so expansive that the viewer cannot see the subject's face, yet her position implies she is staring with shocking intensity. Bits of lawn, building and the silhouette of a child's head complete the work, while the lower panel reveals the grill itself, crackling with a bounty of beef, poultry, and pork. Seemingly an object of ceremony, she stands elemental and regal, much like other figures the artist has documented. Again, Taylor offers a political, almost ethereal take on everyday life in America, grounded in the gravity of power and Blackness.
Taylor is admittedly sensitive, a quality he imagines is shared by many artists. "They don't want to admit it," he says. But the artist elaborates that sensitivity, no matter how uncomfortable it might feel, is crucial to the art-making process. This sense of feeling seeps into every one of Taylor's works, from the portraits described here, to his sculptures and installations. In 'Darker the better…' (2013), plastic bottles covered in black spray paint, paired with black acrylic and nails on wood panel, features the materials configured into an approximate shape of the United States—shrouded in darkness, yet imbued with a sense of hope. Societally speaking, the work hypothesizes that things might have to get worse before they improve, and to this end, Taylor's MOCA retrospective will reveal the culmination of a decades-long career. Designed to celebrate a Los Angeles artist known for his brilliant aesthetic and unique, experimental vision, Henry Taylor: B Side will showcase a blend of the artist's paintings, sculptures, and installations featuring found objects, playing upon historical tropes involving Black life in the U.S. at the turn of the century. Taylor is most inspired by his own community and the icons whom he has long respected. The universality and humanism presented are an inspiration.
Represented by Hauser & Wirth since 2020, as well as Blum & Poe, Henry has exhibited in major cities including New York, Los Angeles, London, Paris, Zurich, and Tokyo. Taylor's work is in the collections of the Metropolitan Museum of Art, the Studio Museum in Harlem, the Hammer Museum, the X Museum, and MOCA in his hometown of Los Angeles. "Henry Taylor: B Side'' will be the first major solo museum exhibition in the artist's native LA.