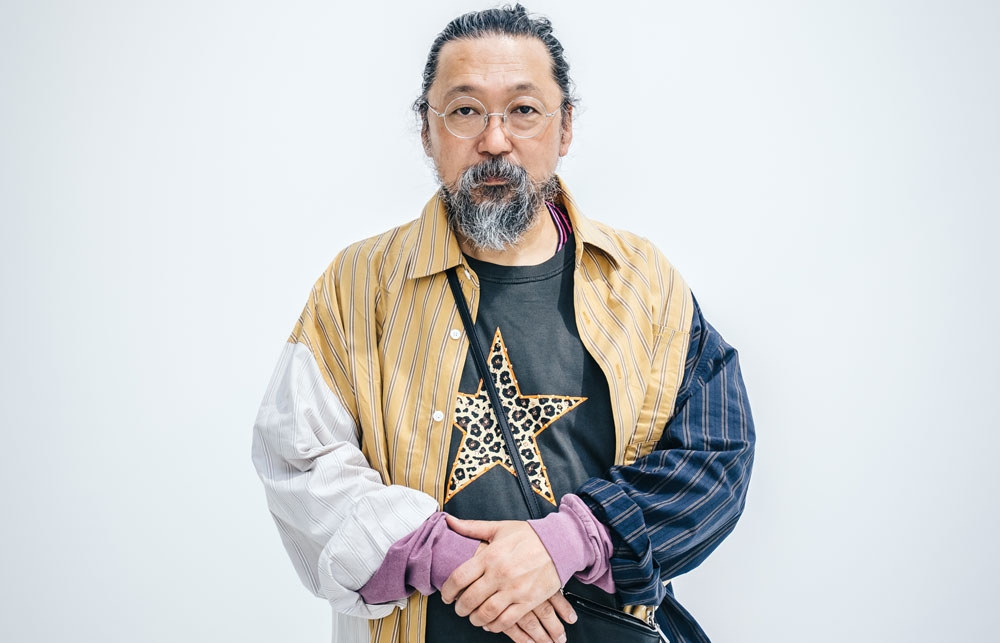 ---
Takashi Murakami
The Monsters Inside Us All
Interview by Evan Pricco // Portrait by RK
When Godzilla first entered the cultural lexicon in 1954, Ishirō Honda wasn't trying to make a monster film in the traditional sense. Most monster films aren't about an actual ugly and terrifying un-human creature coming from the depths of the earth to haunt and terrorize us. Godzilla, like all good monsters and monster movies, was a metaphor for something perhaps even more frightening than a gigantic frightening creature emerging from the sea to kill; it was about humanity and our innate quality to self-destruct and commit atrocities that appear to be unfathomable. That Godzilla represented a nuclear holocaust and the Japanese subconscious after the nuclear attacks at the end of World War II reminds us that monsters are about ourselves and how we process traumatic events that affect civilizations for years after they occur. Monsters are, in some ways, inside all of us, or perhaps, represent fears that we can clearly recognize as real.
Takashi Murakami has been painting monsters for longer than maybe even he realizes. For some 30 years now, the Japanese artist has explored, through metaphors in his writing and also in literal representations in painting, sculpture, and film, the ways in which monsters exist inside our collective consciousness, but also the impact that trauma plays on entire cultures. This can be subtle or sometimes blatantly represented in his works. A wallpaper or canvas of a thousand smiling flowers, all uniquely their own, implies a sense of joy and fertile growth; but there lurks a sinister, Wizard of Oz field of poppies experience discovered when confronting them as if they are little monsters themselves, intoxicatingly alluring with an aura of brightness enveloping a dark impulse to hypnotize you in a rainbow of overwhelmingly manufactured utopia.
But there are almost moments where Takashi Murakami presents the monster as the subject or the monstrous effects of modernity on man. One of the most affecting works will always be his 82-feet long, singular masterpiece, In the Land of the Dead, Stepping on the Tail of a Rainbow. Here, Murakami examined how Japanese art has spent centuries producing works in response to natural and manmade disasters, looking at his own experience in the Tōhoku earthquake and tsunami of 2011 including the nuclear meltdown that followed. We conger up this painting, and in turn, find it essential in the Murakami monster canon, because he paints a fear, an overtaking of man's instincts, and finds a way to convey the act of survival within history.
If there is anything to ever-define Murakami's career it is how he interprets the idea of survival, both as an artist who evolves and explores ways to survive a contemporary art landscape, but also just simply survives the planet and the history we enact upon it. Through acts of violence and ways of change, we can become monsters in Murakami's universe or constantly confront the metaphorical monster in this state of evolving flux, defending ourselves against the worst impulses of others and the Earth. We see his monsters, but it's really about us and our global relationships.
This Fall the Asian Art Museum in San Francisco will open the long-awaited, pandemic-delayed Takashi Murakami: Unfamiliar People—Swelling of Monsterized Human Ego. This is a different type of monster that Murakami is facing, and yet it is not so distant from the fears he has confronted in the past. Swelling of Monsterized Human Ego speaks about technology, our digital selves, and digitalized world, a theme that hit home for the artist when he saw his own children immersed in video games during the early stages of the pandemic, a settling and unsettling realization that pushed Murakami into exploring NFT's and how his work would fit into the increasingly digital stratosphere. Unafraid to adopt what the landscape of creativity has to offer, Murakami dove right in. And this exhibition is not only a conversation about this leap, but also about what technology does to ourselves, the alternate reality of who we want to be, and how that once again changes what it is to be human.
This summer we sat down with Takashi, an old friend and collaborator, to talk about the pandemic, how his concept for the art world some 30 years ago continues to define the way we look at contemporary culture, as well as his own fears. We never realized it would be a conversation about the monsters that endure.
Evan Pricco: Of all the artists that I thought about when the pandemic hit, I thought of you. I thought about those incredible paintings after the Fukushima disaster, how you responded, and what you created from it. And then here we were in this global event, and I was so curious about what you might create. Where are you at right now with how the pandemic affected your work, or have you had a chance to reflect on it yet?
Takashi Murakami: In the midst of the panic that my family fell into during the pandemic, I saw my children, then seven and five years old, communicating through the online game Animal Crossing without getting stressed out, and was convinced that the future reality will be found in the digital world. I decided that my own direction going forward should be to enter the world of games and the online world in general. In the process, I also started to create NFT art.
So it was a creatively fruitful time for you? Or did you take a break and then start to work on the NFT work? I know you don't like breaks!
It was a very creative period for me. The reason was that my overseas travel became all but extinct; it allowed me to have ample time for production. Also, the fact that my company almost went bankrupt gave me an opportunity to rethink my own future and my company's way of being, fundamentally.
Actually, I don't think I have ever asked this before. Do you ever get reflective about your past works or your career in general? As you've delved into NFT production, have your older paintings taken on new meanings for you? I know you are always looking ahead, but with so many of your museum shows being retrospective in nature, do you ever engage in conversations with your past work?
In the exhibition I held earlier this year at the Busan Museum of Art, I was able to exhibit works from my student days, as well as a group of works surrounding the moment of the birth of Mr. DOB, one of my quintessential characters. My motivation for creating these works back then had to do with the situation, that while I understood the United States was the center of contemporary art, I had to contend with the reality that I myself lived and worked in Japan, creating my work in the Far East. I was in despair about this dilemma and I could never have imagined then that my ideas would spread to the global art scene as they have today.
And now, I am running frantically on the threshold of entering the digital world, so I honestly don't have time to think about various works from my past.
"And now, I am running frantically on the threshold of entering the digital world, so I honestly don't have time to think about various works from my past."
This particular show, Unfamiliar People — Swelling of Monsterized Human Ego, has a theme of man and technology, the virtual world as you see it. I find that quite interesting given that this show is in San Francisco, the symbolic heart of technological revolution. Did you consciously want to make this show about living in the digital age when you brought it to San Francisco? Or was that a happy accident?
I had been discussing my exhibition with the curator, Laura Allen, since before the pandemic. At that time, in 2019, we were talking about focusing mainly on the relationship of my work with Japanese and Asian art at the Asian Art Museum.


We then entered the pandemic, however, and the exhibition's future was in jeopardy. But Laura kept in touch with me, and our conversations started to shift towards exploring what the vision after the pandemic might be. When I completed my new painting, Unfamiliar People, Laura, who saw it on my Instagram, said, "This is it!" and chose it as the key image for the exhibition.
The concept of Unfamiliar People is that right after the pandemic started, we didn't know who had COVID-19, and we started living each day uneasy about our neighbors, people on the train, or those sitting next to us at work, all of whom have become full of suspicion on their own. Our relationships with one another have been transformed by bloated delusions. I caricatured the situation and painted them as portraits.
Laura has since said that the most important thing about the exhibition might be to convey "something brand new and timely as experienced by Murakami," which she felt she saw in my Instagram posts, so picked up NFTs, portable games, and the portrait series, among others. Even now, here we are in June 2023 as we speak, and the content of the exhibition continues to change slightly so that it is being kept up-to-date until the last possible minute. I believe it's Laura's endless interest in the question, "What is 'now,' what defines the post-pandemic world?" that's the driving force behind this exhibition, more than San Francisco as its location.
The monster, or a certain version of a monster, has always been present in your work. What does the idea or the concept of a monster mean to you?
For this exhibition in San Francisco, I am extracting the very monster images from Ukiyo-e and other works from the Edo period, and am exploring how to shape the quintessentially Murakami monsters in my own mind and with the use of AI.
The very first thing that got me to start pursuing contemporary art was my admiration for large works by artists such as Anselm Kiefer and Julian Schnabel. In Japan, there was no place to produce or exhibit such works. I really wanted to immerse myself in the world of the monumental paintings of "New Painting," so I decided to move to New York.
Since then, I have continued to create large-scale works, such as the ever-morphing DOB for art fairs and a self-produced, 3 m x 10 m mushroom work, which took a year and a half to complete. My representative works include the 3 m x 100 m 500 Hundred Arhats painting, the 3 m x 25 m painting of the immortals (In the Land of the Dead, Stepping on the Tail of a Rainbow), and my latest work, the 5 m x 23 m kabuki painting (2020 The Name Succession of Ichikawa Danjūrō XIII, Hakuen, Kabuki Jūhachiban), which I recently exhibited.
I think you could argue that your work has been battling the great positives and extreme negatives of the digital age for quite some time now, almost like it's this monster inside of us. You were open to, and worked, with NFTs quite successfully, but your work has always pushed the boundaries of technology. What did you learn from those releases, and how do you feel about your work as a tool, intertwining with technology and giving rise to questions about what is to come?
Rather than NFTs per se, I wanted to dive into the world of games. In other words, I wanted to immerse myself in a virtual world. It is, of course, impossible to suddenly create the world of Zelda, Fortnite, or Animal Crossing, so in order to understand the game world starting at a primitive level, I tried developing Tamagotchi-style games and creating NFT works and I plan to gradually shift to more complex games.
When we did Juxtapoz x Superflat together I loved how you taught me that any two things could go next to each other, that a show could have NFTs and ancient ceramics, and that there was a story to be told in that space. You once told me that you liked Juxtapoz because, "Robert Williams took the step of declaring that he had nothing to be ashamed of," and I feel that there is a kinship in that. How did you become so comfortable with that, bringing so many different ideas and genres together into one place?
The exhibition Helter Skelter, curated by Paul Schimmel at LAMOCA in 1992, was one of my first real awakenings as a contemporary artist. The show featured works in seemingly bad taste, illustration-like works that were considered less than art, and easy expressions of sci-fi-type fear. It was a shocking experience to see such paintings and illustrations on display in a contemporary art museum. Robert Williams, the founder of Juxtapoz, was one of the artists featured, and I learned of his existence at that time.
Compared to the East Coast art world, which was often snobbish and somewhat pretentious, West Coast art was very direct and had a mood reminiscent of a B-level horror movie, which I really enjoyed and could relate to.
I think it is important to re-evaluate the sublime artistry that sparkles even after art has been dragged down to the B-level, as Helter Skelter and Juxtapoz magazine have done. To flatten the cultural strata of Japan was part of the philosophy of Superflat so in that sense, you can say I learned these methods in the first place from the art of the West Coast.
Another thing that is key to your practice is how much you pay attention to younger generations. What is exciting you right now with younger artists or what conversation about art excites you?
When I was around 30, DJ culture was incredibly popular, and when it came to making music, it was starting to become the trend to use past musical sources to re-create new music. Musicians were scratching records without touching the instruments themselves.
As a movement in the last five years or so, more and more people are curating a mix of past works of art, fashion, and subcultures on Instagram and expressing the results on their own accounts as their own creative expressions. It's a very clear and inspiring way to curate and show the idea of learning from the past to create something new, as well as what expression is all about.
There are many artists who are inspired by such posts, and such announcements and presentations happen faster on Instagram than anywhere else in the world. When I reach out to new artists, I often do so after being inspired by them through Instagram.
"I think it is important to re-evaluate the sublime artistry that sparkles even after art has been dragged down to the B-level, as Helter Skelter and Juxtapoz magazine have done."
You are often asked, "What is the contemporary art of post-war Japan?" I want to ask, "What is the contemporary art of 21st-Century Japan," as you see it now?
About ten years ago, there was a tremendous boom in Chinese art. China was growing rapidly economically, and with it, the number and momentum of emerging artists there was tremendous. In addition, Art Basel had entered Hong Kong, and the Asian art market was also growing rapidly.
On the other hand, the Japanese art scene had a very narrow collector base and not that many artists, which was quite feeble. It was all about China, China! But for some reason, Japan began to attract attention again after the start of the pandemic. You started seeing more and more Superflat, manga-based art being posted on Instagram to meet the needs of the world and being sold directly without going through art dealers.
Now that the pandemic is over, we often see such Japanese Superflat artists being represented by Western gallerists at art fairs and other events. In this sense, Japanese art in the 21st century is really a mix of manga/anime culture and the grammar of contemporary art, the world I had dreamed of 25 years ago. But I had dreamed of it as a dystopia. It's a very difficult call whether it's good or bad.
Years on, do you feel vindicated by the Superflat concept? You predicted the future, so eloquently, abstractly, and literally. What do you think about this idea now, so many years on?
I think that Superflat is still almost unknown to the general public, although specialized curators like you kindly recognize and mention it with respect. Even my work is still referred to as Pop Art occasionally.
However, I think that if we persist until after my death, it's possible that people will argue that Japanese art since the 1990s has, in fact, been Superflat.
Takashi Murakami: Unfamiliar People—Swelling of Monsterized Human Ego will be on view at the Asian Art Museum in San Francisco from September 15, 2023— February 12, 2024. Buy the FALL Quarterly here.