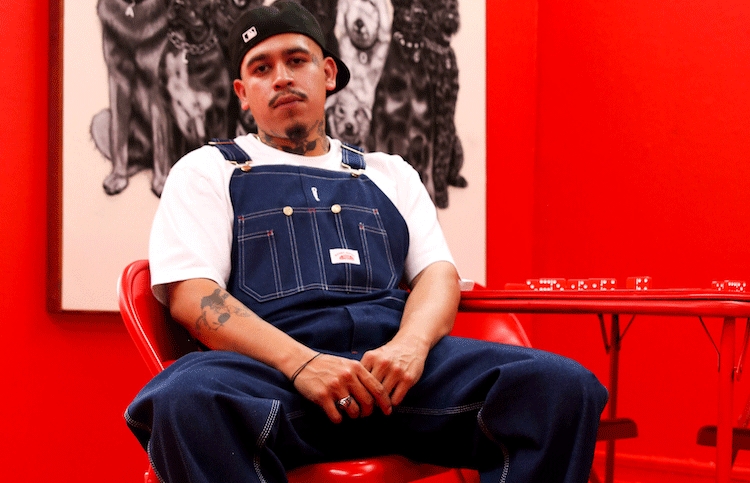 ---
Esteban Samayoa
Cancer Sun, Cancer Moon
Interview by Shaquille Heath // Portrait by Vanessa Vigil
As he and I connect to discuss the charcoal drawings that have recently filled my dreams,
Esteban Samayoa
, most lovingly known as Pops, is quiet and soft spoken. I'm not sure what first struck me about his work—maybe it was those fur jackets, so vividly textured, you can practically feel the shaggy fleece in your hands. Or maybe seeing grills and acrylics drawn so earnestly, confirming the truth that every piece of culture has always been fine art. Regardless, the thing that I've most fallen in love with are the faces of his subjects. Deeply detailed and richly flavored, he lovingly renders them with extra care and attention. The realization is that they aren't just faces you recognize, they're ones you actually know.
As you'll read, Samayoa is unashamedly open about being an emotional soul. And it is through our conversation that I realized Samayoa's sincere portraits could be attributed to, of all things, his astrological signs. Ruled by a Cancer sun and moon, the universe bestows him a nature that is attentive and intuitive. A quick Google search confirms that those ruled by this sign are nurturers at heart, with a strong sense of home and family. Without restraint, his art embraces this warmth with open arms.
The stars have begun to align for Samayoa, and I'm stoked to follow where they take him.
Shaquille Heath: How have you been taking care of yourself lately and where are you finding joy right now?
Esteban Samayoa: I've been kind of just trying to take all this time to connect with myself emotionally, mentally, and physically. Trying to take care of my body more. Work out, eat well, and be outside. But you know I'm still working hard. Lately, it seems like things have been working more in my favor. So that's definitely like a relief for me. All that just brings me a lot of joy.
You've had a lot of great shows over this past year. You just wrapped your exhibition, A Life Like Ours, at Swim Gallery. How do you feel about it?
Yesterday, actually, I de-installed everything. There were some pieces that were sold, so those were all gone. That show was really amazing. I feel like I got a lot of good feedback from it. You know, I had a lot of fun. It felt like everyone who was there was family, and people were just really connecting with one another.
Can you talk to me about how you chose the pieces in the show, and how you brought everything together for that?
I mean, with everything going on the last couple of years, I felt like I wanted to kind of bring our communities together. You know, just tell more stories of different colors and shared interests.
I really wanted to make the gallery space comfortable, and make it a safe spot for everybody. So even when you read the name, A Life Like Ours, you feel included in that. And when you went to the show, you'd see different people on the walls. I have people that inspire me up there–people I grew up with, old family photos I grew up looking at every day at my grandma's house. So, being able to tell all the stories from different people, all types of people were able to relate to it.
Like, for instance, I painted the gallery all red, because my work is black and white, and I wanted it to pop out. And, in making it all red, I wanted folks to feel powerful in the space. Because usually you go into an all white gallery, you know, and you kind of just get lost in all the white space. But when people took pictures of themselves inside the spot, they looked so good because everything was red… their whole outfit popped out. They popped out as people, you know.
I also put a domino table in the center of the gallery that was interactive so you could go play right there. And that was another thing, because my uncles grew up playing that. Me and my friends grew up playing that, just drinking beer or whatever, and that was our time to kind of just kick it and talk shit, or do whatever. But, usually, when you go to a gallery, you look at the pieces and keep it moving. So it was cool that people were able to sit in the middle of the gallery, and bond over a domino game. And kind of just talk shit to each other, or whatever, because everyone thinks they're the best at dominos. Everybody. So there was a big crowd just hyping each other up. A lot of people didn't even know each other and they were playing, so it was cool.
I love that you made the space a chill spot, especially after being apart from homies for so long! And there was the other show that you did with the Good Mother gallery this past year, too. Can you believe that this has all happened this year, and we're close to the end of 2021?
Yeah, that was in November 2020. Wow! I feel like the past two years have been like a roller coaster of emotions for everybody.
Yeah, I had heard you say once that your work had really blown up over the past couple of years, and that Covid kind of allowed this space for you to really dig in.
Definitely. Like, I've had a lot of extra time to really focus on what I needed to do for my art. But I'm just happy that it's been working out. I've been working really hard on it, trying to be really open with everybody.
Where's your studio space? Were you able to access it easily during early Covid quarantine?
It's out here in Oakland. It's pretty close to me. It's a communal space; open garage, kitchen and all that nice stuff. So, it's cool, I like being over there. It's hella chill. I've only been in there for, like, seven months. Before that, I was doing everything at home, like all on my walls. Getting everything hella dirty. I gotta sweep and dust everything all the time!
I can imagine! Finding little black smudges everywhere… There's so much detail, too. It's really a spotlight on West Coast culture. Have you always focused on your family and community, or has it evolved as you've grown as an artist?
I think it's evolved a little, but I think that's something that I've always been interested in. You know I'm a Cancer, so I'm a big sensitive baby. So drawing what I'm feeling has always been something that's been very important to me.
I'm a Cancer moon so I completely understand!
I'm also a Cancer moon. So Cancer sun, Cancer moon, I'm double baby'd up!
Seriously? That is a lot of emotion! How do you think your astrological signs impact your work?
I mean, I think it definitely helps me a lot. You know, I've always seen myself as a big empath. I've been so invested in what's been going on in my life, and I feel like I can look at someone else and talk to them and kind of feel, you know, how they feel too. And that's been important for me to capture their stories.
Speaking of your life, I really appreciate your artist statement. It's just so simple and real, and devoid of all the bullshit. And I wanted to ask about one part that says, "the inspiration for [your] work is based on [your] trials and tribulations as a youth." Would you be open to talking to me more about that?
Of course. Yeah, I mean, throughout my life, I've had a whole bunch of ups and downs. You know, like a lot of people, their fathers aren't around or something. And my mother was battling with depression and addiction. But, growing up, I started realizing that other people, they've got the same struggles in life. And I feel like in our communities, therapy is a real taboo… we don't be doing that shit, you know? So, I felt like if I was really vulnerable with my work, and talked about everything going on in my life, or even my friends lives, or our interests, that it would kind of help other people.
It's just very important. There's a lot of people that are just going through it, and don't really have a space, or see someone in that position talking about this kind of stuff. So I feel like if someone's in the spotlight saying that, it's easier for others to really come out.
I'm happy you said something, because I've always been super stressed out about it. You know, when you go to art shows, the statement you see is real punctual and like, I wasn't gonna try to be super fancy with it. But I think that's what I'll forever do… is just be me. You know, I'm a goofy kid at heart. I'm always gonna be a goofy kid, so I'm gonna just say how I feel.
Once again, feelings! One of my favorite works of yours is called Be Happy. I'm obsessed with the fur coats. Just staring at it, I can feel the different textures of the furs in my hand.
Mary J. Blige is one of my favorite artists that I listen to. She's also like one of the main artists that I listen to while I'm working. So that song specifically, Just Be Happy, it kind of always hit me. 'Cause dark times or whatever, all you want to do is just be happy. So I listened to that song pretty much like the whole time I did that piece. I just put it on repeat and I was feeling it the whole time! And every time it played again, I was feeling it just as much. I mean all those girls, like Lil' Kim. That's all I pretty much listen to. They're powerful women that inspire me. So I guess that's just kind of how it came about. I was feeling like I just really wanted to be happy. And that song was just really special to me.
That piece is so dope. But the majority of your work is based on photos of your friends and family. When you're choosing your work, do you base them off new or old pictures?
Yeah, it is based on photographs, also like photographs that are pieced together. I reference them, but I always put it in my style. Inside of my piece, I switch things up and, like, draw the clothes that I like. I really like North Carolina and Michigan stuff, and have added those to my pieces. But you know, even just stuff that I wore growing up as a kid—I put that in there. It kind of just depends on what story I want to tell, or what the photo means to me. Right now, I'm in the process of documenting my own feelings. So I'm kind of taking this little break and going out and capturing things that I like, or things I see going on out there.
When did you realize that you were an artist, and when did you realize it was something that you wanted to do?
I've always been an artist. My mom was telling me I was drawing on the walls when I was three. She was, like, "You were weirdly capturing what you wanted to draw at a young age." And all my teachers were always telling my mom to give me an easel… that it'd be a good investment. And I tapped more into that as I got older.
How were you influenced by art in your childhood?
It all just came from me. Growing up, I didn't really have guidance to be an artist. I never thought that I would be in a gallery or something like that. It always seemed kind of too fancy for me. I was like, yeah, whatever. But everything fell out on my own. And, at a certain age, I was like, this is what I love doing, and I gotta figure out how I can make it work.
I grew up loving art but never thought that I would work in the field because of how "outsider" the world of art can often make you feel. I don't have an art history degree, and didn't grow up going to galleries. But now I work in art and I think it's important to talk about how you don't always need that background. You just need the love for it.
I feel like that's one of my goals, you know, as an artist. That's probably one of my biggest goals actually—to, you know, for sure get my name out there, but also be a platform for people like me. Say, for instance, if I work with this super cool gallery that's really big or whatever, I would want my homies to take the pictures for it or something. I got my people, like I got my own framers… or even whoever I meet down the line. Because I want it to be all my folks. All the Black and Brown people that I work with. If I could bring them up into a situation… I feel like that's everything for me, as an artist.
That's dope. Bringing more Black and Brown people into art spaces is always needed.
Exactly. I mean, because honestly, most of the times I've been to a show, it's kind of uncomfortable being there. You know, you kind of look at the art and then you're kind of standing there and I'm like.... okay, well what do I do now? Like all these cool people are around me, looking at me. So you kind of just feel like, alright, I gotta get up out of here.
One thing I think that you do really well is that when you showcase people, their individual feelings come out. So it makes sense to hear you say that, because I feel like you can really see that in your art.
Yeah, thank you. That was kind of my whole goal. Like, as long as people can feel something from my art, then you know, I'm doing my job and I'm doing what I want to do.