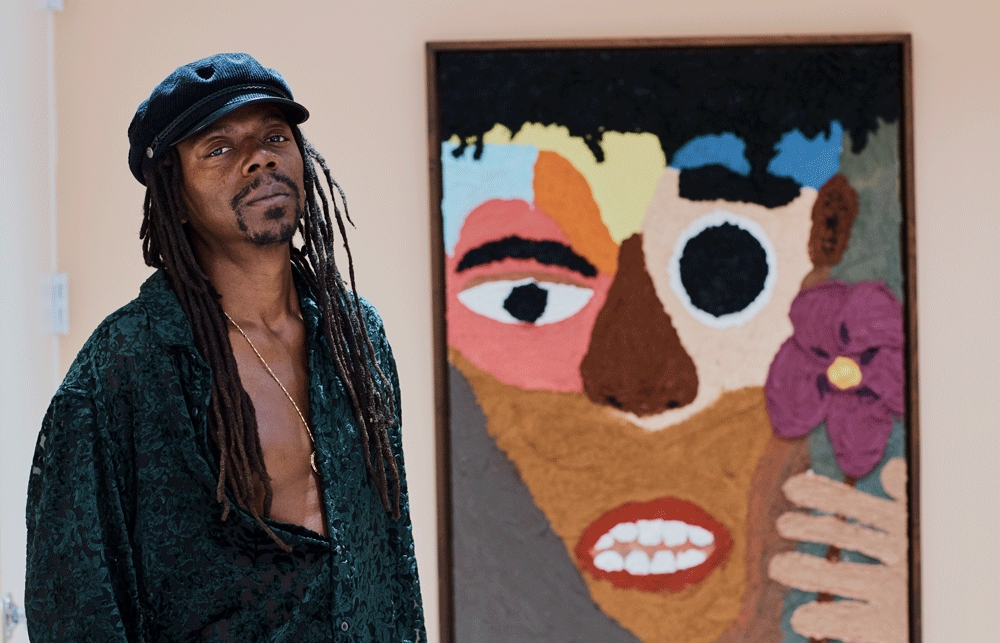 ---
David "Mr Star City" White
The Year of the Big Bless
Interview by Nathaniel Mary Quinn // Portrait by Colin Brennan
A few years ago, I had the pleasure of meeting Dave—widely known as Mr. StarCity—in Los Angeles on occasion of his gallery solo exhibition, a medley of color-filled, figurative paintings and portraits, expressionistic in nature, embedded with a rare, unique form of honesty and vulnerability, an already courageous and ambitious exhibition made complete with live performances and video works. Prior to our physical encounter, during which we talked and laughed, embraced each other, and touched on a wide range of topics, Mr. StarCity had been in contact with me, for quite some time, via Instagram, where he has a strong and committed following of believers and dreamers, for Mr. StarCity is a magnificent mixture of affirmation, faith, and uninhibited hope for an optimistic future. With seamless consistency, he bestows upon me inspirational and benevolent quotes, normally capped with the phrase "Big Bless!" And he means it. I had the pleasure of speaking with him in advance of his much-deserved and irrevocably earned piece in
Juxtapoz
, from which the following questions were produced, along with his responses. Avid readers and followers, and those of you newly arrived, I present to you, Mr. StarCity…
Nathaniel Mary Quinn: I think that it is important and insightful for your audience to understand your art practice, in particular as it relates to your spirituality. How do you intertwine your art practice with your sense of spirituality?
David "Mr. StarCity' White: Where do I begin, so much to unravel when it comes to my spirituality and my creative practice. Well, growing up Jewish and coming from a large family where my father would read from the Bible to my family of nineteen brothers and sisters, my sense of morality stemmed from biblical storytelling. Although my spirituality does not lie exclusively in Judaism, but rather the universe, I think growing up this way impressed upon me the same innate need to seek and share a belief in order to find solace.
One could say my delivery of art is similar in the sense that I routinely address the world on the subject of personal healing with love in the form of storytelling, reminding myself and others of our human essence and the importance of sharing and supporting our basic human needs with the people around us.
As a recurring theme in my bodies of work, I often use vulnerability as a tool for healing and uplifting (especially applied for the exhibitions "Fractured" and "After Party" earlier this year). It's important for us as individuals, and as a society, to be understanding, to be aware of another's suffering in order to have sympathy and ultimately have genuine love for one another. I think art has become my platform to deliver this message of love and spreading that love in which I so strongly believe and uphold.
It is rather exceptional that you personally deliver many of your works to collectors at their homes. How did this journey begin and how does it impact both you and the collector?
I appreciate that you appreciate that! My hope is that my collectors genuinely share that same sentiment. This journey stems out of my need to document every single portion of me being an artist, making myself accessible in some way, outside of the gallery walls. It is all a part of me, the art, the experience of my art. Me and my art are one package, inextricably tied, so we take this journey together. Each and every piece I create is my baby. I want to ensure my child is in good hands, you know?
It is important that collectors have a good understanding of who I am as a person and equally important for me to convey how I consider each work a blessing, a piece of love that I've prayed over with positive energy, and that by this art entering their home, they are receiving all the blessings I've received in my lifetime as well—keep the love moving and spreading!
What was it like growing up in Brooklyn and New York, and what were some pivotal influences—and people—propelling your interest in pursuing art and an art career?
I grew up across Bed-Stuy, East New York and Brownsville. It was tough. During the '80s and '90s, those were some of the roughest, toughest neighborhoods that you could be raised in. Not unlike today, a lot of the youth were losing their lives at an unsettling rate. So, we were all trying to find ways to endure the pain in these poverty and crime-ridden areas. Heavily influenced by the hip-hop and graffiti culture I grew up around, one way I was able to console myself and my community was by creating murals and portraits in my neighborhood to memorialize these young kids. I would draw massive murals throughout all of the hallways of my project building. It got so disrespectful, in terms of scale, that the building management ultimately put out a "wanted" poster of $5,000 for the hallway graffiti artist. $5,000 was a lot then! Shit, it's a lot today! Even though everyone knew, nobody told on me since they understood my intention was pure and it was to honor and memorialize their sons, our brothers and our community. From that moment, I refrained from painting so as not to get my family kicked out of our home. That's when I explored music for many years. Ultimately, when I returned to painting later in life, I genuinely felt free for the first time, like a return to my truest, purest self. I understood that this was all I needed and have not put down my brush since. I fell deeply back in love.
Without doubt, you have a strong social media presence and use that platform extremely well. Why do you suspect that social media—particularly Instagram—operates as an effective means of expressing your art, heightened positivity, and all-around love and grace?
For me, art serves as a platform for teaching people how to love themselves and love each other, so Instagram is just an extension of this teaching and my creative practice. As a tool of communication, Instagram assists me in the instant and simultaneous injection and transfer of love to my family, friends and fans. Whether they know me personally or not, anybody can receive the love, the lessons and the intention of my messages.
Instagram is my daily journal, a mirror to reflect current thoughts, old thoughts and any inspirational notes that I put out there. Often they're notes to myself. Because I use my Instagram as a diary of sorts, I make myself pretty vulnerable. I allow people to go inside of my mind, my heart. I suspect this, in turn, frees people to be vulnerable with me. There's a lot of stigma surrounding vulnerability, but it's quite liberating to be that way. We deserve to be vulnerable with one another, that's what we're here for—to support one another in those trying moments that test us and ultimately keep the love pushing together.
You are clearly capturing the interest of a growing number of strong and influential collectors. Who are some of the major collectors who currently own your work?
Beth De Woody, whom I love and respect greatly, is important to our time as someone who forges sincere relationships with all the artists she collects, while building a tremendous, historic collection. We first met at Spring Break Art Show where she was the first to acquire a piece from my After Party series, the piece entitled Champagne and Reefer. I had the honor to visit and personally deliver the piece to her Los Angeles collection, something I am proud and very grateful to be a part of.
Actor, best-selling author, philanthropist and collector Hill Harper has been an avid patron and collector of my works as well. I am sincerely honored to be included in his collection as he is making incredibly positive changes for people of color, specifically in the city of Detroit, through his philanthropic endeavors.
In my lifetime, I hope to leave a legacy that creates positive change in peoples' lives, taking ownership of my history and all those before me from my community of African Americans. Generational wealth is the only way this change can happen, so being collected and having ownership over our own history is key.
How have you been able to navigate your studio practice and work—and manifest inspiration and motivation—in the midst of the pandemic, protests, and the current social and political climate?
I have focused my energy into spreading love, peace and harmony into humanity. I don't focus on spreading words of hate and destruction. My existence is only powerful because I understand we are all one—our actions influence one another, so I like to be conscious, respectful and accountable.
Having a simple routine helps with motivation: waking up and "Big Bless"–ing the world, grateful for the great day that's ahead, drinking my tea and meditating all subsequently lead me to some peace within myself in this noisy world. This sort of routine allows me to create the inspiration for my works. Sometimes you have to let silence guide your mind and your heart. When you go far enough inside yourself, you'll learn to be ok with not knowing because it takes time to understand what you're not meant to understand. We have to appreciate those times you get to sit with your soul in silence and create. It's priceless.
There is a ritual, a routine of fasting, that I implement throughout my creative practice. It is my spiritual and physical sacrifice and mental preparation before the creation of each body of work and each mounting of an exhibition. Specifically, in the midst of the pandemic, protests and socio-political hysteria, I applied the power of fantasy amidst all of this turmoil to bring mental and emotional relief. Through this self-medicated art therapy, what transpired was a fusion of painting, poetry, theatre, jazz, storytelling and design presented in the form of my latest solo exhibition entitled LOVERBOY: Moonlit Roses And Heartache.
You have created this interesting body of work based on the character by the name of Loverboy, a really beautiful series of paintings embedded with an uncanny and captivating story. What is its story, and do you have plans for mounting another exhibition of Loverboy?
LOVERBOY: Moonlit Roses And Heartache recounts the story of a hopeless romantic named Loverboy—a restlessly traveling jazz musician, chronically falling in love, who finds himself habitually alone and heartbroken. The only companion that remains is his melancholic saxophone. Each piece in the exhibition illustrates Loverboy's different states of internal torment as a hopeless romantic torn between two loves: music and his lover. Ultimately, Loverboy chooses his music and, as a result, leads a lovelorn life, hopelessly falling in love with every woman he meets, and broken-hearted by the time he must travel to the next city.
While my practice is highly experimental and constantly evolving—from painting to poetry, music to film, fashion to sculpture—my desire to convey an uplifting, positive message has always remained constant. With each new lens, each new material and texture, there is a wholly new experience for me. I am excited and eager to share the continued evolution of new mediums and techniques. With that being said, LOVERBOY II is coming soon!
Any final words you'd like to add?
Oh, yeah. I want to offer thanks to you, specifically. As an artist whom I consider a contemporary master and someone whom I respect so considerably, I am honored and grateful to have shared a dialogue with you over the years. Also, to all my friends and family, continue to carry your heart with both hands. Concentrate on finding inner beauty, inner happiness and inner love, and then allow those qualities to extend to the people outside of your relationship with yourself. Take care of yourself. Say "I love you" more than you think it's needed. Manifest good energy, give good energy. Drink more water. Live the life you've been given. Feel blessed, be blessed, stay blessed. And last, but certainly not least… BIG BLESS.