Magazine
A Clean, Well-Lighted Place to Paint: James Jean's "Azimuth" @ Kaikai Kiki Gallery, Tokyo
Apr 06, 2018 - May 03, 2018Kaikai Kiki Gallery, Tokyo
My studio is an old home and art gallery originally designed by Frank Gehry in Los Angeles. The house was on the market for over a year—it was in bad shape and the neighbors were worried about it being demolished. I think it was waiting for someone foolish like me to come along and spend two years renovating it. My friend, the architect Dan Brunn, did an amazing job designing a beautiful, inspiring environment to work in, and that's what I've been doing here for the past couple of years.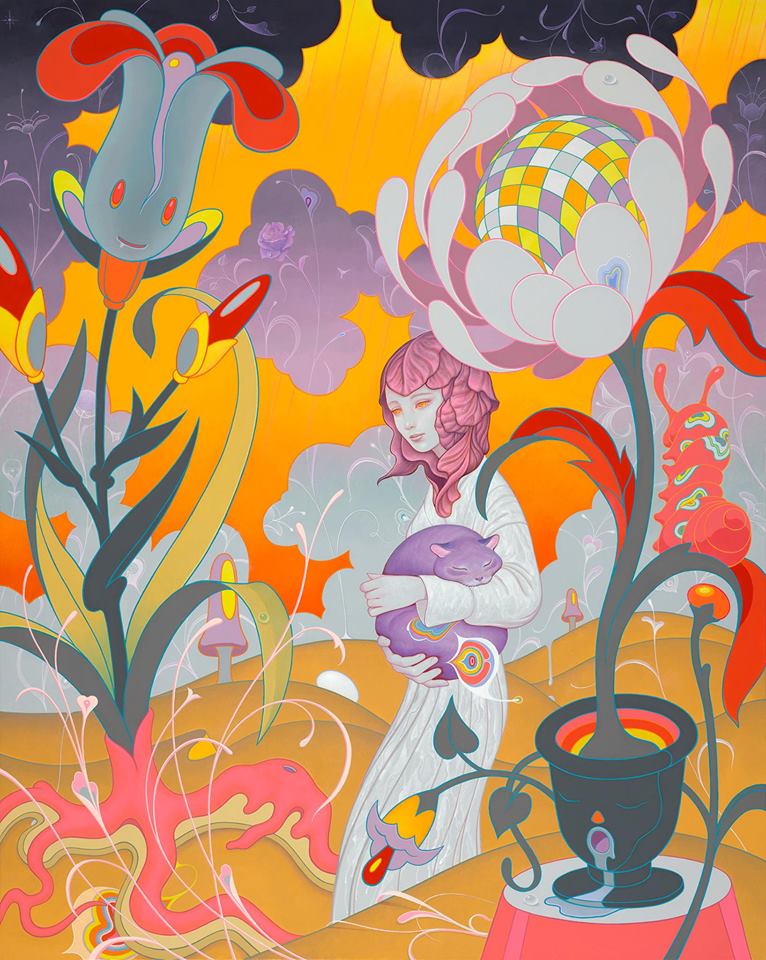 Since I work from home, there's always a lot of activity around with visitors, kids, and the noises of a busy kitchen. Sometimes it can be distracting, but I find that I need some kind of stress or resistance to keep my momentum up. I used to work in a huge, dark warehouse studio in downtown LA, frequently alone, and the fog of depression and inactivity easily settled in. In my new studio, there's a large pivoting wall that closes off my workspace from the rest of the house, but I can easily travel between the different spaces and alter the mood. I suppose it's like wandering between the different chambers of the mind. The studio opens up to a landscaped garden past a large, panoramic sliding glass door. Hummingbirds visit daily to drink nectar from the flowers. Squirrels come by and nibble on bamboo shoots, and when it's dark, possums walk along the fence and set off the motion detectors, reminding me that I'm not the only nocturnal animal busy through the night.
Even though the renovations are complete, I still need to figure out storage and organization. The space is still new, so I expect it will keep evolving as the other members of the family learn to stop eating paint. Consequently, I'm unable to explore more toxic and hazardous techniques at the moment; but the current work is produced in a very immaculate and methodical way, so that hasn't become too much of a problem yet.
My next solo show is called Azimuth and will be at Kaikai Kiki Gallery in Tokyo (opening April 6th, 2018). Since I share the studio with my three-year-old son, I'm surrounded by coloring books, toys, and children's books from Japan and the US. The aesthetics of design for children has affected my paintings as I try to compete with the ultra-saturated colors and kawaii iconography that surround the studio. —James Jean
James Jean's' solo show, Azimuth, will be on view at Kaikai Kiki Gallery in Tokyo from April 6–May 3, 2018.
Stunning glass works that @jamesjeanart will have on view at @kaikaikikigallery in Tokyo starting on April 6, 2018! #azimuth

Stunning glass works that @jamesjeanart will have on view at @kaikaikikigallery in Tokyo starting on April 6, 2018! #azimuth
This article was originally published in the Spring 2018 issue.
Studio photos by Brandon Shigeta