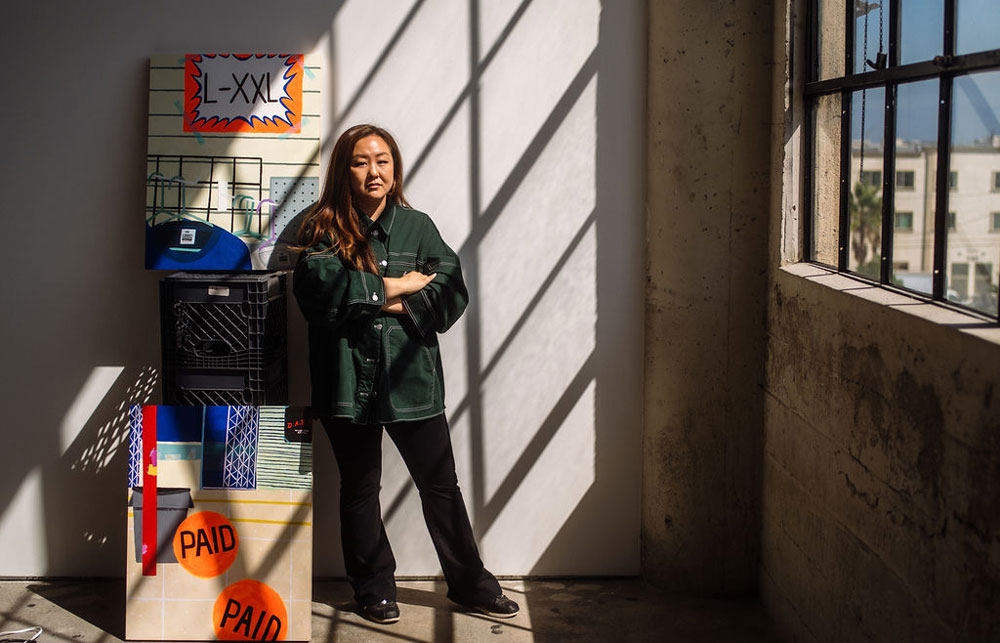 ---
Wendy Park
Dream Language
Interview by Sara Hantman // Portrait by Max Knight
Wendy Park's
paintings leave me somewhere between joy, heartache, and reminiscence, hopelessly pining for my mother's cooking. A forgotten trifle awakens from deep inside the mind, the smallest detail catapulting me back to my parent's Korean deli in '90s New York City. Without any actual representations of people or emotions, Park's work seamlessly elicits memory more akin to a bittersweet melody—through high-key colors, playfully syncopated objects, and sharp letters that dance like a strummed chord vibrating across the canvas.
Born and raised in Los Angeles by first-generation South Korean immigrants, Park pieces together a diasporic journey by painting past recollections, familial rituals, notions of labor, consumption, and the ongoing attempt of our collective culture to understand our past. For a whole generation of Asian Americans, Park's paintings of shrimp crackers and persimmons rouse a certain deep-seated nostalgia that I imagine Wayne Thiebaud's slices of pie might induce in the American Baby Boomer.
Upending mainstream symbols of desire and wealth, Park's still lifes conceive a different kind of American Dream—one backdropped by pegboard, linoleum tile, and folding security gates. Fondly recalling the indoor swap meets of South LA where her parents worked throughout her childhood, Park's subjects include styrofoam cups of coffee, towers of repurposed milk crates, handwritten sale signs, and endless clothes hangers. Rough and ready snacks like hand-cut Fuji apples, piping hot cup ramen, and saran-wrapped kimbap signal busy nonstop days broken up with only the shortest of breaks. In her most recent body of work which debuted this summer at Various Small Fires in Los Angeles, Park portrays moments of leisure shared between her family in the midst of chaos. Although Park and her parents are actually left out of the frame, their presence is felt through the sundries left behind—a still-smoldering cigarette, crackling ice in a half-sipped glass of whiskey, or playing cards placed face down across a makeshift plywood table to be resumed later. Such moments of repose for Park and her family are fleeting, truncated by the entrance of a potential customer.
Sara Hantman: Since so many of your works seem to tenderly capture your parent's stories, I'd like to start with their history. How did they meet and why did they choose to move to Los Angeles?
Wendy Park: My dad came to LA in 1980, and my mom came in 1984. They actually met each other in LA on a blind date set up by their family members who happened to be working together at a restaurant in Koreatown at the time. They both came for the American Dream! My dad came to LA since it was hard to find work in Korea without a degree. My mom, also enticed by the same dream, decided to come to LA and find a husband to help start her new life. It was love at first sight for my dad, and he really wanted to impress my mom. He wasn't making a lot of money working in pool construction, and without the means to take her to nice restaurants, he would find inexpensive things to do in LA like watching the sunset at Redondo Beach or picnicking at the Griffith Observatory. After just two months of going on these classic LA dates, they got married, moved into a small apartment in Koreatown, and started working at the Paramount outdoor swap meet together.
Did they come to the opening and what was their response to your work?
My dad actually passed away three years ago, which was the catalyst for my current body of work. We were very close, and I looked up to him so much. His approval meant everything to me. The older I get, the more I understand who he was and realize how similar we both are. My dad was artistic and a visual thinker. Every time he was trying to explain something, he would ask me to bring a pen and paper so he could draw it out for me. I would have loved to have him there. It's funny because he is the one person who I want to share my work with the most.
So, to your question, neither of my parents came to the opening. My mother was in Korea during the show, but we did a Kakao video call and I walked her through it. My mom said she doesn't understand why people would want a painting of a place she worked at. There were many times when we were younger when she felt ashamed of her work, especially when her friends were successful doctors, lawyers, or had the luxury to stay home. She also mentioned that although the paintings were bright and colorful, they reminded her of the hard times she endured at the shops, and the paintings brought her sadness.
I think this is exactly why I appreciate your work so much. Especially in the world that we work in, the business of buying and selling luxury goods, it's very meaningful to come across representations of the real experiences that led us here, in all their beauty and potential, as well as the difficulties, competitiveness, and singular description of success.
I grew up watching my parents work diligently every day. I felt a lot of pain watching them try their hardest to make ends meet. I'd never seen them take a day off, so I understand the nostalgic sadness my mom feels. But every so often, she gets excited when she sees my paintings because she knows exactly what moment I've painted and will remember a time when my dad was still around, which makes her happy. It's bittersweet.
Since the source material for your paintings often comes from swap meets, which began with Latino immigrants who recreated a form of open-air markets mostly in Southern California and Nevada, how does it feel to exhibit this work here in LA? How does a sense of shared space play a role in your work?
LA is where I was born and lived for most of my life, so it means a great deal to share paintings of my experience of the swap meet culture in LA. Saying I loved the swap meet is an understatement. It was a beautiful playground for me, and I grew up fast there. I got to hang out with other swap meet kids, learn about their shops, and their backgrounds. As you mentioned, there were a lot of Latino shops and customers, Latino party supply shops, and Mexican candy shops—my favorite was the Quinceanera dress shop. I was surrounded by artists who embroidered beautiful details on clothes and airbrushed perfect lettering and characters on T-shirts. I mean, you name it, the swap meet had it for half the price.
I feel proud to bring my own experience back to the city where swap meets once thrived but are now disappearing. It's an honor to highlight the immigrant and working-class communities who owned shops or were visiting the swap meet—I want to bring a sense of awareness to others, as well as a sense of sentimentality back to the people who grew up here.
The range of colors and seemingly spontaneous composition of your subjects often project incredible play and joy, especially at an initial glance. But under the surface, there are cracks uncovering another side that often challenges working-class communities. Can you speak to some of these metaphorical cracks in your work?
I paint with playful, neon colors to show how I perceived my world at the swap meet as a child. I'm sure I would see it much differently now as an adult, but when I was young, it was a massive retail fun zone filled with toys and endless randomness. I loved playing with the neon stickers and placing them over everything. I was a creative child, so I was lucky to be surrounded by so much art and visual stimulation.
But you are correct, there is definitely an underlying crack and pain behind the work. Often you will see open ramen or coffee—this was to show that our parents were always on their feet, never having the time to finish a meal or cup of coffee in one sitting. The ramen got stale and the coffee got cold because they often neglected themselves to stay available for others. Every moment was utilized to attract customers and make a sale, simply because our lives depended on it.
Experiencing this made me really want to highlight their work ethic and dedication in my paintings. A cooking pot in the middle of a swap meet setting, for example, embodies the frugal mentality of my immigrant parents who would rather bring a portable burner, pot, and ingredients to work rather than leave and buy lunch. But I also think this was a way for them to eat Korean food and feel a sense of comfort for just a few minutes at work.
The Tiger Balm ointment next to the cash register in a recent painting shows how my parents, like many immigrant parents, were always on their feet and had to endure quite a lot of physical pain. My mom would use tiger balm for temporary relief on her tired legs. Tiger Balm, a common remedy for Asian people, is like Icy Hot, but hotter and icier. I painted the space behind the gates with a cool and minty blue color to visually describe the intense smell of the tiger balm. I love using color to trigger another sense. You could smell it from a mile away, and the smell of the ointment will always remind me of my parents' hard work.
I really enjoyed hearing about your own story as a child growing up with a strong Korean mother who owned a deli in NY in the '80 and '90s. I know there are many second-generation kids like us who share similar experiences: balancing being a kid while being exposed to adult responsibilities at an early age because sometimes being children of immigrants means we are forced to become translators or cultural teachers! But these are the experiences that fuel my passion for my work.
Yes, from an autobiographical standpoint, these paintings are such a reflection of your childhood and the everyday experiences that shaped who you are now. When did you decide to start painting your own history, and how has that changed over time?
After my dad passed away, I couldn't stop thinking about his death: where we were, how it happened, and the series of events that led to it. The painful memories of a single day have overshadowed the many years I was lucky to spend with him. I started painting these moments because I wanted to remember all the fun times we had together and honor his journey as a young Korean immigrant coming to the U.S. for a new life.
I started painting our time at the swap meet because that was where we spent the most time together. My parents sold many different things throughout the years: plants at the Compton Swap Meet, lingerie at the Norwalk Swap Meet, and men's clothing at the Palmdale Swap Meet. So I started to paint objects from our shop, then the neighboring stores— ice cream vendors and Cortez shoes from the shoe shop.
Things changed when I started to incorporate more Korean objects into my paintings. I started to feel closer to my work. I wanted to share the unique stories from behind our shop, the things we sold, the things we didn't, the things that mattered, and the objects that defined my family and our culture.
I painted ramen for comfort, tiger balm ointment for healing, and soju bottles for fun. Incorporating Korean objects next to American labels that we were selling made everything feel so LA. The merging of these cultures defined my Korean American experience and made me feel represented by my own work. It's not often you go to a gallery and see the foods I used to eat as a kid on the wall. Like cup ramen which was the ultimate comfort food for me.
At its best, representation can provide a sense of togetherness. When translated into a painting, the closeness you felt with your family at the swap meet is a feeling that becomes contagious outside of the painting too. I've never seen so many people en masse at a gallery, as I did at your opening, arriving in groups of two, three, or more, clustering throughout the space. I met a lot of new people that day, friends of friends—and the sense of a larger community was palpable. It makes me think of the Augmented Reality piece you made, as it encourages not just one person, but a whole group of people to participate in the Korean "Hwatu" card game. As it was your first medium outside of painting, can you share how this piece came together?
I couldn't have made the AR work without my husband Alan Torres, who is an amazing artist. Together we wanted to extend the visual space of my paintings, share my story beyond the canvas, and give the viewer more control over how they want to experience the work.
With AR, you are able to manipulate scale, rotate the model, and get as close as you want with your device. This technology not only provides the audience agency over how they interact with the work but removes the layer of caution and preciousness you may feel in the presence of a physical sculpture. It can be a less intimidating way to interact with art in a gallery space and perhaps easier to share and speak to younger generations who are growing up in a digital first world.
I wanted to build an experience that drove one's curiosity and excitement—but more importantly, I wanted something that people could experience together as if they were really in the middle of a Hwatu game. I added actual movements and sounds such as beer cans opening and cigarette smoke rising in the air to bring people into the Hwatu game room the way I remembered it. I like the idea that I'm transporting people to a place where they can interact together, collaborate on the scene, and tell each other where to stand so the captured photo looks organic. Playing Hwatu was a joyous and memorable time for me, a feeling I ultimately aim for in my work. Swap meets are slowly closing down like other retail shops, and I like to think this work is an inviting, accessible way to help record history and keep the story alive.