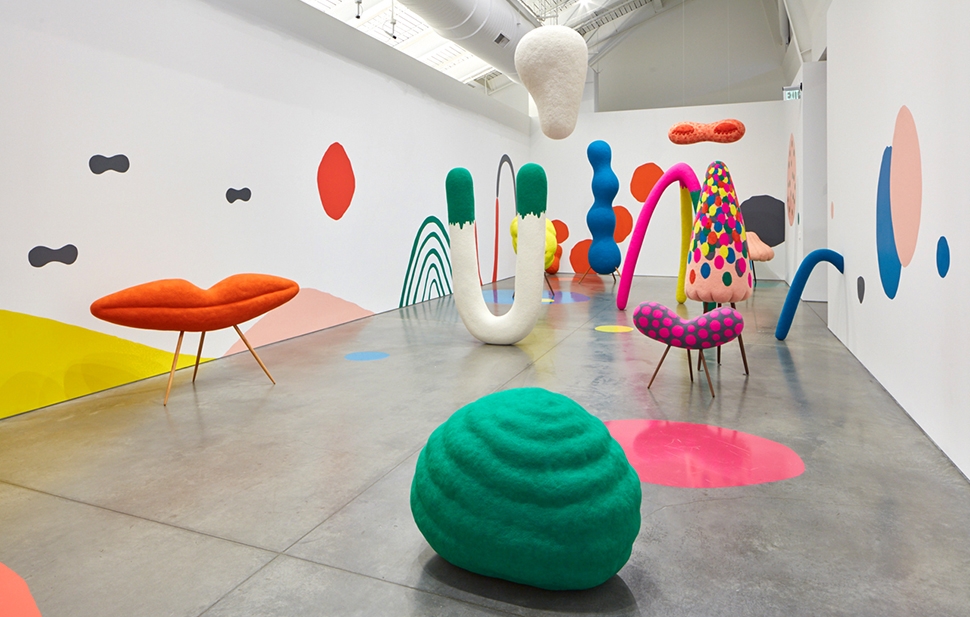 Masako Miki
The Mighty Shapeshifter
Interview by Kristin Farr
Masako Miki is a spiritual soothsayer, an artist who connects with the far reaches of the universe and communicates positivity and the unseen through varied techniques, from detailed animal portraits, to amorphous, felted wool sculptures, which she scaled up to an extra-large size for a crowd-pleasing show at the Berkeley Art Museum last year. Wool felting is a process that evokes smooth delicacy, but actually requires endless stabbing of the material with sharp, barbed needles. Masako is the first artist to innovate and create larger-than-life sculptures with this hardcore fiber art process.
Kristin Farr
: Tell me how your work responds to the current political climate.
Masako Miki: I believe that diversity and collaboration are key concepts to better building our society. These ideas can lead to synthesis of dichotomies. My work emphasizes the ideas of connection and empathy, which are often obscured in our current society. Thus, it is intentional to create playful and inviting work. Experiencing these sensibilities evokes feelings of connectivity, and animism translates as inclusiveness. Everything in the universe is imbued with spirits, even mundane objects. Unfortunately, these concepts run counter to the disconnect and exclusiveness that seem to have taken stronger roots. My response is always to add to a positive environment.
Simultaneously, I like to create a dialogue about our cultural identity. I think this identification process relates on both personal and social collective levels. The question of who we are can help to identify who we want to become in the future. As a Japanese immigrant living between two cultures, I often explore the question of my own cultural identity by referencing Japanese traditions based on Shinto culture. I emphasize the idea of pluralism by referencing fluidity, an attribute of shapeshifters, which are sacred and secular; they are a hybrid of dichotomies. They are never defined as one entity, as they are always in transition. We see and have a need for an increasing number of non-binary spaces responding to the concepts of gender fluidity, biracial identity, and multiculturalism. The shapeshifting has become a signifier of cultural adaptation and survival.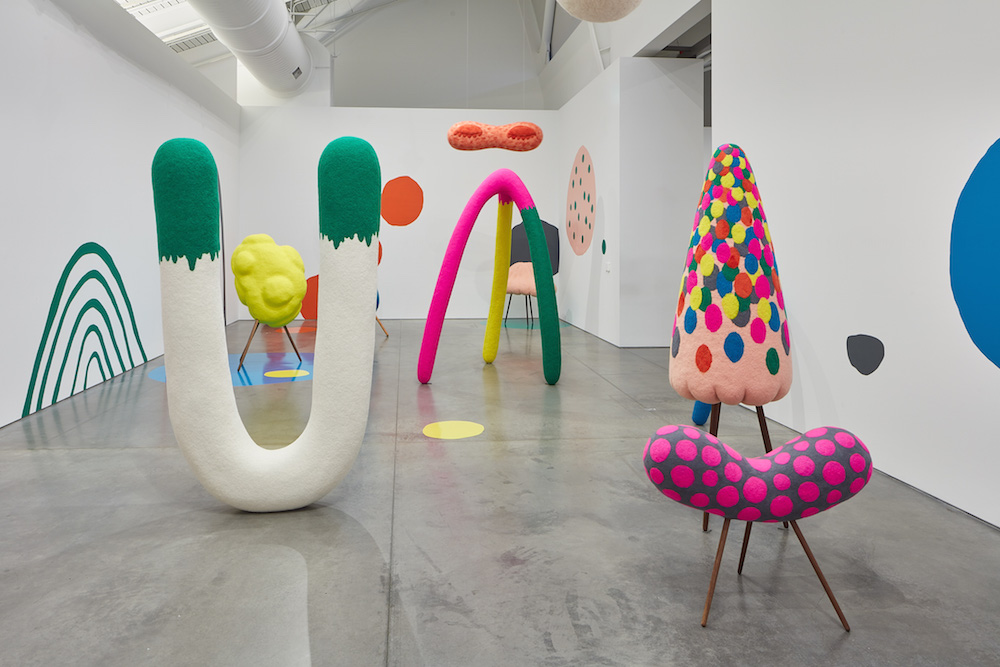 We've seen your work grow in scale at least 1,000 times larger over the past year. How did you decide to go big?
I had been thinking about creating a larger scale of the miniature felt sculpture series. Small scale offers intimate and personal relationships to artwork, and a larger scale can potentially offer the actual experience of being a part of the artwork. It's a different experience contemplating a drawing in front of you, versus walking into an environment where artwork can only be experienced by being in it. I think scale communicates with viewers differently. My sculptures are very figurative, and I wanted to enlarge them so that they almost exist like a person. I was offered the
Matrix
exhibition at the Berkeley Art Museum last year and took this opportunity to create 14 life-size felt sculptures as an installation. Currently, I am working on a public art project in San Francisco, so exploring large scale was something I wanted to do for a long time.
Please describe your process for the felt sculptures.
I made miniatures of these felt sculptures about three years ago, and that was the beginning of the series. They are anywhere from three to seven inches tall and are made with roving wool and felting needles. Shapes of these sculptures are inspired by particular shapeshifters. For example, with Ungaikyo (Possessed Mirror), I wanted to emphasize the idea of symmetry, since a mirror reflects the image in front of it, which resulted in a bean shape. Some sculptures take direct visual reference, like One-Eyed Goblin, with its one big eye, but Stirrup Mouth Furry Ghost is more abstract. These small felt sculptures are made with solid wool, but I had to use blue industrial foam as a base for the large scale sculptures, which ranged from three to ten feet tall. My miniature felt sculptures were 3D-scanned and enlarged with blue foam carved by CNC milling. Then I dressed the surface of this blue foam with two to three layers of roving wool by needle felting. For each color, I used about ten pounds of wool. It is an extremely time-consuming and repetitive process to needle-felt sculptures on this scale.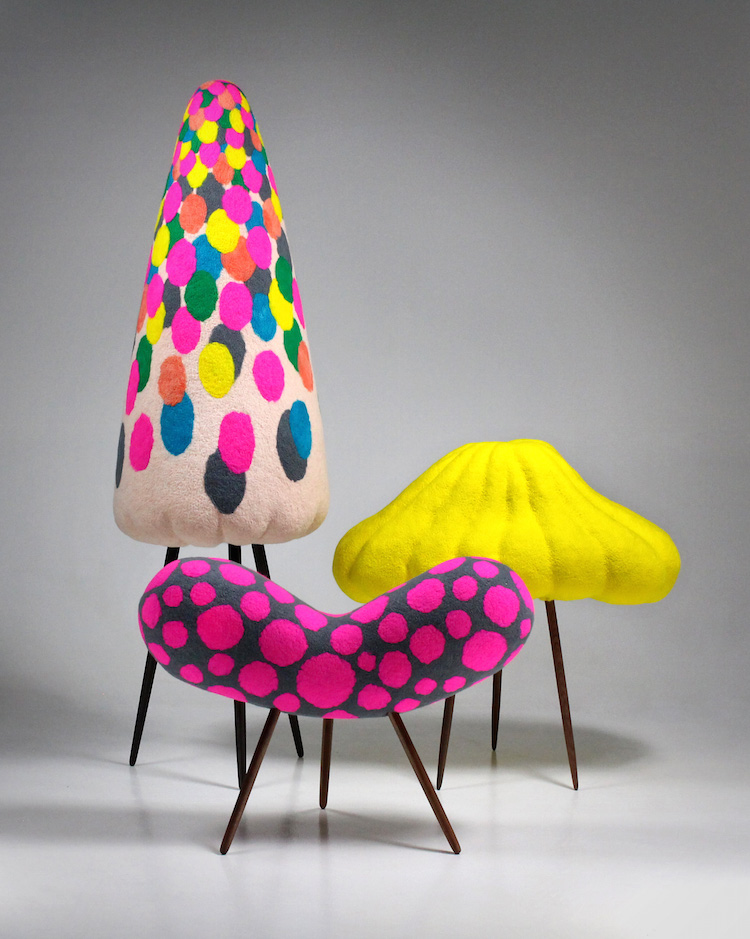 You said it felt like cheating to use technology to make them.
I consider myself very much an analog artist. My art-making process has been very simple in terms of materials and tools. For my drawing, I just need paper and a pen; for felt sculpture, I need wool and a needle. The work is completed by repetitions of mark-making and needling. It was very interesting to see my process involving technology like 3D scanning and CNC machine carving. I have never taken this many significant steps with my work utilizing technology. It has always has been supplemental, and it offers convenience, but I have been learning how technology can provide more options and possibilities. In fact, currently I am collaborating with a bronze foundry to create outdoor sculpture pieces, and they use 3D printing technology. However, more involvement in the digital realm made me realize the importance of the analog realm. I still had to make everything by hand to do 3D scanning, and I could only finish felting them by hand. Analog processes are never replaceable. There is no substitution for this process.
How many times have you stabbed yourself with felting needles?
So many! It goes through pretty deeply, so it's quite painful for a while. I also broke countless needles. It takes some practice to not break a needle during felting, so I have to keep my needle on a 90-degree angle to the surface.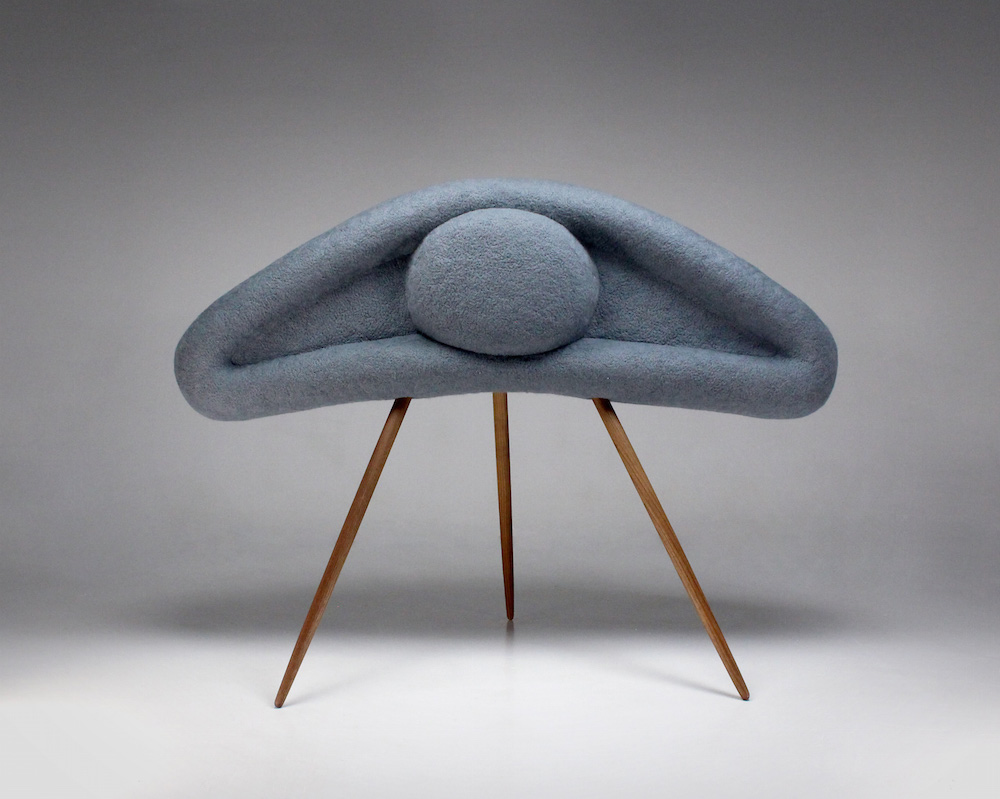 How do you source the wool for your work?
I have ordered roving wool mainly from one vendor from Michigan, but I had different vendors for some colors. I was very specific about the color palette. I think I ordered samples of all the colors in the shop. I usually had to order wool in pounds, sometimes up to 20-pound bundles. The wool is usually sold by the ounce, so I was frequently asked what I was making with so much material. I became very friendly with my main vendor, Mary. I had a great conversation with her before I started this project, and she was a great help. I was using a salmon pink color and was told that this is a popular color during Christmastime because many craft artists use it for angel figures. I told her I was making Umbrella Ghost with that color.
Your titles are intriguing. Do they come to you spontaneously?
The titles are very important for me. I consider them a part of my work. Titles can invite a viewer to continue to wonder about the work. Most of my felt shapeshifters are based on the chronicles of shapeshifters in Japan, and I reinvent them with my interpretations. If they're not based on actual literature, I always want my titles to be more suggestive or poetic.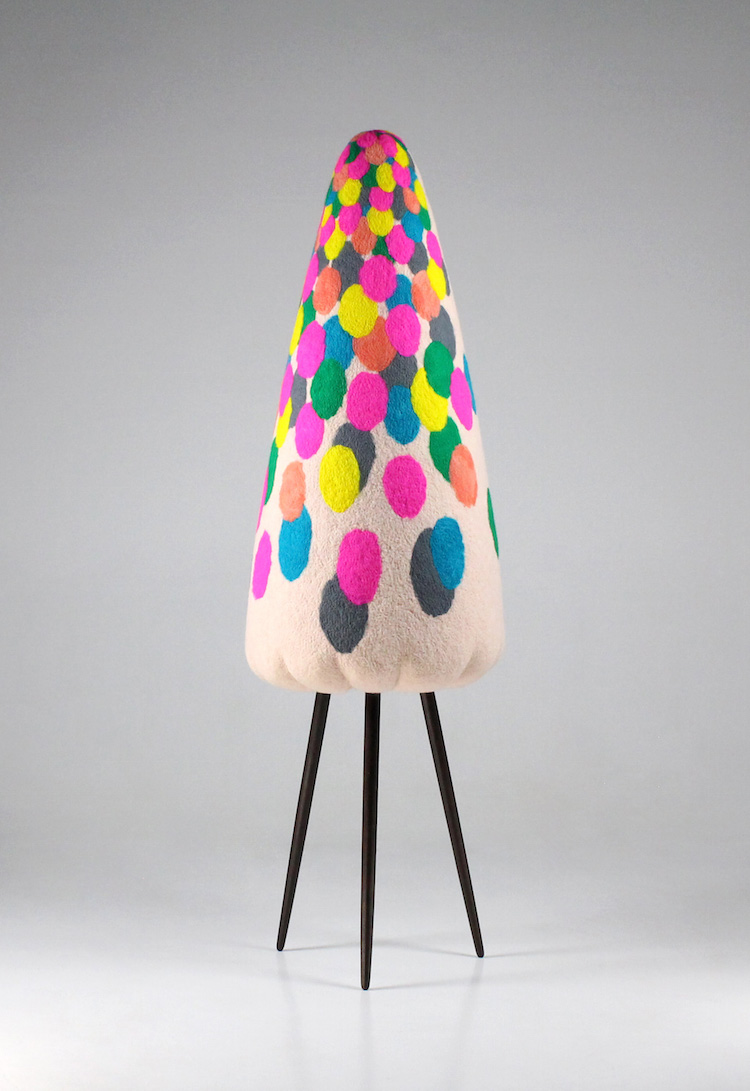 Tell me about yōkai, and the meaning, and how it manifests in your work.
Shapeshifter refers to the yōkai of Japanese folklore based on Shinto animism. Shapeshifter indicates a state of transformation represented by preternatural creatures and ghosts. The yōkai may disguise themselves as animal or human, or may appear in a strange form such as a one-eyed child. My felt sculptures Karakasa-obake (Possessed Umbrella) and Kyōrinrin (Animated Ancient Sutra) are inspired by a particular group of shapeshifters called Tsukumogami, which consist of mundane objects and tools. It is believed that objects have come alive after one hundred years of existence. Tsukumogami are both animate and inanimate objects and there exists no distinction between material and immaterial worlds. In my work, shapeshifters are used as the signifier that creates the idea of dissolving boundaries: the Signified.
These shapeshifters appear in the Tsukumogami Picture Scroll from 16th-century Japan, a story about these old discarded objects that gathered to seek revenge on humans. Night Parade of a Hundred Demons is a traditional painting, which depicts these shapeshifters in a night procession, and I have been making drawings based on that theme. After their revenge was enacted, bringing good consciousness to others, they entered into a temple and achieved nirvana through Buddha's teachings. One interpretation is that it may be Buddhist propaganda. The narrative also emphasizes the Buddhist idea of inclusiveness and teaching people not to be wasteful. I use these ancient narratives as a metaphorical departure point to explore blurred boundaries and dichotomies within the human condition.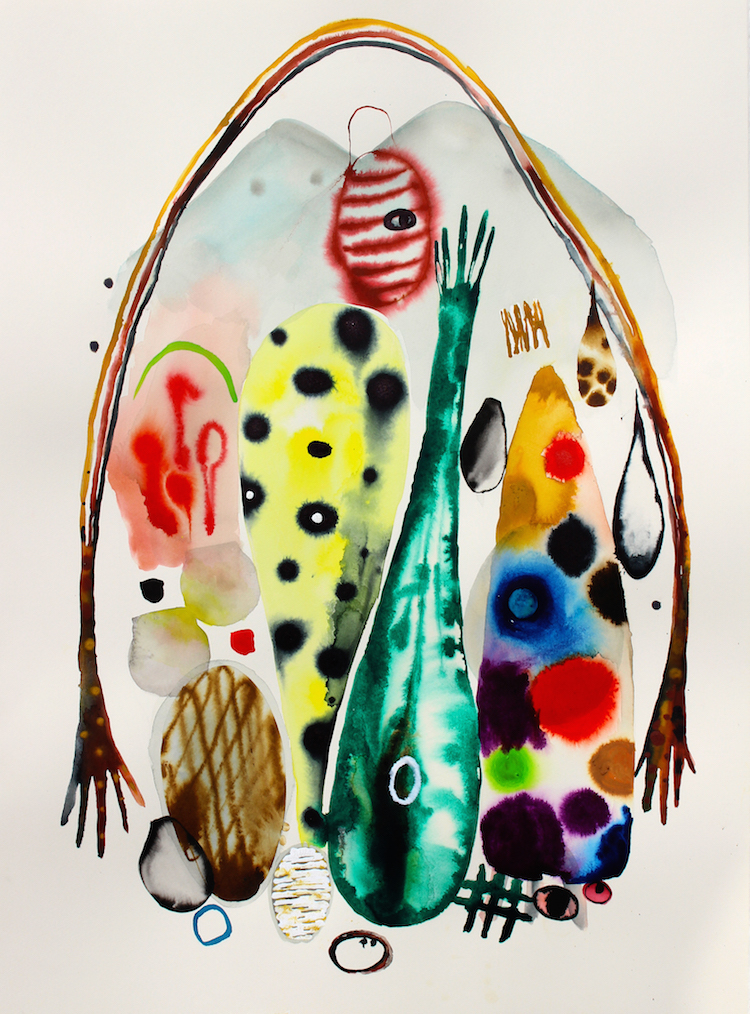 What do the spirits tell you today?
They remind me that becoming does not have to end.