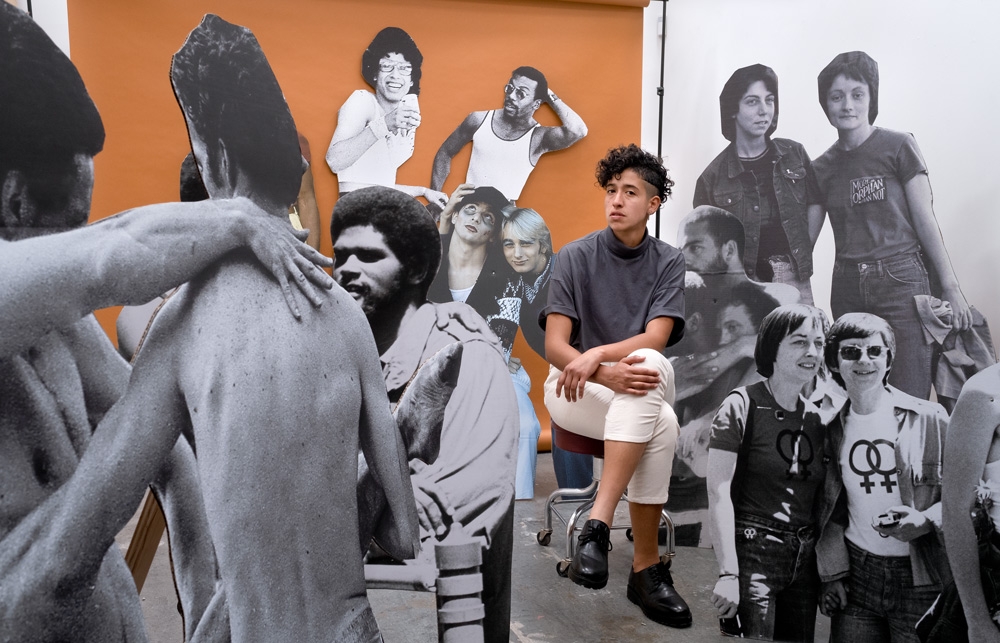 ---
Marcela Pardo Ariza
Try a Little Tenderness
Interview by Kristin Farr // Portrait by Alex Nicholson
Absolute joy was palpable as I watched
Marcela Pardo Ariza
take portraits of the back of folks' heads for a theatrical composition. Wrangling strangers for a photo and earning trust in a split second is challenging, so the relative anonymity proved to be a magical incentive. Even more compelling was how Marcela radiated empathy as people smiled and posed, backs to the camera, most a bit stunned at the unexpected surreality of momentary reverence. Marcela is a charming cynosure with a knack for encouraging others to kindle their own special souls. Pushing against the history of representation and gaze, it is a boundless practice that incinerates expectations with a warm, sweet fire.
Kristin Farr: Imagine yourself as a still life with three objects—what are they?
Marcela Pardo Ariza: Leather shorts, a persimmon and a tiny portable speaker.
What was your journey to becoming an artist in SF?
I moved to San Francisco from Brooklyn in 2014 to do my MFA at the San Francisco Art Institute. I was drawn to the Queer legacy of San Francisco and the photographic history of SFAI. Six years have passed now, and I have met longtime friends, mentors and collaborators and worked with multiple artist-run spaces, bookstores, galleries, museums and organizations. I now consider San Francisco part of my artistic home.
Tell me about This is Weird Without You, your new public art project.
This is Weird Without You is a series of posters in English and Spanish, made in dialogue with Latinx, women and Queer-owned local businesses in the Mission District of San Francsico that were printed at home and wheat-pasted on boarded-up storefronts at the beginning of shelter-in-place. The project, made in collaboration with the sweet Juan Carlos Rodriguez Rivera and Felipe Garcia Jr., intended to have a poetic energy in public space that recognizes the fact that we are all interconnected and need each other's support now more than ever. We wanted to celebrate local places that we regularly used to visit as a way to honor their labor and struggle to keep small businesses afloat during this poorly managed health and economic crisis.
The project grew exponentially. We did an iteration at KADIST, an online exhibition and a limited edition of the posters with Ochi Projects in Los Angeles, and we did an iteration at the San Francisco Museum of Modern Art's entrance, as the museum is being called to do urgent and ongoing anti-racist work. The messages of the posters read: "We need a museum that destroys white supremacy / We want Black, Indigenous and People of Color in leadership positions / We want Trans*, Queers and non-binary folks leading the way / We need an anti-racist, transfeminist and intersectional museum." This is just the very beginning of the necessary changes that art and cultural institutions must undertake to become actually inclusive.
We are also working with the Museo Tamayo to do an iteration of the project in Mexico City, a version much closer to the roots of the project, all in spanish. This all has happened within the last five months.
Have you worked with text in previous projects?
I am really drawn to poetry and how a few words can really take you, melt you and turn you upside down. Yesika Salgado's poems do that to me every time. In 2018, I did a biweekly project #PoemsFromaWindow where I placed a poem or excerpt from womxn, POC, and Queer authors in large letters facing the street outside my studio. It can be particularly powerful to encounter large text in public space that invites you to have an effective response. The play of scale, both with text or images, can take on a whole different meaning; we need to bring more of that into the public realm. I want to collaborate with poets and make their words visible in large architectural spaces. We could all use more poetry in our lives.
You knew 2020 would be a year for public art. What are the other key changes you want to see during this revolution?
Public space brings so many folks unexpectedly together, despite their different positionalities. There is so much potential in that. As many museums and art institutions struggle to restructure and think about their own relevance and audience, there is an undeniable power in public space that shouldn't be taken for granted. This is the perfect moment to reconsider how we want to relate to the streets and places we live, and how we can think about visibility, representation and shaping the visual world we want to see. Especially as outdated monuments are being taken down, what do we really want to see instead?
As for the art world and beyond, I want it to be truly inclusive; I want Black, Indigeneous, POC, disabled, trans, non-binary and undocumented folks in leadership positions. Imagine what that world would look like! I want visible and invisible labor to be fairly and generously compensated, and I want institutions to move beyond transactional one-time collaborations into ongoing non-hierarchical, long-term support. There is a lot of work to be done and we need to thoughtfully and intentionally dive right into it.
Tell me about all the ways you think about kin and the importance of kinship to your work and life.
Ah! I feel so passionately about kin. Since I moved away from home, numerous people of different ages and backgrounds have adopted me in such tender, loving and generous ways, I feel so grateful for that kindness and chosen family. I feel so grateful to my older mentors, Julie Tolentino and Stosh Fila who really took me under their wing at one point. I have deep connections with dear people who live in various geographical locations, and understanding these transnational relationships in a non-linear manner has been really important to celebrating how kin can exist in so many ways and spaces. The thing that I love the most about kin is that you shape it as you move through it; you can have difficult conversations, while seeking joy, humor and pure magic together. It comes back to letting one another be their fullest self while being caring and loving at the same time.
What compels you to explore intimacy? Kin Skin seemed to be hinting at that tenderness.
For sure! Kin Skin was made in collaboration with some of my transnational kin currently living in Mexico City (Sucia, Kiki, Yu, Georgie and Meli). We wanted to explore belonging through materiality and kink, while also considering tenderness within that context. Meli and Sucia have an incredible sexuality education platform, Vulgar.mx, that explores pleasure and intimacy through a social justice lens, and we are always talking about ways to reconsider the way we learn about pleasure, desire, communication and sexual preferences. A part of my practice is committed to making visual components to the work being done around intimacy and pleasure.
What does tenderness mean for you, and what are some of the ways you've found to represent it?
Growing up in a very Catholic society with so much violence and misogyny, it seemed that pride and emotional unavailability was a way to move forward and survive, when, in fact, I have found the opposite to be true. Throughout the years, what I have found more powerful was how my mom, tias, primas y abuela in my family held space for tenderness when everything was difficult and painful. They all had and have this way of supporting themselves and people around them unconditionally, beyond their ego, even in the most unprecedented, disappointing circumstance. They also happen to have really clear boundaries while confidently standing up for themselves. This combination of traits is rare and very touching. I want to celebrate it.
Visually, I gravitate towards representing tenderness through gestures of care, touch and closeness. Showing that tenderness during a pandemic has become a bit more difficult but also more necessary than ever. Gladly, I've been working more with transhistorical care through photographic cutouts, so that has made the care and tenderness a bit… less risky and sort of metaphorical.
You love oddly-shaped bricks, and you related bricks to bodies in your Spillage series.
Interestingly, bricks are a big part of Bogotá's architecture. My childhood room had a brick wall and even though it all looked uniform, I enjoyed looking at each brick separately. My grandparents' house also had bricks but it had a type that is differently shaped, back home we call it celosía. I constantly thought about the difference between the two: one is solid, predictable, stable, undeniably able to separate spaces. The other ones allow light, breeze, water to go through. They are also orchestrated in different forms to enhance architecture, and there are limitless iterations of celosías. There is something Queer and playful about this architectural element that I gravitate towards. And it celebrates ornate design over simple design, which feels fabulous in a way.
For the Spillage show, I got to collaborate with the incredible fat activist Virgie Tovar. The ornate brick is an analogy that questions how architecture can and should be more inclusive of different bodies. This metaphor functioned as a way of thinking about and celebrating large and hairy bodies inside architectural spaces, but it certainly can go beyond that. There is so much room for architecture to redefine how it can be more open, not only regarding basic needs but actually shifting a bit of the paradigm toward celebrating different lifestyles and arrangements.
Who are your subjects?
They are people whom I deeply admire and care for. They are friends, collaborators, artists, thinkers, lovely people who have changed my life. In my new body of work, a lot of models are life-size cutouts from older Queer archives from past Pride parades, which are now part of the Gay, Lesbian, Bisexual, Transgender Historical Society. When I was going through some of the collections, I noticed a lot of the folks depicted in the photos were anonymous, and by inviting them into a current project, I wanted to honor them and their contributions to Queer history.
I've been working with Reference Archivist Isaac Fellman to use photographs from older Pride parades in the Crawford Wayne Barton Papers, Elaine Gay Jarvis Papers, Marie Euda Papers, all from the GLBT Historical Society. I've made cutouts from those photographs and worked with incredible folks like Nicole Santamaria from the El/La para TransLatinas, JanpiStar from AXIS Dance company, Jocquese Whitfield and Sissy Slays, Spanglish reina Juli Delgado Lopera, artists and cultural workers Kat Trataris, Leila Weefur, Grace Towers, Vertel Jackson Beatrice Thomas, Kevin Seaman, Juan Carlos Rodriguez Rivera, activist Alex Locust and Matti Bautista, Andrew Lopez, bartenders Jessi Lorraine, Christian Suzuki-Orellana, Mireya Aguilar, Felipe Garcia Jr., Jordanne Ho-Shue, cultural workers dragas Betty Towers, Rihanna Wintour (Ismael) and other folks I haven't photographed yet. In advance, I thank them for being a part of the project.
Your work can sometimes feel painterly or collage-like with your installation style. Do you still call it photography?
It is important for me to call it photography because the history of photography is complex and very rooted in colonialism, and I want the work to use and question that framework. However, I want to expand what we consider photography into something more malleable and less rigid, and to me, that manifests in making the work more site-specific, using various materials and scales, and disregarding old photography paradigms. Honestly, what fascinates me the most about photography is how three-dimensional spaces get flattened, and how it provides space for illusion and graphic composition, and turning a space into something new.
Do you do a lot of directing in the moment during shoots?
Composition and certain elements of the photo shoot are considered in advance, and I am always open to the work evolving with the energy of the folks involved. I love the comradery that can happen and it makes the process of the work another way of spending social time together. The close-ups are a way of photographing and reframing our expectations of the photograph differently by focusing on details, gestures and moments that would be less visible, otherwise, in a more straightforward shot.
How has your work developed or changed since your MFA years?
So much! I've learned to make my own frames and change their traditional shapes, done large photographic installations, both indoors and outdoors, and collaborated with all sorts of people. I had the chance to run an interdisciplinary fellowship program at Yerba Buena Center for the Arts with Amy Vázquez and Marc Bamuthi Joseph where I also got to meet so many folks doing incredible work in various fields. We had so many wonderful, rich conversations that informed so much of the work that I do and the way I collaborate with people. My conceptual framework has expanded, and I've moved into making richer work in terms of materiality and also in terms of focusing more carefully in Queerness and kinship, and intergenerational connections and representation.
What do you find are the most expressive or under-represented body parts?
I love hands and recognizing people by their "signature" hand gestures. Elbows are a bit silly but I gravitate to them, eyelashes are so sweet and special, and butts... butts are magic!
You were taking portraits of people's backs when we first met. What motivated your non-traditional approaches to portraiture?
I'm always intrigued about why people are more or less likely to engage with photography. I'm interested in how we can shift our expectations of photography towards a way where we can still be included, even if we don't want to be visible in a traditional way.
We wanted people to be able to recognize themselves and their peers while also remaining anonymous. It feels like a secret, if you know someone by the back of their heads, you can recognize them; but if you don't, you don't. It was also a way to question face recognition technology.
Tell me about how theater and staging is part of your work.
I love to play, making things and props cuter whenever possible. If you believe in theater, you can hold the sun and make it out of different materials. You can make your favorite bouquet out of faux flowers or you can bring back someone from the past with a life-size cutout of an old photograph. There is a possibility of building new narratives, and I find that particularly striking. My parents both did theater when I was growing up, and their playfulness in moments of pain is just admirable. It's a tool of survival and envisioning. I carry that playfulness with me and I hold it very dearly. In my work, I use the set both of my studio and the exhibition space as a site of possibility. It is in those spaces that things and roles can change, and we can reimagine the narratives we want to live in and the visual culture we want to see.
So tender. What are you working on now?
I'm currently working on a public art project that is part of Art on Market Street, organized by the San Francisco Arts Commission, and it will be displayed in bus shelters along Market Street starting in October. The project consists of photographing Queers from the past, borrowed from various photographs from the Gay, Lesbian Transgender Historical Society archive, with Queers from the present. The idea is to highlight transhistorical kinship, tenderness, resiliency and the 50th anniversary of Stonewall. This project is called Kin Streets and it honors the Queer folks who walked the streets we now walk in, and to celebrate the work we are all doing to keep this city at its Queerest, especially in this crucial moment in time.
Describe your dream home, and the housewarming party details...
I love this question. We should all spend some time thinking about our dream living situation; maybe it'll help us materialize it.
Externally, the aesthetic would be similar to Freddy Mamani's Neo-Andean architecture (if you don't know what it is, you are in for a visual treat!) with gardens on the ceiling similar to those of Hundertwasser's buildings. The living structure would be modular and mobile. Inside, there will be so many plants, fresh fruits, savory bites and tasty libations available, the lighting would be just right for each space, there will be soft areas of different heights to lay down, rest, read and play by yourself or with others. Friends and kin can come and go. All the art would be made by dear friends. Dinner parties are highly encouraged and so are pool reggaeton parties. An outdoor shower with two heads sounds really nice. Give me a couple of years, I'll build this dream somewhere warm in Latin America with a couple of close friends. And of course, you will be invited!
Marcela Pardo Ariza is a finalist for the 2020 Artadia Award, and her new public exhibition Kin Streets will be on view along San Francisco's Market Street beginning in October, 2020.