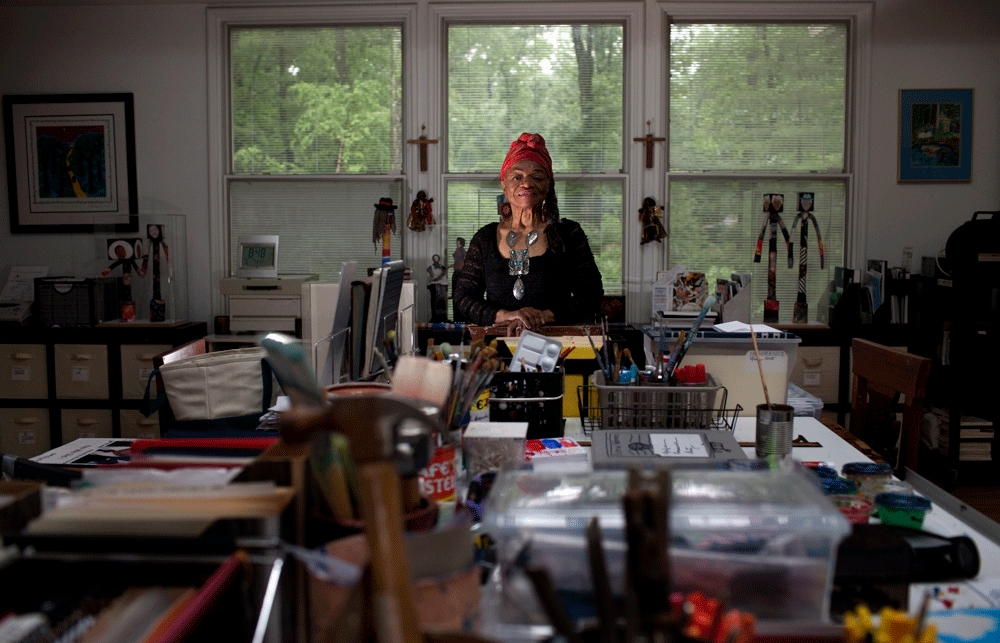 ---
Faith Ringgold
The American People
Interview by Gwynned Vitello
In describing the blues, cultural historian Albert Murray explains how "they affirm life and humanity itself in the very process of confronting failures and existential absurdities. The spirit of the blues moves in the opposite direction from self-pity and self-hatred." Faith Ringgold who created vivid color and movement in her Jazz series of quilts, grew up steeped in the afterglow of the Harlem Renaissance, around the corner from Duke Ellington and Langston Hughes. She continued, and still continues, a family tradition of storytelling in vibrant painting, powerful sculpture, story quilts and books. Now her six decade career travels from the New Museum to the de Young Museum in San Francisco, which gave me a chance to chat with curator Jana Keenan and learn more about an artist so aptly named Faith, who continues to celebrate the spirit of the blues: "I have watched freedom being restricted everyday of my life. I don't mind struggling. At least, here in America you have the freedom to struggle."
Gwynned Vitello: Soul of a Nation was one of my favorite shows at the de Young in the last few years, so I was super excited to see the Faith Ringgold show on the schedule. How does this differ from the recent exhibition at the New Museum?
Janna Keegan: I think the presentation will certainly be very different. The New Museum has it spread out over four floors, so that the French Collection, for example, feels like its own unit. Here we'll have it in the upstairs gallery and start with the early work, so I think you will get more of an integrated experience of walking through the chronology.
So, literally, it is staged chronologically? Sometimes I think that's an easier way for new viewers to take in and appreciate an artist. How do you open the show?
We're opening, obviously, with American People and from that series, will definitely include the mural Die, and you'll see The Flag is Burning. We are creating some pretty striking sight lines.
American People at the Spectrum was her first show, but she had to wait awhile to get it.
She might have been in her late 30s, but already had her advanced degrees. She'd been teaching in New York City public schools for many years before getting her professorial position at UCSD. Even so, she was an active artist while teaching.
I think being so devoted to that profession had a big impact on her artwork.
I actually think being a teacher really informed her relationship with children and the vital cultivation of children, which is a hallmark of her career. She's always recognized that children are audiences, agents of change with great potential.
How did the Atlanta Chess Pieces come about? They're the size of a big chessboard?
That installation, it's about two feet by two feet, was in response to the Atlanta child murders in the 1980s where 18 black children were mudrdered in a very short period of time. And the person is still unknown really. Faith describes this piece as a way to process her rage over what happened. This was possibly an incredibly prolific serial killer, assuming it is one person. And if you think about it, if those were white children, the event would have been all over the media.
The word rage circles me back to her show at Spectrum, which she describes as a joyous occasion. How would you describe the emotions fueling the work, and what led up to her finally getting the show?
I wouldn't say that rage is quite the correct term, but certainly there was disappointment in confronting what was going on in America. She notes being inspired by Martin Luther King and Malcom X to be a witness to the moment in history, and that's what she started doing in the American People series. But at this point, she was 37 and had received a lot of rejection. She even tried to apply to the Black collective, Spiral Group, which was primarily made up of male artists.
Their style was not necessarily representational, and the only female I remember from the group was Emma Amos—who made figurative work. So I wonder why Faith Ringgold was rejected?
The letter from Romare Bearden rejecting her cites figuration as one of the issues, but I do also think it had to do with her status as a single mother and whether she had the time to dedicate to an artistic practice. That said, they were from a different generation.
In the late 1960s and early 70s her artwork really does support the advent of Black Power, but she talks about becoming disillusioned with the movement because it failed to recognize Black women as it should have. Faith assumed that her granted civil rights would come about, but it certainly felt like the women were left behind.
How did her show with the gallerist Robert Newman come about? I read that he had asked her to portray the decades of tumultuous thrust for freedom.
A lot of her work was actually completed by the time he said that, much in the early 1960s. She had been working with him, and he gave her the entire gallery space over the Summer of 1967, and that changed her art dramatically. The early work is more muted and nuanced, but later the work becomes a more aggressive depiction of what was going on in the U.S.
This series has one of my favorite paintings, the U.S. Postage Stamp Commemorating the Advent of Black Power. Can you tell me a little more about the piece?
Also part of the American People series, it's one of three large murals she made before her 1967 show. What's really cool about this work of art is the full title. She created it to serve as a thought piece on what it would be like if the US government celebrated the Black Power movement through a postage stamp. The textual elements are really interesting You can easily see the world Black Power on the diagonal, but the words "White Power" form a structure within the composition far larger. It's quite an illustration of the nature of white supremacy and how it underlies all the structures of our government and economic systems.
A subtle, subversive piece I'm thinking of is Between Friends, which is really haunting.
Absolutely, When you walk into a room and you have those paintings around you, they create a sense of alienation and otherness, to have all these masked faces just string out at you passively. They pick up a moment in Faith's life where she used to go visit friends on Martha's Vineyard. It was actually an inter-racial group, members of the NAACP, and it references people who think they're outstandingly liberal and support Black causes, but don't actually incorporate anti-racist, into their daily lives.
For all their intensity, they happen to be small. And a little snippet of interest is that nothing in the exhibition is perfectly square, they're each a little bit off square because she stretched her own canvases.
Hearing the descriptor "perfectly" leads me to ask if things went that way after her first show, and I'm guessing …
No of course not! Actually she went out into the streets and, though still making art, became far more vocal. She started researching the collections of American museums, like the Whitney, MoMA and the Met, and she organized protests against them. There's a part of the show where we have her ephemera, which includes internal memos from MoMA and notes of hers regarding how many artists are represented in the museum, broken down into how many women and how many Black artists—the actual archives.
Her daughter was a teenager and accompanied her to these protests, right?
Yes, you probably saw a picture of Michelle, who as an art historian, has a higher profile than Barbara, who is a linguist. Two brilliant, highly-educated women.
And moving along, as she continues to make art, we see the Black Light series. I love the portraits of subjects in various shades of pigment, where she explores the beauty in the spectrum, as well as the issue of colorism.
There are a lot of works in the Black Light series that show her fascination with color theory. She discovers how white is such a huge part of the European palette. Whereas, African American, South and West African, as well as South American, tend to use it as congrats or to create mood, it's not as overwhelmingly, but used sparingly. This is part of the Black is Beautiful movement. The first time she heard those words, she realized that was what she was trying to do. When she tried to paint black pigment, black skin tones, they didn't have vibrancy. They, in fact, didn't translate to oil paint.So one of the thighs she does during this period is to switch to matte, to a color called Mars Black. Then she would mix that blues or reds to create various different tones of black.
It sounds like she was a pioneer in that method.
Absolutely! I think you can see and really understand the vibrancy of that palette. She cites Josef Albers and how he works with black on black in the abstract. The palette of art we see is so dominated by white, you don't get to notice the nuance in dark tones.
I think that many people weren't aware of this until the controversy over the Annie Leibowitz cover shoot of Simone Biles.
Ringgold actually wondered, "Is it the invisibility of Black skin that contributes to racism?" So yeah, it's another example of how systemic racism pervades out systems.
She was versed in so many aspects of visual art, also evidenced by the influence of sign painting in the Black Light series.
It's really interesting that you note that because it prefigures her later, actual literal signs that she made for the Black power and protest movements. The bright and vibrant colors, as well as the geometric shapes come from Kuba cloth. And she's doing posters for the Black Panthers.
I knew she was making prints and posters, but didn't know about the Black Panthers.
Well, there's only one, and it was never reprinted—because Faith put the address of the headquarters on it. They were, like, "No,no thanks. We have J. Edgar Hoover breathing down our backs, as it is. We don't need to let everyone know our address." She also did a lot of posters in support of Angela Davis, which we will absolutely have in the show, especially because of her Bay Area connection.
And you'll have more of her Flag paintings, like Flag for the Moon, I think, part of the Black Light series?
They were included in The People's Flag Show at the Judson Memorial Church in Greenwich Village, where Faith was a member of the organizing committee of a group of independent artists protesting the Vietnam War, and specifically, oppression here and abroad. At the time, federal forces were really comin down hard on artists for using the flag, "desecrating the flag," in their work.
We have Flag for the Moon, and within this painting you can see there are two words. "Die" is kind of embedded in the faded stars behind the stars and the racial slur is ciphered into the striped pattern, in the shadows, so to speak. She makes a commentary on our national priorities, where the government was choosing to spend its money—something like 25 billion on the Apollo program.
I hope you'll be playing some particular background music, as in, Gil Scott-Heron. It's been referenced a lot in recent protests.
I made the entire staff listen to the whole song, which is so prescient! What are our priorities? Just think about the carbon emissions from one of those launches.
The organizers, including Ringgold, got arrested, right?
Yes, and that brought an end to the show, but they made their point that art must confront injustice. And one of the really radical things that Faith did was to insist on a jury trial. In a recent lecture, Dr. Joan Kee talked about how incredibly risky it was for a Black woman to sign up for a jury trial in the 1960s. It was kind of a suicide mission because she was not going to get a friendly reception. She wanted to bring attention, and in the end, was exonerated, but at risk to her own personal freedom.
How did this affect her in terms of, well, viability? I mean, she took action with more than a paintbrush.
I think that, definitely, the art world was intimidated. She was banging on doors and protesting, and I think that probably resulted in her not getting her due. Regardless, she was also a performance artist and started to translate stories of her community with costumed masks and soft sculpture, which became life sized "portrait masks". Her students would take part in the performance art, as well. The first piece was The Wake and Resurrrection of the Bicentennial Negro in response to the the hoopla surrounding the American Bicentennial celebrations of 1976. We have a tableau of the soft sculptures in the show.
I have a thought about her painting, maybe because I remember that a teacher forcefully told a very young Faith that she did not have drawing talent, that Ringgold quietly insisted, "Oh yes, I can." I wonder if she was dismissed for having a naive, flat, folkloric manner, but in keeping with her confident nature, maintained that simple, not simplistic, style.
I think her paintings are very intricate, including her figuration. If you look at Die, one of the sources is the Guernica. You can see the entire composition all at once before taking in the different parts. I wouldn't say the figuraton is naive as much as it's legible. People can see and understand it, which really, is so genius and subtly subversive. It also speaks to her approach to children, inculcating a sense of empathy and encouraging them to be agents of change.
What led to her transition to the quilt paintings?
They were inspired when she visited the Rijksmuseum and saw the 14 and 15th century Nepali paintings, meditative pieces in the Buddhist tradition Tankas, that have these beautiful fabric borders. She incorporated the style, early on, including the meditative aspect, as well as the portability. Exhausted from making and transporting huge paintings up and down stairs, she relished the ability to just roll them up and take them along.
In the tradition of quilts as storytellers, they become political landscapes. She writes them in English script, but vertically, so that you have to take the time to decipher them and then spend time with those thoughts. The first, she made with her mother, Willie Posey, a seamstress and clothing designer who had been taught by her mother to boil flour sacks to make them white to use as backing for clothes and, in turn, quilts. The Mother's Quilt, made after Willie passed away, was the first Faith assembled by herself, and served the dual function of helping her process the death and pay tribute, as well as tying into the function of quilts as holders of memory.
Now we get to her two major quilt series, so five us the background of her first, the French Collection.
In 1961 she took a trip to Europe with her mother and two daughters. She was so inspired by French art and really did love French modernism. When I look at Dancing at the Louvre, I can just imagine the experience they had together and how it inspired her storytelling in the quilts. The central figure Willie Mae goes to Paris to be an artist in the 1920s, and various figures like Picasso, van Gogh and Josephine Baker appear. She ends up getting married and wrestles with the uncertainty about marriage and a career in art, something Faith wrestled with.
The American Collection continues the spirit of her American People series of paintings, and here, she decides not to include text, so it turns out to be a much looser narrative. The thing I like about the American Collection, even the French, is that it's a creation of speculative history in which you see a lot of contemporaneous works of African Futurism. And here she is doing that way back in the 1990s, suggesting, 'What if this had been true?, What kind of lives would we have had if not brought here as slaves?'
And though always in teaching mode, she kind of came full circle when she started to write and illustrate childrens' books. From the Women on a Bridge series came the beautiful Tar Beach quilt painting, which inspired the book.
I'm so excited because we'll have a Tar Beach quilt; it's so amazing that we secured one. Tar Beach refers to the rooftops of apartment buildings in Harlem where the New York families "camped" for parties and a hopeful summer breeze. We're getting a drawing that was part of the book, and that book was my first introduction to Faith Ringgold! Not only did I read Tar Beach as a kid, but when I came to the Bay Area, I became friends with Moira Roth who was a dear friend of Faith's. I was at Mills College one day sitting in their front office, when out she comes, carrying this massive bundle. When I asked what she had, it was, lie, "This? Oh, it's a quilt that my dear friend Faith made for me."

Wow, what a great opportunity for you to organize this show. Is there a piece you came to really appreciate more than before? What did you take from all the research?
Well, Tar Bridge will always have the child's part of my heart, just thinking about how Cassie learns to fly and acquires such agency. She flys over the union building, where her father had been barred admittance, and she owns it, she gains so much female emancipation! Faith brings so much light to the experience of Black women, but I don't think that was her prime motivation. When you look at her challenging cultural institutions, she was calling into account the hegemony of male modernist artists. A lot of us who are here today benefited, and I include myself, because Faith fought for that path.
Faith Ringgold: American People will be on view at the de Young museum in San Francisco from July 16, 2022 – November 27, 2022. The exhibit traveled from the New Museum, NYC.