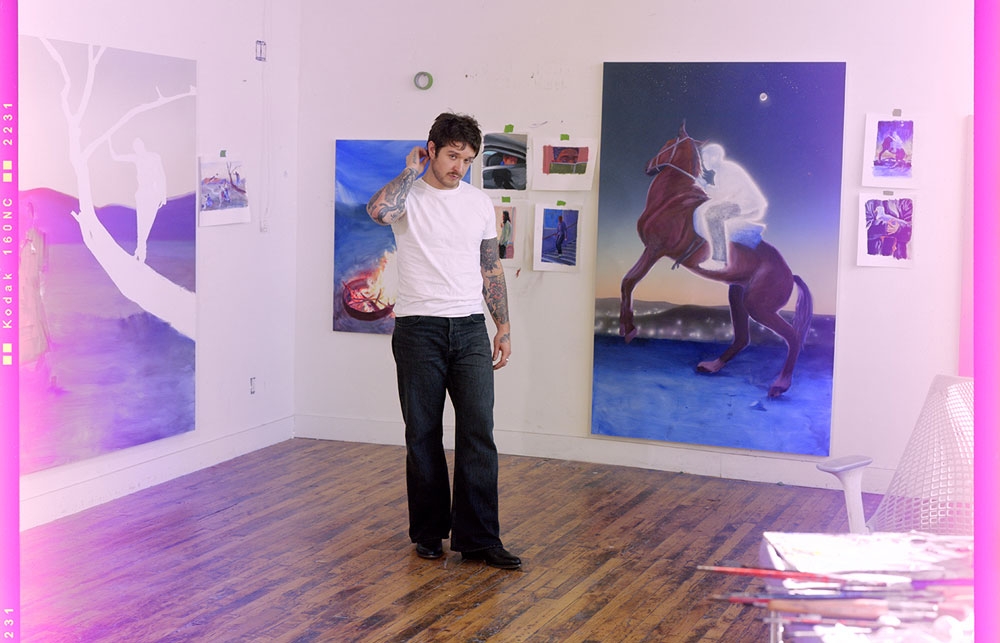 ---
Caleb Hahne Quintana
A Permission of Otherness
Interview by Evan Pricco // Portrait by Ian Lewandowski
It was startling, that monumental glass of water, in what seemed like a simple, if not ritual gesture: water held skyward as if to examine the clarity. Yet
Caleb Hahne Quintana
, in all his works of tenderness, memory, and fantasy, is about movement. How we move, how things move, how time moves and how legacies move through generations. In his latest show,
AURORA
, at Anat Ebgi in Los Angeles this past fall, the Brooklyn-based painter looked at ebb and flow, reality and fiction and suburbia versus the great American frontier in deeply personal documentation of his own family name, as well as the personal stories linked in his Colorado childhood. By recently adopting his mother's name "Quintana" and looking at his family's migration through the Southwest, Caleb is on the precipice of a life's work, a story about America suffused with the mystery of otherness and the decisiveness of exploration.
Evan Pricco: Once you finish a show, say, about a month after the opening, do you have a routine that gets you back in the swing of things for the next?
Caleb Hahne Quintana: This was a different come down because right after the show, I was in Miami and then went to Colorado to give a lecture at the Denver Art Museum. So I feel like my downtime actually didn't feel like downtime because I was just consumed in work. It's the first time I've ever done this, but I started two paintings in my studio before I left to do the lecture. When I got back into the studio, it was actually really nice to have work started so that I could kind of just get into something without having to start from ground zero.
I'd say, in bodies of work, I don't think in terms of individual paintings. The birth of my show at Anat this past fall was from a different project that I still want to do. The thing that I realized when making a painting or a show about my hometown is that it's not just one show, it's a lifetime. I could still work in that for as long as I want. There are things I still need to say about Aurora that I didn't get to in this show.
What made you want to go home, so to speak, for this last show? It was done in an interesting way because you went home, but also created a fantasy about what that home was.
The birth of the show came out of a different project that I'm going to do, which is following my family's immigration path from Mexico to Colorado. I wanted to start where my family still lives now in Sinaloa and follow their migration pattern, creating paintings based on the landscape, really making these emotional landscape paintings that are forged in composition and charged with color about the land my family occupied as they made their trek. And while I tried to build out this project, I realized that it was pretty ambitious and necessitated a great deal of time. Not something I think I would want to do in two weeks! It's something I want to do over the next couple of years where I go to certain parts of Mexico, Texas, New Mexico, and Colorado to make these paintings.
I feel like the nutrients within this process, this project, would be to actually meditate on the land and not feel compelled once I get there, to have to rush these very personal paintings. I was like, well, what can I do that's a little bit more immediate? And then I thought about home, Aurora. I didn't want it to be a literal thing, because I could have painted Columbine where that shooting happened, or where the protests happened for Elijah McClain, all of these things that felt so expected. What I'm interested in isn't the literal, but more so the fictional. I really love storytelling, so I wanted to tell my own version of a story through color, through people, and through artful composition.
I wanted to talk about this very American city through the eyes of immigrants and the diaspora of migration. I think this also spoke to the Mexico project that I wanted to do.
What I really liked about your work is that it was an interpretation of suburbia that I hadn't seen before. I feel like the show really, really captured that kind of growing up in suburbia with the slant of America previously, and often currently, as still a frontier.
I really appreciate that read, especially because I think that is one of the points or the reasons that I'm interested in talking about Aurora and these kinds of rural, suburban places, that are so colloquial. It's something that is so familiar, but we kind of perceive a hometown as so individual, and then through painting, I think we can speak to a coalescence of experiences and culture. For example, the painting I made, I Am the Salt of Two Seas, which is a semi-self-portrait, is also a portrait of my grandfather as a teenager. I had painted that and I had a studio visit with a collector from Amsterdam, and amazingly, he related to that painting as his recollection of his first time in America. It became this immigrant story.
That's a stunning painting, but an outlier because that's not in Aurora.
There's no place like this in Aurora. And I was like, "Well, it's a meditative space. It's not literal." I'm really interested in the power of fiction, the power of storytelling. And so by furthering the idea of it not being an actual replication, there's also a sun shining through this person's chest. I kind of remove the literal space by making this person translucent.
I think my special fascination with the study of suburbia is when I address the frontier metaphor. Colorado is this place that has such a variety of geography and topography that I wanted to talk about it in a way that was more frontier-like. Moving to New York, when I tell people I'm from Colorado, they think of it as Texas. It's almost like Colorado is this non-place. One of the fun things about being here in NYC now is that it's given me more of this drive to make paintings about a place that is very real but can seem so surreal.
In the first series of paintings, what really got the art world looking at you were the hands with glasses of water. The scale was so dramatic.
In AURORA, that one painting felt like an outlier because it's such a different body of work. I can make a whole show of just those paintings of glasses because they're so charged, when it comes to, again, water, politics, migration patterns, access to water; access to clean water. I love making them. But they're actually pretty bleak when I think about why I'm making them and why such scale is so important.
I'm so glad you said that because I wrote in my notes that although I knew they were supposed to be bleak, they still feel optimistic.
That's actually funny. I think part of the optimism comes from the most recent one, the star-lit background. I think the sky or a space makes it feel, again, to use this word, colloquial. You don't feel alone. You're kind of held up by this backlit space. I think the color really plays into how they feel optimistic. But again, when I think about their scale, they're always big. They're always five feet, six feet. I bring this up often, but there is this brilliant Peter Paul Rubens quote where he says something to the effect, "When a painting is smaller than life, it creates a window, so you can see into it. When it's larger than life, it becomes monumental, so it's outside of you." When it's life-size, it becomes relatable so you can see yourself in the thing.
I wonder if the optimism comes from its monumental size as this thing that is maybe just outside of our reality. And I think of it as an urgency. I think of urgency in the sense of the way that the glass is being held in some regard. Sometimes it's this praise, almost like holy water, and then the absence of the water inside of the cup, or how much is actually filled, becomes this thing that is actually really simple in subject matter but actually loaded in metaphorical implication. People often think of them as optimistic, and maybe it's because water is life. It's the great elixir of life. And so you can't help but think of yourself as, I don't know, I'm having a glass of water now.
Seeing the AURORA exhibition and then thinking about your past paintings made with water, made me think, "Oh, maybe he's saying that there is a hope." And considering what you were saying earlier about doing this series of paintings about going from Mexico up to Colorado, and it being the end of the journey, where your family settled, radiates a kind of optimism, as in, "Here we are, this is where my family settled, this is where I grew up."
Most people would say I'm a realist, and I think I am naturally, but only through the lens of intervention. I think the way to have hope, the only way to keep moving forward, is through active intervention. And what I mean by that is, what am I doing to give purpose? Because hope without intervention is just whimsy.
I don't think I'm out here changing the world, but I'm using these paintings as a tool to talk about water, to talk about life. I think it does make people think about water differently. When somebody buys one of these paintings and then it's hung up in their kitchen, every time they go to drink a glass of water, they have to think about that. They have to think about the painting. They have to think about what that painting represents.
Do you find making work that speaks to a political atmosphere, and political issues, is more satisfying when it's made so literally?
Oh yeah, for sure. I think in the Trump era, people would make these very outwardly anti-Trump paintings, which is fine. But to me, the beauty in making stuff is the poetry and mystery. There's a reason that people love mystery novels and thrillers, it's because the answer isn't obvious. It hasn't been given to you. And so for me, it's like I'm giving you all of the pieces. You just have to choose how you put them together. I'm not a purely political artist in that sense, and actually, I don't think of myself as a political artist at all. But I love the poetry within the subject of water.
What were some of your early influences, the painters or art that moved you early on?
I grew up so much into hardcore music and punk rock that I think that actually is the thing that gave me the permission or the experience of "otherness."
Permission of otherness. I really, really like that.
I think a lot about this. There's this band called Ceremony, a power violence band with one-minute songs. They wrote this album called Violence Violence and I just remember hearing that when I was fifteen and sixteen, and it just was the first time I'd ever really experienced something like that. And I just wanted more of that rush and I just kept wanting to chase it. So I feel like that was the first thing that made me want to be outside of where I was because I thought, "There's somewhere else for me."
Looking at your work is such a juxtaposition, to borrow a phrase, when hearing that a power violence band was so influential to you.
For sure! Well, it's funny because I'm also an amateur boxer too. I boxed for six and a half years and now I train jiu-jitsu, which is submission-based wrestling. So I've always been involved in these really, I guess, violent or intense expressions. But then my work is the opposite of that. I really try to harness the power and complexities of these sensitivities. Human beings are more than just one instrument. I think that when I first went to art school, I thought I couldn't be a sports person anymore. And I was like, well no, I still can. I can still be engaged in this thing that is beyond art.
These things you talk about, like jiu-jitsu and boxing, are ritualistic in nature, there's a big measure of control. You're not trying to kill your opponent but strategically engaged in defeating them. And, so too, there's a lot of strategy in painting.
Right? I like to write as much as I can, and one of the things I wrote about painting, a year or maybe two years ago, was the thing that takes the longest time to acquire is decisiveness. Paintings and painting have so much possibility. You have so many options. Maybe I'll put a little bit of blue here, maybe I'll move it an inch to the left, maybe to the right. There are all of these options for change. And when you decide to be truly definitive in what you do, how you do it, and when you stop, it is so difficult to learn and to practice. I think similarly in jiu-jitsu or boxing when you choose your intention, that is the decision that you have to really, and that leads to the next move and so on. It's all about move-making, which is a great part of painting. It keeps it fun.
This is something that came up for me the other day when I went to the Alex Katz show at the Guggenheim. Here are nearly seventy years of work, each quite consistent in aesthetic, but every single item is so considered, is well-executed, and cared for even seventy years into a career. I was thinking to myself this must be invigorating for an artist who's in their twenties and thirties to go into the show and be like, "You know what? I can work at something for seventy years and there can be a lot of liberty and freedom in it." I even thought as somebody who writes a lot, I can work on the same sentence structures for seventy years and I'm totally cool with it. I love that. Constantly searching for new possibilities while being decisive.
Absolutely. Katz is a perfect example for this analogy or an example that I use when I talk about time to friends or people. When you look at Alex Katz, seventy years, you can condense that into a book that's a few inches thick. But seventy years is so much grander than you can think about right now. And it's how time is compressing these couple of pages. And even to that exhibition of, say, sixty paintings or however many paintings there are, it doesn't speak to all the complexities in between those things of indecision or the apprehension of wondering, "Should I continue doing this? How do I make this more interesting?" There's also the choice to paint his wife and watch her grow or change for seventy years which is really something special.
What an incredibly personal marker of time. I was wondering, let's just use you as a representation of this younger generation of painters starting to find themselves in exhibitions throughout multiple different cities. Being in art fairs, you find yourself in a situation where, unlike Alex Katz or a lot of painters from sixty, or seventy years ago, your access to information and access to your audience is greater than ever before. I always wonder if you feel a particular pressure to constantly change what you do because you are constantly on the radar. Are you able to separate yourself from that pressure and just refine the stories you want to tell?
I think both of those feelings can be true at the same time. I think that they oscillate. I always feel the pressure for sure. Especially right now, I feel like maximalist painting is really the thing. A lot of people put a lot of things in their paintings, which is fine. I think I talked to you about this at the show where I then felt the pressure to maybe "put a snake in the corner of this painting now." When I was younger, I would probably act on that pressure, but now I think I have more confidence in my practice to know that the gift of my paintings is actually the absence of the snake.
I've always been interested in the absence of things as opposed to the inclusion of so much. I don't know, I feel comfortable just staying true to myself in that way and understanding that part of me, but also being flexible and malleable to understand that some days the snake will be in the painting. And I'll know why I did it.
Do you think that when you embraced the name Quintana professionally and personally, it opened up a whole new sort of confidence and selfhood in your work?
It was such a turning point for me because, again, to use this word permission, being half-Mexican my whole life, I've always waited for this belonging. And I actually don't know what that belonging means or what it looks like, but choosing to take on my mother's side, their last name, my mother's last name, it reversed this whole path of erasure and assimilation that my family has suffered or experienced through their immigration. There's an entire generation of my family that doesn't speak Spanish. And also, that name has kind of disappeared. Say I take on my dad's name who wasn't really there, it's kind of this Western name that, not to get dorky or anything, but it was just given to me. This is just who you are. My whole life growing up on my mother's side of the family and spending more time with them, I always felt more like a Quintana than I did a Hahne.
My great-great-grandfather used to steal horses with Pancho Villa for the Mexican Revolution. How incredible is that? All of that history disappears when I keep Hahne. And I want that line, that's in my blood, that's in my lineage. And that is a story that should not disappear from my family's history. So, taking that name was a continuation. I'm sure that my great-great-grandfather didn't expect a half-Mexican, white kid painter to paint pictures about him in Brooklyn a hundred years later. But I just love that I can continue that legacy.