Installation
Banksy Opens "The Walled Off Hotel" in the West Bank
March 03, 2017
And so here it is: A new Banksy project, "The Walled Off Hotel" in Bethlehem, near the West Bank barrier. Presented as a functional hotel that will start taking bookings later this month, the installation includes a complete make over of an existing guesthouse right next to the infamous West Bank wall. Packed with artworks from a stuffed bell boy monkey at the entrance and stenciled ornaments on the facade to artist-decorated rooms, hallways, lobby and dinning area. Revising some of the familiar images as well as introducing some new ones, the works presented are largely focused on the conflict in the region and its direct consequences. Aiming to bring Israeli tourists to the area that is very unpopular for visits, it will surely be a great kick for already existing "Banksy tourism" economy that is blossoming since his first visit over a decade ago. —Sasha Bogojev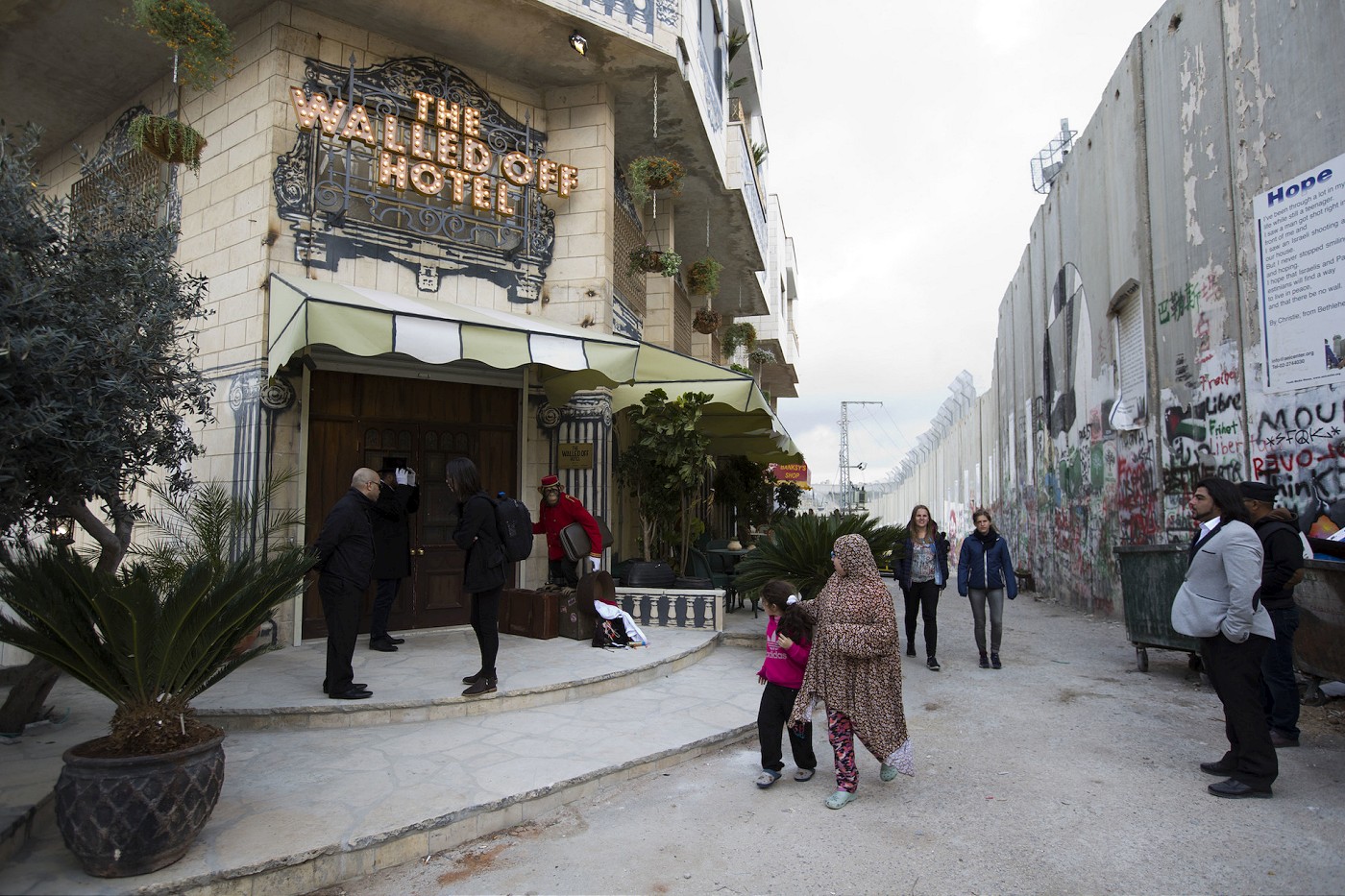 From Banksy:

Rooms
If you stay at the Walled Off you could find yourself literally sleeping inside a work of art. So far Banksy, Sami Musa and Dominique Petrin have customised guest rooms, more will follow. As Diane Arbus once said 'to live with an artwork is something different, to glimpse it from the corner of your eye.'
The hotel boasts floor to ceiling views of graffiti-strewn concrete from almost every room. And for the exhibitionists amongst you - many are within range of the army watchtower. All scenic rooms are ensuite and equipped with wifi, fridge, radio, personal safe and air conditioning.
Outfitted with surplus items from an Israeli military barracks, this room offers a bed from $30 a night. No frills, includes locker, personal safe, shared bathroom, complimentary earplugs.
The Presidential suite is equipped with everything a corrupt head of state would need - a plunge bath able to accommodate up to four revellers, original artwork, library, home cinema, roof garden, tiki bar and a water feature made from a bullet riddled water tank. Comes with a complete set of Dead Sea bath minerals and an in-room dining service available upon request. Sleeps up to six.
The Piano Bar
Britain got its hands on Palestine in 1917 and the piano bar is themed as a colonial outpost from those heady days. It is equipped with languid ceiling fans, leather bound couches and an air of undeserved authority. Guests can peruse a collection of Banksy artworks that include vandalised oil paintings and statues choking on tear gas fumes. Warm scones and freshly brewed tea are served daily on fine bone china and the Walled Off Salad should not be missed.
Gallery
This space enjoys complete autonomy from the rest of the hotel and is curated by the venerated historian and critic Ismal Duddera. He has assembled a permanent collection of real heft and significance. Many of the most notable Palestinian artists from the past 20 years are here - including Sliman Mansour with his iconic "And the Convoy Keeps Going". An adjoining space is dedicated to temporary shows by upcoming artists. The gallery sells original work, prints and postcards.
Museum
This home-made attraction is dedicated solely to the biography of the wall. It contains state-of-the-art audio visual presentations and a very old tree. Other highlights includes an animated history of the region, military pornography and original beach sculpture from Gaza. The cinema plays excerpts from the mighty Oscar nominated 'Five Broken Cameras' - and one of those very same bullet-damaged cameras is on display.
Curated in association with Dr Gavin Grindon from Essex University the museum contains almost fully fact-checked material and will be an ongoing repository for local stories, artefacts and testimonies.
The Piano
And through it all the piano plays - by itself. Our remote controlled mechanical baby grand has been programmed with a bespoke score of contemporary arrangements, plus every night it will play back a concert recorded exclusively for the hotel. We start our residency programme with 3D who presents the greatest hits of Massive Attack played with three hands. Concerts start every night from 9pm. Upcoming artists include Trent Reznor with Atticus Ross, Flea and Hans Zimmer.

For more information about the Hotel and to book a room, visit banksy.co.uk