Master of the Month: Charley Harper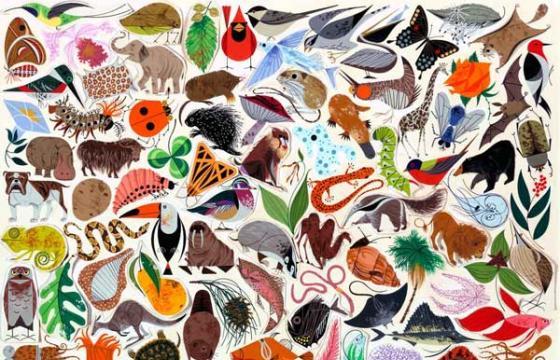 In this month's edition of Master of the Month, we explore the life of wildlife artist and American modernist Charley Harper, for whom the adage "less is more" encapsulates the spirit of his illustrious career and innovative artistic perspective.
Introducing: Charley Harper - The Only Wildlife Artist Who Has Never Been Compared to Audubon
Written by Laura Hines
With the structural skills of an architect, the aesthetic discernment of a painter, and the true heart of a conservationist, Charley Harper singularly reshaped the practice and possibilities of wildlife illustration. He was a master of capturing the essence of creatures in a few precise geometric lines, a style he termed 'minimal realism,' saying, "I don't try to put everything in, I try to leave everything out." Harper regarded the painted image as an ecosystem of interrelated and perfectly balanced parts, a distilled reflection of nature's intrinsic harmony beneath a veil of chaos and complexity. He once explained, "There's some who want to count all the feathers in the wings and then others who never think about counting feathers, like me."
Born Charles Burton Harper on August 4th, 1922, he grew up on his family's farm in Frenchton, West Virginia, a secure and modest upbringing that continued to influence his work until his death. As a young boy, he fell out of a second story window onto a tree stump below, escaping obvious physical or mental injury, or at least so his parents thought until a few years later, when he announced he wanted to become an artist. His family later moved to a farm at the foothills of the Appalachian Mountains, where Harper would very consciously disappear into the hills for hours so as to avoid his chores. It was during these many hours of restless roaming that he began to take an interest in the natural world, an interest that he would one day express and explore through design.
Following high school he attended West Virginia Wesleyan College, leaving a year later to seriously pursue his artistic career at the Cincinnati Art Academy. Two years into his training, the US entered World War II; he was subsequently enlisted in the army and shipped off to the European front. Despite his constant exposure to the horrors of war, he was able to flex his artistic muscles by creating a portfolio of plein-air sketches and paintings portraying the devastated German landscape. It was a valuable, albeit unenviable, training period, where through necessity he began to explore what would become his minimalist style, explaining, "It taught me to grasp the importance of a scene quickly, and put them down with a minimum of detail."
After returning from his service overseas, he moved to New York City and enrolled in the Art Students League. New York was a vital hub for aspiring artists, but it was no place for Harper, a country boy at heart. After four months in the city he returned to the Cincinnati Art Academy to complete his education. Graduating in 1947, Harper was awarded the first Stephen H. Wilder Traveling Scholarship. That same year he married classmate and fellow artist Edie McKee, whom he had known since his first day at the Academy, and with his scholarship and her car, the two began their travels across the country. For four months the pair painted and photographed the landscapes of the Great American West, and Harper concentrated on his evolving reductive style, simplifying his paintings of the land's natural forms and focusing on the basic underlying designs.
Their travels proved an artistic breakthrough for Harper, but upon their return to Cincinnati, the urgency of finding work forced him to accept work at a commercial art studio, Schaten Studios, as a realistic illustrator. Although he enjoyed the work to some degree, his paintings were too realistic for studio's liking; he refused to camouflage imperfections like crow's feet and double chins, which were unacceptable in the sleek, insipid advertisements of "happy housewives." At the Academy he had trained as a classical realist painter, but was losing interest in realism. "I felt shackled by the laws of perspective and shading," he once said, deciding that, "the constant attempt to create the illusion of three dimensions on the two-dimensional plane of the picture was limiting to me as an artist." Disenchanted with his experience as a commercial illustrator, he realized that realism would "reveal nothing about the subject that nature had not done better," and so began to pursue a different visual path, experimenting with his impulse to simplify by thinking flat instead of three-dimensionally.
Explaining his process of discovery he said, "I reduced all lines and edges to straights and curves, and began to render with mechanical drawing instruments, ruling pen, compass, French curve, T-square, triangle." He began to see forms as hard-edge shapes of flat color with a minimum of detail, achieving depth by using overlapping shapes and color and size relationships. He also began to rediscover his affinity for nature, finding that natural shapes and patterns were especially suited to this newfound approach to painting, and while working for Ford Times, a travel magazine published by the Ford Motor Company, he was able to further pursue his interest in wildlife illustration, and especially bird illustration.
The public response to his work for Ford Times was so overwhelmingly positive that it led to the creation of a silkscreen business dedicated to the reproduction of his images, Harper Studios. He found the limitations and the advantages of the silk-screen process to be both incredibly frustrating and rewarding. In his opinion, "the rich surface of the print has all the quality of an original; in fact, I find my prints are usually more satisfying than the originals." Because of the success of his magazine work and the demand for his silk-screen prints, his career as a wildlife illustrator was cemented and propelled forward.
In subsequent years he created advertising art for many local and national companies, but found he was most satisfied illustrating nature books, articles, and creating wildlife prints. Throughout his career his work was featured in numerous nature-oriented magazines and on many posters for non-profit conservation groups, nature centers, zoos, United States national parks and monuments, international wildlife sanctuaries, and biosphere preserves.  He also designed several ceramic and painted murals, wrote and illustrated children's books, and provided illustrations for two beloved young adult books, The Golden Book of Biology and the Animal Kingdom.
Harper lived and worked in Cincinnati for the remainder of his life with his wife Edie and their only son Brett, both talented artists in their own right. In honor of his lifetime of work and dedication to wildlife conservation, the mayor of Cincinnati declared December 8th, 2006 "Charley Harper Day." He continued illustrating in his studio of over 60 years until just a few months before his death on June 10th, 2007, at age 84.
----
Born out of a 20th century framework of modern art and science, Charley Harper was the antithesis of the 19th century's John James Audubon, the prevailing paragon of wildlife art, leading Harper to once say that he was "the only wildlife artist who has never been compared to Audubon." Nonetheless, each were masters of their craft, creating work that was as visually appealing as it was instructive. Harper has since joined Audubon in the ranks of the most respected wildlife artists, and his unique visual perspective on the natural world, with its simplified forms, smooth swaths of rich color, and abundance of empathy and humor, continues to delight, inspire, and encourage awareness of our environment.