Photography
Thomas Dworzak's Collected "Taliban" Portraits and Hashtag Books
January 16, 2014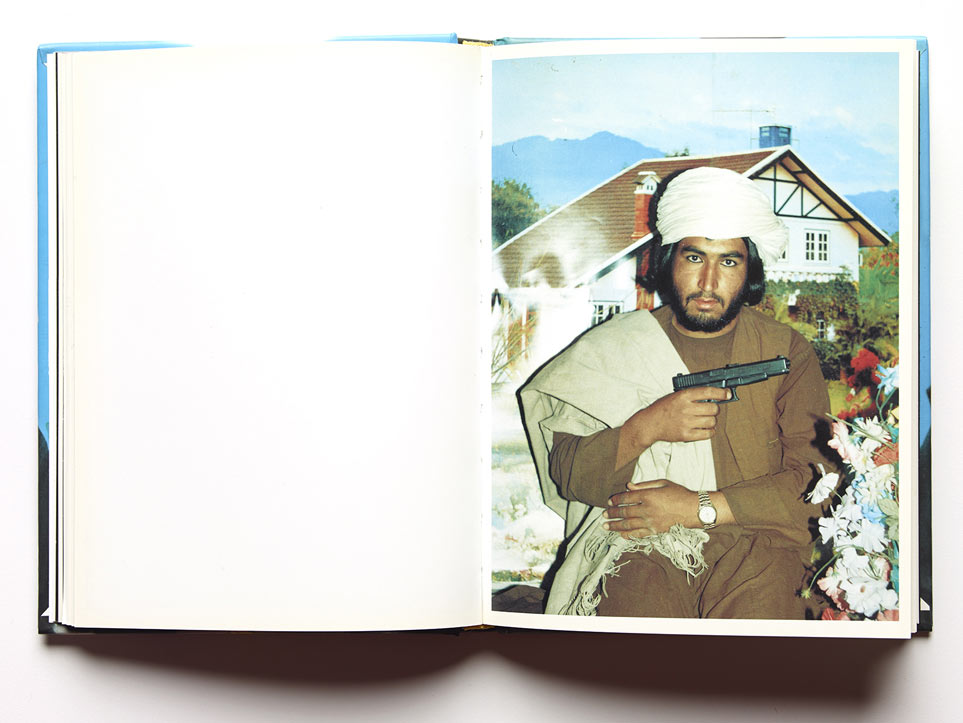 Magnum Photos' Thomas Dworzak's series, "Taliban" is a collection of photographs of Taliban fighters he found in a photo studio in Kandahar, Afghanistan while on a trip there in 2001. "They [the Taliban] chose to look like that. It's like selfies. There is something very revealing." More recently, Dworzak's obsession with found photos has taken him to Instagram where he has been collecting and curating a series of limited-edition books based on hashtags.
Much like the adoption of Twitter as way to follow events and gain information in real-time, Dworzak is fascinated with how instagram can be used to see how news events were being portrayed. During the Boston marathon bombing for example, instead of covering the event as a photojournalist on the ground he went to Instagram and followed different hashtag threads. "All these people were into photography–into Instagram. Suddenly the Instagrammers get raided by SWAT teams and are [taking] better pictures.
Dworzak has since produced five sets of books which contain screenshots from his iPhone. The books are only available for viewing at the Magnum office and he doesn't take credit or profit from them. The point of the project being similar to "cutting out pictures from a print magazine and glueing them into a scrab book."

"They are a highly interesting visual record of some important issues of our time I simply do not want to be lost, so I want to preserve them in a physical form."
Read more about the project and Ddworzak's 'Taliban' series on NatGeo.
---
Thomas Dworzak was born in Kötzting, Germany, in 1972 and grew up in the small town of Cham in the Bavarian Forest. Towards the end of his high school studies, he began to travel and photograph in Europe and the Middle East. Living in Avila, Prague and Moscow, he studied Spanish, Czech and Russian. After photographing the war in former Yugoslavia, he lived in Tbilisi, Georgia from 1993 until 1998 where he documented the conflicts in Chechnya, Karabakh and Abkhazia as well as working on a larger-scale project about the Caucasus region and its people, which was published in 2011 as the book "Kavkaz".

Affiliated with the Paris based photo agency "Wostok Press" he covered the Kosovo crisis, mostly for US News and World Report, and returned to Chechnya the same year. After the dramatic fall of Grozny in early 2000 he began a project on the impact of the war in Chechnya on the neighboring North Caucasus. He also photographed events in Israel, the war in Macedonia, and the refugee crisis in Pakistan.

Dworzak became a Magnum nominee in 2000 and a member in 2004.

Since 2000 he has been based again in Moscow and after 9/11, he spent several months in Afghanistan on an assignment for the New Yorker, which led to the book "Taliban".

The decade after 9/11 Dworzak extensively covered the ensuing wars in Afghanistan, Iraq, Pakistan and it's impact on US politics. This led to the book M*A*S*H* IRAQ.

He covered these and the main international news stories in Chechnya, Sri Lanka, Nigeria, Lebanon, Haiti, Chad, C.A.R, Ethiopia and the revolutions in the former Soviet republics of Georgia, Kyrgyzstan and stories from the Ukraine and Iran mainly for TIME Magazine and The New Yorker. The assignments in Iran led to the project "Valiasr Avenue" about Tehran's longest street, which is still in progress.

In 2008-2009 Thomas Dworzak returned to Georgia for the Magnum Group project "Georgian Spring". He started working on a new project on the Caucasus and spent 2011 situated in Afghanistan.

Besides his projects in the Caucasus he continues to cover news stories, such as the "Arab Spring" in Libya, Tunisia and Egypt, the Russian elections and the run up to the 2014 Sochi Olympics.