Photography
KC Ortiz: Documenting Thai Prison Fights
January 07, 2014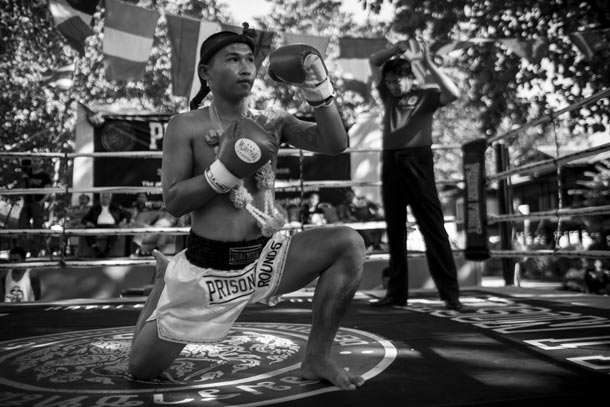 As part of our ongoing series throughout the year, KC Ortiz steps into a world unseen for us as he documents South East Asia for Juxtapoz. This month, Ortiz brings us a raw reality in Thailand's notorious prison system where inmates fight for their freedom.

In a tradition dating back to the 18th century, Thai prisoners can earn their freedom by proving themselves as a champion fighter. Winners earn a trip to the warden's office where they will receive time off of their sentence for each victory they earn. While the first prisoner to earn his freedom was a legendary fighter facing Burmese opponents in front of a king in 1774, todays prisoners are common criminals unknown and disregarded by the outside world. They fight for their families, fellow inmates, and their liberty. They fight foreigners from France, Iran, and the world over brought in by a Thai Estonian partnership for the Department of Corrections. The prisoners spend their days in dedicated training and their nights waiting for the opportunity to face a foe head to head. With nothing to lose and everything to gain, the stakes couldn't be any higher for a prisoner when they enter the prison yard and step into the ring.

For more of KC's travels for Juxtapoz, follow here.