Juxtapoz
Zio Ziegler "Chasing Singularity" @ Artists Republic 4 Tomorrow
Jan 04, 2014 - Jan 26, 2014Artists Republic 4 Tomorrow, Laguna Beach, CA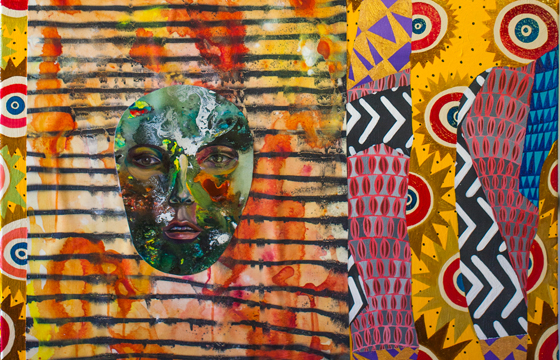 To begin the year 2014, Artists Republic 4 Tomorrow is proud to be the first art gallery to bring Zio Ziegler and his spirited story to Orange County.
Ziegler is a Bay Area street artist, studio painter and sculptor, a youthful and prolific artist with a lot to say. Earlier this year, when international and local audiences were exposed to his monochromatic mural painting during the Vans US Open of Surfing, one observer was AR4T artist / curator Russ Pope, who called Ziegler's work, "mega-prolific." Pope later explained, "He works on a massive scale that's super inspirational. He'll cover a large area in a really short amount of time, it's impressive."
"Chasing Singularity," which will be on view Jan. 4-26, 2014, will consist of a large indoor mural Ziegler has yet to paint and 10-15 new studio works on canvas and paper. Viewers can expect the mural to be recognizable as the artist's signature black-line patterned pieces as found throughout the city of San Francisco, where he is part of the deep-rooted, world-renowned street art community. Furthermore, his new works on canvas and paper are super-charged with symbolism and color.
The combination of Ziegler's street and studio work at Artists Republic 4 Tomorrow will be a rare and opportune time to view the artist's two styles – both rich in gigantism, distortion and tribal influence -- at once. He recently explained the delicate balances in working both in the street and in the studio, and both quickly and slowly. The artist said:
"My axioms of painting vary with my mood, sometimes I crave loose and confident work, other times meticulous and cautious canvases, but I know I am doing something right if over a period of time, the work begins to blend and the two polar styles serve their symbolic purpose, creating a canvas that manifests the balance that I seek… My painting is its own organism, and its evolution doesn't rest, which can be taxing on everything in my life, but the work moves forward, sometimes by an inch, and sometimes by a mile, and it's that progress which balances me, and in turn the work."
On Thursday, January 2, gallery visitors during First Thursday Art Walk at a VIP Media and Collectors reception will have the chance to see Ziegler painting his mural live in the gallery. In his large-scale work, Ziegler is known for working fast -- hastily, even. He recently commented, "I think of the work in the studio as peaceful, while the murals are active. However I ask the opposite from the viewer in each— with the studio work, the viewer is asked to be active in decoding it, while the street work is intended to bring peace to the viewer through the overwhelming scale and relative simplicity." Of his studio works, made with deliberation, and exploding with color, he also said, "I want these canvases to make you want to figure yourself out."
Zio Ziegler is the first among a carefully curated platform of exciting, ascending artists that Artists Republic 4 Tomorrow and Vans, in collaboration for the entire year of 2014, are committed to bringing to the southern California art movement.