Juxtapoz
Walkthrough: Pulse New York
May 04, 2012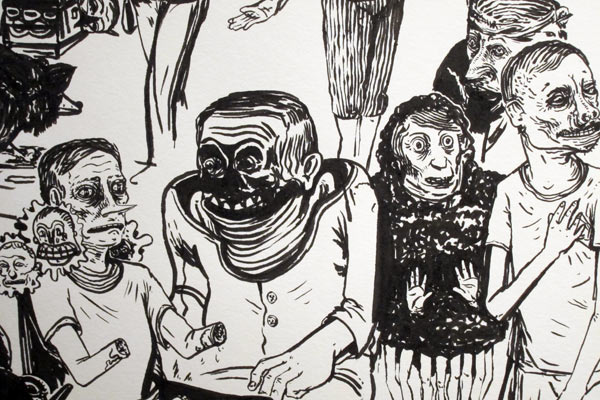 Yesterday morning, fresh off a red-eye from San Francisco, we headed to the preview of the
Pulse Contemporary Art Fair New York
. Full of strong rosters of international artists and galleries, the highlights included Geoff McFetridge at Cooper Cole, Rena Bransten's booth, Narwhal Projects, Porter Contemporary, and some very colorful works by David LaChapelle.
PULSE Contemporary Art Fair will be open through Sunday, May 6, 2012, at the Metropolitan Pavilion in New York City. PULSE New York is in its seventh year and will host 60 national and international galleries and their presenting exhibitions spanning all media, from works on paper, painting, and sculpture, to performance, installation, and video art.
This year?s exhibiting galleries include Daniel Weinberg Gallery, Los Angeles, featuring a large series of modern paintings by Andrew Masullo, who has been celebrated as a standout of the recent 2012 Whitney Biennial; and Tyler Rollins Fine Art, New York, exhibiting a series of photographs by Tracey Moffatt, entitled, "Plantation" (2009) and "First Jobs" (2008), whose film works will be shown concurrently at the Museum of Modern Art, New York. Meulensteen, New York, will showcase groundbreaking video by Siebren Versteeg, which depicts the results of algorithmically created paintings, generated every 24 hours; and Von Lintel Gallery, New York, will present a range of recent works from artists Melanie Willhide, Catherine Howe, and John Chiara.
PULSE?s consistently strong international exhibitors include GALERIE STEFAN ROEPKE of Cologne, Germany, who will be featuring photographic landscapes by Sharon Harper and abstract paintings by Julie Oppermann; NIEVES FERNANDEZ of Madrid, Spain, offering works from artists such as Jordi Alcaraz, Danica Phelps, Arnulf Rainer, Jeff Cowen, Pipo Hernández Rivero and more; Purdy Hicks Gallery of London, UK, displaying contemporary photographs and drawings from Susan Derges, Bettina von Zwehl, Claire Kerr, and Ralph Fleck; Lawrie Shabibi of Dubai, UAE, presenting mixed-media pieces by local artists Nadia Kaabi-Linke, Sama Alshaibi, Driss Ouadahi, and Shahpour Pouyan; and Hilger modern/contemporary, Vienna, Austria, featuring Cameron Platter, Ángel Marcos, Brian McKee, and Oliver Dorfer.
Jason Bryant @ Porter Contemporary:
Geoff McFetridge @ Cooper Cole
Quick highlights...
Andrew Schoultz @ Morgan Lehman:
Rena Bransten booth:
Another highlight...
Jacob Whibley @ Narwhal Projects
Just some "people" hanging out at Mike Weiss' booth...