Juxtapoz
Vans Custom Culture Art Showcase
June 01, 2012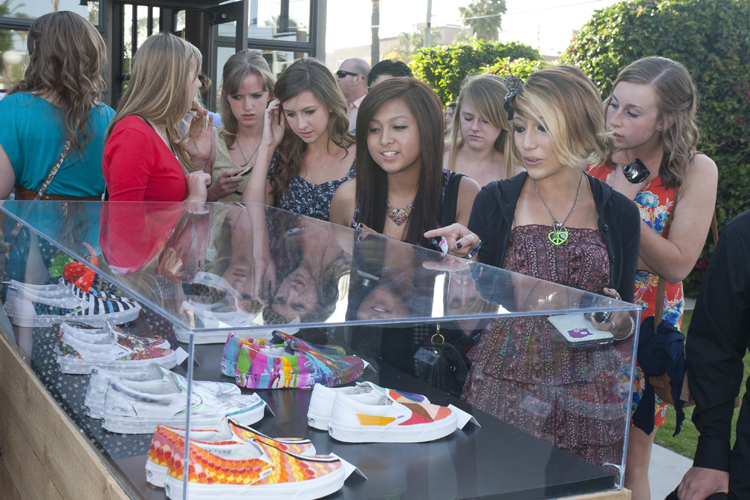 Students from Rio Rancho High School (Rio Rancho, NM) claimed top prize on Wednesday, May 30, 2011 at the Vans Custom Culture Art & Design Showcase at the Long Beach Museum of Art. Rio Rancho's four Vans shoe designs were initially chosen from nearly 900 submissions across all 50 states and with the top honor, Rio Rancho High School receives a $50,000 grant towards the school's art programs. Rio Rancho High School was also honored by Journeys with a $5,000 contribution for winning the "Local Attitude" award for creating the shoes that best represented their home turf.
Celebrity judges included actress AnnaLynne McCord (The CW's 90210), designer, television host and author Whitney Port, skate legend Tony Alva, musician Jordan Buckley of Every Time I Die, and tattoo artist Oliver Peck (Spike TV's Ink Master). Along with the student's masterful creations, customized shoes by Vans Custom Culture Ambassadors Conan O'Brien, Kristen Stewart, Rachel Bilson and Lauren Conrad among many others were also on display.
Teacher Matthew Lutz's Rio Rancho class initially was chosen through a highly competitive process that narrowed the 900 schools to 50 semi- finalists. The five national finalists were chosen by more than 100,000 votes place through online voting: Big Bear High School (Big Bear, CA), Mountain View High School (Meridian, ID), Watkins Glen High School (Watkins Glen, NY), Rio Rancho High School (Rio Rancho, NM) and Eastern High School (Louisville, KY).
How Vans Custom Culture Works
Earlier this year, each of the nearly 900 participating high schools were sent four pairs of Vans shoes as a blank canvas to design their creations. Each shoe was to represent one of four themes: Action Sports, Music, Art and Local Flavor. Schools then submitted photo entries via the Vans Custom Culture website with global voting eventually whittling the entries down to the "Final Five" showed their work at the Long Beach Museum of Art. The top school will receive $50,000, while each finalist receives $5,000. The Journeys "Local Attitude" trophy awards one school with a $5,000 donation for the most compelling local theme.
http://www.epklink.com/vanscustomculture