Journals From Milano: Russ Pope's "Summer People" in Italy, Days 5—6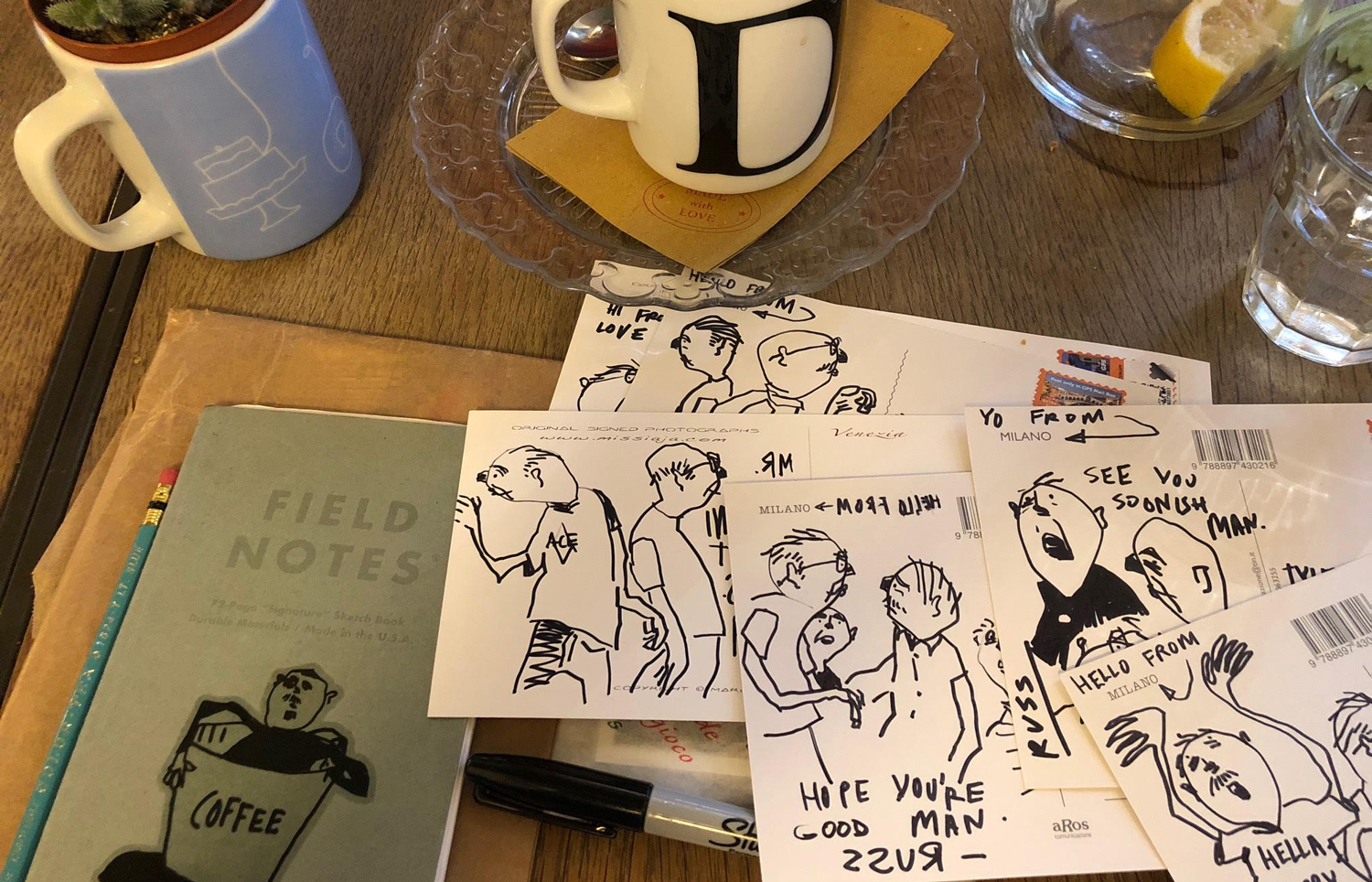 For the next few days, we will be getting journal entries from Russ Pope from northern Italy, specifically for his new solo show, "Summer People," which opened at Antonio Colombo Gallery in Milan on September 27th. As we followed along with Russ in Japan this past summer as he had 3 shows in 9 days, we wanted to get messages as Russ draws his way through Milan. On today's entry, Russ visits museums and galleries dedicated to Italian art, and takes in his own opening at Antonio Colombo. —Juxtapoz




Russ Pope: Wednesday, we woke to another perfect fall day in Milan. After a leisurely coffee, croissant and post card making breakfast, we walked along the busy streets of Verese, through Sempione Park, resplendent with its castle and fountain, and entered the Isola neighborhood, known for its street art.




As we crossed over the train station bridge, it felt like we had left Milan behind and entered another city. The architecture, the people, the restaurants and stores all felt more edgy and raw. Bright colors of paint adorned every nook and cranny of the neighborhood, from simple tags to elaborate two story murals. The street art in Isola has clearly been embraced by the neighborhood. Store owners have commissioned artists to paint murals on their store fronts and left art on the edges of their buildings. This even flows to the exterior and interior of the train station. Isola feels fresh and the walk through this zone and a coffee at a small cafe is a great way to see a different, creative side of Milan.




In contrast, our afternoon took us to MUDEC where we anticipated a Modigliani exhibit from the posters around town. In December, we were blown away by an extensive Modigliani exhibit at the Tate Modern in London and were hoping for more of the same. Unfortunately only 3 Modigliani pieces were at MUDEC and the rest was a video exhibit, which was disappointing. However, we were pleasantly surprised by the historic collection of American, European and African curiosities that had been saved from bombings in WWII.




While we weren't familiar with the designer Etro, we were surprised and impressed with the Generation Paisley exhibit at MUDEC. The expansive exhibition featured textiles, a huge fabric installation, photographs, video and clothing designs that shed an interesting light on a part of fashion and textile design that spanned many generations.




With my opening Summer People, opening at Antonio Colombo Gallery on Thursday evening, we weren't planning for much that day. We walked over to see how the gallery was coming along and I painted a couple faces on the outside of The "Little Circus" room. We met up with friends visiting from California, ate up some pasta for lunch and spent the afternoon at Museo Novecento by the Duomo in Milan. This museum is dedicated almost solely to Italian artists and we were truly surprised by the breadth of art, the variety of styles and talent with the modern glass walls. Works by Marino Marino, Cippiano Oppo, Massimo Campigli and Umberto Boccioni impressed and inspired. Discovering new artists and pieces that inspire and change perspectives is a driving force behind my love of travel and the Museo Novecento exceeded these expectations. In addition, the views of the Duomo from the glass windows on the top floors is breathtaking.




The opening of Summer People and Love Song at Antonio Colombo Gallery started at 6:30 and the gallery was full by :645. Zio Ziegler (Zio's entry room painting was epic) Jeremy Fish, Jayde Fish and Tania Raymonde showed works in the main room and I hung my works in the Little Circus room. Jeremy and Jayde Fish's works looked beautiful, complimented each other and flowed so well in the gallery. The support in the Milan art community feels special and important every time there is a show at Antonio Colombo Gallery. Smart, classy, intelligent folks turn out in droves to talk art and the feeling of appreciation is real.




Dinners with Antonio and his friends and colleagues are always special and this year was no different. From a memorable conversation with Jeremy Fish to a chat involving the restaurant owner about Fernet, to discussions with other curators, friends, collectors and new acquaintances, Antonio's after show dinners leave a smile on my face for months to come.




https://www.russpope.com/