Travel Insider
A Trip to the Famed, Remote and Incredible TreeHotel in Sweden
January 17, 2018
Swedish Lapland is arguably one of the most beautiful places I have ever visited, but its beauty doesn't start and end with the picture postcard images and selfies that are plastered all over social media. But it doesn't hurt that in the heart of the land is the Treehotel, the famed and incredibly unique hotel that treats nature as its companion, and is an artistic and architectural treasure in the midst of some of the most stunning and pristine landscapes in the world.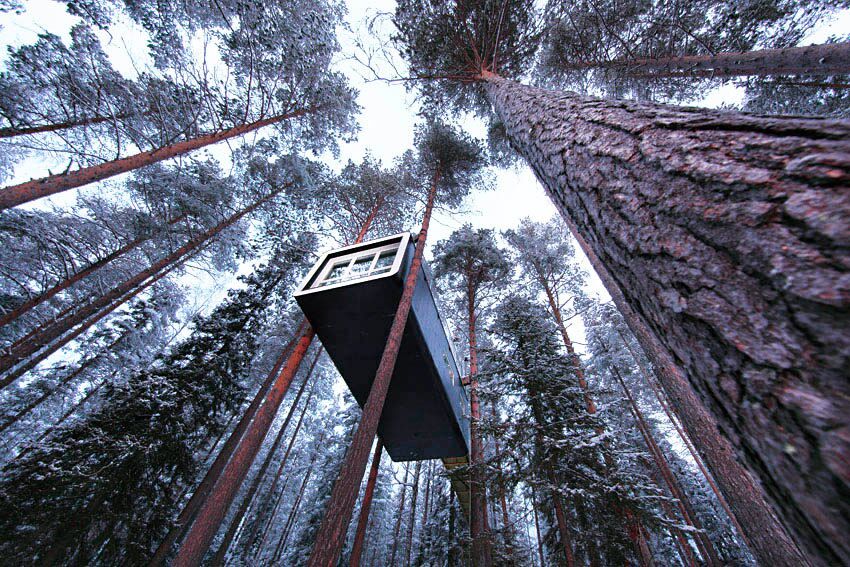 Yet one of the unique traits of the Treehotel and Swedish Lapland region are the creative characters making a living out of what can only be described as "storybook" activities. One example is Eva Gunnare, the sweet foraging queen of Swedish Lapland, who can pretty much make food and drink out of anything and everything mother nature has to offer in this winter wonderland .
Gunhild Stensmyr, the very smart and strong-willed art collector who singlehandedly built an art hotel in the middle of a tiny village called Tornedalen in the Arctic (aka pretty much out in the middle of nowhere). And of course there is the hospitable and patient Lennart Pittja, who has also built his own camp to teach folks the Sami way of life, thereby keeping these cultural traditions alive.
And then there is Kent Lindvall, who may seem unassuming, but who owns and runs one of the most magical hotels out there: the Treehotel and its literal tree house accommodations. Of course, these are not just any flat-pack Ikea-style designs either; Kent gave the green light for some of the most world renowned designers to go wild in Harads pine forest in Boden.
And whilst we can rail off the backstory, (you can find a competent story here), sometimes pictures are more important, and even though you can't catch the feelings it evokes by actually being here, for me, it felt like being a kid again, opening my door to the crisp fresh winter air and sea of tree tops in my own private hideaway. —Helen Soteriou