Juxtapoz
The Work of POSE
March 07, 2012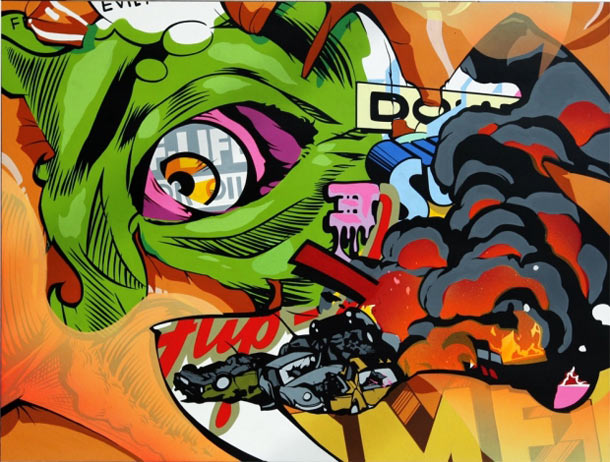 As we are getting prepared for all things SXSW, we are getting our schedules in order, and one stop we will be making is to the
Brisk Bodega Cantina
to see the artwork based on
Star Wars Episode 1: The Phantom Menace
. One of the artists that is definitely making it worth the trip is Chicago-based graffiti artist and cartoonist, former Juxtapoz featured artist, POSE.
POSE has long been a friend and featured artist with Juxtapoz, with both the Chicago-based artists graffiti and fine artwork. One of our favorite things we have read from him, part of his discussion with fellow graffiti artist NEKST, came in our September 2010 issue of the magazine. When asked about emerging from a graffiti identity to fine art career, POSE said:
"A year or two ago was probably the first time I reluctantly merged everything together, but I had been consciously struggling with it for many years. Basically I used to have a purist attitude, where Graff is Graff, keep it pure and completely secretive and separate from anything else in your life: art, business, relationships, etc. Honestly you're not a very intelligent criminal if you go around telling people who you are, what you do, and putting videos of yourself on the net. The whole point is to get your name up as much as possible in as many places as possible without getting caught or people finding out your real identity. So, it is utterly backwards in theory to reveal your identity."
What is not backwards is POSE's style, talent, and wide-ranging skill. The bubbling colors, the hidden characters, the insane detailing and intricate design in his graffiti have made POSE a favorite amongst both graffiti enthusiasts and the fine art crowd.
Check out the gallery below of POSE's work, and if you are in the Austin for SXSW on March 12, check out his work along with Jasper Wong, Mark Dean Veca, Tristan Eaton and others at the Brisk Bodega Cantina. Wong and the other artists have created Star Wars-themed work in conjunction with Brisk and the theatrical release of the 3D version of Star Wars Episode 1: The Phantom Menace. More info here about SXSW.