Juxtapoz
The Work of Masami Teraoka
July 31, 2013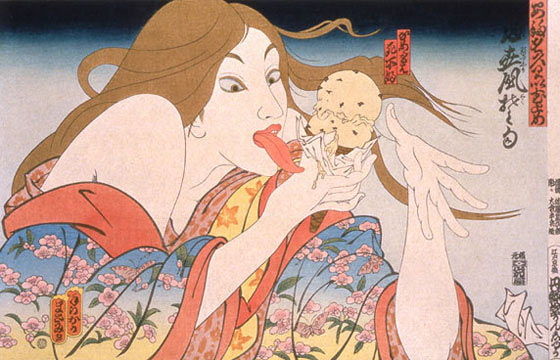 A few months ago we took a look at Japanese artist Masami Teraoka's incredible Renaissance Remasterings where he put Renaissance painting and Japanese influence into violent contact with contemporary political issues in exapnsive, turbulent compositions. This morning we look back at some of his earlier work which is just as expansive and turbulent, referencing issues from gay marriage, censorship, privacy, AIDS, sexual preference, and many more social and political issues.
View our previous post on this artist here.
"
In my career I have painted about issues from gay marriage, American style confessions on TV talk shows, recent priests' confessions, politics, international affairs, censorship, invasion of privacy, gender, sexual preference, religious discrimination, the Impeachment Trial, Viagra, and AIDS to air and water pollution, toxic shock syndrome, American fast food and culture invading the world (McDonald's Hamburgers Invading Japan, 31 Flavors Invading Japan), international tourism and terrorism, and culture clash and beyond to current series on today's mass media, cloning and internet culture (often as seen through the eyes of an up-to-date Adam and Eve).
Weaving news media, reality, fantasy, visionary, imaginary and otherworldly reality with humor, line, form and color, commentary, topicality, and a high level of aesthetics is a challenge. I try to focus on current issues articulated on a metaphorical level rather than recreating a mere copy of reality. Each narrative creates a fantastical aesthetic world where human folly and dilemma are expressed in such a way that the beauty and ugliness of human activity and psyche thrive in a complex pictorial recipe.
In order to articulate these varied issues my work has evolved from Japanese-based watercolor paintings to Western-based oil painting. What is consistent about these two obviously different styles is the conceptual aspect of narrative painting." - Masami Teraoka