Juxtapoz
The Surreal Works of Vasilis Avramidis @ Jacob's Island, London
September 21, 2012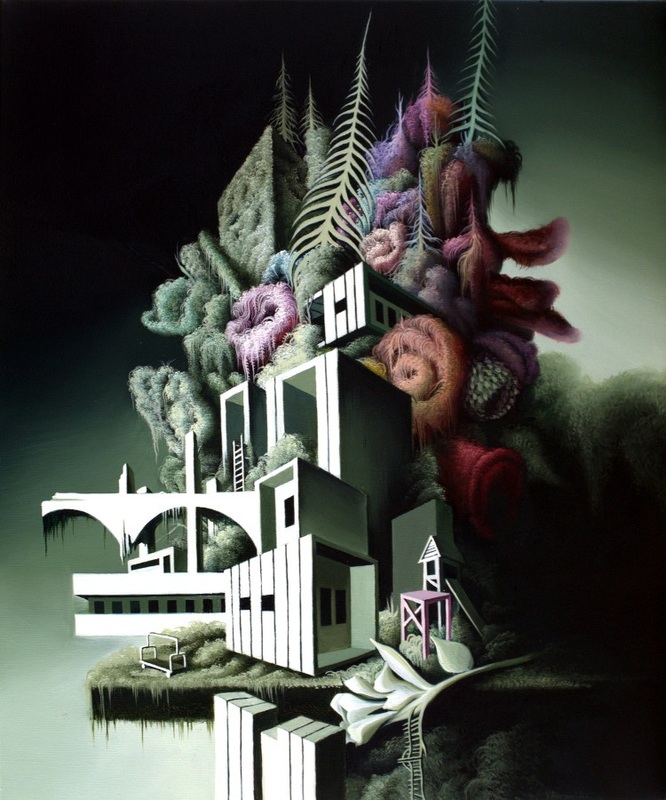 This year we feel like we have seen an emergence of very talented international oil painters, and Greek painter Vasilis Avramidis adds a bit of environmental elements to his work. His work is currently on display at
Jacob's Island Gallery
in London. The show is open through October 20, 2012.
Jacob's Island Gallery is pleased to present Caretakers, the debut UK solo show of Greek artist Vasilis Avramidis. The exhibition comprises of a series of oil paintings depicting a set of self-invented locations and scenarios that shift the sense of scale within the traditions of landscape and still life.
Within the setting of his captured vistas Avramidis typically paints an arrangement of symbolic motifs, rendered in a way to be suggestive of neglect. These depicted scenes and objects are overgrown with moss and ivy, alluding to an overriding sense of decay that the paintings' inhabitants desire to control and maintain. These characters are gardeners, keepers of sites, land and buildings. They are the caretakers.
The paintings express a repetition of varying hues of green, a reference to the duality between sickness and growth and how the land eventually reclaims everything that sits upon it. Objects being imbued with foliage confirm these concepts of the ongoing and endless conflict between the forces of destruction and the forces of philosophical cultivation. This force of nature against man-made structures and ideologies not only conveys a relentless struggle but also comments on the history of art and architecture being overwritten and unearthed with the passing of time.
Avramidis draws inspiration from gardens that are both real and imaginary, his references vary from the far away reality of Gilgamesh's Garden of the Gods to the gothic Highgate Cemetery. The paintings' subject matter, their very conception and the marks they bear of human care and cultivation refer to how gardens stand as restorative, nourishing and necessary havens. In many ways the paintings pictorial space conveys a wide-ranging examination of how gardens evoke the human condition.
The growth of the garden camouflages the structure of the objects and subject matter within the paintings and serve as a check against the destruction and loss of history. His paintings investigate the ways in which the concept and reality of the garden has informed human thinking about mortality, order, and power.
via