Juxtapoz
The Newsstand @ The Standard Spa, Miami Beach
Dec 04, 2013 - Dec 08, 2013The Newsstand, Miami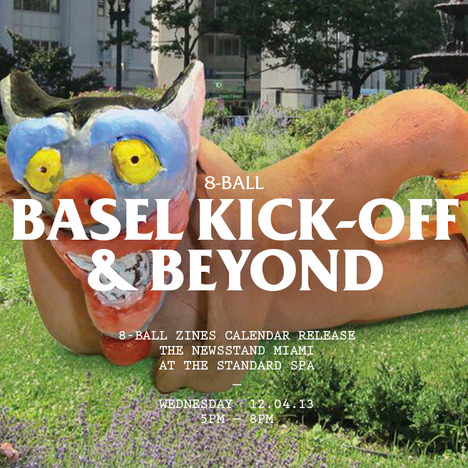 We have been showcasing events and art scenes that we think you should check out during the Art Basel week festivities from December 4—8, 2013, and one thing we definitely think you should schedule is roaming over to The Newsstand and partaking in their events and vibe at The Standard Spa, Miami Beach. They will ne recreated a classic NYC subway newsstand style to sell zines and other small run publications...
A little press below... and schedule of events in the gallery above...
MIAMI BEACH–––Coinciding with Art Basel Miami Beach, Alldayeveryday is pleased to announce a pop-up of The Newsstand at The Standard Spa, Miami Beach's Lido Lounge from December 4–8, 2013. The Newsstand, created and produced by Alldayeveryday and curated by Lele Saveri of the 8-Ball Zine Fair, re-imagines the traditional format of a classic subway newsstand by offering a wide selection of zines and artists publications. Originally opening itself to artists, publishers, and cultural leaders at the Metropolitan Avenue subway in Brooklyn's Williamsburg neighborhood, The Newsstand has developed a dedicated community through activation and has become a platform for creatives as much as it is a retail location.
In its most exciting pop-up to date, the Miami Newsstand will be selling exclusive items and hosting daily programming to include guest clerks and DJs, book events with Ryan McGinness and Glenn O'Brien, as well as site-specific art installations. Exclusive items available during Art Basel Miami Beach will include a selection of rare zines from the collection of Goteblüt, a vintage zine store run by Matt Wobensmith, as well as select titles from the collection of Johan Kugelberg of NY-based gallery Boo-Hooray.