Juxtapoz
The Expanse of a Fact: Noah Doely @ Steve Turner Contemporary, LA
June 01, 2012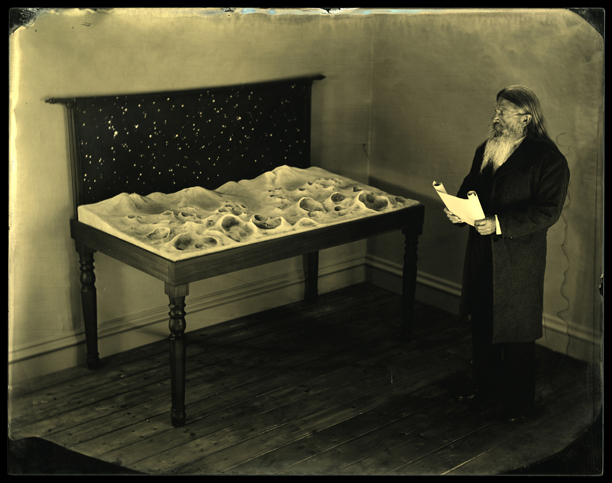 Noah Doely's ambrotype and tintype photographs are full fiction and illusion. Harkening back to a time at the emergence of photography, Doely presents characters that are in a pursuit of knowledge, making, and understanding, a search that belongs just as much to the artist as it does to these fictional personalities. The images are rich with detail, all entirely constructed and coordinated by Doely himself, a laborious process that delves just as much into the act of making as it does into the history it evokes.
"Created over the last three years, Noah Doely: The Expanse of a Fact features a series of ambrotype and tintype photographs generated with photographic tools and methods from the mid-19th century. These images document imagined spaces and pseudo histories that were crafted in a process incorporating aspects of sculpture, installation, performance and painting. The artist built sets and uses performers to enact a story that orbits around a central character– a bearded man from the past who both observes and creates. The photos show the man constructing and displaying a spherical sculpture of the moon and a diorama of the lunar surface. He makes these imagined structures based on a compulsion to gain access to distant realms, and this narrative in turn becomes folded into the artist's own near-manic preoccupation with the construction of that story. Thus is revealed a story-within-a-story complicating the viewer's perceptions of time, the central character, the artist and the facts."
Doely's photographs will be on view at Steve Turner Contemporary Gallery between June 1 - June 30, 2012 with an opening reception tonight, Friday June 1st from 7-9 PM. We say it's definitely worth a visit.


http://www.steveturnercontemporary.com/