Juxtapoz
Thank You X @ Known Gallery, Los Angeles
July 27, 2013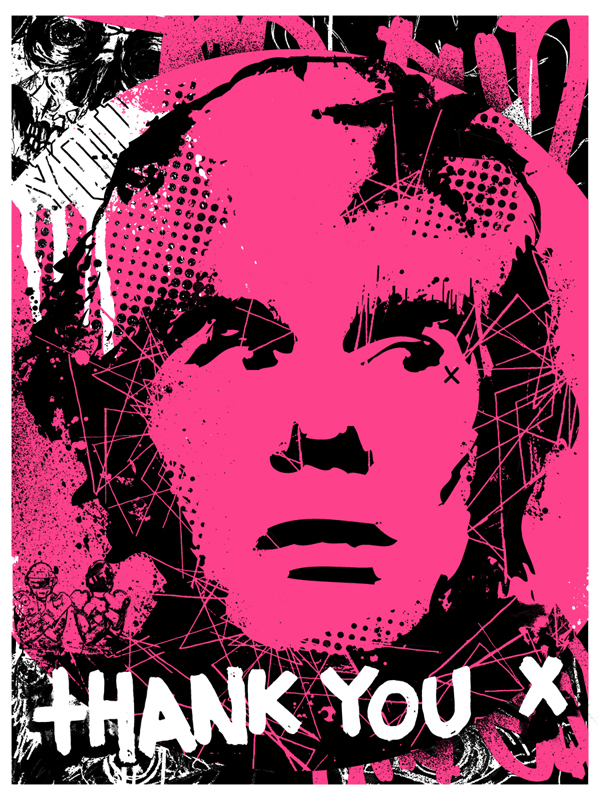 THANK YOU X became known on the streets of Los Angeles a few years ago, largely in part to his large Warhol stencils and wheat pastes around the city. Signing THANK YOU X underneath was a gesture of anonymous gratitude for Warhol's aesthetic of rebellious integrity, the name accidentally became the artist's identity. He has since been traveling all over putting his stamp all across America and even London and France. I met his a year or so ago and was introduced to his by his Government name and thought he was a nice guy. Later I found out who he was – and now we are showing him and CEPT in Mind in Transit opening this weekend, July 27, 2013, at Known Gallery. —Roger Gastman
What will you be showing in Mind in Transit?
I did about 15 new pieces. Mostly really bright images with a lot of oil pastels and thick glossy resin finish. Also doing some hand cut wood puzzle pieces. And even a handful of limited prints. Showing at Known Gallery is really exciting for me so I spent a lot of time making sure everything was exactly how I wanted it.
I really like the puzzle pieces – I have not seen that from you before – what brought that on?
ThankYou. That's something I've been wanting to do for a while. Each piece is hand cut by me. Life is full of puzzle pieces and something if you line them up big things happen. Eventually I will do large-scale puzzle installations and even an entire puzzle show.


If I buy all of them do they fit together into something awesome?
All of the pieces in the show have fitting parts, but they aren't meant to be one piece.
What was the first thing you ever drew?
When I was in 2nd grade I remember always drawing stick figure army men. But in my teens I used to draw skulls on everything.
Mind In Transit Featuring THANK YOU X & CEPT opens this Saturday July 27, at Known Gallery. Hours are 8-11pm. REMIO and DUEL are in the project rooms. Be there.