Textiles
Via Wool & Cotton: An Interview with Erin M Riley
May 31, 2018 - Jun 30, 2018PPOW Gallery, New York
Imagine your high school bedroom. Think about all the posters that adorned your walls, the tapes or cds that bestrewn your desk, and the various accoutrements that lent themselves so perfectly to your budding personal identity. Looking back, do these objects carry meaning? Do they possess a certain emotional weight, positive or negative? Why do you think that is?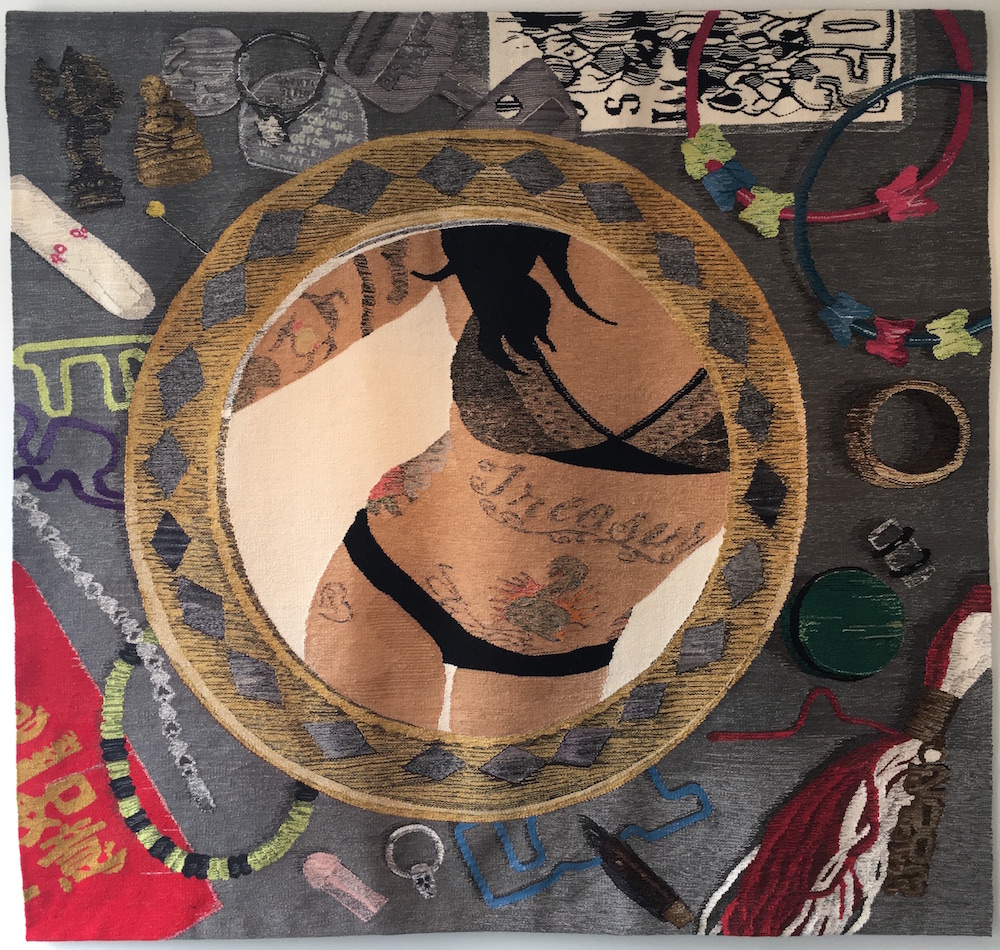 Next month, textile artist Erin M. Riley endeavors to answer these questions for herself through a new body of work at PPOW Gallery. Titled "Used Tape" this new show focuses on Riley's own journey through the turbulent world of womanhood and sexual identity. Via wool and cotton, Riley has assembled an inanimate tableau of personal affects, each carrying their own unique significance to the artist. Working in her signature style, Riley continues to push her work and enter discussions that are at times uncomfortable, and ultimately entirely necessary. According to the gallery, "The imagery in Riley's work is derived from personal photographs, found photographs sourced from the internet, and still lifes. She explores the innate difficulty of womanhood, objectification of the female body, and traumas both large and small that weigh on the search for self-identity. Riley has a history of sexual assault and violence in her family, the fear of which had a deep impact on the formation of her sexual identity. Her work is often partially autobiographical, an aspect of her practice that she sees as essential to both processing these experiences and to make others feel less alone."
Erin M. Riley's new solo exhibition opens at PPOW gallery later this month. In anticipation of her show, we sat down with the artist to get a little insight into her new body of work and how "Used Tape" came to be. Take a look below.


Jessica Ross: Can you tell me a little bit about your new series, what has changed and what has stayed the same?
Erin M Riley: This work is a combination of reflections on past relationships, experiences I have had as well as those of women who reflect the women around me and their experiences. A lot of the imagery has stayed the same, self portraiture, objects of sexuality but in trying to combine two series I have incorporated images into my still lives. They are images of me at certain periods of time, or combinations of myself and other women when there was infidelity in a relationship. I have also incorporated food and music! Some women grow up with a complicated relationship to food, and see it as a guilty pleasure just like masturbation or sexting, and I was realizing so much of my courtships and relationships food, music and place were so tied into certain people. Memories are layered just like experiences, and often we are put in a category after experiencing trauma that disallows for any pleasure. I want to mix that up.
I personally identify with a lot of the objects in your works (on my own level- growing up as a woman, therefore a sexualized person) Is that an affect you're hoping to have on your viewers? To create their own unique associations?
Yes for sure! I was talking with a friend about growing up as a weirdo punk and the only place you could buy a studded belt was at the sex shop. That is, if you saved up from your job after school, because one line of studs was poserville but two would cost you, 3 was way out of the budget, could get the ride, get the courage up, and finally enter. I was realizing how fortunate being an outsider is in the early years, as awful as it feels, you never have a comfort zone and thus have to experience the world in a way that pushes you to explore, learn and share. Many of the objects have double meanings for me, or are sex objects but are benign and vice versa. Such is the anal beads in "Cutie", they were hung from the light pull cord in the dish room at the pizza shop I worked at in high school, a tip from a different sex shop that we would deliver food to. I had one of the most romantic courtships of maybe my life at that pizza shop, fueled by Andrea Bocelli, late night AIM conversations and lots of sneaking kisses in the dish room, lit by the anal bead pull cord. I am so interested in the ways we embed objects with importance, vulgarity, and how these things are celebrated or decried depending.


You've been traveling a lot for your work this past year. Can you tell us about some of your experiences exploring some of the other states and what affect that had on your own practice?
I went to a residency at The MacDowell Colony which was an incredible experience I am still not sure it happened. Having to pack up the studio and being surrounded by inspiring people of all backgrounds and medium from around the world is so inspiring. While there I read SO much. I didn't get phone service in my studio (where I also slept) and so I was getting in bed after working a long night and pouring into books. This was priceless. I have also been traveling for lectures at colleges which I love so much. Meeting students and discussing the content in my work pushes me to keep going when im not sure I can anymore. Often in the academic setting people are encouraged to make art with their head, and I have always made art with my heart first, things that keep me up at night are far more interesting to work on and its incredible to see students go "oh I'm allowed to make art about my family/sex/etc.?" Yes, yes you are, there might be complications and awkward conversations but it might help everyone. (I recommend reading Blud by Rachel McKibbens, Her Body and Other Parties by Carmen Maria Machado and Bad Feminist by Roxanne Gay who also just put out Not That Bad: Dispatches from Rape Culture which is an intense but important read)
According to the press release, this new series of work explores your own personal experiences with sexual assault. Did you find the process therapeutic in dealing with your own trauma?
It was both cathartic and confusing, as most things that deal with these subjects are. As the world puts these subjects at the forefront of conversations most of the nuance and burning of time is removed. There is a lot of judgment and also shame. Whats both frustrating and comforting is how common of an experience it is, how little we have talked about it and how often we blame ourselves. Its hard to talk about this stuff explicitly because personal things stay hidden for many reasons, but I want to make known that experiencing sexual trauma is horrible, and also growing up in a household where parents survived it or family members perpetrated it is equally as traumatizing. We are taught to hold secrets that aren't ours and the shame of holding place for people who should be doing the right thing is completely wrong. Not much is said about the family members of survivors, the absorbers of intergenerational trauma, the guilt, the fear, its all present for everyone who lives with survivors despite not having experienced assault firsthand.


Obviously it's important to shed light on the psychological and emotional toll assault and rape has on the individual. Unlearning centuries of culture-wide shame and stigma attached to the subject is a worthwhile endeavor. How do you hope your work fits into the conversation? Do you have anything you'd like to say to other artists dealing with similar subjects?
I am interested in expanding the conversation, putting harm in a context that is more realistic. Understanding that triggers aren't being sensitive or fragile but actually from trying desperately to be strong and a random person, touch, moment, smell, food, object ruining our reality. And also, the narrative of being a strong is so lame, its so patriarchal, all humans have soft spots, embracing them makes us more resilient, not less. I am trying so hard to put things into a context so that people who's first instinct is to say "well, why didn't you report them", is buffered with some version of empathy. I think more artists should challenge themselves (in a humane way) to show the world their reality, to help others understand things from different perspectives and fight to continue a conversation so that abusers are the ones walking around with shame and not the survivors.
"Used Tape" opens May 31st at PPOW Gallery in New York City with an opening reception set to take place 6-8pm. The exhibition is on view through June 30th, 2018.