Red Bull's 2017 "Hack The Hits" Recap
Tech Shop SF
//
November 09, 2017 - November 11, 2017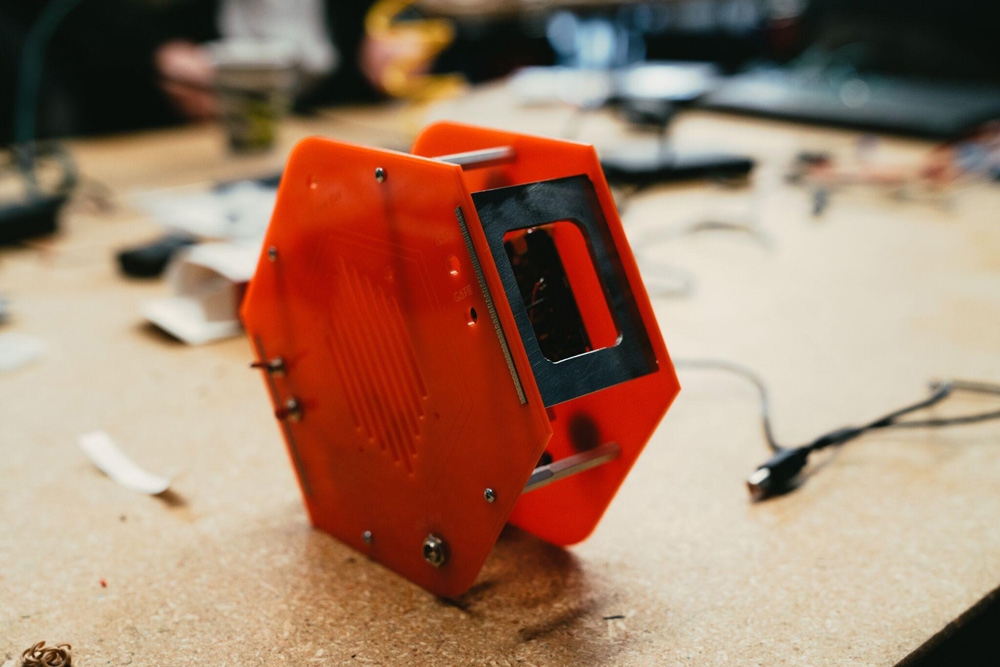 Back in November, Red Bull hosted an event called "Hack The Hits" at Tech Shop in San Francisco (R.I.P.) The event's premise was to bring together applicants who showed skill in engineering, music theory, sound technology and software development, and have them all compete in a 48 hour competition to see who can build the best piece of music performance technology. At the conclusion of the competition, a panel of judges from various music and tech disciplines reviewed the inventions in front of a live audience. Teams were judged on three criteria: usability, musicality and innovation. We attached the summaries of the finalists' inventions below.
The winning team was THE DREAM TEAM - Clare, Anidrudh, and Grant, who developed The Machine Elf. This is an analog performance instrument. It senses tilt and angle in 3D space to control the pitch and tone of its sound. It is also able to connect to other musical devices and software over Bluetooth to add a wireless touch.
ASTRO VISUALS -- Husni, Jamie, Ethan
Muviz is an audio-visual learning experience for kids. Using a Graphic Drawing Tablet, kids can easily and intuitively create both art and sound. The generative visuals appear on-screen while the audio is sent to a device that can turn any ordinary household object into a carrier of sound. This is achieved by using a surface transducer that turns an audio signal into physical vibration. Different objects will alter the audio in different ways, so kids can experiment and in the process learn about the properties of audio and physical materials using the scientific method.
6AM VIBES -- Gustavo, Christopher, Jaye
The Kinect 4 is a human sequencer that uses location tracking technology from a Kinect 360 that tracks the position of the tops of 4 people's heads. Based on the location of users in a virtual 4 x 3 grid, each person's change in position is tracked in real time and triggers various musical notes and drum loops that can be mixed and matched according to the pattern of people.
THE GRIND DOESN'T STOP -- Christy, Avra, Madison
The Pendulum uses physical motion to manipulate audio effects and other inputs. More specifically, it is a pendulum with sensors that measure axial spring motion and swinging motion and uses those two inputs to manipulate sound. It also stands as a smaller scale model for a larger performance environment in which musicians can manipulate various different physical components that, in turn, manipulate audio effects via sensors.
THE DIXIE CUP TRIO -- Keren, Emma, Eric
The TriTone instrument is a collection of 3 midi controllers designed with collaboration in mind. The three portable, wireless MIDI controllers have have different hardware for playing the harmony, melody, and rhythm of the music you will make with your friends. The rhythm and harmony controllers feature responsive capacitive touch sensors, and the melody controller supports switching channels to let you choose your individual preset voice on the fly. The controllers are passed around from one player to the next to make for a fun and constructive musical experience.
Shouts out to everyone who came out and special shouts out to all the participants! (pictured below)