Juxtapoz
UNIV x Chandran Gallery x Juxtapoz Benefit & Auction for Waves For Water
Mar 15, 2014 - Mar 29, 2014TFR Gallery, San Diego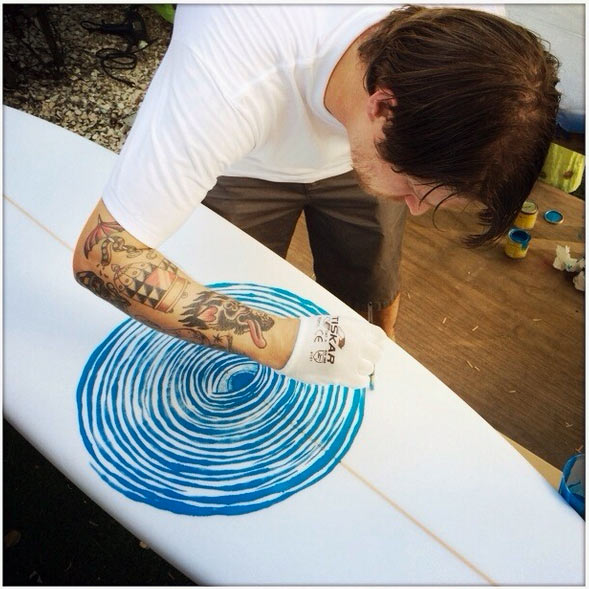 Perhaps you followed our Instagram feed during the week of Art Basel 2013, but you may have saw our collaborative surfboard project with Encinitas, California-based shop UNIV and San Francisco-based Chandran Gallery. In Miami, we kickstarted the project that will soon be fully announced as a full auction and exhibition benefit for Waves For Water, an organization on the ground in the Philippines, mobilizing an urgent clean water disaster relief initiative in the aftermath of Super Typhoon Haiyan.

In order to continue efforts by Waves For Water's work in these areas, Chandran Gallery and Juxtapoz Magazine, with help from New Image Art Gallery, worked with UNIV to curate and organize a group of artists to create custom artwork on surfboards to be auctioned off from March 18—31st, 2014 to help raise money for the charity. A special one-night exhibition will be hosted on Saturday, March 29, at T.F.R. Gallery in Leucadia, California to celebrate the creation of the boards, and to give an opportunity for final bids on the boards at the gallery.
A few of the artists who will be part of the project include CR Stecyk III, Geoff McFetridge, Richard Colman, Jeremy Fish, Lucy McLauchlan, Tim Biskup, Cleon Peterson, Monica Canilao, Andrew Schoultz, Swampy, Tahiti Pehrson, Ty Williams, Jason Jägel, Mel Kadel, Travis Millard, Michael Torquato deNicola, Jared Swilley of the Black Lips, Brazilian artist Ale Jordao. We will have a few more artists who we are grateful to have donated their time announced in the coming days.
Juxtapoz, Chandran Gallery, Univ, and New Image Art and are proud to collaborate and help the cause of Waves For Water. This project, bringing artists together with both the surf community and a charity auction, we feel like your contributions goes to a great cause and truly helps people who could really use the world's help right now.
Please stay tuned for a full-announcement of line-up, auction details, a message from Jon Rose and Waves for Water, and details on the one-night exhibition at T.F.R. Gallery.

Please visit WavesForWater.org for more information about the charity.




A couple of new additions to the project.... Cleon Peterson and CR Stecyk III: