Tattoo
The Smith Street Print Project @ ArtNowNY
Feb 06, 2014 - Mar 01, 2014ArtNowNY, New York City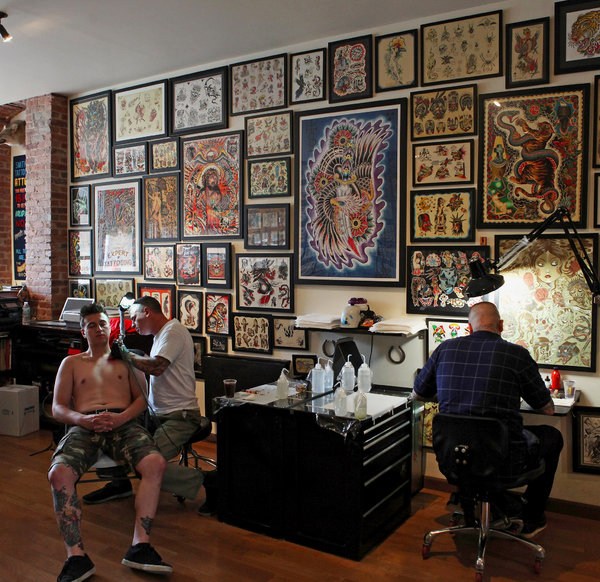 Something to definitely go and check out in NYC this weekend or the rest of this month. At ArtNowNY, Steve Boltz, Berk Krak, Eli Quinters, and Daniel Santoro, the four tattoo artists from Smith Street Tattoo Parlour in Brooklyn, are presenting their work from a nearly 2-year project. In April 2012, the artists closed their show, traveled to San Francisco, and participated in the first Raking Light Projects artist-in-residence program. This show has the results...

From the press release: Working at Mullowney Printing, the newly-opened printmaking studio run by master printer Paul Mullowney, the four artists embraced the challenge of etching and carving sensitive sheet of cooper necessary to print true fine art prints.
Traveling directly from the airport to the print studio where they remained for seven straight 18 hour work day, sacrificing sleep and working through inherent difficulties associated with an unforgiving medium with the experienced guidance of Mellowney, the artists created a body of work that skillfully reflects their individual artistic views and ultimately comes together to proudly embody the unified, collective vision that makes smith street tattoo parlour special and unique. To complete the print project, the four artists returned to san francisco for several additional week-long work sessions at Mullowney printing.
In a world where tattooers compete with each other for reality television appearances and work tireless to promote themselves first and foremost, the four artists from smith street tattoo parlour stand apart. Unified in mission and common purpose, the four artists have worked steadily towards achieving the goal of establishing smith street tattoo parlour as the best traditional tattoo shop in NY. Their dedication to the traditional tattoo medium is evident by the shop walls covered in hand-painted flash painted exclusively by the four artists and is further set apart by their willingness to work together to achieve something as a group. The Smith Street Tattoo Parlour body of work reflects and celebrates the distinct creativity of each of the four artists while demonstrating that that like-minded individuals can come together to create something greater as a team or group.