Juxtapoz
Swoon, Monica Canilao, and Dennis McNett @ Galleria Patricia Armocida, Milan
April 18, 2012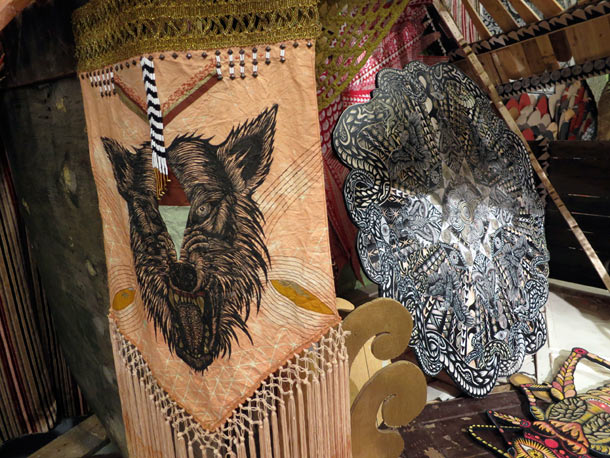 Close friends of the Juxtapoz family,
Dennis McNett
,
Swoon
(
currently on the cover of the May 2012 issue
) and
Monica Canilao
were in Milan recently to collaborate on an exhibition at
Patricia Armocida
. The exhibition, titled
The Folding Of the Known World
, will be on display through July 20, and features installation works and collaborations from all three US-based artists. Mr. McNett sent us a bunch of photos of the works in progress as well as some final installation shots.
From the gallery:
Sixty medium and large-scale works will be on display, including pieces created by the artists together. The figures are brought to life within the three room, site-specific installation built in collaboration with Harrison Richards Bartlett. The title stems from reflections on various stories about the creation, preservation and destruction of the world, along with their numerous myths and characters. Currents of thought with endless subtleties which, once discovered, cause the world as we know it to fold upon itself revealing a new one where anything is possible. With the intention of also highlighting a present-day issue: the world is in fact collapsing upon itself. According to scientists, the sixth mass extinction is imminent and human beings are its cause; we must acknowledge that we're in danger and do something to reverse it. The three artists elucidate this through their works and the characters they've created: Thalassa, the goddess of the sea, Fenris, a giant wolf from Norse mythology, or the crows depicted on precious embroidered fabrics, animals have long since been considered intermediaries between the terrestrial and spiritual worlds. They build a temple which alludes to a world of supernatural powers, a mythological reality within which exists a dualism embodied by Kali, the mother goddess and goddess of destruction. "Folding" also literally refers to the action itself: the artists fold fabric and paper, creating a fantastic world inhabited by figures brimming with symbolic, personal, and emotional connotations. The works emit vital energy germinated from destruction, in perpetual transformation, creating a continuity with no starting point.
SWOON | MONICA CANILAO | DENNIS MCNETT
THE FOLDING OF A KNOWN WORLD
Through July 20, 2012
Patricia Armocida
Milan, Italy