Juxtapoz
SuperAwesome: Art and Giant Robot @ Oakland Museum of California
Apr 19, 2014 - Jul 27, 2014Oakland Museum of California, Oakland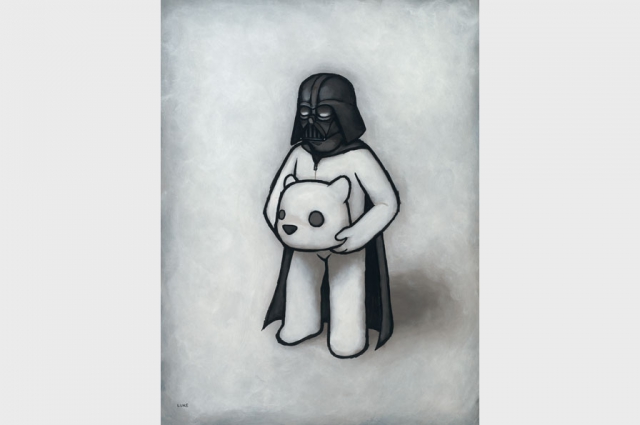 OMCA features the major exhibition, SuperAwesome: Art and Giant Robot featuring works by 15 contemporary artists who have been a part of the magazine's social and cultural evolution. Co-curated by Giant Robot visionary Eric Nakamura and OMCA's Associate Curator of Art & Material Culture Carin Adams, SuperAwesome presents new or recent works by California and international-based artists affiliated with the influential magazine that brought Asian, trans-Pacific popular culture to mainstream audiences in the United States.

The show is full of former Jux cover artists, including James Jean (above), David Choe, Barry McGee, and former features Hamburger Eyes, kozyndan, Rob Sato and more.

The exhibition also features Giant Robot magazines, ephemera, vinyl toys, custom vending machines, and the original Giant Robot Scion XB inspired by Nintendo's Famicom gaming console, designed by Eric Nakamura and fabricated by Len Higa. The car-turned-interactive gaming station boasts built-in sound and projectors, ennabling visitors to use the car to play video games.
Over the past 20 years, the Giant Robot brand has expanded to include retail stores and galleries in San Francisco, Los Angeles, and New York, a restaurant, museum and gallery exhibitions, and a popular website. It has also become an important outlet for a generation of emerging artists, several of whom have achieved mainstream success—such as Adrian Tomine, whose work has graced many New Yorker covers, and James Jean, whose is best known for his work for Prada, ESPN, and Atlantic Records.
Artists include: Ako Castuera, Sean Chao, David Choe, Luke Chueh, Hamburger Eyes, Andrew Hem, James Jean, kozyndan, Masakatsu Sashie, Shizu Saldamando, Rob Sato, Amy Sol, Deth P Sun, and Adrian Tomine