Juxtapoz
Studio Visit w/ Robert Bowen
July 24, 2012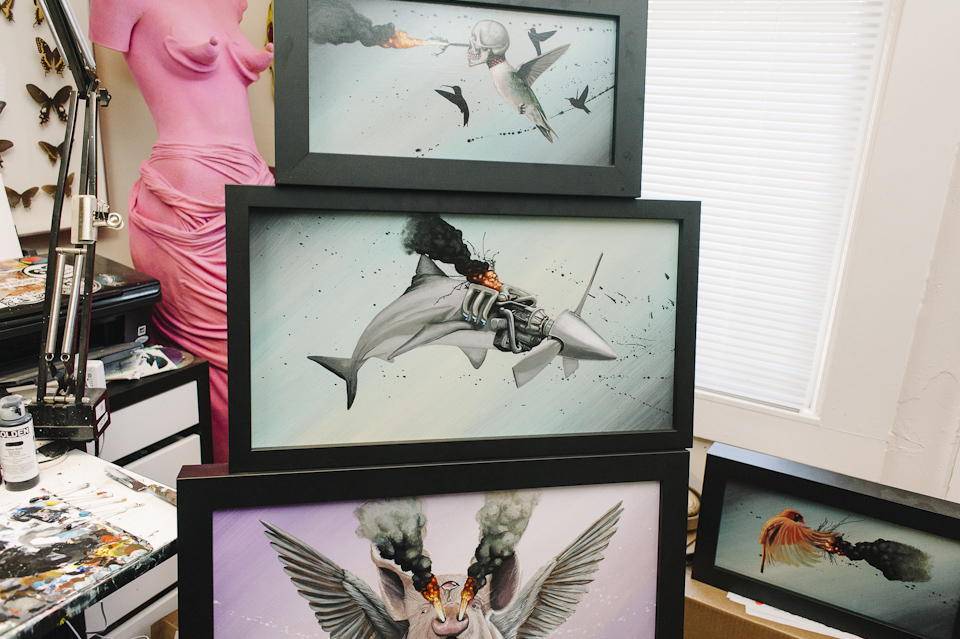 Featured in our
August 2012 issue
is San Francisco Bay Area based fine artist, Robert Bowen, who is set to show a new body of work in
Lethal Injection
, opening August 3 at
111 Minna Gallery.
A self-proclaimed TV Baby who creates artwork that feels like a stream of consciousness of 1980's and '90's pop-culture, Juxtapoz contributor Shaun Roberts visits Bowen's studio to see the artist's workspace.
As Bowen told Alex Pardee in our August issue, "I've always thought some of the simpler creatures that we overlook on an everyday basis need a little more attention, so I sometimes work them into a painting perhaps doing something a little extraordinary, like puking a rainbow, wearing a mask, or stealing a little magic stone. I want those creatures to feel special! I think they need to have fun too. The teeth thing? That's a whole different story. They are basically the physical manifestation of my social anxiety, the awkward joke; the courtesy laugh. The teeth represent the need for me to find humor in some of the uncomfortable social situations I find myself in. I purposely paint each one different. They are far from perfect teeth, and ugly for a reason."
Read the rest of the interview in our August 2012 issue.